September 09, 2022
Reading Time:
6
min
Fidelity Broker Review – What is Fidelity?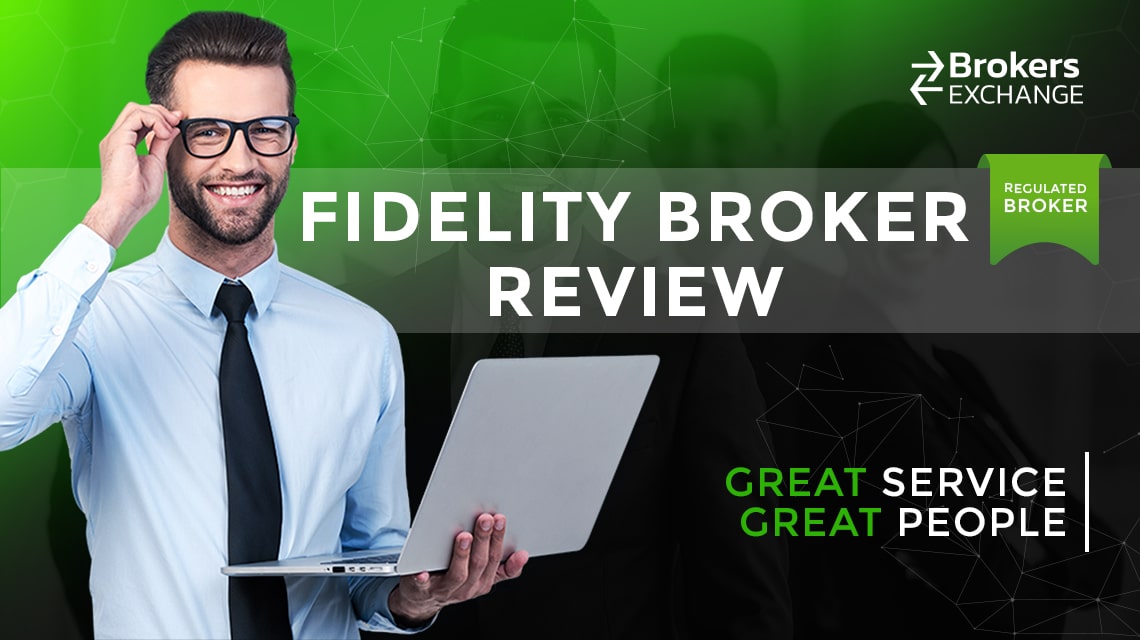 The Fidelity stock broker is a licensed online investment platform that has been in this industry since 1946. Managing to stay relevant throughout all these years and constant change in the market speaks for itself about this company's validity. 
This organization evolved into one of the leading establishments in the trading field. However, this brokerage is only available in the United States.
From the moment you open their website, there's obvious transparency and legitimacy and they are licensed by the leading authorities in this sector and operate legally.
This brokerage offers a great trading platform for both beginners and experts in the business. Their educational platform provides a superb introduction to the world of the Forex market.
Also, the Fidelity broker fees are one of the lowest in the investing industry. Furthermore, they offer commission-free trading with one of the best research tools.
Our Fidelity broker review will break down all the necessary information you need to know if you're thinking about investing your money with this broker.
Additionally, we advise you to read this regulated broker OctaFX, HFM HF Markets, and Dukascopy
Fidelity Pros and Cons
Just like any other brokerage, there are certain pros and drawbacks. The Fidelity broker is available only to US residents and doesn't offer commodities. The account verification is significantly slower, taking anywhere from 1-3 days. 
However, if you're a US resident, the pros of this firm far outweigh the cons. 
| | |
| --- | --- |
| Pros | Cons |
| Low costs | No commodities   |
| Excellent trade implementations | Operate only in the US |
| Great research tools | Slow account verification |
| Plenty of educational material |   |
Quick Overview of Fidelity
Fidelity is a great opportunity for true trading adventures. They offer many different trading instruments for you to choose from and have low trading and non-trading fees.
It's certain that this broker will provide a great investing experience. Don't hesitate to try a demo account to see if this online trading platform is the right choice for you.
| | |
| --- | --- |
| Country of regulation | USA |
| Trading Fees  | $0.65 per contract fee, $1 per bond or CD in secondary trading |
| Inactivity Fees | No |
| Withdrawal Fees | No |
| Minimum Deposit | No minimum deposit |
| Time to Open an Account | 1-3 days |
| Depositing with Electronic Wallet | Allowed |
| Base Currencies | USD, EUR, GBP, AUD, CAN, DEN, HKD, JPY, MXN, NZD, NOK, PLN, ZAR, SGD, SEK, CHF |
| Demo Account | Yes |
| Products Offered | Stocks, ETFs, Fixed Income, Options, Forex, Mutual funds, Bonds, CFDs |
Are Traders Safe at Fidelity? – Regulation and Securities
Traders are absolutely safe at Fidelity. The brokerage operates validly in 53 U.S. states and territories.
When speaking about regulations, the Fidelity stock broker is registered on the NYSE (The New York Stock Exchange) and regulated by FINRA (Financial Industry Regulatory Authority), as well as the SEC (Securities and Exchange Commission) since 1979.
Having these regulations allows this firm to legally serve as a broker-dealer. At Fidelity, they take your security and privacy seriously. That's why they employ world-class measures to help keep your portfolio safe. 
With the Customer Protection Guarantee, they will reimburse you for losses from unauthorized activity in your accounts.
The company also takes a part in asset protection programs such as FDIC and SIPC to help provide the best service possible. 
Fidelity Trading Fees and Non-Trading Fees – Review
The Fidelity stock broker has one of the lowest trading and non-trading fees in the trading business. Also, there's a 0% commission on stock trading, which confirms this organization's orientation to customers.
Trading fees happen while trading and can be either commission, spreads, financing rates, or conversion fees, and in the case of Fidelity – they're really low. 
If you decided that you want to trade with U.S stocks or ETFs, Fidelity doesn't charge any fees, however international stock trades do have a fee for them. For example, for a $2000 trade on German stock, there's a $22.8 commission. 
The fees for mutual funds are actually pretty high. Fidelity offers a significant number of free mutual funds. However, if you sell these funds within 60 days of purchase, a $49.95 fee is charged.
For all other funds, a purchase costs either $49.95 or $75, depending on the fund.
Speaking of bond fees, they're notably low at Fidelity. There is a 0% commission for buying treasury bonds. For every other bond, for example, corporate bonds, there is a transparent markup of $1 per bond, with a $250 cap on fees. 
The maximum fee is $50 for bonds maturing in one year or less.
Option fees are low, just $0.65 per contract with commission-free trades. Plus, there are potential additional savings with Fidelity's price improvement.
What's also great is that this brokerage doesn't apply any non-trading fees. There are no deposit, withdrawal, or inactivity fees. All this shows that Fidelity is one of the best trading firms in the industry.
What is Fidelity's Minimum Deposit Amount?
The Fidelity brokerage account minimum deposit is $0 for basic accounts. You can open an account without the need to deposit a minimum amount.
Since the demo account is available, you can transfer to a live account with any amount of deposit. However, for different types of accounts, there are certain minimum deposits.
If you want to open a Margin account (you trade with the money that's been borrowed from the broker, also known as trading on leverage) there's a $2000 minimum deposit.
For Day trading ( you buy and sell assets on the same day ), there's a $25,000 minimum deposit.
Fidelity also offers Managed accounts, which are amazing if you need help with trading. The minimum deposits there vary anywhere from $10 to $500,000.
Fidelity's Deposits and Withdrawals Methods
It's surprising that there are only two ways of depositing and withdrawing money on Fidelity. These are:
Wire Transfers;
E-wallets (PayPal, Venmo, ApplePay, SquareCash).
You can also transfer funds from one account to another.
On the positive side, there are no fees regarding deposits and withdrawals. However, there may be certain commissions from the bank's side if you prefer wire transfers.
On a negative note, Fidelity lacks a credit/debit card payment method.
Fidelity Trading Platforms Available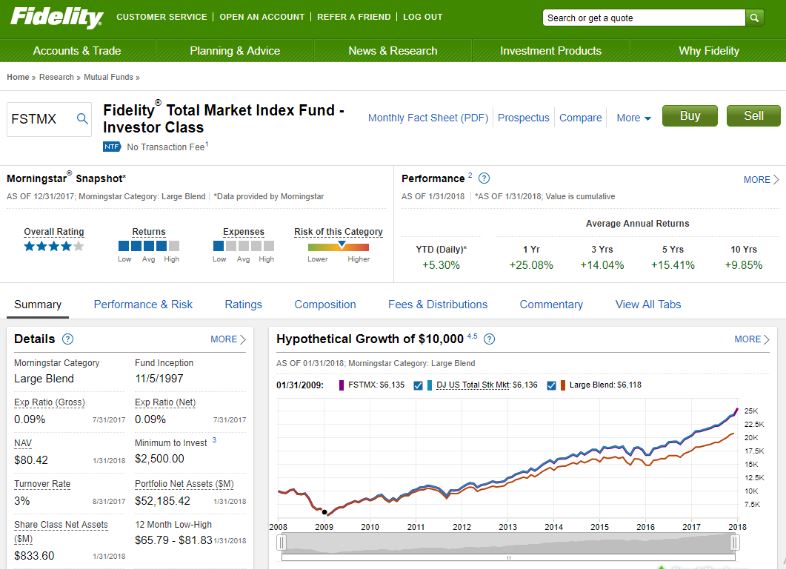 Fidelity provides web, mobile, and desktop trading. The broker has its own developed investment platforms that are user-friendly, with good search functions, and have a variety of order types, clear fee reports, and two-step authorization.
Web Trading Platform
The web trading platform is designed for clean and efficient trading and provides an amazing user experience. However, it lacks customization, since you can not customize charts or workspace.
On a positive note, it provides better account security with two-step authorization, has a great search function, and has a lot of order types.
Mobile Trading Platform
The mobile platform is available for both Android and iOS. It's a great tool for trading "on the go". The app is user-friendly and offers a lot of great tools to help you in your daily trading. It's easy to place orders and has multiple order types.
You can use these:
Market
Limit
Stop
Stop limit
Trailing stop loss
Trailing stop limit
Desktop Trading Platform 
The desktop platform is highly customizable, but not as quick to load. Fidelity offers a developed desktop trading platform called Active Trader Pro. It's mostly for active and experienced traders.
It integrates a vast majority of research tools with great flexibility and acts like an extension of Fidelity's web platform, and you have pretty much the same capabilities as the web version.
Fidelity Research and Education
The Fidelity learning center offers great educational material in many compositions, including webinars, articles, videos, recorded webinars, and infographics. The broker's courses have the intention to guide learners forward.
Also, they offer trading ideas, extensive information on fundamental data, charting, and also third-party research providers.
Available Customer Support at Fidelity
There are three different ways you can contact Fidelity's representatives:
Live chat (available 8 am – 10 pm, 9 am – 4 pm on weekends)
Phone call
Email
The agent's answers are always relevant and helpful, although they may be slow sometimes due to the dozen of clients in the queue.
Fidelity Summary
Overall, the Fidelity stock broker is a good choice for both beginners and experienced traders. Low trading and non-trading fees make a big plus for this establishment.
They are one of the biggest brokerage firms in the U.S. and are regulated by the leading authorities in the trading sector. 
Is Fidelity a Good Broker? Absolutely. Although Fidelity has some drawbacks, like no credit/debit card deposit and withdrawal, or some mutual funds having high fees, it's a great opportunity with a lot of useful tools to try trading today.
It's a user-friendly platform with a bunch of educational and research materials to help you in your investment journey. 
FAQs About Fidelity Broker
How To Open An Account with Fidelity?
You can open an account on the broker's website, choose the desired account type, provide documentation, and upon verification, start trading.
Is This Broker Good for Beginners?
The friendly user interface and an abundance of educational materials will make sure you grasp the trading concept even if you're a beginner.
Is It Safe And Secure At Fidelity?
Fidelity possesses regulations from one of the leading authorities in the trading industry, those are SEC and FINMA, but they're also registered on NYSE.
How To Open An Account with Fidelity?