March 22, 2023
Reading Time:
4
min
Еxpochains Review – Lies Behind This Scam Broker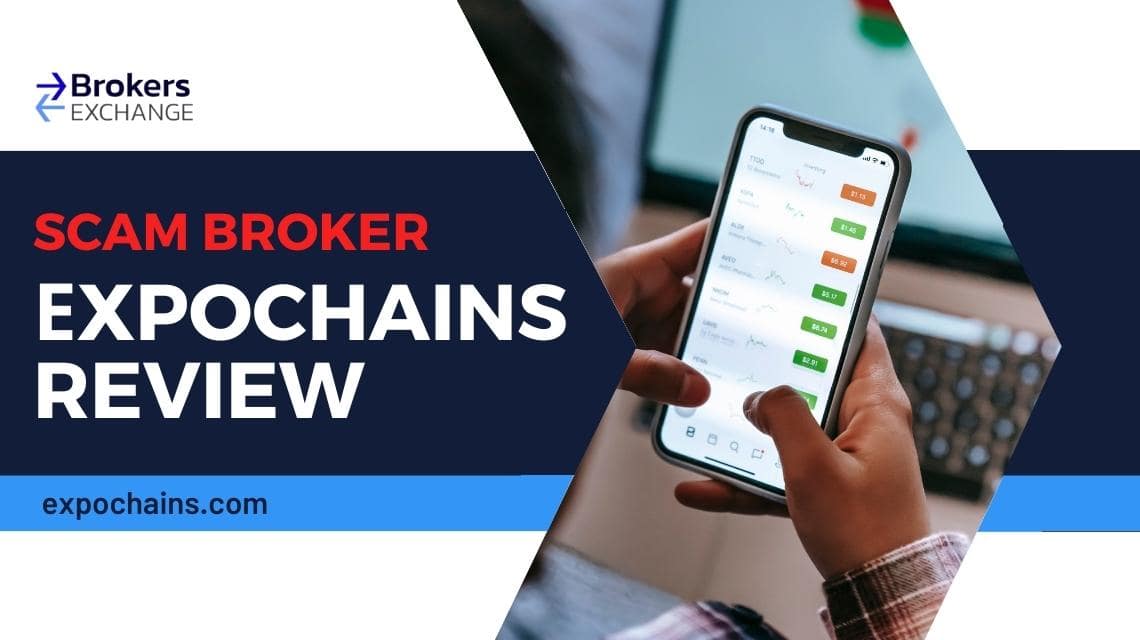 Expochains review will break this fraudulent trader's disguise, and show you why you should not trust them. This article is listing all the inconsistencies and lies of this financial fraudster. These are techniques that are common in cyber fraud, and that's the reason why you should read this article with your full attention.
Also, by reading it, you will learn who to trust, and how to pick a reliable broker. This is a five-minute read article, and we promise it's worth the time.
| | |
| --- | --- |
| Company | Expochains |
| Website | Expochains.Com |
| Address | Luxembourg |
| Email | [email protected] |
| Phone | +442037692074 |
| Minimum Deposit | $10000 |
| Leverage | 1:1000 |
| Bonuses | Not available |
| Regulation | Unregulated |
| Warning | CSSF, Finanstilsynet, FSMA |
Regulation and Funds Safety at Еxpochains
Expochains is allegedly owned by ExpoChains Ltd, registered in Luxembourg. For this to be true, it would need CSSF approval to conduct financial business. 
As you can already guess, there's no such license. On the contrary, we're given a UK phone number, so just for the sake of a good investigation, we searched the FCA register for the Expochains regulation. We found nothing there, as well.
Finally, Luxembourg has been an EU member since 1958, meaning that all the brokers registered in the country must comply with ESMA rules. One such rule is regarding the leverage cap that cannot exceed 1:30 for retail traders.
Since leverage on CFDs can be quite risky, the European Union decided to limit it and enable investors better risk management. However, Expochains allows leverage up to 1:1000, directly violating the MiFID directive and exposing your funds to exceptionally high risk.
That's not the whole story. Expochains also managed to "earn" two warnings from regulatory bodies. The first one was from the Luxembourgish CSSF, where they claim to be located. After that, the Norwegian Finanstilsynet, and the Belgian FSMA republished this warning.
Being blacklisted by three different regulators is a strong indicator that we are dealing with a scam. Stay away from this entity.
Trading Platform at
Еxpochains
Еxpochains claims that it would provide you with access to both a desktop platform and a WebTrader. However, no sort of platform could be accessed or tested before you opened an account with the broker. And to do that, you would have to make a huge initial deposit. 
Of course, there are no guarantees that you would get access to a platform after that or that the broker would not just disappear with your deposits. Better check out some legitimate brokers who offer reliable platforms like MetaTrader 5.
Of course, if you choose one of the legitimate brokers, like the ones we've listed at the end of this article, you will find real trading platforms – MetaTrader 4 and MetaTrader 5.
MetaTrader 4 is supported in 38 languages and available on a wide range of operating systems including Windows, Mac, iOS, and Android, and as a stand-alone web trader that can be accessed from any web browser. 
MetaTrader 5 is an institutional, multi-asset, multi-functional trading platform. Though it hasn't gained as much popularity as MetaTrader 4, MetaTrader 5 enables stock and commodities trading, unlike MetaTrader 4, which is forex market-centric.
Еxpochains
Deposits and Withdrawals
Expochains states that you would be able to deposit using a credit or debit card, or via wire transfer. While this may sound limiting, it's quite a good thing. If you've used your card, you can request a chargeback within up to 540 days.
In case of a bank transfer, you can recall the transaction or report the case to your bank's fraud department. And we can help.
However, we were not able to confirm the accuracy of that information – when we tried making a deposit, the broker's website malfunctioned and we got the message to try again later. 
All of these errors, inconsistencies, and especially the fact that Expochains is unregulated should make you choose another broker. A legit one.
Еxpochains Account Type Available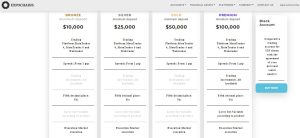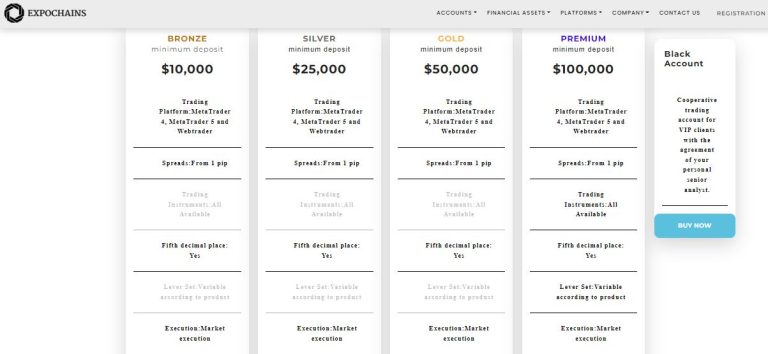 You can choose one out of the five accounts on offer, those being:
Bronze – $10,000

Silver – $25,000

Gold – $50,000

Premium – $50,000

Black – Consult Senior Analyst
As you can tell, this broker requires a whopping $10,000, which is insane.
Additionally, only Premium and Black account users can access all trading instruments, while leverage ranges from 1:100 to 1:1000.
How the Scam Is Carried Out
One of the most usual online trading scams is to initially display profitable trades that give the investor a false sense of confidence, and get them hooked on the idea of "easy money". Once this confidence is established, the investor will be sold the idea of investing more money to earn greater returns. 
After you leave them your data, that's when calls start., They use small talk and try to convince you that they understand your problems, and want to help you. It's a classic scam technique. 
Additionally, fake brokers also encourage investors to get their friends and family onboard the platform too. Once the brokerage believes that they have extracted all available funds from an investor, they will then proceed to suspend the account.
In case you got scammed by this one or any other financial fraudster, you shouldn't blame yourself. These are experienced thieves and everyone could end up as a victim.
Еxpochains
Summary
Expochains claims to be a Luxembourg-based broker company. However, we checked the CSSF's register and we know this is a lie. Also, that same register blacklisted them. As well as Finanstilsynet, and the FSMA.
Their leverage is 1:1000, which is directly opposing the MiFID directive. This is very high leverage and it's putting your money at great risk. This is an investment scam!
FAQs About
Еxpochains
Broker
Is Еxpochains a Legitimate Broker?
Expochains is yet another unregulated trader company, offering services they aren't allowed to. That leaves your funds with a scam broker.
Is My Money Safe at Еxpochains?
They are an unlicensed entity that got blacklisted by the CSSF, Finanstilsynet, and FSMA. You can't trust them to handle your money.
Does Еxpochains Offer a Demo Account?
Expochains doesn't offer demo accounts. You need to deposit the money to start trading.