July 13, 2023
Reading Time:
5
min
Lara Trader Review: An In-depth Look at the Trading Signal Landscape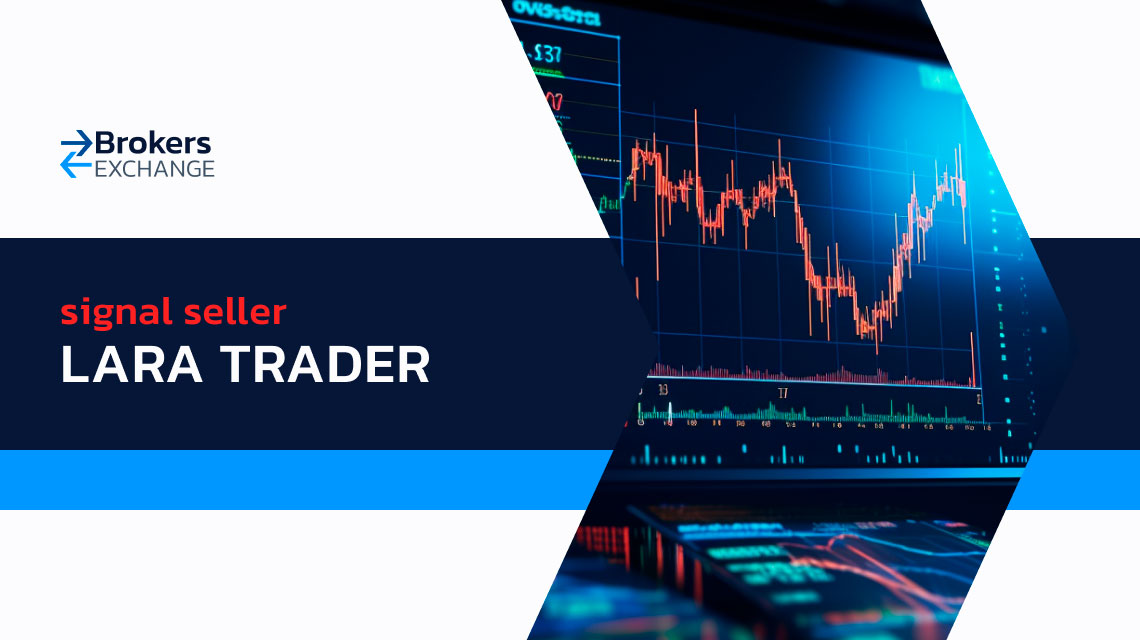 In today's age, everything revolves around social media. From sharing images with your friends to marketing your business, it's all on Instagram, TikTok, and similar platforms, and even trading gurus Like Lara Trader are jumping on the bandwagon.
We give you a comprehensive look at this trading advisor in our Lara Trader review. Everything you should know is right here, so let's not waste time and start right now!
Who is Lara Trader?
Lara Trader is a self-made trader from the US. She started her trading journey several years ago and decided to share her knowledge of the market with other people.
This trading guru primarily operates by creating videos with Lara Trader pro advice that she posts on her YouTube page, and she also has her Telegram signal group, where you can contact her.
Lara Trader Trading Strategies
The strategy that Lara Trader says she prefers is scalping. For those of you who are not familiar with this term, here is the rundown.
Scalping strategies involve making multiple quick trades to profit from small price movements. Traders aim to capture small profits on each trade by entering and exiting positions rapidly. Scalping strategies often rely on technical analysis tools, short timeframes, and high trading volume.
Lara Trader Signals
Lara Trader uses different signals in her videos. The most common ones that she recommends include:
MACD

Bollinger Band

Super Trend indicator
The Moving Average Convergence Divergence (MACD) is a popular technical indicator in financial markets. It consists of a MACD line, signal line, and histogram and is used to identify trend reversals, generate buy or sell signals, and assess price momentum. Traders analyze crossovers between the MACD line and signal line and the MACD histogram to make trading decisions.
The second on the list, Bollinger Bands, are indicators with several benefits for traders. They provide a visual representation of price volatility, help identify support and resistance levels, and indicate potential overbought or oversold conditions. Additionally, they can help you spot trend reversals which can be extremely useful.
Finally, Super Trend indicators help identify trends and align positions with the market's direction. These indicators offer clear entry and exit signals, improving trade timing and traders can even customize them to suit their preferences.
Lara Trader on Social Media: YouTube, TikTok, and Instagram
Like many other contemporary businesses, Lara Trader makes her living through social media. Therefore, it is not surprising that her social media presence is strong. You can find her on:
Lara Trader Telegram

Lara Trader YouTube

Lara Trader TikTok

Lara Trader Instagram
Since 2021, she has amassed a significant online following. Her YouTube channel has 344k subscribers and multiple videos with multi-million views. The guru is also on Telegram, where her Telegram signal group has around 73k members.
Using Social Media for Forex Trading
Her two most popular platforms are also where you can find most of her content. We would say YouTube is her primary focus and Telegram a close second.
She offers help with different things. On her YouTube channel, you can find videos about Quotex trading strategies and signals, binary strategies and signals, and general trading advice.
A separate part of the Lara Trader YouTube channel is the YouTube Shorts section with 1-minute tips that you can quickly go through. Some examples include advice on analyzing trading candles, trading basics, and testing levels in trading strategies.
The Mechanism of Forex Signal Scams
Forex signal scams are one of the most popular scams today. Signal scammers come in different forms. They can be retail companies, pooled asset managers, or even individual traders that want to help you get in on the action.
The main selling point for scammers is their expertise. They will talk ad nauseam about their proven track records and satisfied clients to boost their credibility in your eyes.
However, these scams work like any other forex scam. For example, a trader will create videos about making incredible amounts of money, and at the end, they will say that you can get their secrets too. All you need to do is give them an X amount of money, and that is it. And, of course, the next thing you know, they do not return your calls or answer messages, and you lose all your money.
Identifying Red Flags in Forex Signal Trading
We will show you the red flags you should look for to avoid situations like the one above. One of the more common schemes is the robot scheme. Many trader gurus present you their systems that can work even while you sleep and guarantee a great return on investment and other unrealistic things. If you notice any of this, save your money and invest in something else.
We are not saying that using systems is bad; on the contrary. But keep an eye on the price gurus or other signal sellers ask from you. You should not pay more than a couple hundred dollars for a trading system.
How To Avoid Forex Trading Scams
As a general rule of thumb, we advise you to show a healthy amount of skepticism toward everything. This market is not regulated in any way, so you cannot look for a license to see if signal sellers are legit. That is why you should always do careful research before investing.
Proven Strategies For Safe Forex Trading
The first thing you should do is educate yourself on all things about forex. Only if you know how the market works and best trading practices can you be confident enough to fully enter the forex trading world.
Furthermore, we advise you to only trade with proven, regulated brokers. They must have a legitimate license for you to trust them with your money, so that should be the most important thing you should look for.
Finally, avoid signal providers that make unrealistic promises. Like we said in the segment above, if you think something looks too perfect, do a little digging and you will probably find a scammer behind that offer.
Final Thoughts
At the end of our Lara Trader review, we want you to think carefully before investing. Although many people are thanking her for trading tips, she is not a regulated broker that can promise you fund security.
On the other hand, if you want to find a broker that can provide you with financial security, you can contact us. We offer you free consultations where we can analyze your needs and skill level to recommend you a perfect broker for you.
FAQ Section
Who is Lara Trader?
Who is Lara Trader? Lara Trader is a self-made trader that gives other people advice on trading. She mostly posts her content on her YouTube channel and Telegram group.
How does Lara Trader share forex signals?
Lara Trader mostly shares forex signals in her Telegram group. She tells people in her Instagram bio to join the Telegram group for free signals.
How do forex signal scams operate?
Forex signal scams are not that different from other forex scams. Scammers boast about their expertise in the field and often explicitly show large sums of money in their videos or on their other profiles. And to help you get the same gains with trading, they want you to deposit X amount of money that they will eventually steal.