November 18, 2022
Reading Time:
4
min
24FB-Trade Review: Is 24FB-Trade.com a Legit Broker?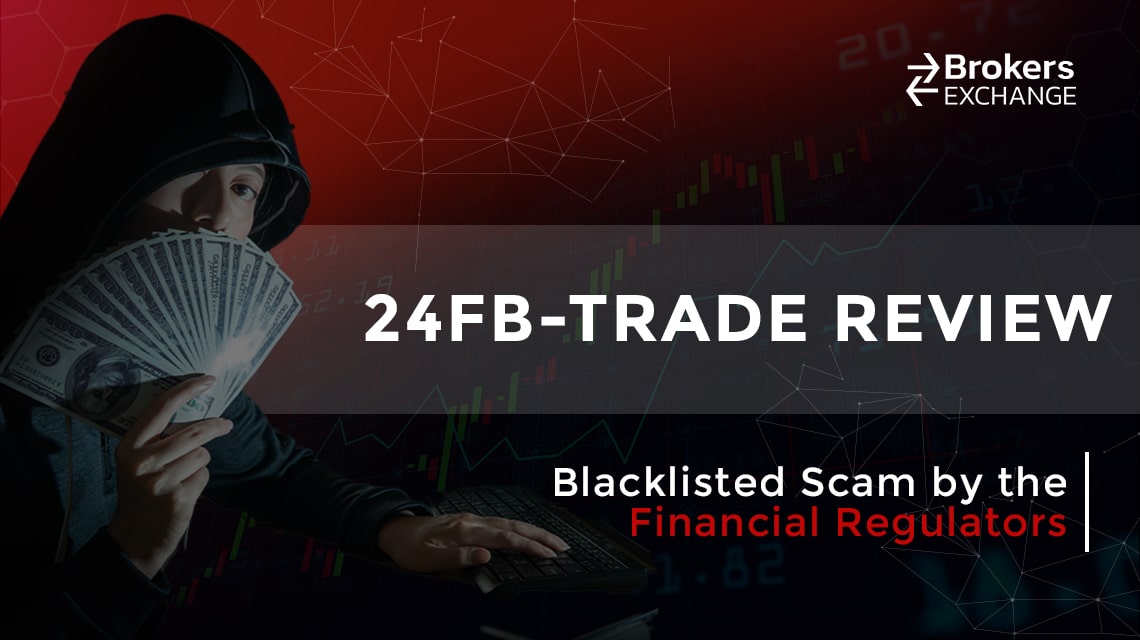 24FB-Trade is most definitely not a legit broker. Taking a quick look at their disastrous online presence, reveals it to be a fraudulent project designed to rob as many people as possible as quickly as possible.
The company claims to be the number one CFD provider in the world, offering top-notch trading tools to help you make informed investment choices. 
They also supposedly have news feeds from Twitter and Reuters integrated into their trading platform, again to keep you updated on the current market trends at all times. 
The unauthorized broker is trying to feed its victims the illusion of having all of the market data they need, digested, right under their fingertips if only they invest with 24FB-Trade.
Furthermore, besides making various offers with zero coverage whatsoever, their website doesn't give any information that could help really make any informed decisions. 
There is no registration form, no leverage, and no spread values anywhere, only the alleged claims that they trade with basically everything.
| | |
| --- | --- |
| Company | 24FB-Trade |
| Website | 24fb-Trade.com |
| Address | 10 Paternoster Square, London, EC4M 7LS U.K. |
| Email | [email protected] |
| Phone | +44 (20) 376 96940 |
| Minimum Deposit | N/A |
| Leverage | N/A |
| Bonuses | N/A |
| Regulation | N/A |
| Warning | FMA, CONSOB, CNMV |
Regulation of 24FB-Trade and Financial Security
The 24FB-Trade scam is, as you would expect, unregulated. More than that, 24FB-Trade has been blacklisted as a fraudulent project by the FMA (Financial Market Authority) in Austria. 
This means that the company cannot trade on its own or the behalf of others on a commercial basis.
The cherry on top of the cake here is the fact that they claim to be licensed and regulated by BMA (Bermuda Monetary Authority). 
Licenses provided by offshore regulators, such as the BMA, simply don't matter that much since their regulatory requirements are very low and they don't really have the capacity to oversee the vast amount of brokers waving their licenses internationally. 
What makes their claim funny is that they are not regulated even by the BMA. There is no mention of 24FB-Trade in their regulated entities registry whatsoever.
Other than that, this shady brokerage claims to have offices in Belgium and Denmark. Though Belgium has a regulatory body called the Financial Services and Markets Authority (FSMA), retail trading is effectively forbidden, which makes their claim of having offices in Belgium dubious and obsolete. 
As you might expect, 24FB-Trade is not registered with the FSMA or the DFSA (Danish Financial Supervisory Authority).
Trading Platform Uses at 24FB-Trade
Most regulated brokers use the MetaTrader4 and MetaTrader 5 platforms which are the leading industry standards. Even though 24FB-Trade claims to be using award-winning software, they haven't bothered with giving us the name of the platform that they are allegedly offering.
Even though we searched their site high and low, we could find nothing but pictures of various graphs which are probably supposed to give you the impression that this is a serious company. 
There is no way to actually take a look at this ephemeral platform. The only thing that we know is that it is web-based and it has won awards, that is if we decide to trust the unlicensed broker.
24FB-Trade Deposits and Withdrawals
As with other pertinent information, how can you make a deposit is a matter of mystery? There is only one page on the entire site, where you can see tiny icons of Visa, MasterCard, American Express, and PayPal in the bottom right corner, indicating that these are in fact the ways you can send money to these scam brokers.
The same applies to withdrawal methods. There is absolutely no information about the withdrawal to be found. This is a big no-no. From what we can tell, the 24FB-Trade broker scam doesn't even offer withdrawals. 
The eye-soaring lack of the most basic information is yet another clear sign that you should believe all the complaints made against the broker made by other victims, and avoid this investment scam at all costs.
How is the Fraud Delivered?
You might think that over time fraudsters have developed more sophisticated scams to defraud their victims but that is not the case. 
Like most financial swindlers, 24FB-Trade doesn't get too creative about its cyber fraud. It's the same old story. People see an ad with happy people increasingly rich by the minute simply by putting their trust into some financial swindler such as 24FB-Trade. 
The clickbait leads you to a place where you leave some contact info and thus invite the scam brokers into your life.
Next come the constant calls, messages, e-mails, etc. At this point, the would-be trader will say and offer anything to get you to invest. 
Though the victims may sometimes get a taste of their alleged profit, this happens with more advanced scammers who are after bigger fish. In reality, by the time most people realize that they are in fact dealing with a scam, their money is long gone.
24FB-Trade Summary
We truly hope that our 24FB-Trade review can help you stay away from various scam brokers such as this one. If you read our article carefully you should now be able to differentiate a broker scam from an actual broker. 
Be wary of how you trust your money, as unscrupulous brokers will bleed your finances dry and leave you with nothing but broken promises. If you paid close attention to the red flags of an investment scam, you can easily deduce that 24FB-Trade is not a legitimate broker.
FAQs About 24FB-Trade Broker
Do You Offer a Guarantee of Stop Loss?

Information regarding a guarantee of stop loss is not available on the site.
What Currency Pairs Do You Offer?

There is no information about currency pairs offered.
Where Are Your Trading Servers Located?

Information about the location of the trading servers is also unavailable.