August 13, 2023
Reading Time:
5
min
4T Limited Review – Gray Zones Licenses Are Double-Edged Swords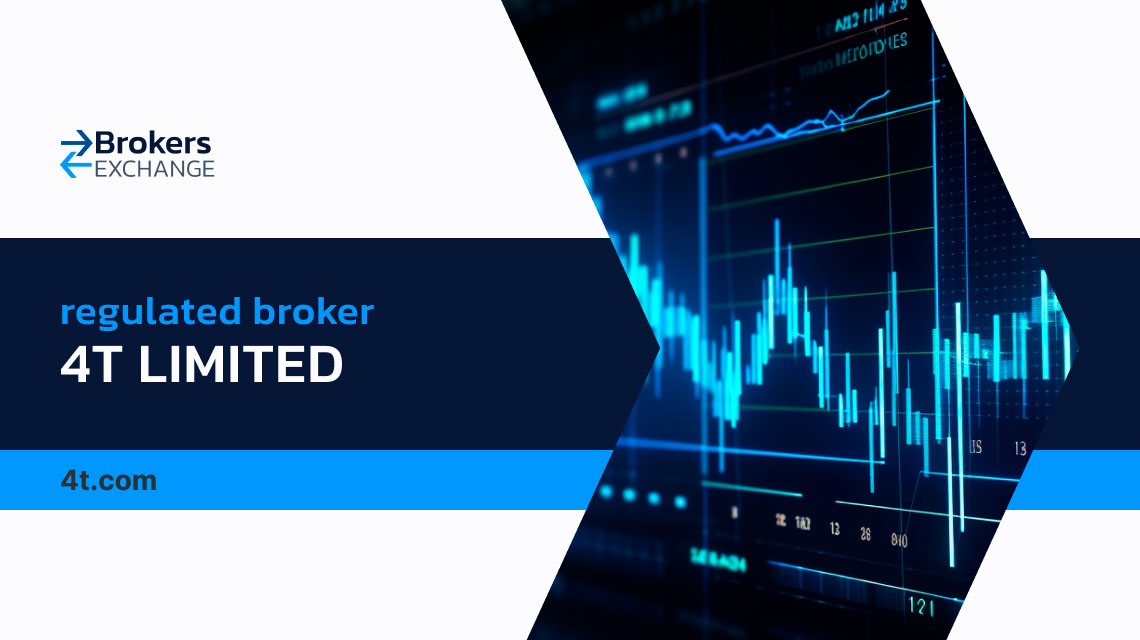 4T Limited is a Seychelles/UK brokerage brand. The broker owns licenses from the local jurisdictions in the areas where they're registered, so we can consider them legit to offer financial products and services there. 
The benefits of joining the platform reflect in financial security, broker's stability and safety of the deposits invested with this firm. That is, in essence, the most important aspect of a conduct that every customer is first interested to hear about. 
This 4T Limited review takes you further through the broker's offer as we discuss the particularities of their business.
Who is 4T Limited?
This decades-old domain is run by a company called 4T Limited, established in Seychelles. The company owns a jurisdictional license, which allows them to offer their financial services and products to domestic and international clientele. 
There are some restrictions jurisdictions-wise, though. In those cases, the services are provided through the top tier licensed alternative – 4T Markets Limited, regulated by the strict FCA. Another recommendation based on the same regulation is TIO Markets. 
Trading conditions and tools featured on the site are, first of all, transparent. Moreover, the parameters all seem very attractive, but ultimately realistic – no one has gotten rich overnight without working hard and gaining knowledge through practice. 
4T Limited
Reliable Broker Must Have
Legal name:

4T Limited

Transparently displayed in the disclaimer or legal documents

Regulation:

Regulated Broker

Within your legal jurisdiction – local regulator

Registered in:

Seychelles/UK

Your country or the country whose license applies in your legal jurisdiction 

Established:

1998

The older the domain – the higher the possibility the company is trustworthy

Website:
https://4t.com/


https://4t.co.uk/

Domain should be from local or international zones, no .xyz etc.

Financial Authorities Warnings:

None

None

Contacts:
+442033016473


[email protected]




Online Chat

Phone, email, social media, web form

If withdrawal is possible:

Yes

Yes

Fees:

Transparent

Transparent fees – list of spread and commissions

If Active on Social Media:

Vaguely present on social media (Facebook, Twitter, Instagram, Linkedin)

Often present on social media

Investor Protection:

Compensation fund

Compensation fund
4T Limited – Regulatory Status
Becoming legit is what most newly registered brokerage houses struggle with. 4T Limited (4t.com) has no such issues. The Seychelles office is located in Seychelles, Mahe, Victoria, Olivier Maradan Building, 1st Floor and they appear in the FSA register of regulated securities dealers.
The other entity, 4T Markets Limited (4t.co.uk) is also properly regulated where regulation is due. Firstly, the company can be found in the UK Company House and then also in the country's main regulatory authority database – FCA. 
In reference to that, regulatory requirements these two regulators impose are groundbreakingly different. Tier 1 regulators provide the proper funds' safety, risk managing strategies and compensation funds. 
Offshore regulators often impose no requirements and only expect the brokers to provide proof of small operational capital. The safety precautions don't exist and we never recommend our audience to conduct trades under such loose regulations.
General Profile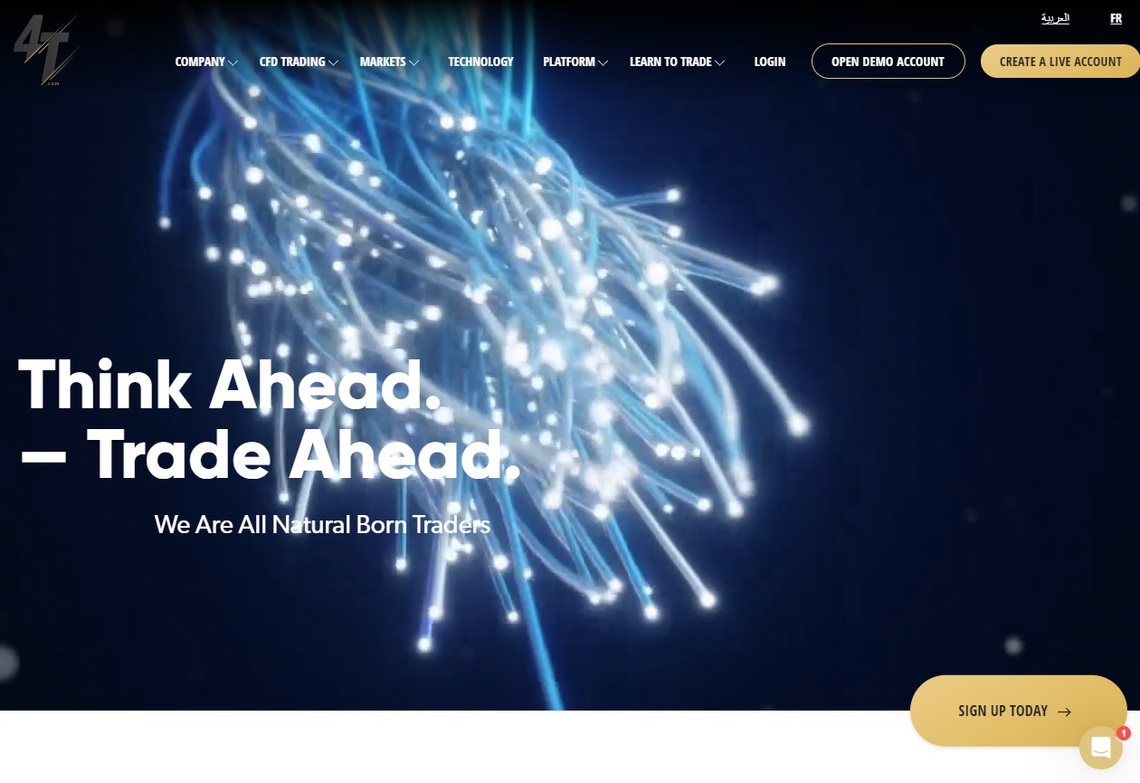 All the trading at 4T Limited is done on the premium trading terminal – MetaTrader 4. Widely popular for its user-friendly interface, it is suitable for both beginners and professional traders to set up the layout how they prefer. Rockfort Markets is an alternative broker we recommend, providing the same trading platform. 
Perhaps one bit the offer lacks is the variety of the trading packages, as 4T Limited accounts are only divided into two sorts – Live and Demo. Both offer fair and transparent trading conditions and to start live trading only requires a small deposit of $100. 
However, be aware that some of the trading conditions vary for traders that invest from different regulatory jurisdictions. 
Bonuses
As an offshore entity, 4T Limited has the freedom to offer bonuses. Upon registration and first deposit over $500, clients can choose if they want to accept a 20% bonus. This bonus cannot be higher than $500 in total. 
If you're looking for a higher bonus offer, perhaps JP Markets would be more suitable for you.
Trading platforms:

MT4

Account types:

Live Trading Account

Demo Trading Account

Financial Instruments On Offer:

Forex (EUR/USD, GBP/USD, NZD/USD, AUD/USD)

Indices (US30, US500, NQ100, GER30, UK100)

Shares (3M, ATT, GoPro, Moderna, Twitter)

Commodities (Gold, Silver, USOil, UKOil)

Maximum leverage:

1:300

Minimum Deposit:

$100

Commissions/bonuses:

20% Bonus on deposits of $500+

Mobile app:

Available

Desktop app:

Available

Autotrading:

Not available

Demo account:

Available

Education or Extra tools:

Basic Tools, Forex Guide
4T Limited – Safety Concerns
As evident in the FCA report on this company, some of the firm's activities aren't under the supervision of this regulator. The institution warns potential clients of 4T Limited that not all of them could be protected by FCA and FSCS.
The safety concerns pertaining to this platform refer to the fact that some international clientele are subject to the offshore regulation. FSA is very relaxed when it comes to proper safety measures and limitations in trading. 
For example, customers falling under this jurisdiction can trade with the leverage of up to 1:300, which we're all well aware is extremely risky. We do not recommend these conditions to any investors, except the very knowledgeable and experienced ones.
Furthermore, FSA doesn't have bonuses banned, like FCA. Bonuses and rewards may often be misused by brokers. This doesn't have to be the case with 4T Limited, but we advise you to carefully approach this option. 
4T Limited Clientele
The same downside to safety is what some professional investors are actually looking for – traders with developed risk-management strategies are willing to trade under higher leverage. 
Let's also not forget that the broker has an extremely friendly approach – customer support is available at any point, too. You can't help but have the time and patience to listen to a polite sales agent that presents a deal which is hard to reject. 
Nonetheless, traders from the following countries seem to enjoy the 4T Limited trading environment and conditions the most:
United Arab Emirates

United Kingdom

India

Côte d'Ivoire

United States
4T Limited Funding Methods and Fees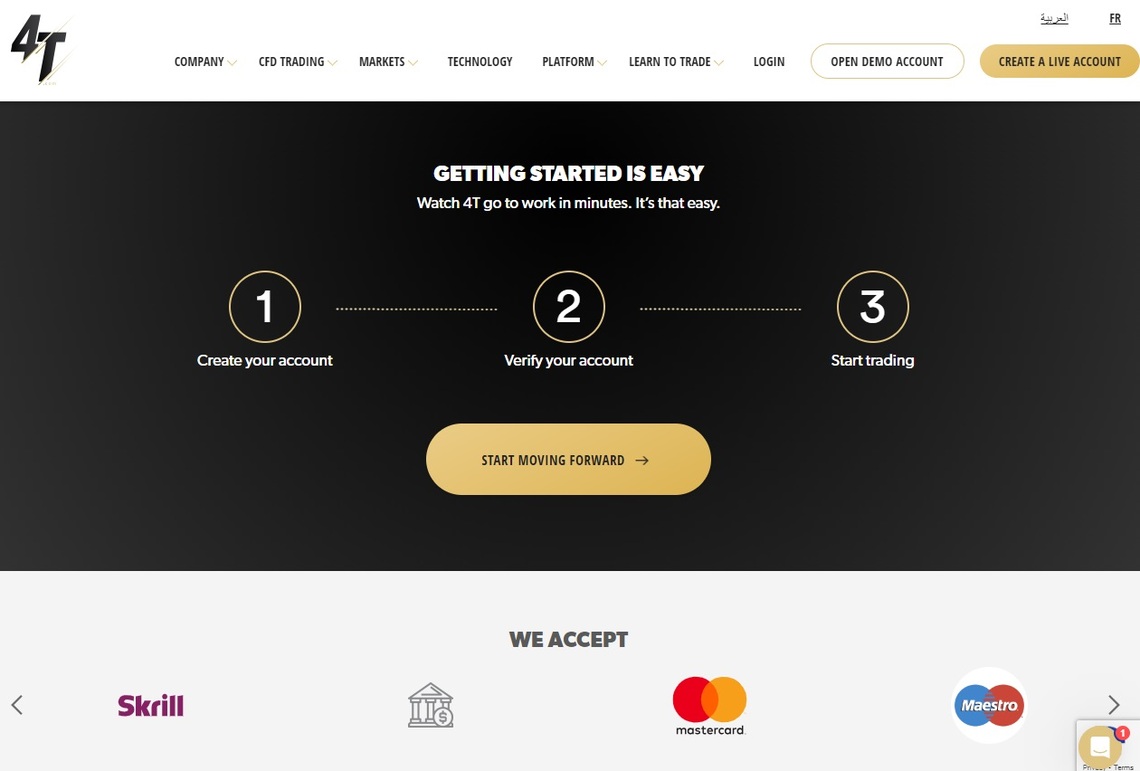 The broker offers several channels open for transactions, such as credit cards, bank transfers and e-wallets. All the transactions are performed from the user area, where you can choose the amounts and have detailed insight into your transactions history. 
What we find the most praise-worthy about the broker is that they do not charge deposit or withdrawal fees. These entirely depend on the payment service provider and they're the only source of potential fees occurring. 
The only fee that the broker charges is the inactivity fee, activated after a year of not placing orders. In that case, the amount charged is $50.
Reasons To Pick This Broker
Every careful investor loves transparency! 4T Limited is thoroughly honest and informative when it comes to trading tools and conditions. All the additional details, such as fees, transactions and special terms and conditions are present on the site. 
Potential clients can also get plenty of relevant information through the contact options – such as live chat, email and phone. The customer service is polite, resourceful and very diligent. 
Besides the attractive trading conditions, adjustable leverage and very tight spreads, the broker is properly regulated. 
Our Final Opinion
All of the data collected through the process of a meticulous investigation we've conducted point at the fact that 4T Limited has a flawless background and great potential for lucrative investing. 
However, despite the obvious pros, it doesn't have to mean the brokerage is suitable for everyone. If you do not find this broker attractive for investing, you're welcome to contact us for more recommendations. 
Based on your preferences and trading styles and strategies, we could perhaps offer you more alternatives. Our services are entirely free, so contact us any time!
FAQ Section
Who Is 4T Limited?
4T Limited is a Seychelles/UK brokerage brand with both FSA and FCA licenses.
Is 4T Limited Regulated?
Yes, the broker owns trading certificates in the jurisdictions where they're registered. However, if you're looking for something different, we can advise you and offer more alternatives for free.
What Are The Trading Instruments Of 4T Limited?
Forex, Indices, Shares and Commodities is what 4T Limited offers for trading. If you're looking for brokers enabling other instrument groups, we can help you find them.