March 01, 2023
Reading Time:
5
min
Accurate FX Markets Review: Learn More About This Scam Broker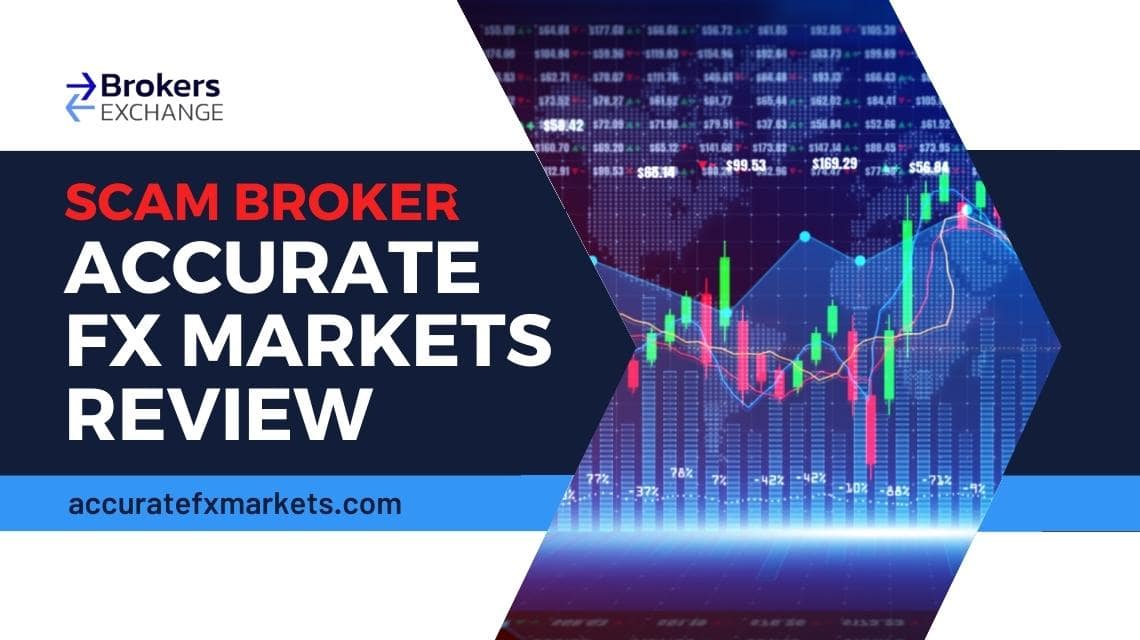 Accurate FX Markets, owned by an anonymous company called AFXM LLC, is based in Saint Vincent and the Grenadines. 
Operating from a chaotic mess of a scammer resort, this broker nonetheless confidently claims they are the best broker around. The suspicious website confidently declares to be a leader in FX and CFDs trading conditions and platforms. 
All of those claims, being empty words and promises, don't change the fact that Accurate FX Markets wasn't regulated by any financial entity. An illicit brokerage agency like this one may as well claim to be the best trading environment in the world. 
But without any evidence of that, including legal documents that seem like a copy/paste result, Accurate FX Markets is absolutely not trustworthy.
We examine this in detail further in our Accurate FX Markets review, so keep reading and get familiar with how this one and similar frauds operate. 
| | |
| --- | --- |
| Company | AFXM LLC |
| Website | AccurateFxMarkets.Com |
| Address | SVG |
| Email | [email protected] |
| Phone | N/A |
| Minimum Deposit | $250 |
| Leverage | Up to 1:1000 |
| Bonuses | N/A |
| Regulation | Unregulated |
| Warning | N/A |
Accurate FX Markets Regulation and Security
Although Accurate FX Markets is a common scam that is best to avoid as far as investments go, the site captured our attention so we had to investigate. The basic principle all brokers should base their work ethics on is the regulation. It is, without a doubt, a paramount set of rules that all brokerage companies should abide by. At least that's how it works in theory. 
In reality, we have an ill-famed offshore zone like SVG that doesn't supervise the brokers and the illegal activities they perform. Unbothered by legal consequences, scam broker sites appear overnight and set up whole fraudulent schemes that mainly target novice traders.
Unlike regulated brokers, Accurate FX Markets and the likes cannot offer top protective measures for safekeeping of investments. By this we mean segregated bank accounts, leverage limitations, negative balance protection and compensation schemes. 
On top of that the regulation binds firms to absolute transparency, especially concerning money transfers and customer security. That is just the tip of the iceberg of the legal framework that should define how every broker operates.
In hopes that we were wrong to judge Accurate FX Markets as illegal and dishonest, we ran a detailed scan of some databases of regulated brokers. As expected, Accurate FX Markets isn't on the list of FCA, ASIC, NFA, CySEC, IIROC, FINRA and BaFin. Every jurisdictional authority keeps their own register of brokers they supervise and Accurate FX Markets showed up in none. 
This has only led us to conclude that this broker is not a legal entity but a cyber thief that bears no responsibility for their unscrupulous actions.   
Broker's Trading Software Overview
Before you get your hopes up after seeing this broker advertising MT4 and MT5 as available platforms, let us just tell you the actual truth behind it all. As it appears, making an account at Accurate FX Markets is easy and fast and the site doesn't filter the new customers. Neither is there any type of verification process. 
After joining the site you are taken to the trading area which is made of a simple web trader that has purely a decorative purpose and no function whatsoever. The unmoving graph that is supposed to be showing the price movements has no purpose and is basically useless. 
We couldn't locate the download links for the MT4 and MT5 no matter how hard we looked. Another blatant lie by Accurate FX Markets and another reason not to trust this con with your investment. It is simply not possible to trade and earn on a defective platform. 
Deposit and Withdrawal Process
Since Accurate FX Markets shamelessly lies about their trading platform available lies just keep piling up from that point on. The site attempts to convince us that money transactions are safe and secure. From what we saw, the only depositing methods are the most dangerous and least safe – the infamous cryptocurrencies. 
You may wonder why that is so. Well, since the process is next to irreversible, it is very hard to track the owner of the E-wallet, because it doesn't necessarily lead to the wallet owner. The deposits are indeed instant but getting your money back is far from plausible. 
What surprised us is how Accurate FX Markets offers different methods for withdrawals, like credit cards and wire transfers. This is against any and all AML rules. 
On top of that, the Terms and Conditions clarify the fact that the customer has to agree to pay all the fees, commissions, discounts, spreads, and profit-sharing. 
That's not all, though. Accurate FX Markets applies an annual fee of 4%. For uncompleted trades, there's another 1% to 5% that the company also deducts from the client's trading account. 
The bonuses and promotions are taken from the client's account upon every withdrawal request which means withdrawing the bonuses is not plausible. Otherwise, the minimum amount for withdrawing is $50.
Account Types Offered
Accurate FX Markets is very meticulous when it comes to explaining the account types and all the features available for each account option. 
If we disregard the fact the accounts are insanely expensive and that nothing guarantees the supposed features provided, Accurate FX Markets seems quite convincing with their story. 
Let's take a look at available accounts and the amount of cash they require for opening:
Newbie – $250
Explorer – $10.000
Trader – $30.000
Trader Pro – $100.000
Expert – $500.000
Expert Pro – $1.000.000
VIP – $5.000.000
The more expensive the account the better the offer, although we really couldn't determine what magical abilities could have the accounts costing millions of dollars. 
How Does the Scam Implement?
Accurate FX Markets seems friendly and confident at first, and the same will be their agents when convincing you to make a deposit. Once they get a proper grip on your decision-making, you become another puppet in their malicious hands.
While making you believe the profit is just a click away, they will slowly drain your entire life savings. Broke and indebted, you will be disregarded and the scammer will be ready to move on.
It is that simple for them because they manage to keep their virtual anonymity no matter what, so they remain safe from legal pursuit. 
There are many methods they use to keep you infatuated with the thought of easy profit. These can be bonuses and promotions and other rewards that Accurate FX Markets clearly states are not eligible for withdrawals.
Accurate FX Markets Summary
This broker review was brought to you as a warning against an unscrupulous online trading services provider. Looking for nothing else but to rob you, Accurate FX Markets is a scam website that respects and follows no legal framework. 
As evident, their services are a lie and the features offered are unreasonably expensive. If you had 5 million dollars to invest in opening a VIP account, you wouldn't be needing their services to begin with. It's absolutely insane what costs and conditions Accurate FX Markets imposes on their clients and we surely do not recommend this broker for any purpose. 
Instead, please refer to our table of most recommended brokers with proper licenses and regulations. If you've already had some experience with this broker do not hesitate to share it with us and report them to the authorities in charge.   
FAQs About Accurate FX Markets Broker
Is Accurate FX Markets Broker Regulated?

Accurate FX Markets is an unregulated site for online financial services. Unlicensed by any financial authority, they are not trustworthy and not worth your time and money.
Is my Money Safe with Accurate FX Markets?

Missing the proper regulations to define their line of work, Accurate FX Markets cannot guarantee safety of funds, security of personal information and your status as their client.
Does Accurate FX Markets Offer a Demo Account?

There's no option to open a trial account with virtual funds to test the trading environment, you have to deposit real cash to be able to trade.