March 09, 2023
Reading Time:
4
min
AllCryptoCapital Review: Who Is Behind AllCryptCapital.Com?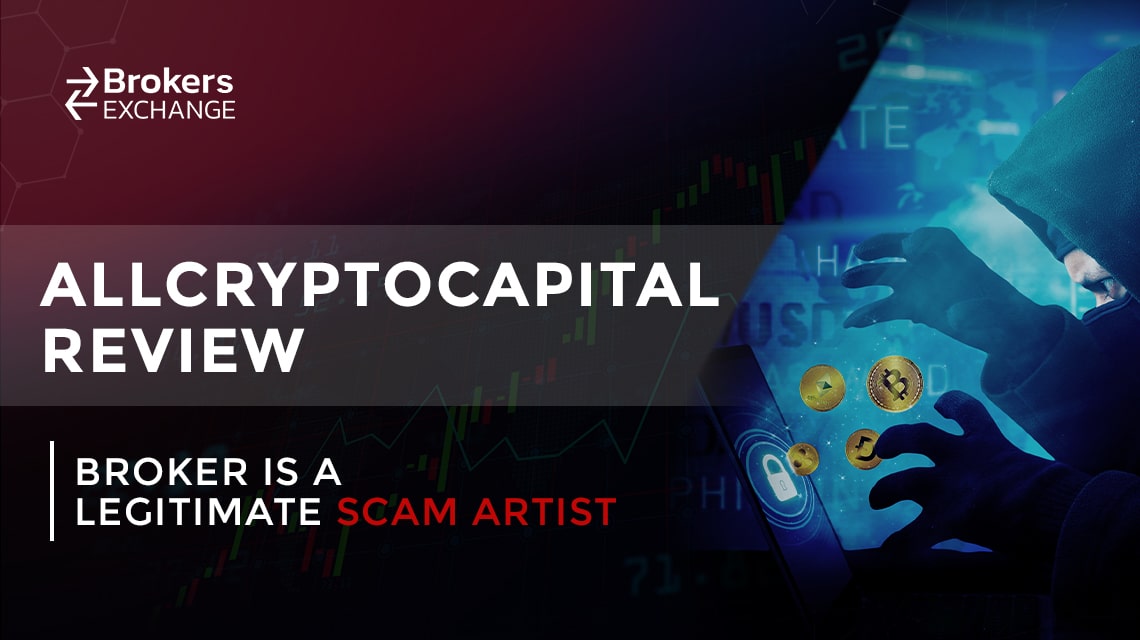 AllCryptoCapital Review, Reading this is the first indicator that you thought it could be okay to invest your money here. However, hold that thought for a moment! 
AllCryptoCapital is another investment scam. The broker lacks a legit license and is not authorized in any way. Also, this offshore company doesn't give any details about spread or leverage. There's nothing on payment options as well. 
Let's hop into this AllCryptoCapital review for more exciting information.
| | |
| --- | --- |
| Company | AllCryptoCapital |
| Website | AllCryptCapital.Com |
| Address | 11 Westferry Circus, London E14 4HD, UK |
| Email | [email protected] |
| Phone | +441795501566 |
| Minimum Deposit | $250 |
| Leverage | N/A |
| Bonuses | N/A |
| Regulation | No |
| Warning | No |
Licensing and Security of AllCryptoCapital
If you had hopes of finding any details on a license or regulation, that's a dead end. AllCryptoCapital broker doesn't give us any details about any license.
Speaking of its base, you will see that the broker is allegedly based in the UK. This country has one of the most rigid regulatory bodies and multiple conditions for brokers. If you check with the Financial Conduct Authority, you won't find any company with this name. This web page is clearly not trustworthy. It is entirely unregulated and basically anonymous.
So, try not to invest your money in such a bogus company. You will be taking a big risk. Trading with unregulated brokers hides many troubles and risks. Would you like to invest in crypto or any other asset? If so, go for a regulated company that is located in the US, EU, UK, or Australia. Working with a regulated broker assures you that your money won't be stolen or misused.
Keep in mind that leverage higher than 1:50 is extremely risky. Moreover, leverage starting at 1:100 is even more hypothetical and problematic.
Note: There are businesses that market systems—signal sellers or automated bots—and usually sell bad things that do not yield any results. These bogus web pages often prey on new traders on many venues or forums. You should know this!
Trading Platform Overview
The trading platform offered by this company claims to have cutting-edge features. However, there is no way to confirm this. There is no possibility of making an account on this platform. Notably, it's possible to log in. Yet, it's impossible to make an account, which is extremely contentious. 
No further details about the features exist on the site. Beware that most fraudulent brokers want you to register and deposit as soon as possible. More often than not, they want you to do that without delivering a lot of data about its trading needs.
Look for brokers that can offer you avant-garde software in MT4 & 5. Similarly, never forget that licensed status is absolutely crucial.
Tip: Apart from its innovative desktop version, MetaTrader5 is available as a web venue too. You can access it from any browser. 
Deposits and Withdrawals Methods
As it's impossible to open an account here, you can't see the payment options. Also, you won't know anything about the fees upon withdrawal. This is rare to come across a broker that lacks almost any details.
However, if somehow happens that you open an account with them, beware of the payment options they offer. It is typical for online fraudsters to insist on paying via crypto assets for many reasons.
Firstly, these transactions are entirely anonymous. You can never know to whom the cryptocurrency wallet belongs. Because all the transactions are hidden on a blockchain, you won't be able to prove anything. Next, paying with crypto assets like BTC or ETH is virtually irreversible. 
Bonuses and Promotions
This broker scam offers nothing valuable. The same goes for bonuses, as there is nothing to be found about this topic. 
Interestingly enough, scammers may try to mislead you by promoting bonuses that seem mind-blowing. However, they often arrive with very high volume requirements. Similarly, fraudsters tend to simulate your trading results.
How Is Fraud Set Up?
Fake brokers have many deceitful techniques. There are withdrawal difficulties and unfavorable reviews. In addition, you will see excessively high fees. These immense fees often go surpassing 20%.
Alike, they will incorporate some sort of a profit fee. Fraudulent websites will prefer to rob you before initiating a withdrawal. Know that this is virtually always the case!
Moreover, there are always profits that they swear by. This is another regular fraud method that you should keep in mind. These fraudsters will promise you guaranteed returns. Trading with leveraged assets holds certain stakes. Try not to ignore this!
Any broker fraud will keep telling you that the profits are guaranteed. This is a big red flag. 
Trade with legitimate brokers only. Regulated brokers often come from the EU, the US, the UK, and Australia. These need to post a note about the percentage of people who suffer losses on their venues.
There Is More to This
If you get victimized by fraud, you can do some things. The best action to take is to file for a chargeback. Regardless, this happens only if the trader has paid via a card. That's why many trading deceptions avoid taking card payments. 
Wire transfer deposits are a bit more problematic to get back. The only advisable thing is to reach the bank to sort things out if possible. Alike, always make sure to change your details, such as username and password. This is critical.
AllCryptoCapital Summary
So, what's there to learn from this AllCryptoCapital review? This is not a broker someone would recommend. They are not authorized to deliver financial services. What's more, there are many negative comments online. Your money is not safe, so beware of this investment scam.
Check out the other AllCryptoCapital reviews if you can. It will be worthwhile not to fall for their pitfall. Always study the company before you send them your money.
Have you been a victim of fraud? If that is a yes, leave a negative review and warn other individuals about this scam broker. It can be beneficial!
FAQs About AllCryptoCapital Broker
Is AllCryptoCapital a Regulated Broker?
The AllCryptoCapital broker doesn't have any license. They are a fraud.
Is My Money Safe with AllCryptoCapital?
No. Your money will not be safe with this broker scam. Keep this in mind.
Does AllCryptoCapital Offer Demo Account?
There are no details regarding any demo accounts on this so-called broker.