August 16, 2023
Reading Time:
4
min
Amazing Trade Review – Nothing Amazing About This Common Forex Scam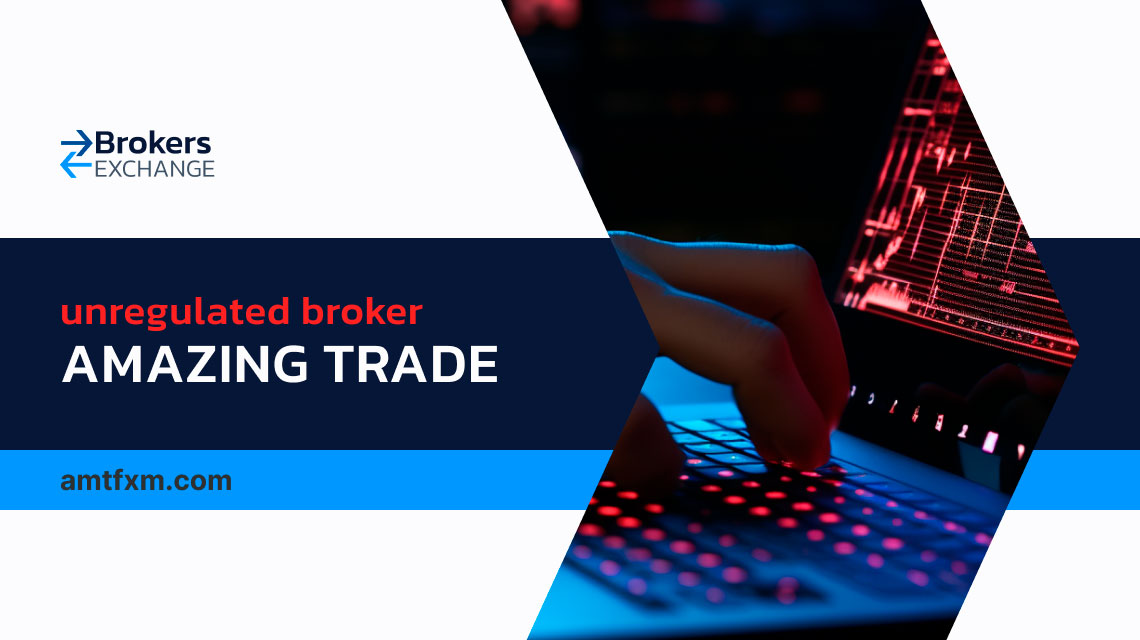 Amazing Trade is a suspicious, potentially offshore company with a pathetically cheap website. Not even close to something aesthetically pleasing or captivating, this site is supposed to represent a massively popular and successful brokerage brand. 
For what it's worth, at least they're trying. Although failing miserably. We've seen through their poor disguise and are ready to expose the fraudulent scheme in the following Amazing Trade review.
Masterminds Behind Amazing Trade
It is scary to believe any serious investor would ever entrust their capital to a pack of unknown financial criminals running this website. Because that is all they could possibly be, considering they're covering up their identity to perform cyber theft easier. 
The uninformative web presentation doesn't give you any solid info about the company itself, people who run it or what is their professional history and background. Beware of such online entities, and do not, under any circumstances, take up their offers! We recommend the same when it comes to LeaderFinancing.
| | | |
| --- | --- | --- |
| | Broker name | Reliable Broker Must Have |
| Legal name: | Amazing Trade | Transparently displayed in the disclaimer or legal documents |
| Regulation: | Unregulated | Within your legal jurisdiction – local regulator |
| Registered in: | N/A | Your country or the country whose license applies in your legal jurisdiction  |
| Established: | 2022-10-10 | The older the domain – the higher the possibility the company is trustworthy |
| Website: | https://amtfxm.com/amazing/en/index.php | Domain should be from local or international zones, no .xyz etc. |
| Financial Authorities Warnings: | N/A | None |
| Contacts: | Email | Phone, email, social media, web form |
| If withdrawal is possible: | Highly unlikely | Yes |
| Fees: | Hidden Fees | Transparent fees – list of spread and commissions |
| If Active on Social Media: | Not active on social media | Often present on social media |
| Investor Protection: | None | Compensation fund |
Suspicious Legal Status
There's no doubt something is terribly off about Amazing Trade. Because the two site languages are Chinese and British English, we first searched the databases of FCA and CSRC. 
Not surprised by the negative search results, we went through a couple of other Tier 1 databases like BaFin, CONSOB and CNMV. None have details about this shady business.
The company itself doesn't provide any legal information, especially pertaining to licensing and company registration. 
There's no doubt this firm operates without a Tier 1 license that would ensure segregation of funds, risk-reducing measures, transparency and compensation funds. Without all that, Amazing Trade cannot be trusted.
Trading Conditions and Tools Briefly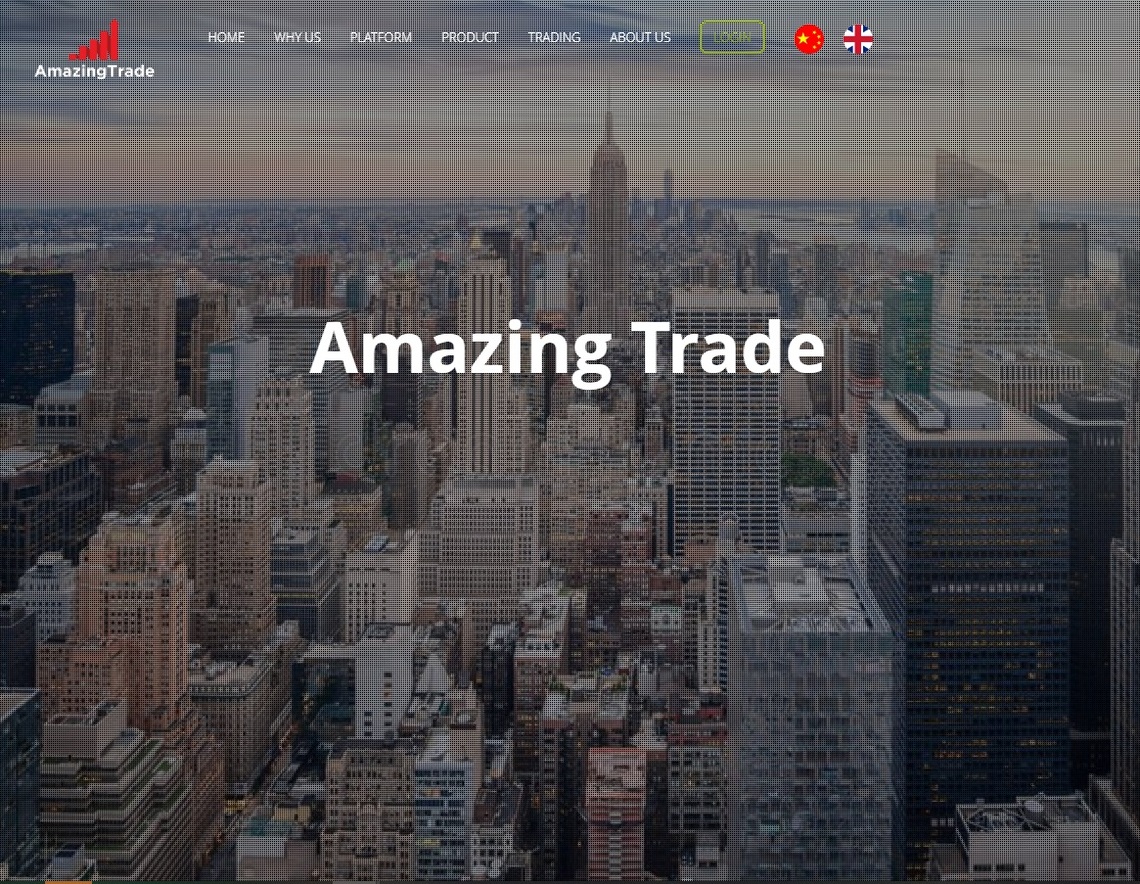 Amazing Trade is so amazing, they do not even have their own trading server established! If you try to log into the web trader, you'll end up on a server owned by another unregulated broker from Ukraine – RaynarGroup. 
Trading account types are only said to exist, but they're nowhere revealed, along with the deposit methods and prices. The same is with the several classes of trading instruments. Another carefully concealed aspect are the trading parameters and costs like leverage, spreads and commissions. Setting up an Amazing Trade account is a dive into the unknown. 
In relation to that, perhaps you should read our review on GP finance, a broker that acts similarly to Amazing Trade.
Trading platforms:

Web Trader

Account types:

N/A

Financial Instruments On Offer:

Forex (EUR/USD, USD/NZD, EUR/CHF, USD/GBP)

Metals (Gold, Silver, Copper, Platinum)

CFDs (on Indices, Stocks, Commodities)

Crypto (BTC, LTC, ETH, ETC, EOS, NEO, ZEC, XRP)

Maximum leverage:

N/A

Minimum Deposit:

N/A

Commissions/bonuses:

N/A

Mobile app:

Not available

Desktop app:

Not available

Autotrading:

Not available

Demo account:

Not available

Education or Extra tools:

None
Is This Broker Safe?
While we were able to present all the reasons why we wouldn't recommend this broker, there isn't a single proof to believe they're safe. Without a license, this broker proves to be untrustworthy. The segregation of clients' funds through separate bank accounts isn't implemented, as well as other risk-controlling measures and compensation plans. 
Nothing this broker offers could be considered a safe deal or a trading environment that is secure in general. Most likely, deposits and trading orders never reach the market and trading is artificial. It's not safe to invest here or attempt to trade.
Scammers Have A Way With Words
Amazing Trade gets to their potential victims by advertising on social networks and by contacting people through boiler room agents. The deal proposed sounds nothing short of a financial dream coming true, so novice traders and uninformed investors find it hard to refuse it. Alas, all investments end up in the pockets of scammers, with very slim chances for the investors to take it back.
Countries where the Amazing Trade scheme most commonly operates are the following:
New Zealand

India

Vietnam

Bangladesh

United States
404 Legal Docs and Funding Policies
Upon registration, we thought to first read the platform rules and legal texts in order to find out the basics of account funding and other particularities. Unfortunately, these docs do not exist and the link to the T&C responded with the 404 web error!
No other legal docs exist even in traces. The user area revealed but a single way of performing transactions – Crypto. Knowing how anonymous and irreversible these transfers are, we do not recommend them as a first choice.
Its Better to Stay Away
It is painfully clear by now that this broker is not in the least safe, secure and reliable for any sorts of investing and trading. These are just the major concerns. The lack of transparency when it comes to trading prices and conditions, as well as the availability of tools and features is an addition to the general bad impression.
For the sake of your funds and mental peace, it is, by all means, better to pass on their offer, however good it may sound presented by the phone sales agents.
Expert Recommendation
If you're a newbie to the whole Forex story, the complexity and risks might scare you. Choosing the proper brokerage to team up under such circumstances could easily be a hit or a miss. Do not let it cost you more than you can afford. 
Contact us for safe recommendations. Our trading experts will analyze your preferences in detail and suggest you the safest and most reliable options. Our services are completely free!
FAQ Section
What Is Amtfxm com?
This is a brokerage brand of unknown ownership and history, with relatively recently registered domain and no license.
Is Amtfxm com A Good Broker?
Amtfxm is not a good broker for anyone. They're unlicensed and non-transparent, therefore unsafe. For better recommendations, contact our Forex experts.
What Are The Trading Accounts and Conditions Of Amtfxm com?
Broker doesn't reveal any of these specifics. For more transparent and richer offers, contact us to suggest you better alternatives.