May 04, 2023
Reading Time:
5
min
Antares Trade Review – Truth Behind This Scam Broker
Antares Trade Review, As their website declares, Antares is a platform that promotes investment and MLM schemes, digital products, and startups to the market using a referral system model. The site doesn't even base on the actual trading and Forex speculating, as there's no mention of a trading platform even. 
Antares is at its core a Ponzi scheme. But since they also offer binary options trading, they're double dangerous. Both methods are extremely risky and require a lot of investing, with very low chances of success. 
Antares has been present in several EU countries, but offers their services to offshore and international clientele, as well. Because it's an MLM project, the Belgian regulator (FSMA) warned the public about the dangers of investing in it: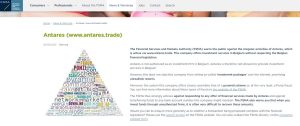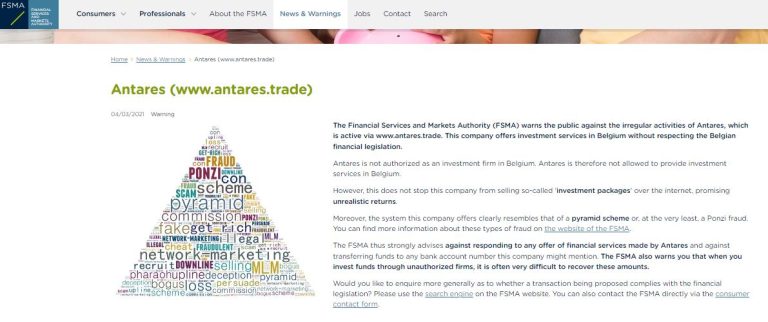 ​​What's more, we strongly recommend that you avoid the fraudulent brokers Athens Markets, FxmyTrades, and SuccessfulTrade24.
| | |
| --- | --- |
| Company | Antares Change Us LTD |
| Regulation | Unregulated |
| Warning | FSMA |
| Website | antares.trade |
| Address | Hong Kong |
| Email | N/A |
| Phone | N/A |
| Minimum Deposit | $100 |
| Leverage | N/A |
| Bonuses | Hinted but undisclosed |
Antares Trade Regulation and Security of Funds
As FSMA explains in their publicly issued alert, Antares promotes investment services and deals without any authorisation. The company is not in any way licensed to sell their products to Belgian investors. Even more so because Antares enforces a Multi Level Marketing scheme, which is known to be another form of scam and is banned in most countries. 
But let's start from scratch. Antares is a firm based in Hong Kong, and provides investment services in the form of MLM and Binary Options trading. SFC the jurisdictional regulator hasn't given them a legitimate permit to engage in such activities. 
This was clear after we checked their register and Antares didn't show up. As it appears, none of the other major regulatory bodies we've checked with have no data on this anonymous broker. Our search included FCA, BaFin, CySEC, FINMA, NFA and ASIC. 
It's no wonder Antares isn't licensed for binary options trading. This form of brokerage endeavor has been banned in the UK, EU and AU due to high risks. Several markets in the US still support it, but they are severely overseen and strictly regulated. So there's no way Antares would be able to provide such service in the aforementioned area, Belgium included. 
Antares has a confusing history which also includes paying an actor to pose as their CEO, just to make an impression on potential customers. But that's less relevant, as we've already concluded they own no license to offer any of the services they do. So be cautious in case they contact you.  
Trading Platform Overview
Especially characteristic for binary options trading is the usage of the automated bots to trade instead of human traders. The chance for succeeding is so small it's ridiculous. However, not all novice traders are fully aware of the extent of danger they put their capital in when they sign up for it. 
Antares basically promises swift trades and certain returns of up to over 100% of the initial investment during a course of time. It quite often happens that binary options trading brokers have no platform at all. We suspect this to be the case with this fake broker, as well. 
Account Types Available at Antares Trade
There are many account types at Antares Trade and they only depend on how big the initial deposit is. All these schemes work in a similar way. The initial amount you deposit brings you a certain profit after a certain amount of time elapses. For example, the return on the investment package is up to 2% per day for 200-400 calendar days, as Antares Trade promises. 
Also, you invest into virtual currency called AND tokens, which you use to trade but are useless outside of their platform. AND is currently equivalent to $1. Take a look:
invest $100 – receive 100 AND

invest $250 – receive 250 AND

invest $500 – receive 500 AND

invest $1000 – receive 1000 AND

invest $2500 – receive 2500 AND

invest $5000 – receive 5000 AND

invest $10,000 – receive 10,000 AND

invest $20,000 – receive 20,000 AND

invest $35,000 – receive 35,000 AND

invest $50,000 – receive 50,000 AND

invest $75,000 – receive 75,000 AND

invest $100,000 – receive 100,000 AND
Funding Options Available
Every single review an ex Antares Trade customer has left online is a negative one. And all of them refer to impossible withdrawals and unclear payment processing conditions. Antares Trade is literally a definition of shadiness. Not only do they not disclose the transfering channels available, but they also don't let their customers know about the incurring fees. 
A Ponzi scheme and Binary Options platform like Antares Trade has people behind it who wish to stay anonymous. So don't be surprised if crypto transactions are only funding methods available. 
Although $100 doesn't seem much of an investment, pay attention to the fact there's fees that the broker hides, and that all the deposits so far were never paid out.  
The Methods Used in the Fraud
Antares Trade uses the forbidden binary options because they're so extremely risky and mostly lead to loss. Under that pretext, they can steal deposits and just claim the system didn't profit when a customer asks for a withdrawal. 
They can even warn you about the risks to make the whole story sound more realistic. But the final outcome is always the same and results in you going bankrupt. Or maybe they even allow you a withdrawal. However, you don't get the cash you've initially put in, but the worthless tokens you have purchased. 
Being cyber criminals, Antares Trade leaders also need as many people as you can get into their Ponzi deal. That's why they offer a certain percentage of profit for every new victim you drag in. It's how the entire scheme was developed anyway. These projects usually don't last more than 2 years before they fall apart. 
Antares Trade Summary
MLM schemes are dangerous yet becoming slowly outdated and banned in most of the severely regulated areas. However, frauds like Antares Trade will always exist. 
Their swindling methods are also perfected to the point where even experienced investors may fall into the trap. That's why you need this Antares Trade review to remind you that evil works in its own ways and easily gets to you despite the experience and knowledge you may have. 
Whatever your expertise level is, keep learning and acquiring new information. Forex market demands that of you if you want to keep up with the updates, events and changes. 
FAQs About Antares Trade Broker
Is My Money Safe with Antares Trade?
No, your deposits are in danger of being stolen by swindlers running this MLM scheme and fake investment platform.
Does Antares Trade Offer Demo Account?
Antares Trade doesn't have the option to trade with virtual funds during a trial period. You have to buy an investment plan and the cheapest one costs $100.
What Trading Instruments are Available at Antares Trade?
Binary Options trading on stock, index, commodity, or currency pairs are what Antares Trade claims to allow.