July 27, 2023
Reading Time:
6
min
AVS Brokers Review: In-depth Look Into The Brokers Profile
In this AVSBrokers review, we will examine the security and regulation of the broker, their advantages and disadvantages, professional opinions, the traders they cater to, and more. To learn everything there is to know about AVS Brokers, continue reading. 
Additionally, check our reviews of Bitchain, Capitalcore, and Coinexx if you're looking for a broker to trade with so you'll know what to anticipate. 
Who Is AVS Brokers? All About The Broker 
The brand of export-import Budva was established by the corporation in 2019 under the name AVS BROKER LTD. They are based in Montenegro and have a registered address of 4 Trg Sunca in Budva. As we look into the brokers profile, more warning signs will show up, making us think that they are a shady business. 
AVS Brokers

Reliable Broker Must Have

Legal name:

AVS BROKER LTD is the brand of export-import Budva

Transparently displayed in the disclaimer or legal documents

Regulation:

Not regulated

Within your legal jurisdiction – local regulator

Registered at:

4 Trg Sunca, Budva 83500, Montenegro

Your country or the country whose license applies in your legal jurisdiction 

Established:

2019

The older the domain – the higher the possibility the company is trustworthy

Website:

avsbrokers.com

Domain should be from local or international zones, no .xyz etc.

Financial Authorities Warnings:

None

None

Contacts:

Tel: +44 113 330 87 28

Whatsapp: +44 7460 407297
[email protected] 

Live chat and Web form

Phone, email, social media, web form

Is a withdrawal possible:

Highly unlikely 

Yes

Fees:

Hidden Fees

Transparent fees – list of spread and commissions

If Active on Social Media:

Yes

Often present on social media

Investor Protection:

None

Compensation fund
Regulation Info
We started by looking at the broker's disclaimer. We decided to give them the benefit of the doubt and check the Privacy Policy and Terms and Conditions, but nothing was presented there either, and nothing was presented concerning their regulation information. The only thing we can be certain of is that AVS Brokers is not a legit or reliable business. 
AVSBrokers is primarily active in Turkey, Cyprus, and Romania, but we must point out that they are not subject to regulation by the Capital Markets Board of Turkey (CMB), the Cyprus Securities and Exchange Commission (CySEC), or the Financial Supervisory Authority (ASF).
AVS Brokers Broker Profile
300+ investment instruments, including popular currency pairings, cross rates, petroleum products, precious metals, agricultural products, indices, and cryptocurrencies, are included in Avs Brokers' portfolio of investment instruments. They also provide a variety of account options for both new and experienced traders, yet they are the epitome of "Not everything is as it seems." 
Trading platforms:

MT5

Account types:

Mini, Micro, Standard, Gold, Platinum

Financial Instruments On Offer:

Petroleum products

(Crude Oil, Gasoline, Diesel)

Cross rates

(EURJPY, GBPAUD, CADCHF)

Major currency pairs

(EURUSD, GBPUSD, USDJPY)

Precious metals

(Gold, Silver, Platinum)

Agricultural products

(Corn, Wheat, Soybean)

Indices

(S&P 500, FTSE 100, Nikkei 225)

Cryptocurrencies

(Bitcoin, Ethereum, Ripple)

Maximum leverage:

1:400

Minimum Deposit:

N/A

Commissions/bonuses:

Investment bonus 20% – 30%, Referral bonus 10%, Stop out bonus 10%, Account Transfer bonus 20%

Mobile app:

Yes

Desktop app:

Yes

Autotrading:

MQL5 IDE Auto-trader with MT5

Demo account:

Yes

Education or Extra tools:

Forex Knowledge Base, Economic Calendar, Profit Calculator
AVS Brokers Promotion
Regarding the AVS Brokers scam promotion, it is nonetheless important to highlight to give you a better idea of what AVS Brokers is all about. According to the deposit bonus you have earned, you must have accomplished a specific trading volume before you can cash out from your account. It is 20% of the grant amount, distributed in uniform lots.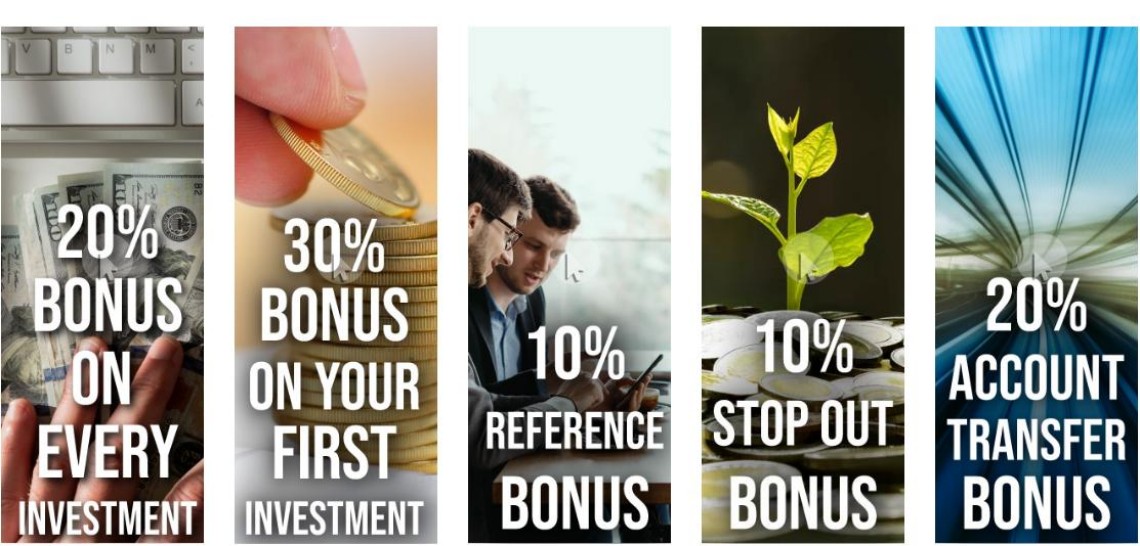 Currently, a regular lot is valued at 100,000 base currency units. In light of that, let's look at the broker's examples. First, the client needs to trade 100 lots for $10 million to cover the turnover volume after receiving a $500 bonus. The $1000 incentive in the latter case requires you to trade more than $20 million. That is not only excessive but also insanely unreasonable. Even the finest traders are unable to consistently reach these volumes.
Is AVS Brokers Safe To Trade With? 
You shouldn't put your trust in AVSBrokers because it is a fraudulent business. They lack transparency as well as regulation, and the pricing structure is nowhere to be discovered. Watch out for brokers like this one who conceal their fee structure and then tack on new, significant charges when you want to withdraw money or make a trade. 
We cannot regard AVSBrokers or any other firm as safe without regulation. Among many other requirements, a broker must have regulatory status, investor protection, and transparency to be considered safe. The only thing we can suggest regarding AVSBrokers is to avoid them at all costs.
AVS Brokers Review: Traders' Thoughts and Opinions
When we examined their Trustpilot ratings, we weren't shocked. It's safe to claim that all 8 reviews are one-star reviews, even though a total of 8 reviews can't always be considered because there are a lot of fraudulent reviewers.  
Withdrawals are the main topic of all reviews. Not only did customers report that they lost all of their money when trading with this broker, but even those who did win could not take their winnings because of withdrawal problems. When you ask for a withdrawal, they refuse to give you access to your account and delay the procedure until it is too late and there is nothing you can do to get your money back. 
A Look at AVS Brokers' Traders They Serve
AVS Brokers primarily caters to clients from Turkey, Cyprus, and Romania, although they are not regulated to operate in these countries. The regulatory bodies for each country are as follows:
Turkey – Capital Markets Board of Turkey (CMB)

Cyprus – Cyprus Securities and Exchange Commission (CySEC)

Romania – Financial Supervisory Authority (ASF) 
Please be aware that operating AVS Brokers in these nations unregulated raises questions about their compliance with and adherence to financial legislation in such jurisdictions. It can be challenging to tell a good broker from a bad one, so if you require guidance, get in touch with us right away for a free consultation. 
Deposits and Withdrawal Methods
AVS Brokers accepts deposits via more than 70 different investment options. Payment can be made with a wire transfer, EFT, FAST, all cryptocurrencies, or other available means depending on your country of residency. The AVS Brokers minimum deposit requirement is not specified, which raises red flags. 
Whatever payment method you used, you shouldn't anticipate the company to be able to give you your money back quickly. You may remember that its bonus policy is intended to stop you from withdrawing. Consequently, a chargeback is required. If you used the majority of e-wallets and a card to pay, you can request one. Out of the techniques mentioned above, only wire transfers are irreversible. 
AVS Brokers Pros and Cons
Pros
Cons

MT5

Not regulated

Hidden fees

Suspicious bonuses

Lack of transparency

Extreme leverage
Insights from Our Trading Experts
AVS Brokers was thoroughly examined by our team of trading specialists, who found a number of worrying trends that suggest it might not be a dependable option for traders. First of all, the absence of regulation and transparency creates serious concerns since it subjects clients to potential dangers and jeopardizes the security of their money. Furthermore, the dubious bonuses provided by AVS Brokers, such as the guarantee of up to 30% of the investment, raise more doubts regarding the reliability of their business practices.
In contrast, there are lots of trustworthy brokers on the market today who place a high priority on regulatory compliance, openness, and the protection of their client's money. These trustworthy brokers uphold the strict guidelines established by reputable regulatory authorities, guaranteeing that traders' interests are safeguarded. 
We strongly advise getting in touch with our team if you've had problems with rogue brokers like AVS Brokers. We can help you locate a trustworthy broker who meets your specific requirements and provides security, regulatory compliance, and a reliable trading environment. Get in touch with us right away, and we'll be pleased to point you in the direction of a safer trading environment.
FAQ Section
Is AVS Brokers Legit?
AVS Brokers is not considered legit as they lack regulation and transparency in their fee structure. There are many other brokers who are much better and offer more security while trading. Contact us to find a legitimate and secure broker to trade with.
What Is AVS Brokers' Trading Software?
AVS Brokers use the MetaTrader5 platform, which provides excellent tools for comprehensive price analysis, the use of algorithmic trading applications (automated trading, EA trading), and copy trading.
What Is AVS Brokers' Minimum Deposit?
AVS Brokers withheld any details regarding the minimal deposit. This is most obviously a warning sign, and you should steer clear of this broker at all costs.