March 21, 2023
Reading Time:
5
min
Axe Market Review – Broker We Don't Recommend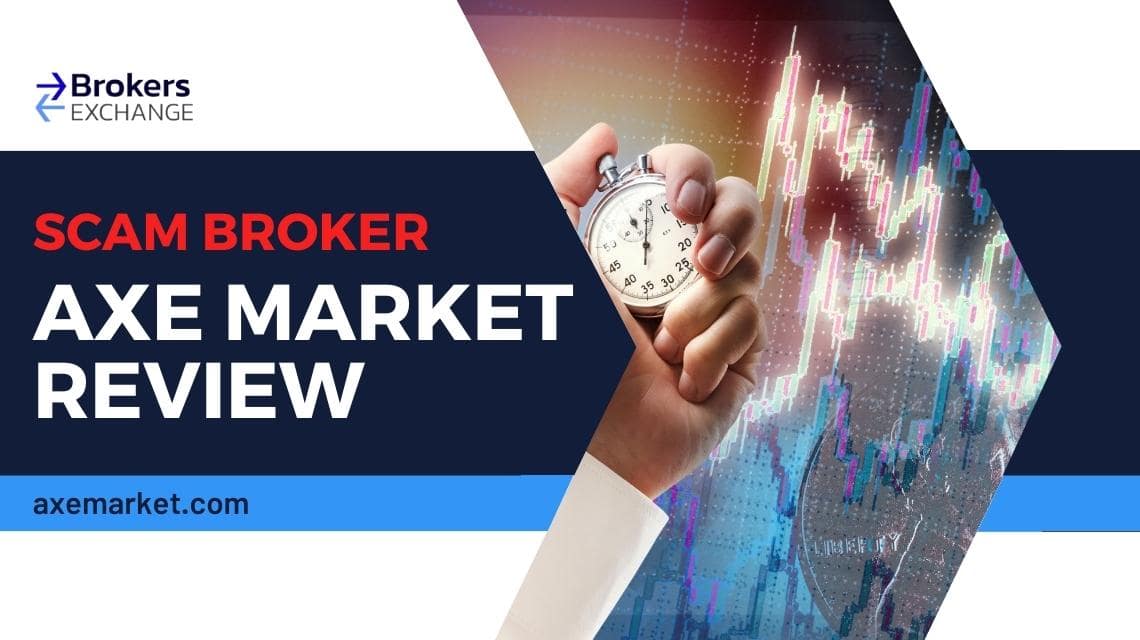 Axe Market Review, how the scammers behind this company like to refer to themselves, claim to have the experience and knowledge to help every trader become successful. 
With their guidance and professional support, clients of Axe Market should be able to quickly achieve their trading goals. In addition, the ultimate trading experience awaits all newcomers thanks to cutting-edge technology, account management, and trading sessions. 
This broker has more promises to offer in exchange for at least $ 10,000, how much the cheapest account costs. How much of it they really deliver is the real question.
While no one in their right mind would consider investing with a completely anonymous website without proper contact info, some beginner traders might fall into the trap. Our Axe Market review is here to help you see the broader picture and not become a victim.  
| | |
| --- | --- |
| Company | Tech-Stat Solutions LTD |
| Website | Axemarket.Com |
| Address | UK |
| Email | N/A |
| Phone | +442045773996 |
| Minimum Deposit | $10 000 |
| Leverage | N/A |
| Bonuses | N/A |
| Regulation | Unregulated |
| Warning | N/A |
Regulation and Fund Security at Axe Market
Tech-Stat Solutions LTD is the company that Axe Market lists as their owner. After some research, it turns out that this firm does exist in London, UK. It was established in June 2022 and operates as an advertising agency. 
Their address differs from the one given on the Axe Market website. Nothing except the declaration of Axe Market being their brand proves these two have anything to do with each other. As already determined, not a single scammer's word should be trusted, so we just couldn't settle on what we saw on the fraudsters site.
Since Axe Market gives a UK address as their location, it implies that the agency runs under the watchful eye of the UK financial regulator – FCA. Unfortunately for Axe Market, a red flag struck as soon as we checked the FCA register of regulated entities and didn't find this firm. How could a common swindler earn their spot in the FCA database when they do not meet the regulatory standards?
If you are unfamiliar with licensing conditions, let us introduce some. First off, the clients investing with regulated brokers can enjoy the highest level of funds security. By storing the investments in segregated bank accounts, the brokers respect the privacy and integrity of their client's capital. 
Following that, leverage is limited to 1:30 and negative balance protection helps keep clients safe from sudden loss and too much investment risk. Another measure that prevents users from being rid of their funds is a compensation fund and access to a financial ombudsman that restores up to 85.000 GBP.  
As evident, Axe Market isn't registered by FCA as a reliable brokerage so they couldn't possibly provide the listed conditions. Stay away if you do not wish to be robbed. 
Trading Software Overview
How come it doesn't surprise us that Axe Market doesn't allow new users to register an account? Even if this option existed before, it certainly doesn't now. That course of events took us to another theory – Axe Market could easily not even have a functioning trading platform. 
The site itself brags about some innovative and super reliable software developed to suit every trading strategy and preference. On the other hand, there's a fact that no download links show on the site and no trading terminal appears anywhere.
When the most important tool for performing trades is missing, how are clients supposed to accumulate profit? Axe Market was suspicious enough, but this circumstance unequivocally confirms our doubts about them being a common liar. 
Deposit and Withdrawal Methods
Axe Market convinces users their transactions are effortless, quick and performed through convenient methods. The website offers several funding/withdrawal channels:
Credit and debit cards (Visa, MasterCard, Maestro) – instant free deposits but 5% fee on withdrawals

Bank wire transfers – no fees and commission, 1-3 business days for the transfer to complete
 All of that would indeed sound convenient if it was confirmed to be true, but Axe Market is not a reliable broker and shouldn't be trusted with their claims. We couldn't open a trading account with this broker so we can't agree with any of these statements. 
Terms and Conditions do show that the minimum amount for withdrawals is $100, while minimum deposit should be at least $250. This information doesn't match the one given about the account types, and this is exactly what we discuss in the next section of this review. 
Account Types Offered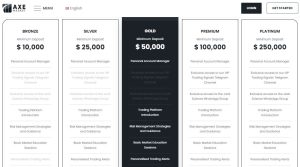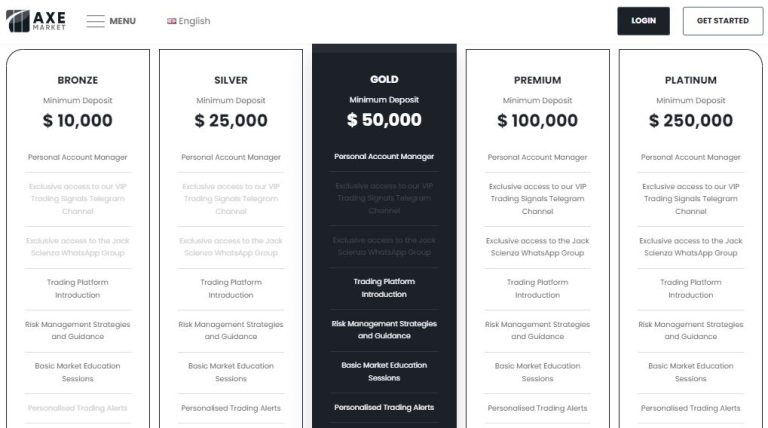 Who wants an insanely costly account that offers imprecise trading conditions and features so poorly explained not even the provider understands? Hopefully not you. Axe Market has several account types that demand ridiculous deposits and offer unrealistic and imprecise features. Take a look:
Bronze – $10 000

Silver – $25 000

Gold – $50 000

Premium – $100 000

Platinum – $250 000
Whatever Axe Market accounts could be offering, it is definitely not worth the price. Personal account manager is something every scammer mentions to be their premium feature. Risk-free trades, access to special WhatsApp and Telegram groups for trading signals and other options are supposedly also available. 
Some benefits like trading platform introduction and educational resources is something Axe Market considers to be worth paying tens of thousands of dollars for. That is just crazy, considering the fact that regulated brokers offer these for free!
How the Fraud has Carried Out
This broker is a scam, it's unmistakable. They will advertise their non-existent services as much as they can, as long as it motivates you to invest. If they can at least force a newcomer to open an account for $10 000, they've already won. 
You might wonder how they achieve that. Simply put, they feed traders lies, one after another. Every new one seems less realistic than the previous, but they still lure investors into the trap. They manage it with their friendly and affectionate attitude. 
The problem is, it all disappears as soon as you try to apply for a deposit. Axe Market will put difficulties in place to prevent your withdrawal and keep the money to themself. As soon as you're not able to afford any additional withdrawal fee or whatever charges, you will be left hanging. 
Axe Market
Summary
Dangerously attractive with their offer and fake trading conditions, Axe Market sure sparks interest. However, we have discovered that all of their promises and statements are just false claims and this company review is proof of that. 
We've tried to present to you the most relevant circumstances around this scamming scheme. However, if you still have any questions about the matter, you are free to contact us. 
Have faith in your jurisdictional financial authorities. These institutions are skilled to deal with any type of cyber scam and will help you with additional information. If you happen to encounter a bogus broker, don't shy away from reporting them to regulators in charge. Let's make the Forex market more fair and scam-free for everyone.
FAQs About
Axe Market
Broker
What Account Types Does Axe Market Offer?
Axe Market offers several accounts: Bronze, Silver, Gold, Premium, and Platinum. The account prices range from $10 000 to $250 000.
What Is The Minimum Deposit at Axe Market?
The minimum required deposit for opening an account with Axe Market is $10 000.
Can I Trust Axe Market Broker?
Unfortunately no, you can not. This is because the broker is a shady business with tendencies for gaining wealth by stealing from their customers.