June 20, 2023
Reading Time:
5
min
Axiance Review: Understanding How This Broker Works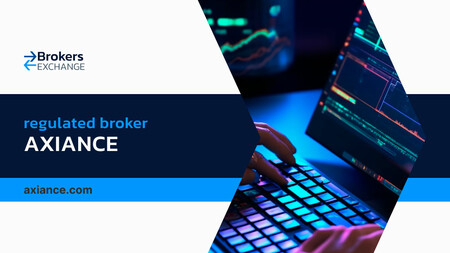 Axiance broker is primarily registered in Cyprus, Limassol. Since 2016 they are running this scheme with proper offshore regulations. However, there are some links leading to entities marked as a scam.
But if that's not enough for you to rethink your decision, there is a bonus information waiting for you. Continue reading this unbiased Axiance broker review to find out what to watch for.
Who Is Axiance Broker?
Axiance Group had numerous entities under ownership. Primarily ICC Intercertus Holding LTD, trading as EverFX. But there is Aerarium Limited trading as Axiance. Important to realize is that ICC Intercertus had to pay 100.000 EUR for settlement with CySEC.
Practically, everything is sorted out. However, in the UK, such situations don't pass the board that easily. UK's FCA banned this broker from offering their services to UK traders in 2021. In fact, that's why Axiance broker holds a disclaimer on their website at this moment.
https://www.cysec.gov.cy/CMSPages/GetFile.aspx?guid=99af1a77-4f8f-4d97-a100-b5ab1b04daaa
https://www.fca.org.uk/news/press-releases/fca-stops-everfx-offering-cfds-uk-customers
Axiance
Legal name:
Axiance Group
Regulation:
Regulated / Offshore broker
Registered in
Cyprus, Mauritius, Seychelles
Established:
2016
Website:
Axiance.com
Financial Authorities Warnings:
CSA
Contacts:
E-mail: [email protected]

Live chat

If a withdrawal is possible:
Potential issues
Fees:
10 units maintenance fee

30 units custodian fee

0.5% currency conversion fees

If Active on Social Media:
Yes – Facebook, Twitter, Youtube, LinkedIn, Instagram
Investor Protection:
No
          Is Axiance Broker Legit? Regulation and Security
Taking a look into regulatory registers we were not surprised with the results. This broker only holds FSA (Seychelles) license. However, there is not even one Tier 1 regulatory register with their name in it. Starting with FCA, BaFin, ASIC or IIROC.
https://fsaseychelles.sc/regulated-entities/capital-markets
Instead, there is a warning from the Canadian CSA. Looks like this broker was offering their services there without authorization. Even though they have noted on the website they don't provide services to Canadian citizens.
https://www.securities-administrators.ca/investor-alerts/axiance/
https://www.cysec.gov.cy/CMSPages/GetFile.aspx?guid=99af1a77-4f8f-4d97-a100-b5ab1b04daaa
Now you understand why research is quite important to stay safe in the trading world. Therefore, we invite you to check our XTB Broker and SVK Markets reviews. You can definitely find some differences that can help you choose your broker wisely.
Axiance Broker Profile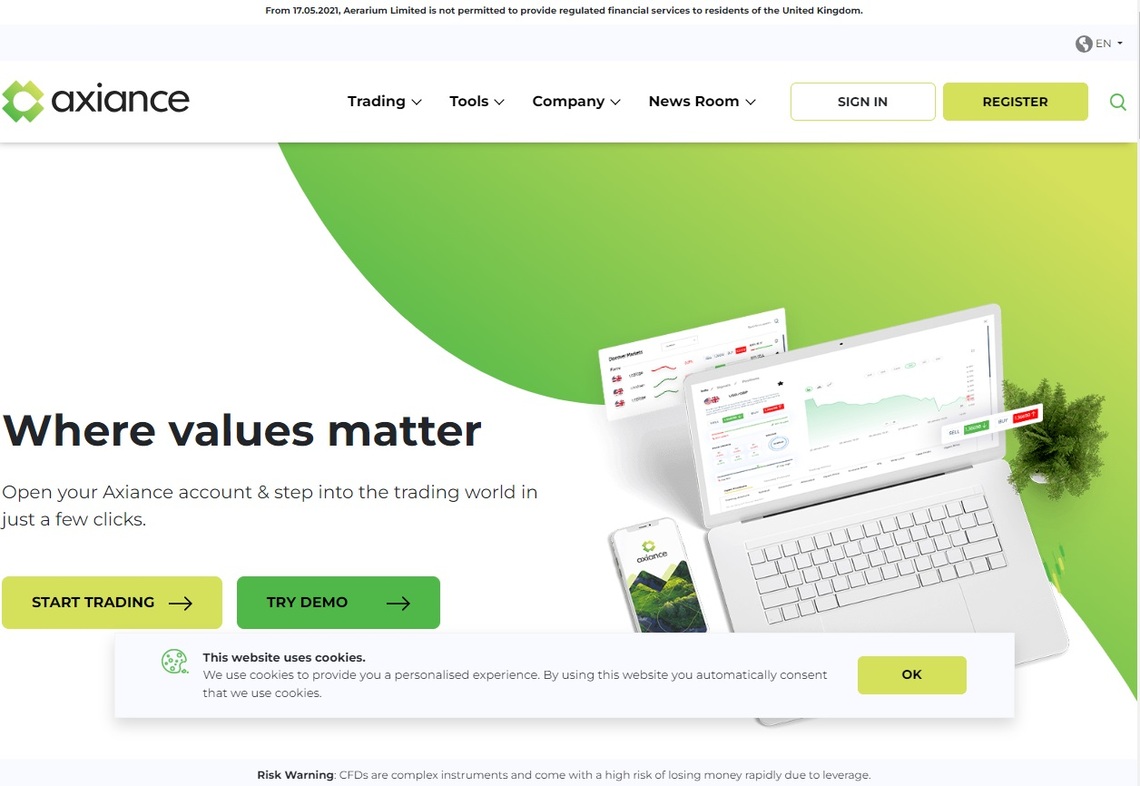 Considering loose offshore regulation and settlements with CySEC, you know this broker is not up to good. Firstly, the broker doesn't offer any kind of funds protection to its traders. On top of that, they only use proprietary trading software. Which is nowhere close to Meta Trader or cTrader.
If we add to that shady trading conditions we can understand why there are many discrepancies. It's not surprising that there are so many negative reviews as well.
         Axiance Bonuses and Promotions
Another key point is the Axiance deposit bonus and promotion offer. Generally speaking, all brokers offering services to European citizens are not allowed to offer bonuses. Many EU regulators, but also the European Securities and Markets Authority (ESMA) have banned those for years.
The main reason is a shady clause that comes along with the bonus. Whereas traders are not allowed to make a withdrawal before reaching some requirements. Another promotion is the VPS service for accessing MT4 and MT5 platforms. Thus, nowhere on their website Meta Trader is accessible. It's quite unusual that the broker limites trader to the usage of certain trading software.
Trading platforms:
The proprietary trading app, MT4, MT5
Account types:
Standard, Premium, VIP
Financial Instruments On Offer:

Forex (GBP/USD, AUD/NZD)
Commodities (gold, palladium)
Stocks (Apple, Netflix)
Crypto (BTC, ETH, DASH)
Indices (DowJones, Nikkei225)

Maximum leverage:
1:500
Minimum Deposit:
$100
Commissions/bonuses:
$4 commission / Up to 100% bonus
Mobile app:
Yes
Desktop app:
Yes
Autotrading:
No
Demo account:
Yes
Education or Extra tools:
Trading Central
Traders Reviews Regarding Axiance – Sharing Experiences
Considering everything mentioned above, there are more than enough reasons to avoid this broker. But there is more. If you take a look at any Axiance review you will discover the shocking truth. Many traders are reporting issues with withdrawals.
Also, some of those are also pointing to the connection with EverFX that is marked as a scam. So, be aware of these allegations and think wisely. If you already had some bad experiences get in touch with our team to get advice on your next step. Have in mind that it's still your money in the game and you can get it back.
https://www.reviews.io/company-reviews/store/axiance-com
How Does Axiance Broker Find Customers?
Brokers mainly lure traders through attractive advertisements. Whether it's about trading software or market opportunity, the goal is to get you on board as soon as possible. Since this company is running multiple social media accounts it's not excluded they lure more traders there.
But also, there is a partnership program. This way they ensure they get more clients from traders who trust them. Considering warnings that are coming up on daily basis there are fewer and fewer traders that will trust these guys. The ones that trusted, mainly come from:
France
Cyprus
South Africa
India
Colombia
If you would like to have a trusted and reliable broker on your side, you can get advice from our expert analytics team.
Deposit and Withdrawal Method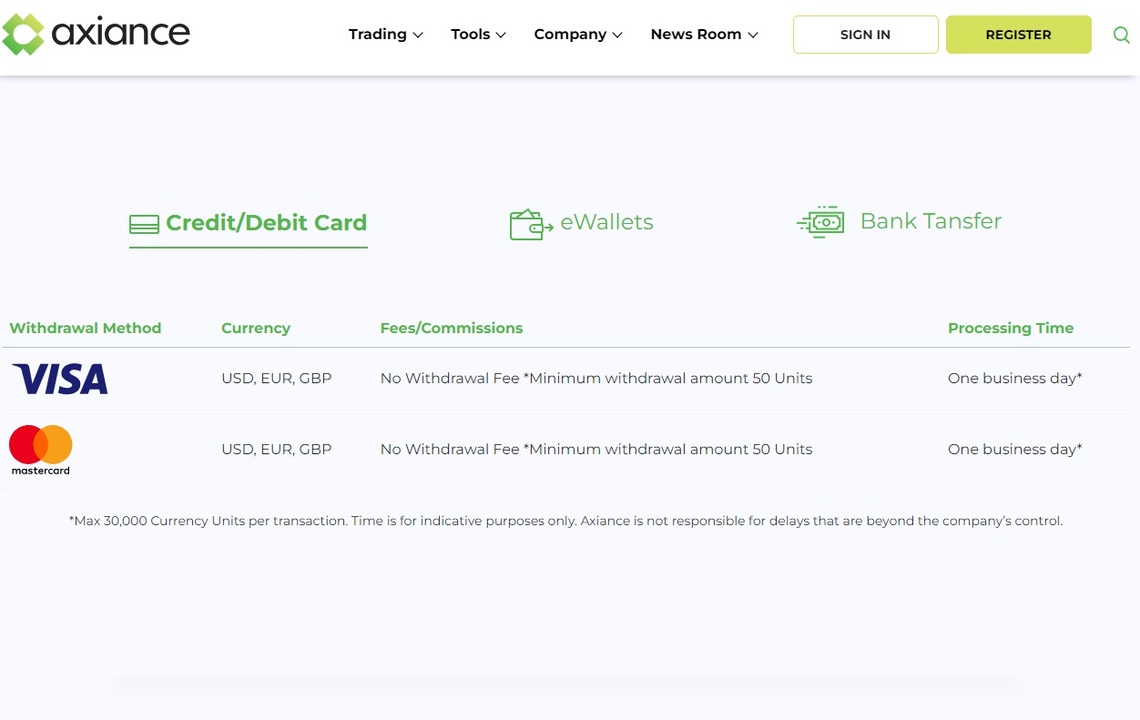 All the funding methods with Axiance broker become questionable after a warning. Axance clients can use the following methods:
Debit and Credit cards
Wire transfers
E-payments (iDeal, Skrill, Neteller and many more)
As for the Axiance withdrawal procedure, it should take up to 3 business days. For the minimum withdrawal of 50 units, you will be charged 10 units fee. Even though the broker claims there are no withdrawal fees. Another key point is the payment provider.
Card transactions are processed through GAAM Digital Progressus Limited. In fact, this company has a valid license in Cyprus. However, that same company was processing card transactions for ICC Intercertus Holdings Limited. Or EverFX scam broker if you like.
Our Safe Trading Experts' Final Words About Axiance Broker
In general, there is nothing completely transparent about this broker. Whatever you take into consideration you can find some flaws. From offshore regulations and warnings from CSA to problems with previous entities. Instead, you should opt for a broker that is more reliable and with Tier 1 licenses.
In this case, our team can provide you with a full list of brokers you can definitely trust. On top of that, we can give you guidelines on how to recover the money if you can't get a withdrawal. With card transfers, there is a very easy procedure called a chargeback. Don't hesitate to reach us. Your money is on the plate and you shouldn't just throw it away like that.
FAQ Section
Is Axiance Trustworthy?
No. Besides their FSA regulation, they don't have anything to offer. There is a warning from CSA, many negative reviews and too many shady conditions.
How To Start Trading Safely?
It's not that hard to find a reliable broker. It's important to know what to look for. Contact us to get a tailored list of brokers just for your preferences.
How Can You Help Me Choose the Best Forex or Crypto Broker?
It's easy to get lured into something. Since you know what you don't want, we know what exactly you want. Trusted and safe broker. Get in touch to find yours.