April 30, 2023
Reading Time:
6
min
BitOpps Review: Stay Away From BitOpps.Com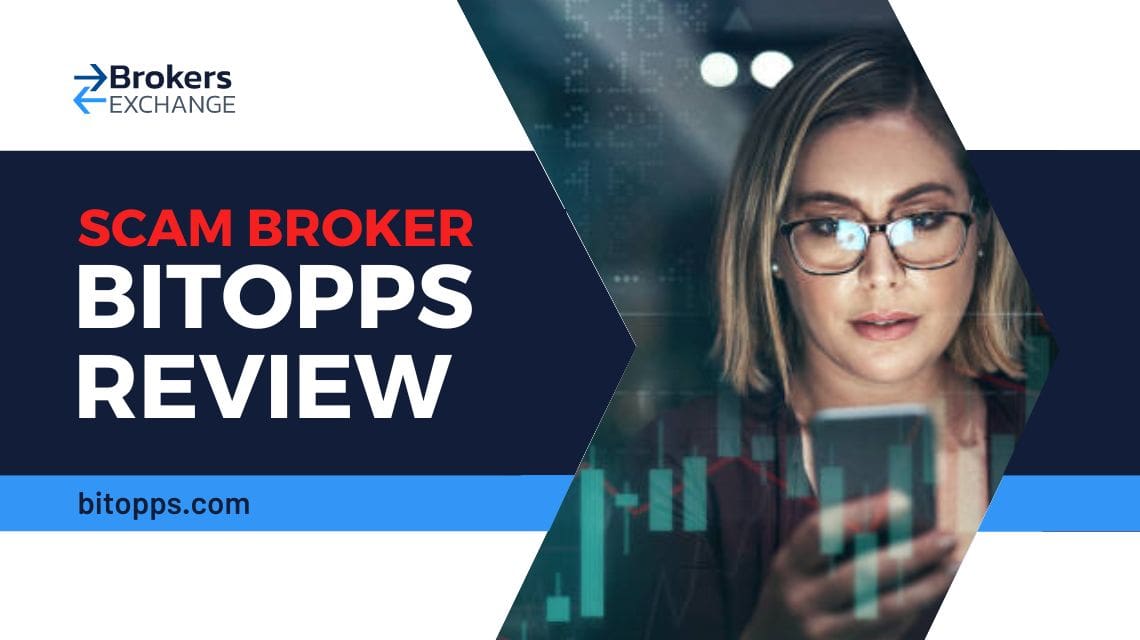 BitOpps is a crypto trading platform, owned and operated by Rival Ltd, a shady, SVG-based, incognito company. The website convinces traders they're able to trade any digital currency they like under remarkable conditions and across all devices (mobile, web…). 
From what we saw after registering a live account (since the demo isn't available) BitOpps has a simplified web trader, risky conditions, and a fake regulation. 
When we went investigated their legitimacy further and for the purpose of this BitOpps review, the only clues we found were the warnings:
BCSC Warning: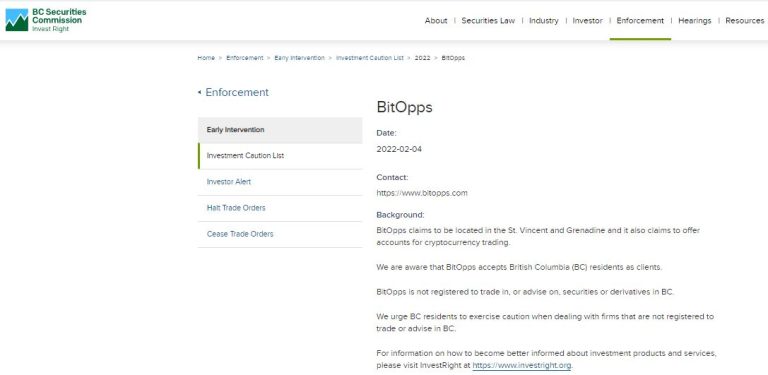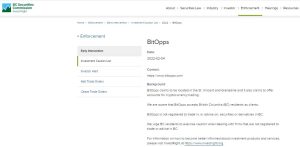 OSC Warning:


AFM Warning: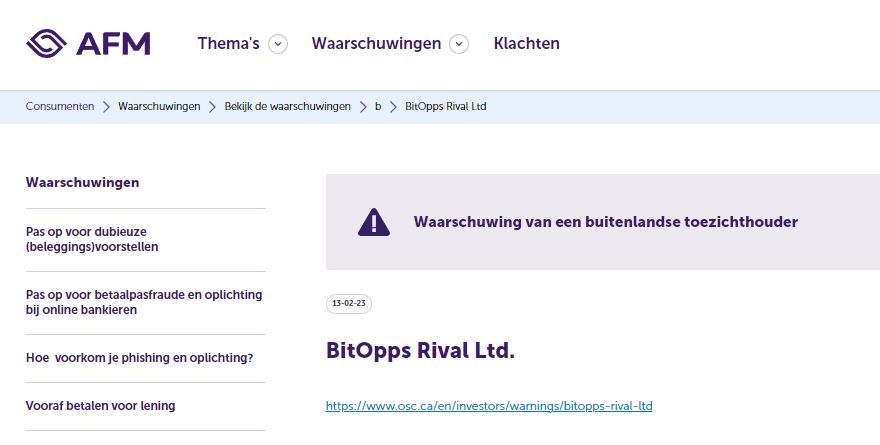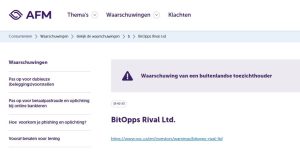 Now that it's apparent what kind of broker we're dealing with here, let's start from scratch and expose this thief for what they truly are – a cyber-criminal. 
Also, we recommend you not to invest in the fraudulent brokers IDealTrade and Monfex.
| | |
| --- | --- |
| Company | Rival Ltd |
| Regulation | Unregulated |
| Warning | BCSC, CSA, FSMA, CMVM, AFM, CONSOB |
| Website | Bitopps.com |
| Address | SVG |
| Email | [email protected] |
| Phone | +44 2045256925 |
| Minimum Deposit | $1,000 |
| Leverage | 1:10 |
| Bonuses | Up to $300  |
How Are You Safe at BitOpps? Regulation and Security
If you intend on trading at BitOpps, although we strongly advise you not to, be sure that you won't be in any way protected and your funds secured. There's just no easier way to put that. 
BitOpps is an SVG broker, without SVGFSA supervising their work and without any other Tier 1 or offshore license. The only ''license'' they advertise is one from a fake regulator called Crypto Conduct Authority – another piece of the grand scamming scheme. 
After we ran a check on several databases of regulated brokers expecting to find BitOpps authorized anywhere, we only found the warnings. It seems that BitOpps mostly targets Canadian and EU traders, so in accordance to that, regional financial bodies have issued the alerts. 
You're probably wondering why BitOpps hasn't obtained a Canadian or EEA license and what it means. Well, the regulatory standards in both areas are pretty strict and enforced by Tier 1 bodies. In the EU, they're slightly more austere than in Canada, so let's focus on those, shall we?
After investing at least 730 000 EUR as a beginning capital, each broker applying for a license makes contracts with top banks. In order to keep the client's funds safe, they need segregated bank accounts. 
BitOpps 
Leverage
Leverage in Europe is known to be set at 1:30, and it's even lower for crypto trading due to its high volatility – 1:2. However, BitOpps offers leverage on crypto up to 1:10, which is extremely risky and could lead to huge losses. Pair that with no negative balance insurance with BitOpps and you're in for a loss!
Bonuses in the EU are banned. BitOpps in their T&C docs claim to always have ongoing promotions, campaigns, and gifting. Another aspect against any regulation in the EEA. 
Finally, it's obvious the broker-dealer under the name of BitOpps is completely anonymous. This also goes against ESMA and MiFID, which strengthen clients' privacy and transaction reporting. 
Canada has somewhat less harsh regulatory conditions, but the authorities are thorough and diligent. The bonuses might be allowed and there's no negative balance protection, but other conditions are as strict as in the EU. BitOpps doesn't respect those either. 
An Overview of Trading Software
From what is advertised to what something really is like, there is a huge difference. BitOpps will swear on having the best technological solution for trading on any platform, along with outstanding conditions and prices. 
We first opened an account. The only account type available is the live trading account, which forces you to deposit if you intend to make another move. The web trader we found in the client area is nothing remarkable or breathtaking. In actuality, quite simple and shallow, the web terminal at BitOpps lacks every single advanced feature of crucial value for trading. Any of the buttons were unresponsive because we didn't first invest. 
BitOpps Account Types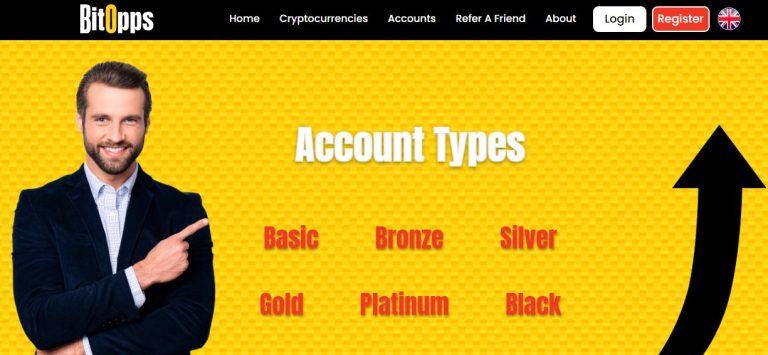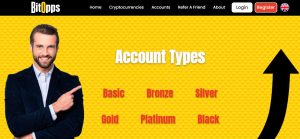 Probably the funniest part about the whole charade called BitOpps is their offer of live accounts. Not only do they promise unrealistic features and conditions, but the prices are also ridiculous. 
Compared to reputable brokers, these are unjustified and astronomically high. Knowing that BitOpps is no stellar broker that deserves this kind of investment, we recommend you not to fall for the fake offer. 
These are the account prices:
Basic – $ 1 000

Bronze – $ 10 000

Silver – $ 25 000

Gold – $ 50 000

Platinum – $ 100 000

Black – Inquiry with the account manager
| | | | | | | | |
| --- | --- | --- | --- | --- | --- | --- | --- |
| Broker | BitOpps | FXTM | OctaFX | FPMarkets | XM Broker | HFM | FBS Broker |
| Minimum Deposit | $1 000 | $10 | $100 | $100 | $5 | $5 | $100 |
Funding Procedure at
BitOpps
Depositing at BitOpps works in the following way: first, you have to download ''a platform ''. Whatever that is, our browser didn't allow us to download it as it was rendered unsecured. Then you have to access the web trader and make a deposit. We registered an account and clicked on the deposit button in the trader. It took us back to the client home page that explains these three steps all over. We were led in circles and taken back and forth without success.
Because of the described issue, we couldn't make out what the available funding methods were. Withdrawals are even worse, as the single legal document explaining the whole process only tells you to submit a payout request and that's it. What we know for sure is the beginning investment that BitOpps requires, and that's $ 1 000.
How is the Scam Carried Out?
BitOpps resorts to pretty familiar scam methods that any fraud victim could have experienced. From undisclosed circumstances for monetary transactions to bonuses followed by special conditions and fees, a veil of secrets envelops BitOpps. As soon as you detect these, take them as warning signs to avoid one such broker. 
Terms and Conditions at BitOpps hint at some of the potential dangers awaiting you. Just to make you later responsible for agreeing to them. They don't explicitly reveal what you're really gonna face, especially when it comes to payouts. 
Be sure that these are charged so much, you'll find yourself feeling desperate. Your initial capital is lost as BitOpps will deduct from it more and more fees. And if you've also accepted bonuses, the trading volume requirement will never let you try to withdraw anything until you reach their bizarre trading expectations. 
Best Forex Brokers
Now that we can agree on BitOpps being an awful brokerage, we can discuss better ones. Major broker powerhouses from our table are stable service providers for retail traders. 
Global companies that allow public trading are heavily regulated in many jurisdictions. This is your proof of their legitimacy. Meeting the highest standard of corporate laws, transparency, and quality, they've been rewarded for their exceptional service. But we won't go on with the flattery. We'll just advise you to open Demo accounts and learn about the great service you received. 
| | | | | |
| --- | --- | --- | --- | --- |
| Broker | Country | Rating | Min. Deposit | Website |
| FXTM Broker | Cyprus, UK, Mauritius | 4.5 | $10 | Forextime.Com |
| OctaFX Broker | Cyprus, SVG | 4.4 | $100 | OctaFX.Com |
| FP Markets Broker | Australia, Cyprus | 4.7 | $100 | FpMarkets.Com |
| XM Broker | Cyprus, Belize, Australia | 4.7 | $5 | XM.Com |
| HFM HF Markets Broker | Cyprus, UK, South Africa, UAE, Kenya | 4.3 | $5 | HFM.Com |
| FBS Broker | Cyprus, Belize, Marshall Islands | 4.85 | $100 | FBS.Com |
BitOpps
Summary
Six times blacklisted definitely say all you should know about this broker. BitOpps is described as not registered to trade in, or advise on, securities or derivatives in the alerted areas. That's a red flag you should be wary of. No broker with good practice and quality products will be labeled as such. 
Whenever you're insecure about your broker of choice being legal or not, check with the local authorities. And if you are ever contacted by an agent that offers you fairy tale services and tremendous riches for a bit of your cash, do not agree to it!
FAQs About
BitOpps
Broker
Is My Money Safe with BitOpps?
Deposits are not safe with a scam broker like BitOpps which has been blacklisted many times.
Does BitOpps Offer Demo Account?
No, you can't trade on a trial account using virtual funds. You have to invest real cash.
What Is The Minimum Deposit at BitOpps?
The smallest amount you're allowed to invest with this broker is $ 1 000.