March 22, 2023
Reading Time:
4
min
BN93 Review – Scam Lies Behind This Broker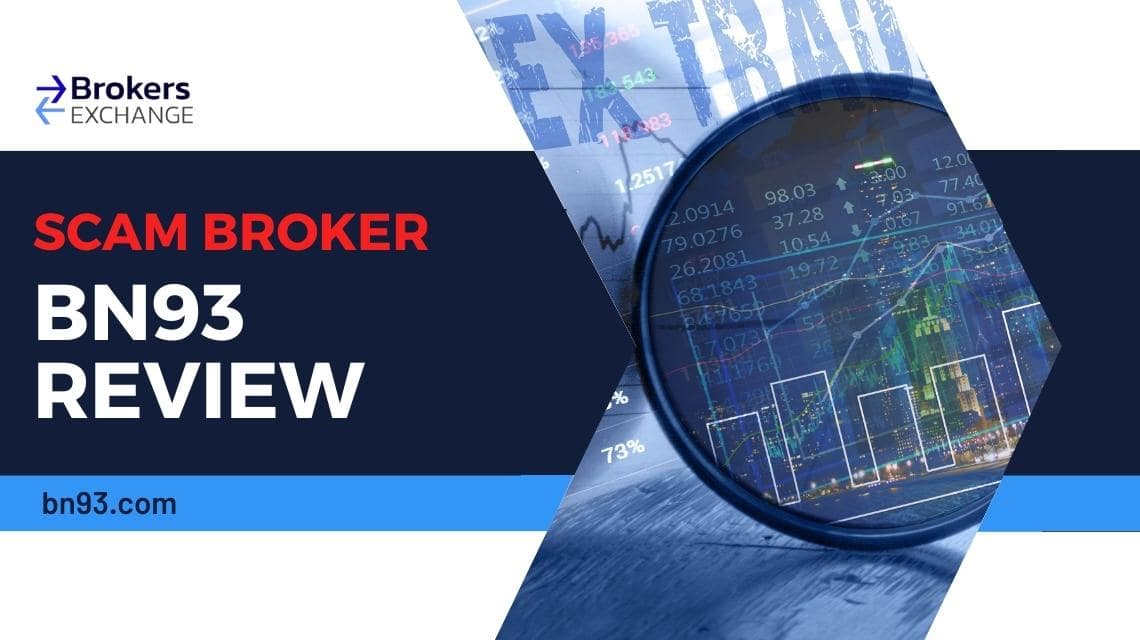 BN93 is a crypto scam brokerage business based in Singapore. Founding date is claimed to be 2014. In contrast to their reputation supposedly built on ''rigorous fund management and considerate services'', they're nothing more than cyber criminals. Why do we openly declare so? Stay with our BN93 review to find out.
Basically zero company details, no valid address or contact information confirms our doubts about this firm being an illicit entity. BN93 completely omits any direct way of contacting them except for the online form that could be only used for suggestions and feedback. No regulatory framework defines their line of work. Neither do they answer to any authority since they're unregulated.
Ultimately, the concrete confirmation of this broker being illegal are the warnings:
FSMA Warning


CONSOB Warning


| | |
| --- | --- |
| Company | Bn93 |
| Website | BN93.Com |
| Address | Singapore |
| Email | [email protected] |
| Phone | N/A |
| Minimum Deposit | N/A |
| Leverage | N/A |
| Bonuses | Not available |
| Regulation | Unregulated |
| Warning | FSMA, CONSOB, CNMV |
Is BN93 Trustworthy?
Regulation and Security
The only trustworthy broker is a regulated broker. Even regulated brokers with offshore licenses could not be trusted completely. In the case of BN93, the company behind the website (allegedly called BN) would have to be supervised by the jurisdictional Monetary Authority of Singapore (MAS). 
A simple preview of the MAS database of monitored entities showed us no such firm as BN93 exists as a regulated company. Since the site does offer their services to a number of countries, they have to own some regulation to be considered legitimate. However, BN93 doesn't, we're positive. 
Our research didn't just stop at MAS. We've also examined other registers and still got the same results. FCA, ASIC, IIROC, FINRA, NFA, CySEC and others don't recognize BN93 as a credible firm. 
The fact that BN93 was blacklisted is a sign that traders shouldn't respond to or accept financial services offers from such a suspicious firm. 
Regulation matters for several reasons. One of them is certainly the security of funds through segregated accounts. Leverage cap and negative balance protection is what all EEA regulated brokers are obligated to incorporate. 
Licensed brokers are also safe because they're transparent about their transactions and strictly supervised by the jurisdictional authorities. BN93 can guarantee you none of these legal conditions because they do not abide by any legal regulations. 
BN93
Trading Software Overview
Any attempt at opening an account with BN93 was a flop. The required captcha didn't show and the error kept telling us to enter an email, although we already did. Another barrier to registration was the necessity for an invitation code, which we naturally didn't have. Since there was no account to log into, our access to a trading software was categorically denied. 
Another concrete proof of BN93 being just a fake brokering site is the unfitting organization of the website and the missing software download options. BN93 could just be offering a simple web terminal like most other scam sites. We were unable to confirm this though, since we couldn't join. It could be that BN93 doesn't even have a functional trading platform. 
BN93 Account Types
How come the ''first choice for digital assets trading'' doesn't have a page that explains which account types are available and what they offer? That's because all the self-glorifying is based on lies and sugarcoating. 
Except for the home page, other sections of the site were restricted to members only. We couldn't get a preview of the account types and features, as well as the minimum deposit needed. 
We won't even try to speculate what options the account could be featuring. The offer would most probably also be fake and you'd be paying tremendously for the service you would never be getting. 
Deposit and Withdrawal Method
BN93 probably discloses the payment methods and conditions in the Client area but we couldn't get to it, no matter how many times we tried. This much secrecy and dishonesty is only characteristic for fraudsters. Basically, the rule of thumb with swindlers is preference for crypto depositing.
Not only will the third party websites processing your transfers steal your card info, the crypto you deposit with the broker will also disappear. Scammers easily and quickly perform the cyber theft while remaining anonymous and unreachable by the authorities. Imagine how much they benefit from these convenient robbing methods!
You can always choose safety over such risks. If you keep reading our BN93 review further, you will find suggestions for incomparably safer and more reliable brokerage sites.
How the Scam Was Performed
One of the scam signs and at the same time a common way of attracting potential victims are the guarantees for huge returns. Scam agents will consistently try to persuade you to invest. Supposedly, you will win and acquire big money and all that is achievable with low investments and minimal effort. 
How realistic does that really sound? Boiler room agents who are aware of this go a step further. They will even warn you about all the risks to sound more truthful but will still try to shift your focus solely to the profit. The friendly attitude will persist as long as they deem you capable of investing. As soon as you're drained or ask for a withdrawal, everything changes and the truth surfaces.  
BN93
Summary
BN93 review in front of you exposes a fraudulent scheme based on crypto robbing. As pointed out before, this bogus broker doesn't have anything to offer that would benefit traders. On the other hand, they will subject you to losses you didn't plan or expect. 
Once more, and we cannot stress this enough, get to know your broker first. Read, research and contact financial authorities and legal organizations dealing with such matters if you need help. For any additional intel on BN93, we're also always willing to help you out. So do not shy away from contacting us at any time. 
FAQs About
BN93
Broker
Is My Money Safe with BN93?
Investments are not safe with BN93, which is an unregulated broker owned by an anonymous company from Singapore.
Does BN93 Offer a Demo Account?
BN93 doesn't give newcomers an option to open a demo account. Only live trading accounts are offered and even that is impossible to open at the present moment.
How Long Does it Take to Withdraw from BN93?
The broker doesn't disclose this information. There is no Withdrawal Policy on the site either.