January 09, 2023
Reading Time:
3
min
Capital Zone Review: Find Out Why CapitalZone.Net Is a Scam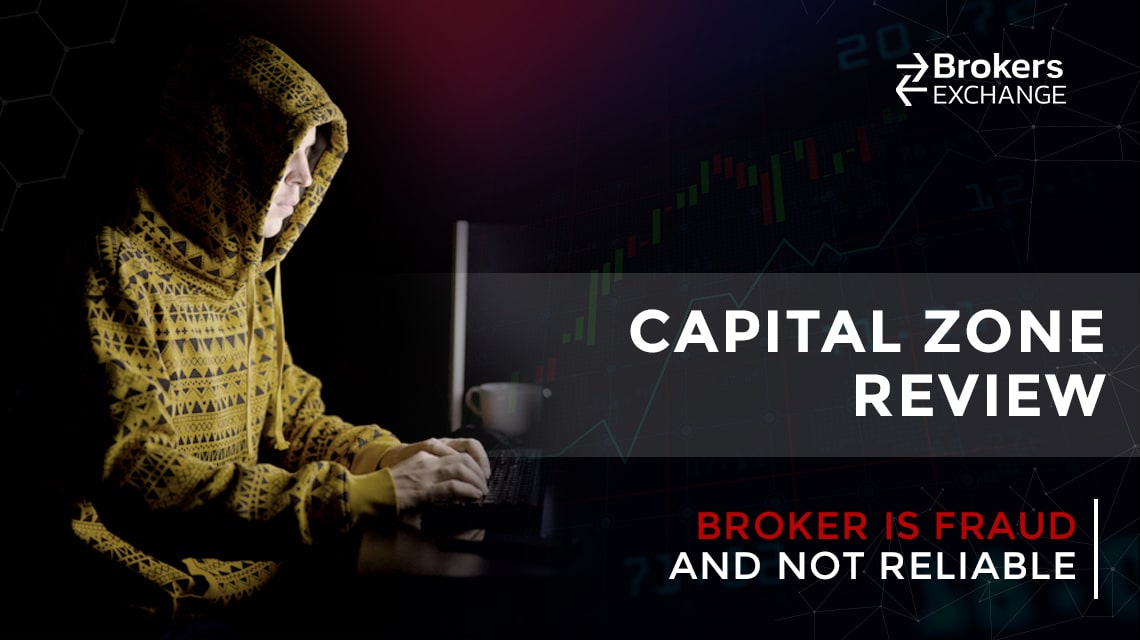 Capital Zone can easily be misidentified as a legitimate company, providing us with a somewhat attractive and inviting website, comprehensive Terms, And Conditions, and a decent trading platform. But all of the positive traits are limited to that. 
Capital Zone is another broker that misrepresents its regulatory status while not being overseen by any financial regulator. 
CapitalZone.net is specifically designed to catch the attention of inexperienced traders, so the best course of action would be to keep your distance from them. 
Hopefully, this Capital Zone review will help you understand why avoiding Capital Zone is your best option.
| | |
| --- | --- |
| Company | Capital Zone |
| Website | CapitalZone.Net |
| Address | 40 South Western Terrace, Minto TD9 9YS |
| Email | [email protected] |
| Phone | + 44 078 7942 6986 |
| Minimum Deposit | $1 000 |
| Leverage | 1:20 |
| Bonuses | N/A |
| Regulation | Unregulated |
| Warning | N/A |
Capital Zone Funds Security and Compliance
All the legal information could be found in the terms and conditions, which should also contain all applicable legal clauses and licensing claims. The only things we can uncover in the case of Capital Zone are dozens of different statements and phrases that all proclaim the dubious notion that the user must be in compliance with applicable laws in order to use this broker. 
Because of this, the broker asserts that it is the client's responsibility to ensure they are granted access to the website rather than the other way around, as it should be. The client is not responsible for paying for a license.
Capital Zone is unregulated and a big risk to all of those that invest in it. In addition to being unregulated, it also claims that it is licensed however, this is a complete fabrication done to deceive potential victims. Don't let yourself become a victim of this fraud!
It would be terrible to lose all your hard-earned money to scammers. By signing up and making investments with unregulated brokers, you are essentially wasting your money on illegal and pointless endeavors.
Trading Platform They Used on Their Website
The trading software that Capital Zone uses is frequently used by unlicensed and unregulated brokers, and so far none of the licensed brokers have used this trading software to conduct their business. That should be enough to deter you away from it. 
Overall, the platform is missing essential tools for trading, compared to the industry favorites Meta Trader 4 and Meta Trader 5. So in other words, it's a waste of a platform, often used by many unlicensed brokers.
Capital Zone Deposit and Withdrawal
After accessing the trading platform, there is a clear sign that this broker is a risk to all. There is only one payment method available, crypto wallets like BTC and Tether. Almost all crypto-based payment methods are very dangerous. Although getting your money back is a challenging process, there is a chance that the exchange is regulated.
But after further research into this broker, clients bear full responsibility for every fee, and as Capital Zone says, they have the right to decline clients' requests for withdrawal, and they can deduct as much as possible from the client's accounts.
How this Brokerage Carried Out the Fraud?
Contact typically starts at the level of online ads and quickly moves up to telephone calls. 
Depending on how skilled the scammer is and how susceptible the victims are to manipulations, the scammer is easily able to convince their victims to invest their initial investment, once that's completed their ultimate objective is done. 
Once the victim has fallen for the scam, the main goal of the scammers is to keep the client as long as they can, all while draining the victim of their money. 
It often takes up to 2 – 3 deposits for the victim to understand that something very unlawful is going on. However, by the time the victims realize that they have been scammed, the broker has already cut all communication and will reject any withdrawal requests.
Capital Zone Summary
CapitalZone.net is easily mistaken as a reputable organization, providing us with a fairly appealing and inviting website, extensive Terms And Conditions, and a decent trading platform.
Capital Zone is just another broker claiming regulated while being unregulated. The information about withdrawal fees is unknown, and many previous clients have had major complaints against this broker. After doing extensive research on Capital Zone we have come to the conclusion that it is a scam and not a good option for investing your hard-earned money. 
Do not feel ashamed to report fraud! We would appreciate it if you could let us know about any bad experiences you've had with other fraudulent brokers so we can help you by alerting the authorities to the scammer.
FAQs About Capital Zone Broker
Is My Money Safe With Capital Zone?

No, your money is not safe with Capital Zone. There have been many complaints against the broker.
What Is The Minimum Deposit for Capital Zone?

The required minimum deposit for Capital Zone is $1000.
Does Capital Zone Offer Demo Account?

You are allowed to access the trading platform, but you can't try out the platform without making a deposit.