November 23, 2022
Reading Time:
3
min
Capitality.ch review: Who is Behind This Broker?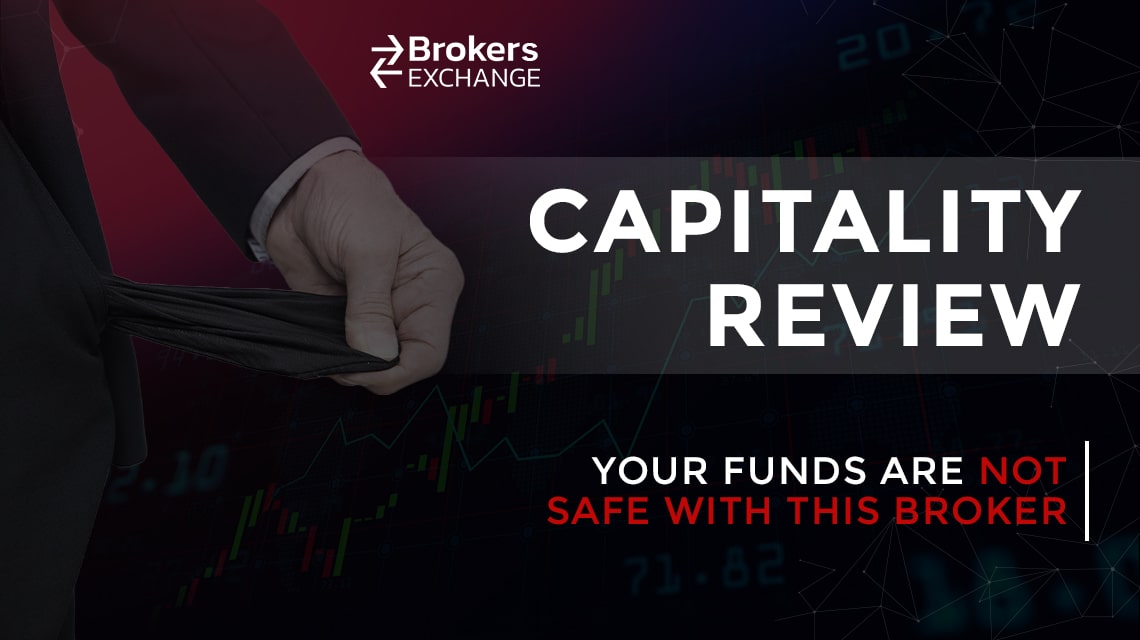 Capitality review, We'll take a look at all the information we could get regarding Capitality as there are many irregularities revealing them to be a broker scam. The most eye-glaring of these troubling facts is of course that they are allegedly based in Basel, Switzerland, but they are registered in Saint Vincent and the Grenadines. 
Next on our list is their policy of deposits and withdrawals, which is dubious, to say the least, and not well defined. Other than that, their internet-based trading platform is limited and compares poorly to the industry standards.
Unfortunately, we were unable to ascertain who is actually behind this fraudulent organization. You can read the rest of our Capitality review where we take a closer look at the troublesome details mentioned before.
| | |
| --- | --- |
| Company                  | Capitality |
| Website | Capitality.ch |
| Address | Grosspeter Tower, Grosspeteranlage 29, Basel CH-4052, Switzerland |
| Email | [email protected] |
| Phone | +41 615 100 687 |
| Minimum Deposit | 500 EUR |
| Leverage | 1:500 |
| Bonuses | N/A |
| Regulation | Unregulated |
| Warning | N/A |
Capitality Reliability – License and Security
As we've stated above, the financial swindler claims to have its base of operations in Basel, Switzerland, but that they are regulated by the FSA of Saint Vincent and the Grenadines. So what's the big deal here? 
Well first of all, in order to be able to offer its services and operate in Switzerland, the fraudulent broker would need a license from FINMA, a regulatory body overseeing organizations in Switzerland.
Next is the matter of their license. FSA of the SVG does not and cannot monitor or license Forex traders. This clearly reveals that we are dealing with an anonymous offshore broker who is free to operate internationally without the fear of any legal retribution.
Needless to say, your money is not safe with this illicit broker.
Trading Platform at Capitality.ch
On its website, Capitality claims to offer its clients access to three different trading platforms: Capitality Web, Capitality App, and MetaTrader 4. MetaTrader 4 is one of the best trading platforms currently available, but with or without such an amazing trading platform, Capitality is still a bogus broker, no matter what kind of trading tools or instruments they offer, so don't fall for their scams. 
Their Capitality Web platform is not the worst platform offered by various scam brokers but still doesn't come close to MT4. The real problem here is the lack of regulation that allows them to do whatever they want with the software. 
Manipulative trading software can easily lead unsuspecting victims to believe that they are doing great and that their investments are growing when their money is actually long gone.
Deposits and withdrawals as Capitality
Capitality offers its users several different ways of depositing their money. These include SEPA and WIRE transfers, debit and credit cards, and Bitcoin. 
Determining the minimum deposit turned out to be somewhat of an ordeal, as Capitality claims different sums to be the minimum deposit. In the end, it turned out that the minimum deposit with the Capitality scam was 500 EUR.
When it comes to withdrawals, the information provided by their site is rather vague. Besides mentioning that it takes up to 4 hours for withdrawal requests to be processed, not much is said about this topic which is worrisome at least. 
Having said this it is important to note that only credit and debit card deposits give you the option to request a chargeback later on. This means that if you deposit your money via Wire transfer, for example, your money will probably be gone with the wind.
How is the Scam Performed?
Scamming people is no science, and the scam brokers behind this fraudulent project obviously default to the same old tricks used by everyone else. The scheme involves several steps that lead the client to deposit their money with a smile on their face. 
After investing in enticing ads and getting their would-be customers' contact information, scammers will use various verbal and emotional manipulation tactics to get their victims to "invest in their future".
They will tell you to think about your children, all the vacations you could be going on, and how you won't need a job at all, anything to get you to deposit your hard-earned cash.
After the deposit is done, the scam brokers might try to feed you lies about how your investment is getting bigger day-by-day, if they think they can get more money out. Alternatively, they will stop all contact altogether.
Capitality.ch summary
Be careful where you put your money and trust, as you can easily become prey to a broker scam such as Capitality. If their ads seem like a dream, that is because they are exactly that, a dream. 
Before you send any money to any Forex providers be sure to take a close look at their website and check if they have a license and what kind of a license that is. 
We hope that we saved your assets in time if you were thinking about trading through this investment scam and that our Capitality review helps you weed out real brokers from scam brokers in the future.
FAQs about Capitality broker
What types of accounts does Capitality have?

Capitality offers two types of accounts, the Partner and the VIP account.
How is my security ensured using Capitality?

Capitality operates without an adequate license which means that your security is not ensured.
What payment methods are accepted at Capitality?

The Broker allows payments via debit and credit cards, SEPA and WIRE transfers, and by cryptocurrencies.