March 06, 2023
Reading Time:
5
min
Central Margins Review – The Story Behind This Scam Broker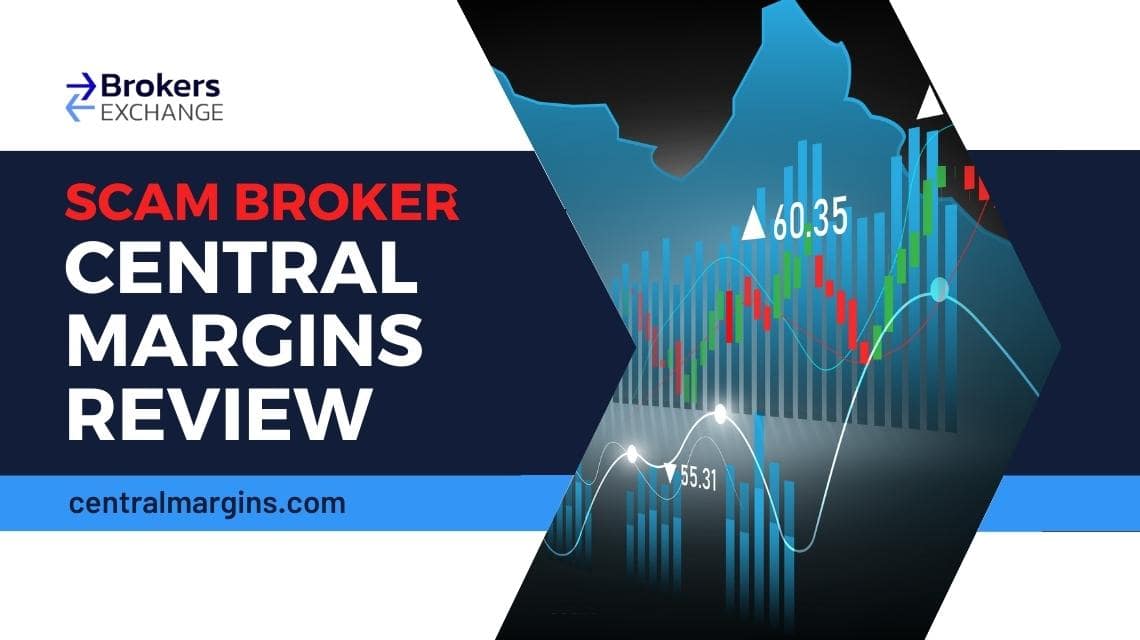 Let's get the most important thing out of the way first – Central Margins is a scam broker that holds no licenses. Don't let the complex and well-made website fool you, these people are bona fide hyenas, as this Central Margins review will show you.
Even though online trade has been a well-established industry for many decades now, there still are countries where regulation on this type of business is not necessary. One of these countries is St. Vincent and Grenadines, where Central Margins is based.
This lack of regulation makes SVG a scammer haven. With no licenses to acquire, anyone can pose as a serious broker. The country has become so infamous for this, many broking companies avoid being associated with SVG in any way.
But this, as we will see in this Central Margins review, is only the tip of the iceberg. Central Margins claims that its main office is based in Switzerland, which means they fall under FINMA jurisdiction, and should have a Swiss trading license. They do not.
| | |
| --- | --- |
| Company | Central Margins Trading Services LLC / Central Margins |
| Website | CentralMargins.Com |
| Address | SVG |
| Email | [email protected] |
| Phone | +1(5878) 858 834 |
| Minimum Deposit | $10 000 |
| Leverage | 1:20 |
| Bonuses | N/A |
| Regulation | Unregulated |
| Warning | N/A |
Central Margins Regulation and Security of Funds
As we have mentioned before, St. Vincent and Grenadines do not require any trading license to be issued to a would-be broker. You will see on the website that Central Margins claims to have a main office established in Switzerland, and this is the first in a long line of lies.
There is no company named Central Margins registered in Switzerland. This is not very surprising, as Swiss FINMA is one of the most strict financial regulatory bodies in the world, and obtaining a license in Switzerland is very difficult.
In order for a company to start a broking business in Switzerland, it must fulfill these conditions:
More than 1.5 million CHF in starting funds
Leverage must be limited to 1:30 at most
Client funds must be deposited in segregated bank accounts
Negative balance protection must be insured for clients
Brokers must offer a compensation scheme to clients
All transactions must be completely transparent
Any bonuses are forbidden
The site reveals a US phone number, but that apparently has nothing to do with the broker's real location. A simple check of the NFA members lists that consist of regulated brokers show us there was no way Central Margins has managed to pass the strict CFTC regulatory standards.
Generally, the licensing rules in the US are much similar to the UK and EEA regulatory framework, except that CFTC, is much more demanding in terms of starting deposits being $20.000.000 while the bonuses are allowed.
Either way, this brings us to a whole slew of misconduct on behalf of Central Margins, as they offer a newcomer bonus for every new investor. They also have no transparency on their transactions and no compensation fund. They do have a lot of disgruntled traders, judging by the many online reviews others have posted already.
Central Margins Supported Trading Platform
In all honesty, the Central Margins trading platform is not overly demanding and the distribution is fairly comprehensive. This, unfortunately, is at the cost of functionality, as the terminal greatly lacks advanced options, technical analysis, and expert advisors, for example. 
While it does seem like there are a lot of indicators to add, their function is unknown and their purpose is undefined. The simple layout doesn't allow complex customization, as most popular trading software does. Convenient for manipulation and changes that fit the scammer's goals, this trading terminal has no other purpose to its existence. 
Deposit and Withdrawal Options
As vague as all of these fraudsters are about the crucial aspects of trading, Central Margins reveals little to no info about deposits and withdrawals. The policy on the website hints at the possible funding methods being bank wire transfers and credit and debit cards. 
However, the instructions about performing the transfers remain unsaid. What is painfully obvious is the ridiculously high starting deposit requirement, set to $10 000. 
The swindler is concrete when it comes to fees and charges, though. Apparently, an inactivity fee applies to all accounts that remain dormant for longer than 30 days. Every following month a sum equal to 10% of the total accounts balance is deducted for that reason. 
Central Margins declares that withdrawal fees may occur for the processing expenses but they're not clear how much that amounts to. This goes against every and all possible regulations and policies that regulated brokers abide by.  
How the Fraud Is Conducted
In general, Central Margins follows a certain pattern characteristic to a large number of unscrupulous agencies, especially those revolving around crypto scamming. You see, Central Margins invests a certain amount of effort to convince all new visitors that their site is fully legal. 
In addition to that pile of lies, Central Margins adds statements of their legitimacy and client-oriented policy. After being fed such unrealistic dreams and visions of fair trading and potential for obtaining wealth, your interest as a new investor skyrocket. 
When you hear that many claims of easy money and fast gain, the starting investment of $10 000 won't seem like a big price to pay. Too bad that it doesn't end there. In fact, the scammer agent is on a mission to make you invest until you're skint. Only after they've made sure you have nothing more to invest will they reveal they're true face and lose any interest they've had in you.  
Highly Recommended Forex Brokers
The future of a successful and healthy online trading community are the brokers who take care of their clients, follow the legal framework, and implement high-end trading technology. Every broker will claim this about themself, so the only way to make sure they're speaking the truth is by doing your homework. 
Suggested brokers from our table are considerably ahead of other online trading service providers for a number of reasons. Our recommendations are all in possession of multiple licenses and trading certificates, supervised and fully legitimate. 
The conditions and services they advertise are exactly what you will get. We could go on about this forever, but the best for you would be to open Demo accounts with these companies. It's the only way to see for yourself why they're leaders in what they do. 
| | | | | |
| --- | --- | --- | --- | --- |
| Broker | Country | Rating | Min. Deposit | Website |
| FXTM Broker | Cyprus, UK, Mauritius | 4.5 | $10 | Forextime.Com |
| OctaFX Broker | Cyprus, SVG | 4.4 | $100 | OctaFX.Com |
| FP Markets Broker | Australia, Cyprus | 4.7 | $100 | FpMarkets.Com |
| XM Broker | Cyprus, Belize, Australia | 4.7 | $5 | XM.Com |
| HFM HF Markets Broker | Cyprus, UK, South Africa, UAE, Kenya | 4.3 | $5 | HFM.Com |
| FBS Broker | Cyprus, Belize, Marshall Islands | 4.85 | $100 | FBS.Com |
Central Margins Summary
Our Central Margins review discloses all the relevant factors involved in the fraudulent activities of this illicit brokerage house. From the lacking regulations to defective software to huge deposit requirements and impossible withdrawals, Central Margins turns out to be a devious liar. 
With nothing more than empty promises of high returns, Central Margins has nothing else to offer. In comparison to that, we've also given you some useful suggestions to start from if you're a newcomer looking for a broker to rely on. 
If you happen to have experience with investing in unscrupulous schemes, there's no shame in sharing that knowledge with us. Bear in mind the possibility of helping another fellow trader from falling into a scamming investment trap. 
FAQs About Central Margins Broker
Is Central Margins a Legit Broker or a Scam?

Central Margins is nothing but a scamming scheme designed with the single purpose of manipulation and extortion.
What Methods Can I Use to Fund My Central Margins Account?

The official Central Margins website states to accept bank wire transfers and deposits via credit and debit cards.
What Trading Instruments are Available at Central Margins?

Several available classes of trading instruments include Forex, Commodities, Stocks, Crypto, and Indices.