December 19, 2022
Reading Time:
4
min
CM Trade Review: Find Out Why CMTrade.com Is a Scam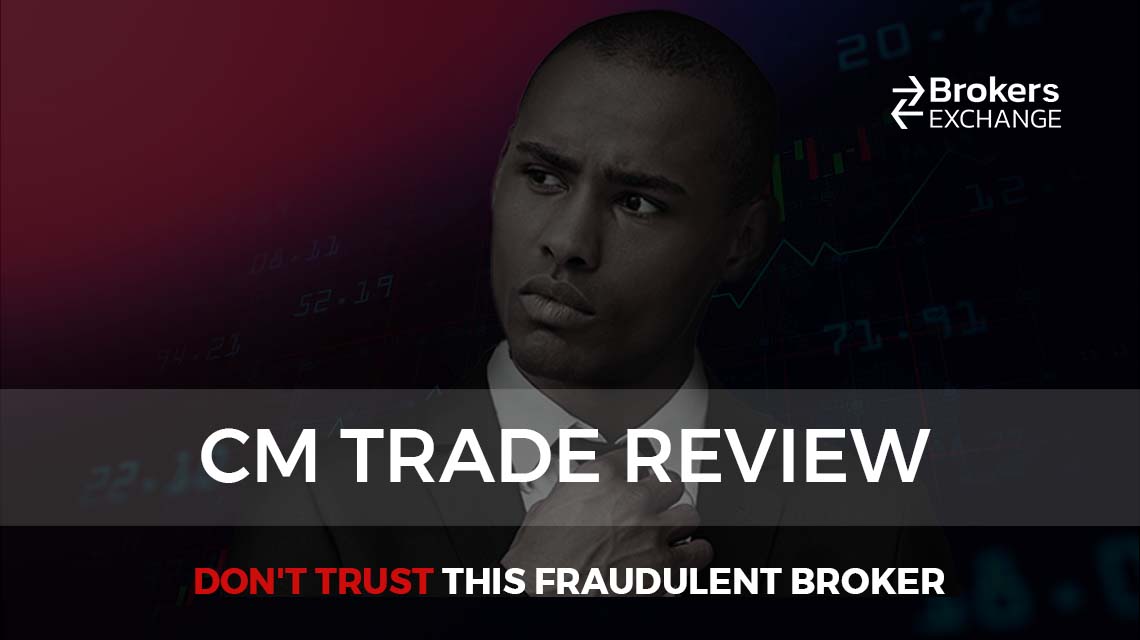 CM Trade site seems promising, although the offers seem unrealistic, which is a frequent sign of fraud. Huge bonuses, a large selection of accounts, trading software that meets user requirements, as well as a double license. And all of that appears at the very beginning of the site as a big promise to clients. 
But, as we started to dig deeper into the site, a series of incongruences came up, and everything started pointing to the fact that this is a fraud. 
From the fact that they do not allow trade in certain major countries, including China, Canada, the European Union, Australia, and Japan, to the fact that their licenses are not valid. 
CM Trade is a dangerous scam and it is best to avoid this broker. If you are interested in the details, how they carry out the fraud and how manipulative the offer they give to their clients is, read CM Trade Reviews to the end.
| | |
| --- | --- |
| Company | CM Trade |
| Website | CMTrade.Com |
| Address | Australia/ SVG/ Vanuatu |
| Email | [email protected] |
| Phone | +61 (02) 80912119 |
| Minimum Deposit | 100$ |
| Leverage | 1:833 |
| Bonuses | N/A |
| Regulation | Unregulated |
| Warning | N/A |
CM Trade Funds Safety and Regulation
CM Trade says on its website that it is a licensed broker. The licenses on the site are as follows:
Australian Securities and Investments Commission (ASIC) under registration code: AFSL 001291989. ASIC is the statutory regulator of the Australian financial services market.
Another license is issued by the FSA (Financial Services Authority) of Saint Vincent and the Grenadines, under registration code: FSA26365. This regulator and license provider is located in the Eastern Caribbean islands.
The third license listed by CM Trader is the Vanuatu Financial Services Commission VFSC, under registration code: VFSC40452.
The problem is that these allegations are false. When we checked the registration code in the ASIC registry, it was incorrect. 
As for the second license, the FSA, this legal regulator does not deal with regulating the forex market so it cannot issue such a license at all. It is clear that this is nothing more but a dangerous scam.
Trading Platform They Used on Their Website
When it comes to the trading platforms that CM Trade offers, it gives its clients two options, CM Trade Appi and MetaTrader4. Although MetaTrader4 is popular among brokers and a fan-favorite among traders, it certainly cannot change the fact that CM Trade is a fraudulent unregulated broker with an obvious intention to defraud its clients. 

Offering trading software that is actually good is a common manipulation tactic employed by scam brokers in an attempt to lure in unsuspecting victims. Having a trading platform such as MetaTrader 4 simply doesn't cut it as most reputable brokers use the same one or its successor, the MetaTrader 5. 
The difference is that a legitimate broker will allow you access to a world-class trading platform and won't outright scam you like CM Trade.
CM Trade Deposit and Withdrawal
On its webpage, CM Trade points out that clients can make online deposit transactions via the desktop website, mobile website, or app. 
After the customer enters the amount, the system will automatically convert it into the appropriate currency according to the exchange rate, such as New Taiwan Dollar, Thai Baht, etc. 
Only debit cards owned by the user are supported, and there is a limit for both one-time and daily card payments. The minimum deposit with TC Trade is $100.
Before withdrawing money, the client needs to complete real-name authentication. The bank card in real-name authentication is the recipient's bank card. If the client wants to change the receiving bank card, they should contact customer service. 
The withdrawal operation must be audited and the review time takes place within 24 hours in general.
Under normal circumstances, withdrawal fees are free. The company charges withdrawal fees in the following circumstances: If 50 percent of the deposit amount is not used to open a position, a 6% fee is charged when withdrawing. 
If a customer withdraws less than $50 at one time, a one-time handling fee of $3 is charged. If there are more than 4 withdrawals per month, 5 percent of the withdrawal amount will be deducted from the fifth withdrawal as a handling fee.
Such refund conditions hinder the client's business and force him to withdraw his money as little and as rarely as possible. With these conditions, CM Trade makes it easier for itself to execute the sham.
How this Brokerage Executed the Scam?
A company with a similar name used to perpetrate very similar investment scams, after which it just disappeared. Sometime later, CM Trade showed up on the market. 
Many times when these fraudulent companies are exposed as a scam, they delete their site and appear under a new name at a new web address. The way they run their scam is schematic and not much different from other scam companies. 
The main point of fraud is to attract the client, and they do so with advertisements, unrealistic offers, and bonuses. Once they attract a client, these fraudsters have completed their dirty work, because after the client leaves a deposit, and "trades" his deposit, he gets the impression that he is earning. 
Sometimes the client will even continue investing until the moment he requests a withdrawal, which is when they realize they have been scammed. After this, companies like CM Trade will delay the refund or demand some unreasonable conditions to be fulfilled, or just stop communicating with the client. 
It often happens that they just delete the client's user account, and when they are completely exposed, they also delete the entire site. So don't invest money in unregulated brokers as you only stand to lose your capital.
CM Trade Summary
When we look at the whole picture CM Trade is a scam broker that should be widely avoided. In addition to operating unregulated, the terms of deposits and refunds are not on the client's side. 
While with other brokers the minimum deposit is 10 dollars, with CM Trade it is 100. Even if it seems to you that their offer is good, do not forget that it is a scam and that the offer is only there to attract you. 
So find a regulated broker, so you don't get ripped off with no way to get your money back.
FAQs About CM Trade Broker
Is My Money Safe With CM Trade?

No, your money is not safe with CM Trade as they are an illegitimate broker.
What Is The Minimum Deposit for CM Trade?

The minimum deposit required by CM Trade is 100$.
Does CM Trade Offer Demo Account?

No, CM Trade does not offer its clients a demo account.