April 22, 2023
Reading Time:
4
min
CresCapital Review: Discover More About This Broker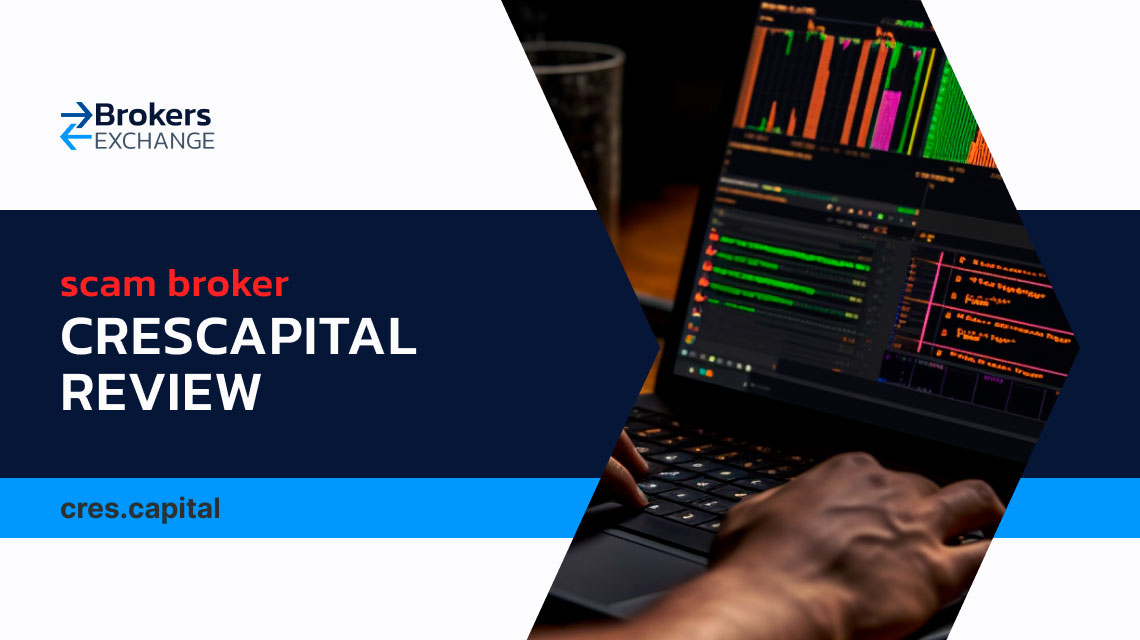 Markets can be appealing to those looking to make money. However, they come with risks, like unstable prices and dishonest brokers. Unfortunately, CresCapital is one of those untrustworthy brokers, and we want to expose its deceitful practices, particularly in Germany and the UK.
Upon visiting their website, you'll notice they make many false claims about being a reputable and technologically advanced company. However, our CresCapital review will reveal the truth behind its facade. Keep reading to learn more.
What's more, we strongly recommend that you avoid the fraudulent brokers Vexxsel and Binetrix.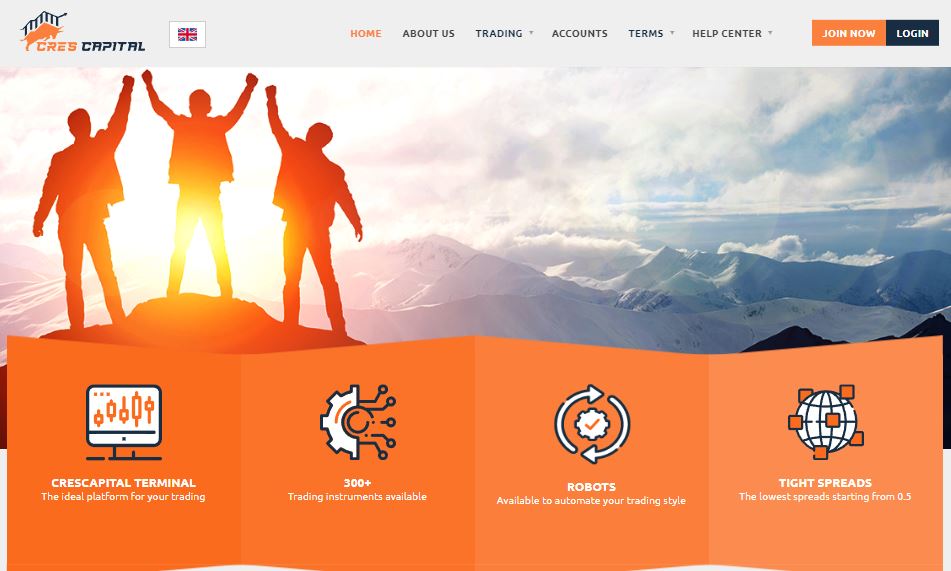 | | |
| --- | --- |
| Leverage | N/A |
| Regulation | No |
| Headquarters | Saint Vincent and the Grenadines |
| Minimum Deposit | 250 USD |
| Review Rating | 1/5 |
| Broker Type | FX |
| Platforms | CresCapital terminal |
| Spread | 0.5 pips |
Compliance and Safety
As we previously mentioned, the first red flag of an unreliable company is the lack of proper regulations. Our team did some digging and couldn't find any record of CresCapital with any financial market regulators. In simpler terms, this broker is operating without the authorization to offer online trading services. 
So, what does this mean for traders? Keep reading to find out. It's worth noting that CresCapital claims to be registered as Ethereal Group LLC in Saint Vincent and the Grenadines. This may not come as a surprise since the country's forex market is unregulated, making it a popular spot for offshore brokers to set up shop.
Trading Platform
CresCapital has gone to great lengths to create a website that looks legitimate. This truly may deceive inexperienced traders. The company makes enticing promises of a cutting-edge trading platform called the CresCapital terminal, which can supposedly be accessed on any device, including desktops, browsers, and mobile devices. 
Additionally, they claim to provide 24/7 support and cutting-edge tools.
However, we're highly skeptical of these claims and advise against taking any chances with CresCapital. Even if scammy broker has a functional trading program, they often use it to deceive and manipulate traders.
Trading Instruments Offered
Allegedly masquerading as a legitimate FX broker, CresCapital purportedly boasts an array of tradable assets encompassing:
Indices: S&P 500, Dow Jones Industrial Average, Germany 40, FTSE 100;
Forex pairs: EUR/USD, USD/JPY, GBP/EUR;
Energies: natural gas, crude oil, Brent oil, gasoline;
Stocks: Apple, Amazon;
Oddly enough, CresCapital conspicuously lacks crypto assets. Nonetheless, it's highly advisable to abstain from investing with this fraudulent company.
Account Types
We analyzed the trading account offers of CresCapital, but we do not recommend trading with them. Here is a summary of their trading options:
Elementary: Geared towards beginners, requires a minimum deposit of $250.
Intermediate: Meant for experienced traders, and requires a minimum deposit of $1,000.
Advanced: Tailored to advanced traders, requires a minimum deposit of $10,000.
Premium: Designed for skilled traders, requires a minimum deposit of $25,000.
Please note that this offer should be viewed with caution as it is fabricated. Additionally, it's important to keep in mind that the minimum opening balance of $250 may be considered high when there are reputable brokers that allow you to start trading for as little as $5.
Deposit and Withdrawal Procedure
According to their website, CresCapital claims to offer transfers to and from accounts via credit/debit cards and bank transfers. While these payment methods are generally considered safe, something seems off. We suspect that this cyber fraud's motives may not align with these reversible payment methods.
CresCapital's funding methods likely involve crypto payments, which are more difficult to reverse and trace. 
Unfortunately, we cannot provide information regarding withdrawal fees or turnaround times as they are not disclosed by the company. However, it's important to note that unlicensed and anonymous brokerage firms like CresCapital offer no guarantees when it comes to withdrawing funds. We urge caution when dealing with these types of firms.
How Does This Scheme Operate?
Bogus brokers often lure their victims in with false promises of high returns and use shady tactics to pressure them into making investments. Once the victim has deposited their money, the scam broker may disappear, leaving the victim with no way to recover their funds. 
It's important to be cautious and do your research before investing your money to avoid falling victim to a scam. Always look for reputable brokers with valid licenses and a history of good reviews from other traders.
CresCapital Summary
At the heart of our mission is the goal of protecting you from financial losses. With the vast number of financial companies and investment opportunities available today, it is crucial to conduct thorough research before making any transactions, particularly in a volatile market.
We strive to provide unbiased, insightful analysis of FX and other financial companies to help you make informed decisions. Our hope is that this CresCapital review has helped you in any way.
It is understandable to feel embarrassed or ashamed if you have been the victim of a scam. However, it is essential to report any fraudulent activity to the relevant authorities. This will prevent others from falling prey to similar schemes. We encourage you to choose a trustworthy and regulated broker from our list of recommended companies to ensure that your investments are protected. Remember, your financial security and peace of mind are our top priorities.
FAQs
Is CresCapital Regulated?

No, CresCapital is not regulated by any financial authority or regulatory body.
Does CresCapital Charge Deposit or Withdrawal Fees?

Yes, CresCapital imposes various hidden fees, including deposit and withdrawal fees.
What Is CresCapital Headquarters Country?

The exact location of CresCapital's headquarters is not clear, and the company is not transparent about its physical address.