June 02, 2023
Reading Time:
3
min
Our Cronosca Review Will Point to All the Warning Signs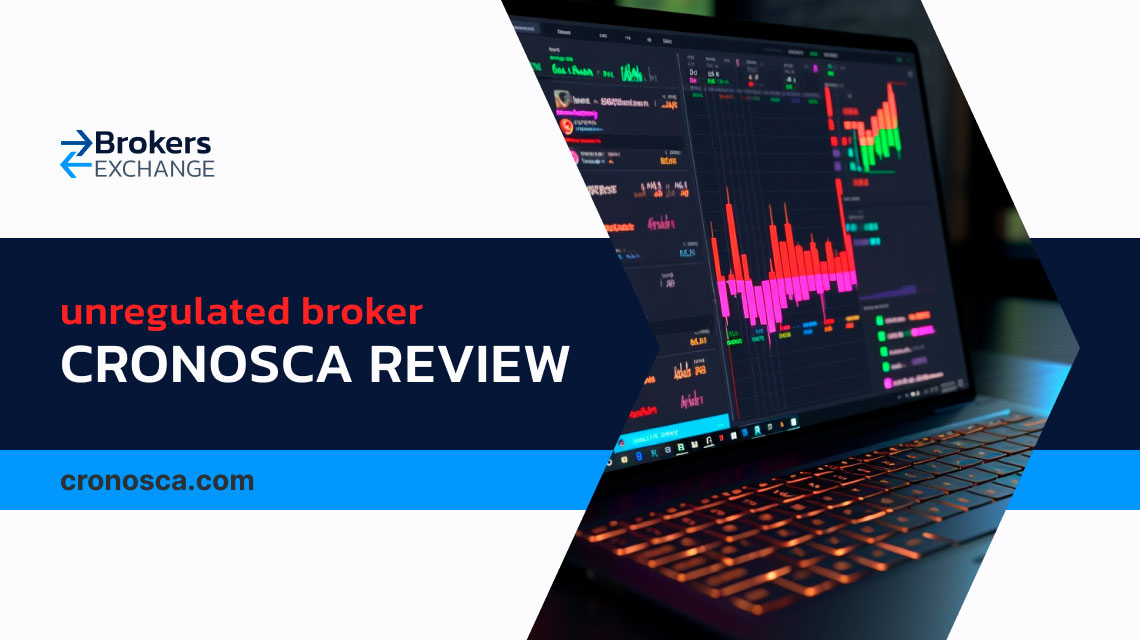 As a new forex broker, Cronosca hasn't been off to a great start. They provide very little information on their website, have no license, and generally lack transparency. We analyzed this shady broker in our Cronosca Review. So, let's uncover this scammer, one red flag at a time.
| | |
| --- | --- |
| Company | Cronosca |
| Regulation | Unregulated Brokerage |
| Warning | N/A |
| Website | cronosca.com |
| Address | N/A |
| Email | N/A |
| Phone | N/A |
| Minimum Deposit | N/A |
| Leverage | N/A |
| Bonuses | N/A |
Is
Cronosca Legit? Regulation and Safety of Funds
If you wanted to know what a scammer's website looked like, you would have to look no further than Cronosca. We'll explain.
Firstly, we could barely find any information on this broker to bring you this review. They didn't state where they are based, so we had to search Tier 1 regulatory bodies and found no trace of Cronosca. An immediate red flag!
And an even bigger warning sign is the obvious lack of regulation. Forex traders are required to operate with a trading license, and since Cronosca does not have one, we can confidently say they are scammers.
The lack of transparency always points to shady behavior, and if a broker is shortchanging you with the basic information, take that as a signal to move on.
Cronosca Trading Platform Overview
We could not find anything noteworthy about Cronosca's trading platform either. They locked all valuable information behind the sign-up page, so you must make an account to see what you are dealing with.
The only thing we know we found on the home page. There, you can see a proprietary trading platform, which we assume is a web trader, but cannot confirm. Moreover, you can only access this platform if you download an Android or iOS app. A PC version is not available.
Account Type Offered at Cronosca
Cronosca also doesn't reveal any details on the account options it offers. Again, we can only assume this broker offers a single account for all users. But they did not even make an effort to disclose the features of that account.
Having only one account option isn't common in this business since traders have different trading styles and want certain features that maybe other traders don't. So Cronosca's account situation is far from ideal.
Funding Method
Unsurprisingly, funding method details are also missing.
Since Cronosca insists on complete anonymity, we could guess they accept cryptocurrencies as a payment method. This comes as no surprise as many scammers like doing transactions via crypto, as they are also anonymous.
They also focus on cryptocurrency trading. You can buy and sell BTC, ETH, and USDT. Their dealing with digital currency reinforces our presumption that they accept cryptocurrency transactions, but take this with a grain of salt.
How is Fraud Orchestrated?
Experienced scammers like Trubyx and SpotyFX target their victims in many ways, but all scams, more or less, follow the same pattern.
Incredible offers, empty promises, and eagerness to get you to invest are all part of the scam package you can expect. The key is to say no right then and there. No legitimate broker will torment you into giving them your money.
But if you fall victim to a scam, there are ways to get out. Contact your bank (if you didn't use crypto as a payment method) to file a chargeback request. If you do this in time, there is a chance the bank can revert the payment and get your money to you.
Finally, there are some signs you can look for before engaging with a broker that will tell you whether to trust them. Your priority is always the license! If they don't display it anywhere and you can't find it in any reputable registrar, skip that broker. Also, if their website doesn't include basic information, like Cronosca's doesn't, or is slow to load, you can be sure they are up to no good. 
Cronosca
Summary
Owing to the absence of a license and basic information, we strongly advise you to avoid Cronosca. You would be exposing yourself to enormous risk by doing business with them.
Instead, take the advice we gave you in our Cronosca Review and choose a trustworthy broker to invest with. And above all, stay safe out there!
FAQs About
Cronosca
Broker
What Can I Trade with a Cronosca Broker?
Cronosca gives you the ability to trade in cryptocurrencies. Namely USDT, ETH, and BTC.
What are the Available Methods of Withdrawal?
Sadly, we could not find any information about withdrawal methods on their website.
Is Cronosca Broker Regulated?
No, we could not find them in any reputable registrar, so we determined they do not operate with a license.