March 16, 2023
Reading Time:
5
min
Crypto Daily Trade Review: Don't Risk Trading with This Firm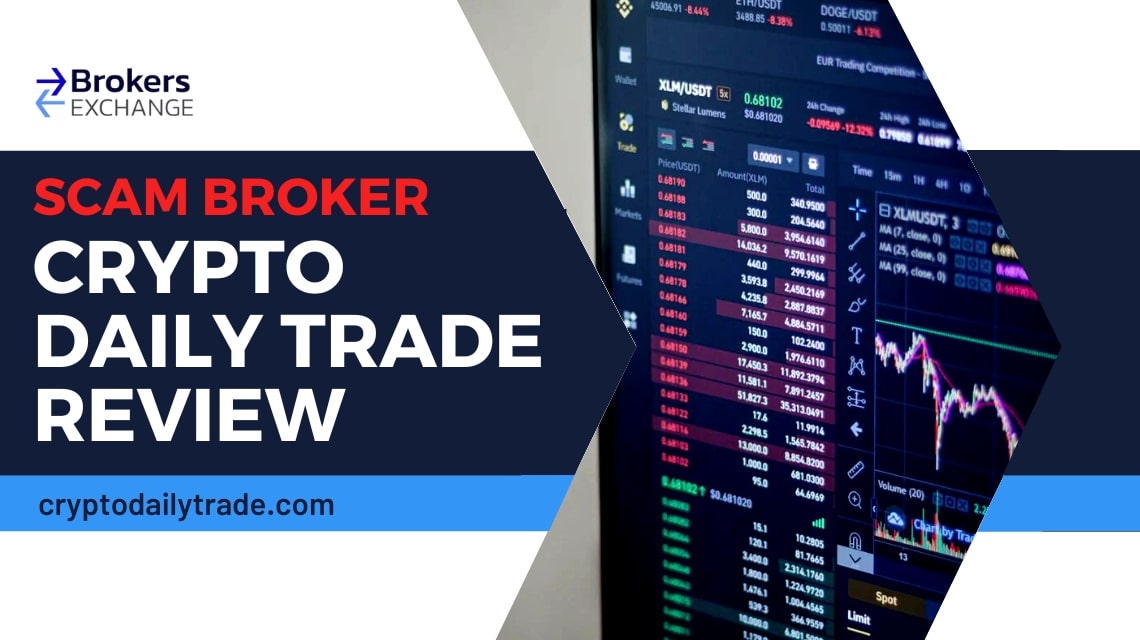 Supposedly based in San Diego, California, is a scamming website with clear tendencies for defrauding customers. Stay with our broker review and you will soon find out why we call this firm a swindler. 
First off, faking a US address didn't help this con seem more credible. If anything, it made them all the more suspicious because checking their legal status was easy. Not regulated by the US financial authorities or any other licensing entities for that matter, is as fake and illegal as scammers get. 
This con artist makes one false promise after another and we're not buying it. This review will show you why you should never trust Crypto Daily Trade. Luckily for all new potential investors, the Crypto Daily Trade website is down at the time being. Not only did the swindler get away with the money they stole until now, but who knows when they will show up under a different domain.
| | |
| --- | --- |
| Broker Status: | Scamming site |
| Regulated by:  | None |
| Operating Status:  | Inactive  |
| Scammers Websites:  | Cryptodailytrade.Com |
| Blacklisted as a Scam by: | N/A |
| Broker Owner:  | N/A |
| Headquarters Country: | USA |
| Foundation Year:  | 2022 |
| Online Trading Platforms: | N/A |
| Mobile Trading:  | Unavailable |
| Minimum Deposit: | $100 |
| Deposit Bonus:  | N/A |
| Crypto Asset Trading: | Yes |
| CFD Trading Option: | Advertised but unavailable |
| Available Trading Instruments: | Forex, Crypto, Gold and Indices CFDs |
| Maximum Leverage: | 1:500 |
| Islamic Account:  | Unavailable |
| Free Demo Account:  | Available |
| Accepts US clients: | Yes |
| Warning:  | N/A |
Crypto Daily Trade Reliability – License and Fund Security 
Discovering that the broker is unregulated in their HQ country was quite easy. The website did proclaim to have its main office based in the US. The two leading financial authorities in the area are CFTC and NFA. 
While CFTC is responsible for regulating brokerage activities, NFA keeps a detailed register of its licensed members. Naturally, the first thing we did was check the NFA database, only to find out that Crypto Daily Trade is not one of the regulated brokers. 
Since we couldn't stop at that, we had to take our research further. We didn't believe Crypto Daily Trade was based in the US, so checking other registers of regulated brokers was in order. As it turned out FCA, BaFin, FINRA, ASIC, CySEC and IIROC have no intel on Crypto Daily Trade. How would they anyway, when this fake broker could never meet the regulatory standards, especially those in the US? 
If a brokerage house intends on being regulated in the US, they first have to invest at least $20 000 000 in their business. This deposit is a confirmation of the company's plans of running a long-lasting, stable enterprise. Clients' fund protection is also taken to another level. Segregated bank accounts for all customers' deposits along with the leverage restriction serve to properly protect the investments. 
Does this broker seem like a broker that can afford to invest $20 000 000 in their business? Of course not. So stay away from this false financial services provider and choose a regulated broker instead.
Trading Platform Overview
It's a shame that Crypto Daily Trade uses the name of MetaTrader 5 in vain and only to attract potential victims. Despite the promises of allowing us to trade on the famous MT5, we couldn't find any trading platform at all. It's like this broker completely ignores the fact that successful trading requires a functional trading platform. 
The only thing this con requires from you is a deposit, everything else is overshadowed by this fact. Crypto Daily Trade also neglects their duty to provide a lucrative trading environment to its customers. Instead, the fraudster just wishes to drag you into their investment trap and steal your money. And they use the reputation that MT5 has in order to spark your interest.
Trading Accounts Available
Crypto Daily Trade didn't bother to design distinctive account types. The traders willing to access different account features do not have the ability to choose between accounts. In that sense, Crypto Daily Trade stands out from regulated brokers. 
The latter usually allows users to pick an account type among many others with their own unique set of benefits. Crypto Daily Trade does none of that. In fact, they do not even reveal which options feature the single live account they offer.
The broker does allow you to open a Demo account so you can test the trading conditions. Even that is not exactly plausible due to the absence of the trading software. All in all, Crypto Daily Trade's offer of accounts is not at all rich and comprehensive.
Deposits and Withdrawals
As with any other crypto-focused scam, Crypto Daily Trade is a fraudster that only accepts crypto deposits. Highly risky and practically irreversible, crypto transactions are the most favorite method of funding among scammers. 
This is so because of the secretive nature of digital currency transfers. With the anonymity mask, Crypto Daily Trade confidently performs a scam and gets away with it because their identity is never revealed. 
Crypto Daily Trade also claims not to charge anything for processing deposits and withdrawals. Refunds do not take more than 1-2 business days, or so the scammer claims. Nothing you read on their website should be taken at face value.
Trading Instrument Offered
Although Crypto Daily Trade doesn't explicitly show the exact trading conditions, they advertise several groups of trading instruments available:
Forex (EUR/USD, USD/AUD, CAD/CHF, USD/JPY, EUR/NZD, AUD/PLN)

Crypto (Bitcoin, Litecoin, Tether, Cardano, Ethereum, Ripple, Polkadot)

Gold as a precious metal from the hard commodities assets group

Indices CFDs (Dow Jones, S&P 500, DE40, FR40, UK100)
How is the Scam Performed?
Considering the contagious popularity of crypto investing, it isn't that hard for this broker to spark the interest of their potential victims. The newly interested investors are persuaded to invest with the promises of big cash being accumulated quickly. None of it is true, of course, and Crypto Daily Trade is only taking advantage of the less informed investors. 
By tricking their victims into their scamming scheme, the broker ensures profit while the less fortunate ones lose their entire capital or life savings. The withdrawals that the targets attempt miserably fail due to additional fees, conditions, and unreached trading volume requirements.
Crypto Daily Trade Summary
This broker review we bring you today has the purpose to warn all the potential victims why investing here would be a horrible mistake. Knowing how risky an unregulated broker such as this may turn out to be, you should know better than to throw your money down the drain. Because that is exactly what is going to happen if you allow this con artist access to your capital.
Regulated brokers, and many of them with multiple regulations, are far safer. Of course, you can never be completely sure until you double-check your broker for their legitimacy. We're here to help you with that, so never hesitate to contact us for that matter.
FAQs About
Crypto Daily Trade
Broker
What Kinds of Accounts Does Crypto Daily Trade Have?
Crypto Daily Trade doesn't clearly list the account types or what they bring. Demo account is available too, though.
How is My Security Ensured When Using Crypto Daily Trade?
Unfortunately nothing about security is certain with Crypto Daily Trade. Operating as an unregulated company, this broker cannot provide you the safety of funds that you look for.
What Funding Methods Are Accepted at Crypto Daily Trade?
The single funding method accepted at Crypto Daily Trade is crypto depositing. Currencies available are Bitcoin, Tether, Cardano, Litecoin and others.