January 09, 2023
Reading Time:
3
min
Dashstamp Review: Never Deal with Dashstamp.Pro Broker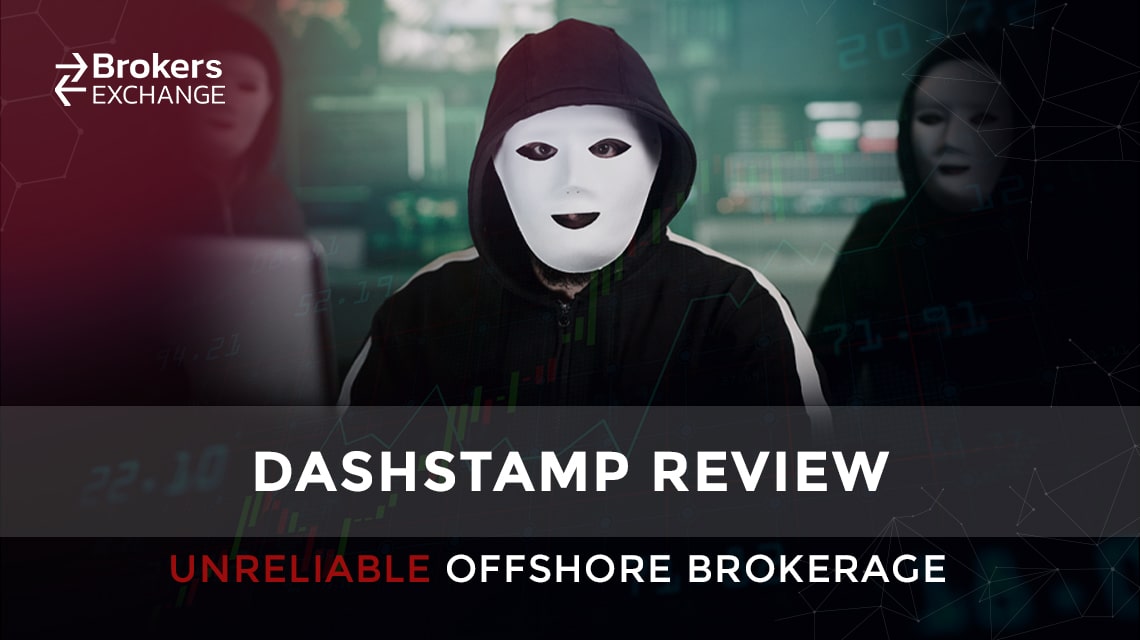 Dashstamp is a broker that should not be trusted with your money. It is simply another risky and unreliable offshore brokerage. These organizations frequently reveal themselves to be engaged in various scams, and it appears that is also the case here. 
The company gives false information for their contact details and claims to have a license. And none of its actual legal documents are accessible.
This means that its Terms and Conditions are unknown – in addition to the problems already discussed, the broker is not clear about its spreads and leverage.
As you might expect, we will not be recommending this brokerage. However, read our entire Dashstamp review to better familiarize yourself with the numerous problems this broker has:
| | |
| --- | --- |
| Company | Dashstamp |
| Website | Dashstamp.Pro |
| Address | London Wall Place EC2Y 5AU Barbican London |
| Email | [email protected] |
| Phone | +496950955165 |
| Minimum Deposit | N/A |
| Leverage | N/A |
| Bonuses | N/A |
| Regulation | Unregulated |
| Warning | N/A |
Dashstamp Regulation and Fund Security
Dashstamp cannot legitimately provide its services from London. The FCA, a British regulatory body, has long maintained a ban on cryptocurrency CFDs; this particular broker repeatedly promotes this type of trading on its website.
But there's more—the company's entire website is only available in German. Now, a UK broker would undoubtedly have an English translation of their page. Given the strict regulation of the EU markets and that BaFin does not regulate Dashstamp, it follows that it cannot be German.
Dashstamp is not licensed or subject to regulation, which puts investors at serious risk. It would be terrible to lose all the money you worked so hard to scammers. By signing up with and investing with unlicensed brokers, you are spending your money on dubious and useless ventures.
Dashstamp Trading Platform Overview
Dashstamp advertises its trading platform as being web-based. However, you cannot open an account on it until you make a deposit. Because there is no evidence of trading software, the website is useless in this regard.
As a result, there is no reason to believe that a trading platform exists.
Dashstamp Deposit and Withdrawal
We weren't shocked to discover that there were no payment details whatsoever. DashStamp.pro is proof that websites like this one rarely provide any reliable information.
There are no payment methods, deposits, or withdrawals described. There is no reason to believe that the user will ever be able to withdraw the money they have put in. In addition, there may be unstated charges that are applied to steal even more money.
Given that DashStamp.pro is unlicensed and a scam, it is safe to assume that any investments made there will be permanently lost.
How the Scheme Was Put Into Practice
Whether a user is aware of it or not, crossing the crucial gap that exists between a user and a broker is usually the first step in a scam. 
Rarely does this go beyond the realm of formality when dealing with legitimate organizations; however, scammers will make an effort to appear friendly while trying to sell you as much as they can.
As financial instruments become more complex, scammers follow suit, and there are some really sophisticated deception techniques that will bankrupt you sooner than you realize. For this reason, it is simple to fall for their flattery. 
Therefore, be conscious of your actions before taking them and, if necessary, seek professional guidance
It frequently takes the victim two to three deposits before they realize that something severely wrong has occurred. However, the broker has already cut off all contact and will reject any withdrawal requests by the time the victims know they have been tricked.
Finally, there are the remote access software combos AnyDesk and TeamViewer that are promoted on Dashstamp, which, provided that consent has been obtained, allow for remote access to anyone's PC. This would be a grave error—perhaps even a graver error than investing money!
Dashstamp Summary
We immediately thought of DashStamp.pro's website as being extremely problematic. It's clear that the creation of this website was rushed, with little thought to it. To con as many users in the shortest amount of time possible.
If you choose to trade with Dashstamp, which is not something we recommend at all, you simply won't be able to, even if you ignore its regulatory problems. 
That is not the case, though; instead, it has a dubious policy that requires a deposit before opening an account.
Reporting fraud shouldn't make you feel embarrassed or ashamed. We would really appreciate it if you could let us know about any negative experiences you've had with other fraudulent brokers so we can assist you by informing the authorities about the scammer.
FAQs About Capital Zone Broker
Is It Safe to Use Dashstamp for Trading?

No, absolutely not. Dashstamp should be avoided as much as possible.
Do Dashstamp Offer a Demo Account?

Dashstamp does not offer a Demo account. Even before registering you are required to make a deposit.
What Is The Funding Method of Dashstamp?

There are no details on payment methods or any other information on withdrawal or deposit.