March 14, 2023
Reading Time:
4
min
Dav Invest Review: Learn More About This Scam Broker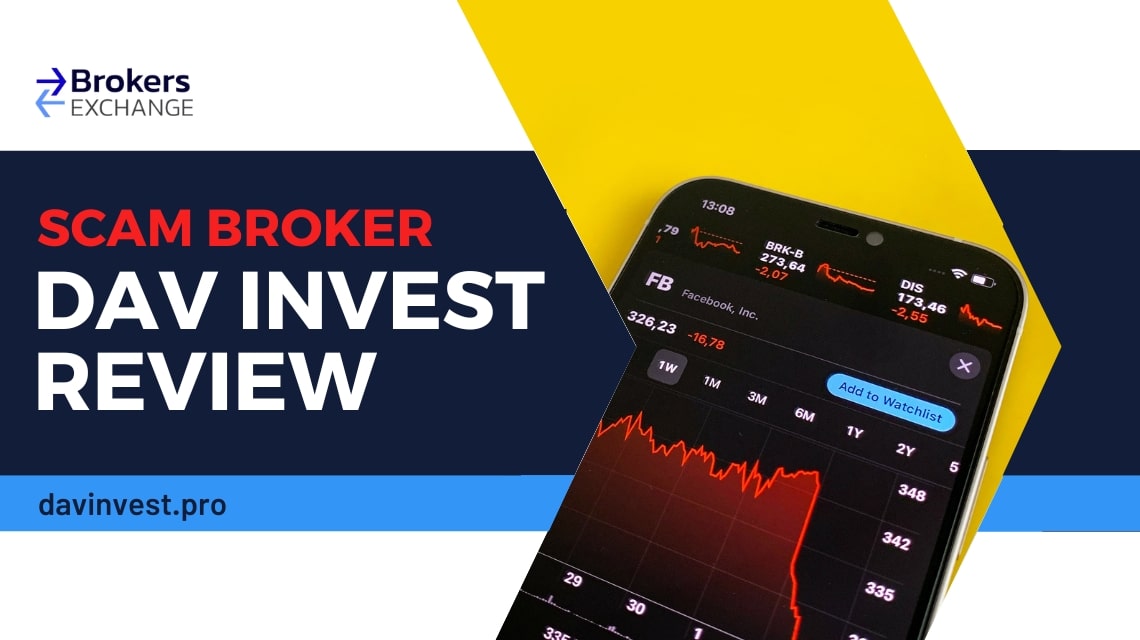 Dav Invest is now defunct, and their site cannot be reached. They made claims about many things, and almost all of these claims are completely false. An address is given for a place in Australia, which is not true. The most approximate location of their "company" is Vanuatu, but this cannot be confirmed either.
The main financial regulator in the United Kingdom, FCA has issued a warning about Dav Invest being a scam: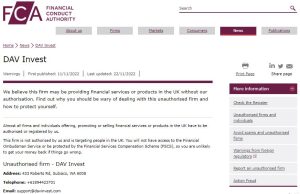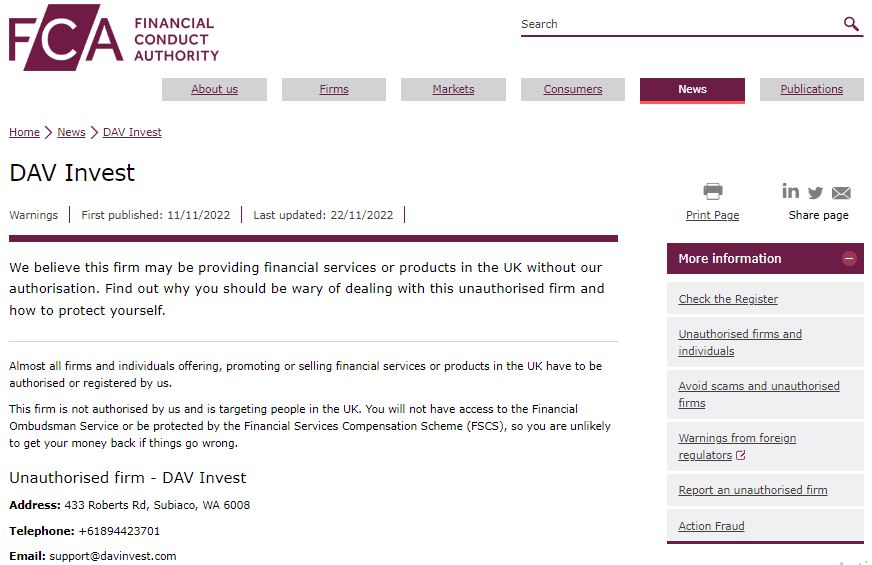 They also claim to be regulated by a large number of different administrations, but this is false as well. The best we can tell, Dav Invest is an online scam that uses lies and other underhanded methods to rob people of their hard-earned money. This is why this Dav Invest Review will debunk these dangerous people!
| | |
| --- | --- |
| Broker Status: | Inactive offshore scam |
| Regulated by:  | Unregulated |
| Operating Status:  | Non-operational |
| Scammers Websites:  | davinvest.pro |
| Blacklisted as a Scam by: | UK FCA |
| Broker Owner:  | N/A |
| Headquarters Country: | Australia (alleged) |
| Foundation Year:  | N/A |
| Online Trading Platforms: | Web Trader |
| Mobile Trading:  | No |
| CoinRise Minimum Deposit: | N/A |
| Deposit Bonus:  | Offered |
| Crypto Asset Trading: | N/A |
| CFD Trading Option: | N/A |
| Available Trading Instruments: | None, scam broker |
| Maximum Leverage: | 1:500 |
| Islamic Account:  | No |
| Free Demo Account:  | No |
| Accepts US clients: | Yes |
| Warning:  | FCA |
Dav Invest
Regulation and Security
Dav Invest claims to be regulated by Australian ASIC where they are allegedly based, as well as the UK's FCA, CySEC in Cyprus, South African FSCA, DFSA in Dubai, IFCS in Belize… In short, they claim to be authorized everywhere in the world. Let's check these claims, shall we?
Although brokers that have indeed acquired licenses in such a large number of jurisdictions exist, we have our doubts about Dav Invest. It is very difficult to obtain even a single license, let alone such a high number. Since Dav Invest claims to be based in Australia, they would fall under the jurisdiction of ASIC.
Here is what Australian law, and by extension ASIC, require from brokers in order to issue a license:
AU$1,000,000 of initial capital

Leverage restriction of 1:30

Bonuses are banned

Segregated bank accounts

Negative balance protection

Transactions must be transparent and reported
In other nations that Dav Interest claims to be regulated similar rules apply. We can see how this scam broker blatantly ignores most of these rules. Special attention must be paid to how they offer ridiculously high leverage and offer bonuses. We can also assume that the client's funds are not segregated, because of what Dav Interest outlined in their Terms and Conditions.
We have of course also checked the databases of all these regulators to see if there is any validity to these claims. There are no entries about Dav Invest with CySEC, FSCA, DFSA, or IFCS, but there is an entry in the UK's FCA… This entry is a scam warning about Dav Interest being an unregulated entity.
Broker's Trading Software Overview
Brokers that offer fair trading conditions will usually have well-developed software to allow their clients good market execution. This is not the case with Dav Invest, which only offers a basic Web Trader platform. This is not out of the ordinary for scammers, since the platform is very prone to data manipulation.
High-quality software that many brokers offer today almost always includes Metaquotes' Metatrader4 and Metatrader5. These are both secure and reliable platforms that offer many advanced features. MT4 is well known to retailers, offering quick market execution and excellent flexibility. MT5 is a cutting-edge piece of software that features expert advisors and automated trading tools.
Deposit and Withdrawal Process
Dav Invest only allows for a single financial channel to update live trading accounts. This is a cryptocurrency transfer. Although popular, it is notoriously unreliable and lacks the facilities that allow these transfers to be tracked, or charged back like Bank Cards for instance.
Withdrawals are made arduous on purpose since the scammers don't want you to pull any money back once you've deposited it. As we have mentioned, Dav Invest doesn't have segregated bank accounts. This means the client has virtually no access to their assets after they have been deposited.
When prompted with a withdrawal request, Dav Invest will default to its terms and conditions. These state that the only finance the client owns is the initial deposited sum, and withdrawals are subjected to massive withdrawal fees that go as high as 20%.
Account Types at Dav Invest
Dav Invest offers a number of trading accounts, but they have conditions that are far from fair. The only differentiating aspect of these accounts is the amount of minimum deposit required, which can soar up to $10,000 for some of them. There is no demo account.
Regulated brokers offer different accounts based on various charging methods. Some are billed through the spread, and others by the commission, swap et cetera. Authorized brokers always offer a demo account for risk-free speculation and analysis.
How Is the Scam Implemented?
Dav Invest attracts its victims by offering what seems to be a very lucrative deal. High leverage and guaranteed profits are featured prominently on their website. These scammers will not allow their users to actually see any details about the trade before the user has already made a deposit. By that time, it was already too late.
Frauds will use the inherent security flaws of the Web Trader to change the outcome of trades, encouraging further deposits. When the victims try to withdraw money, Dav Invest would refer to the Terms and Conditions, and deny any withdrawals. The money is as good as gone at this point.
Dav Invest
Summary
Dav Invest is a bunch of liars out to get your money. They are illegal, unregulated frauds that lie about important safety regulations. There is no transparency, and the only method of payment is in cryptocurrencies.
These swindlers attract their victims by offering great deals, but this is far separated from the hard reality of dealing with these kinds of people. After the initial deposit is made, there is no guarantee the money can ever be reclaimed by the victim.
FAQs About
Dav Invest
Broker
Is Dav Invest Broker Regulated?
No, Dav Invest is an unregulated offshore scam broker that lies to their clients.
Is my Money Safe with Dav Invest?
No, all your money is at risk when dealing with Dav Invest.
Does Dav Invest Offer a Demo Account?
There is no demo account on offer at Dav Invest. Only live accounts are available to the clients.