November 10, 2023
Reading Time:
5
min
Day Trade the World Review: Can You Profit Using This Prop Firm?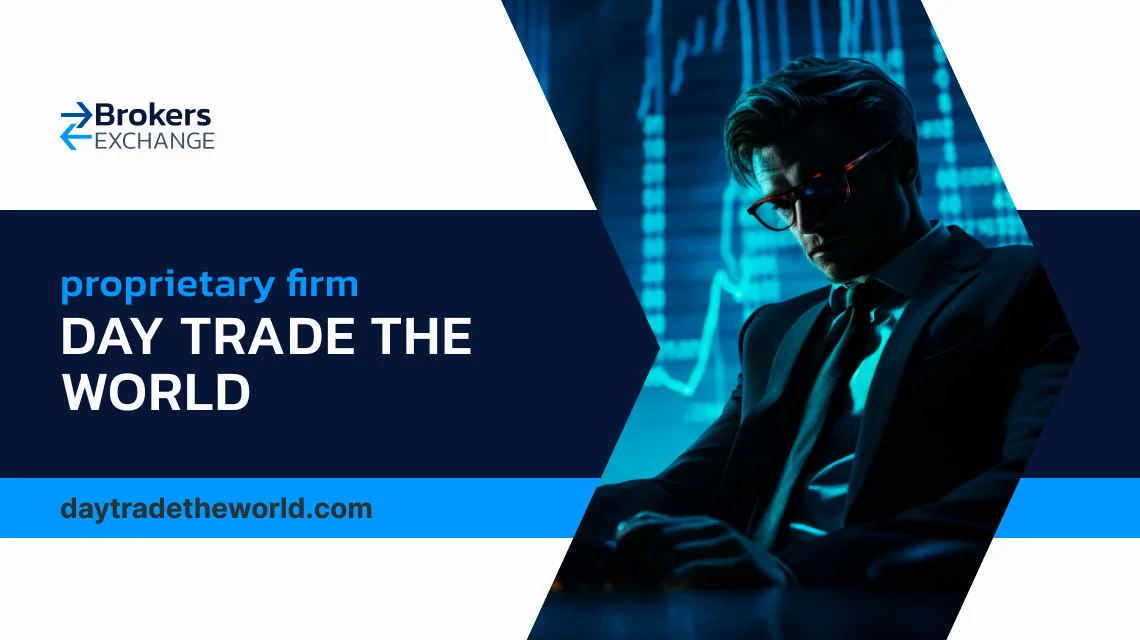 Prop firms can boost your profit chances but it's vital to remember that the risk is still there. That's why our Day Trade the World review is here to aid you in deciding whether or not they are a good choice for you. 
Before we start, our review includes a complete overview of the firm's features and operations, as well as what traders have to say about it. Furthermore, a list of pros and cons is provided which will help you see things clearly before you decide. Now, let's continue our Day Trade the World review. 
Who Is Day Trade the World?
With access to over 50 worldwide markets and 3,000 day traders spread across 350 trading locations in 90 different countries, Day Trade The World, a brand under Select Vantage Inc., is the largest day trading company in the world.
DTTW operates in over 90 countries globally. It was established in 2011 and started serving traders in 2012.  The company seems transparent at first glance and provides clear information about who established the company, its employees, its history, and its goals. 
Day Trade the World prop trading has three representatives that will aid you including Mileno, Yuri, and Bilal. Overall, the first impression of this prop firm seems good but a deeper investigation into this Day Trade the World review is required to learn more. 
Company Type
Proprietary Firm
Legal name
Select Vantage Inc.
Regulation
Not expected
Registered in
Worldwide Company
Established
2011
Website
www.daytradetheworld.com
Financial Authorities Warnings
Contacts
Fees

$500 application fee
$150 office news & media fee 
Transaction fees

If Active on Social Media:
Yes
Investor Protection:
No
Activity areas
United States, India, Canada, United Kingdom, Australia
Main threats
Accused of a connection with Swift Trade
Main perks
Worldwide
Regulation Info
Day Trade The World is not regulated because regulation is not expected nor required from prop firms. It does, however, use regulated brokers for its trades, and all of its transactions have to adhere to regional securities laws and trading regulations.
Select Vantage Inc. is a reputable and well-known financial services organization, and DTTW is its brand name. According to what we have so far, we can safely say that there are better alternatives to choose from that are regulated even while not expected. 
Additionally, if the firm is really connected with Swift Trade, that is a major red flag. The firm was fined and sued throughout its existence by multiple authorities and it is an unreliable company. There is no way of confirming it now, unfortunately, so make sure to proceed with caution. Additionally, avoid brokers like Zenexes. 
Day Trade the World Features
There are a variety of tools available to traders on the DTTW's website. One of them is the PPro8 trading software which is designed for traders to analyze market data and execute trades. Another tool that could benefit day traders is a trading simulator that allows them to simulate trading without using real money. Something like a demo account. 
The CubeX is the world's most advanced system for gaining access to global markets; it is simple to use and extremely powerful. The CubeX is a router that integrates into your existing office setup and gives you and your day traders the fundamental parts required to access exchanges and execute trades.
In addition to tools, they also offer a training program, which includes simulation trading, day trade courses, and a variety of training materials. DTW provides access to various global financial markets, allowing traders to trade a wide range of instruments. 
Day Trade the World Costs
To become a Day Trade The World partner, a $500 partner application fee is required to get started. That money will buy you the PPro8 trading software, access to 50+ global markets through the CubeX hardware, membership in the online coaching program, and professional certified courses for traders. 
In addition, once you're ready to transfer to a live trading environment, a US$3,000 deposit is required. This deposit is designed to minimize the company's losses in the event a bad trade is executed. Day Trade the World proprietary trading company makes money when you make money by taking a cut of trading office profits.
Traders Share Their Experiences
There are 84 comments about DTTW on Trustpilot. The firm has an overall score of 4.4 stars and we could say there are mixed feelings. The majority are all five-star reviews, while 8% of them are unfavorable. Several traders accuse the firm of a shady past with their other domain Swift Trade. 
On Redditt, there are discussions about the company and its features which are also favorable. Well, some of them. Another discussion about the firm revealed the same thing as Trustpilot reviews; a shady past with a connection to the swifttrade.com domain. 
The best thing to do around this company is to be careful and aware of potential risks. Never get into trading blindly, especially not with prop firms. Choose regulated brokers such as Nation FX and never rely solely on reviews. 
Payment Options
The partner application fee can be paid by credit/debit card, PayPal, bank transfer, Bitcoin, Skrill, or Western Union. In addition to the $500 application fee and $3,000 deposit, there are more fees to be paid. There is an ON&MF charge of $150 if you have a live office. The ON&MF charge covers your access to the Refinitiv news feed in PPro8 and TraderTV.Live broadcast.
This fee also includes access to additional tools such as the Knowledge Base, the PPro8 Wiki, and support from the Trading Floor Development team. For the first nine months, new day trading offices are not required to pay any fees and enjoy free unlimited access. Finally, you are liable for any transaction costs on each trade.
Weighing the Pros and Cons
Pros
Cons

Mobile App

Access to Global Markets 

Trading Tools

Education

Positive Reviews

Regulatory Uncertainty

Risk of Swift Trade Connection

Initial Costs

Transaction Costs

Mixed Reviews
Can I Make Money While Trading Online?
Making money while trading online is a tricky business and almost impossible without proper education, market awareness, risk management, and the right tools. Making profits is possible but difficult, and there is no guarantee you will succeed. 
However, with the help of the right tools, one of them being AI.F, you can easily boost your chances of profits. AI.F gathers data from charts, provides insightful recommendations, and helps you make informed decisions. 
Instead of talking more about it, we invite you to try our AI analysis bot for 14 days for free, without any commitment. But we promise you one thing; you won't be able to get enough of it. Call us right now and step into the future of trading! 
FAQ Section
Is Day Trade the World Legit?
The company seems legit enough, however, several traders experienced some issues and accused them of a connection with a scam company Swift Trade.
How Much Money Can You Earn Day Trading?
The earnings from day trading can vary and depend heavily on an individual's skill, experience, risk tolerance, and trading capital size, making it possible to win greatly while also losing significantly.
Can You Earn Money With Proprietary Trading?
Money can be made through proprietary trading, but success is dependent on the trader's competence, risk management, and the trading firm's rules and profit-sharing arrangements.