September 24, 2023
Reading Time:
4
min
DBFX Review: Fact-Checked Evaluation of dbfx.trade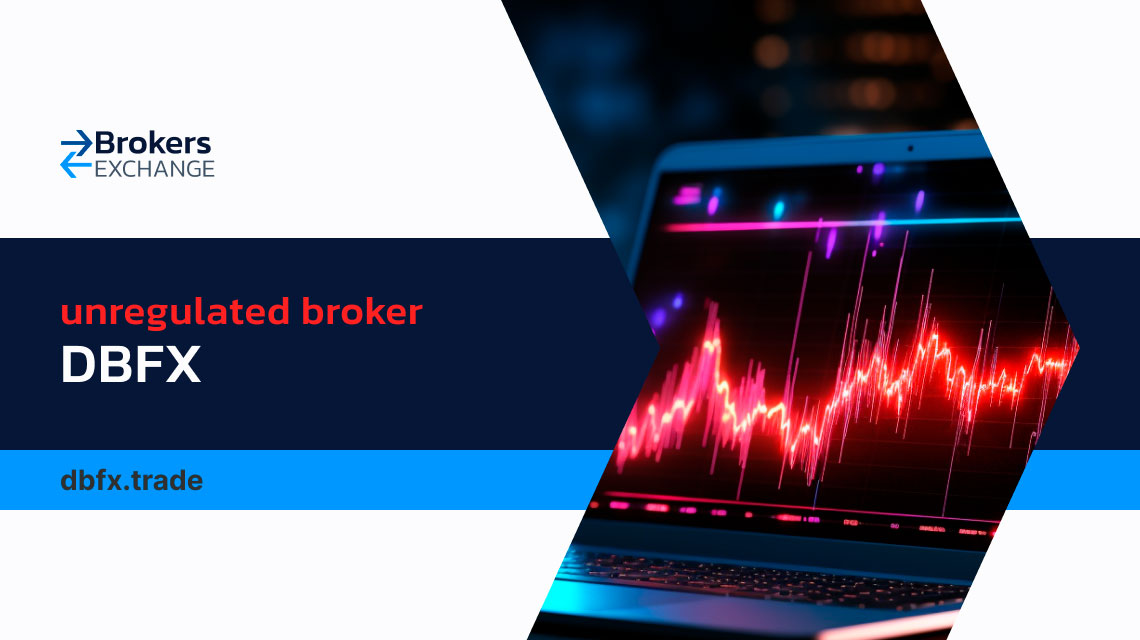 Trading is becoming more and more popular and due to that, so are scams. Scammers will use any opportunity if presented to fraud investors so due diligence and research are crucial while looking for a broker to trade with. 
DBFX claims to be a brand name of DBFX LIMITED and unfortunately, that is not the only name they were operating under. With its many faces, this offshore brokerage company faced being shut down after years of experience and our DBFX review is here to tell you why. 
Who Is DBFX?
It is speculated that DBFX was a part of Deutsche Bank. However, considering the warnings published, we don't think that was the case. Even if it was, today, DBFX is known as a scammer and their lack of transparency confirms it. The broker was operational from 2006 until it was shut down in 2011. 
After that, the brokerage tried to appear under many names and today all of the domains are down. The broker was based in Vanuatu and regulated by the VFSC. However, it is known that the VFSC is an offshore regulator without a compensation fund. 
DBFX
Reliable Broker Must Have
Legal name
DBFX Limited, NEWFX LIMITED, 

NEWFX LTD, DBFX Trade

Transparently displayed in the disclaimer or legal documents

Regulation
Unregulated

Within your legal jurisdiction – local regulator

Registered in
Vanuatu

Your country or the country whose license applies in your legal jurisdiction 

Established
2006

The older the domain – the higher the possibility the company is trustworthy

Website
dbfx.trade

Domain should be from local or international zones, no .xyz, etc.

Financial Authorities Warnings

None

Contacts
N/A

Phone, email, social media, web form

If a withdrawal is possible
No

Yes

Fees

Transparent fees – list of spread and commissions

If Active on Social Media
No

Often present on social media

Investor Protection
No

Compensation fund
Regulation Info
DBFX was authorized and regulated by the Vanuatu Financial Services Commission (VFSC), which was later revoked. While operational, DBFX wasn't a global broker, as some countries were not accepted. However, we doubt that stopped them from trying to expand and get more traders. 
The CNMV published a warning in 2020 and 2021 for DBFX Trade and its branches. Soon after, the DFSA supported the CNMV warning. The FSMA also supported warnings by foreign authorities who are members of ESMA-Pol.
DBFX Broker Profile
Trading in forex, stocks, crypto, indices, and commodities was available at the MT4 trading platform with the DBFX broker. Considering the many names they had, we wouldn't be surprised if they reappeared again under a different one. It's never a good sign when the platform gets closed, especially considering they have been in business for 5 years. 
The only beneficial thing about this company was the fact they offered the MT4 platform, which is amongst the most popular and reliable platforms in the market. Staying away from brokers similar to DBFX is your best chance of having a profitable trading experience.
Trading Platform

MT4 

Account Types

Basic, Discovery, Silver, Gold, Premium, VIP, VIP+

Financial Instruments On Offer

Forex

(EURUSD, EURGBP, USDNOK)

Stocks

(Apple, Amazon, Microsoft)

Cryptocurrencies

(BTC, ETH, XRP)

Indices

(S&P 500 Index, Dow Jones Industrial Average, FTSE 100 Index)

Commodities

(Crude Oil, Natural Gas, Corn)

Maximum leverage

N/A

Minimum Deposit

$200

Commissions/Bonuses

N/A

Mobile app

Yes

Desktop app

Yes

Autotrading

N/A

Demo account

N/A

Education or Extra tools

N/A
Is DBFX Safe To Trade With?
Some would believe that because the broker was part of Deutsche Bank, they would be reliable and adhere to certain rules. Unfortunately, that is not the case with DBFX and the only thing you would gain trading with them would be a financial loss. 
Instead of wasting your time and money on brokers like DBFX or Bitech Max, reach out to us for more reliable alternatives. Take the first step toward a profitable trading experience by choosing a reliable broker to stand by your side. 
How Is the DBFX Scam Carried Out?
They will first cold-call you and make you believe in their stories about huge profits. After that, they will start telling fake stories about how if you deposit a certain amount, you can double it or even triple it, and once you want to withdraw your funds, they will lock you out of your account and keep your money. 
Offshore brokers like DBFX usually have only one thing in mind–your investments. The nations this broker was mostly operating from include India, the US, Italy, and the UK. If you are from any of the aforementioned countries and you lost your funds while trading with DBFX, don't hesitate to reach out immediately. 
Deposits and Withdrawal Methods
Depositing or withdrawing your funds is luckily not possible any longer and even if it was, we would advise against it. Brokers like this are known to make your deposit as much as they can before leaving you with nothing. 
Without proper research about the company, you can end up without your investments, however, if you still don't want to go through the hassle of researching the broker you plan on using, make sure to start with a small amount because it's always better losing hundreds than thousands. 
Can I Make Money While Trading Online?
If you use Up4Profit or the DBFX broker, making money while trading can be a real hassle. Trading requires knowledge, strategy, and a well-thought-out plan, and getting into trading blindly can only bring you to a financial loss. 
Instead, use our innovative AI bot, your best friend in trading. It collects historical price data, analyzes charts, and provides valuable insights to investors. It helps you make informed decisions on when to buy or sell based on technical analysis.
And there is more! Since we are so certain our platform is amazing and you won't be able to get enough of it, we offer a 10-day money-back guarantee in case you dislike it. And we are not done yet. If you are within the first 100 traders reaching out, you can take advantage of our AI bot for a 20-day trial period with no commitment. Start trading profitably and reach out now! 
FAQ Section
What is DBFX?
DBFX was a brokerage company registered in Vanuatu, trading in forex, commodities, currencies, indices, and stocks.
Is DBFX Regulated?
DBFX was regulated by the Vanuatu Financial Services Commission (VFSC).
How Can I Get My Money From DBFX?
We advise filing a chargeback on your credit/debit card, however, if you used another payment method, the best you can do is to reach out as soon as possible. We can get your money back!