August 13, 2023
Reading Time:
5
min
DIF Broker Review: Broker Under the Microscope – An In-Depth Analysis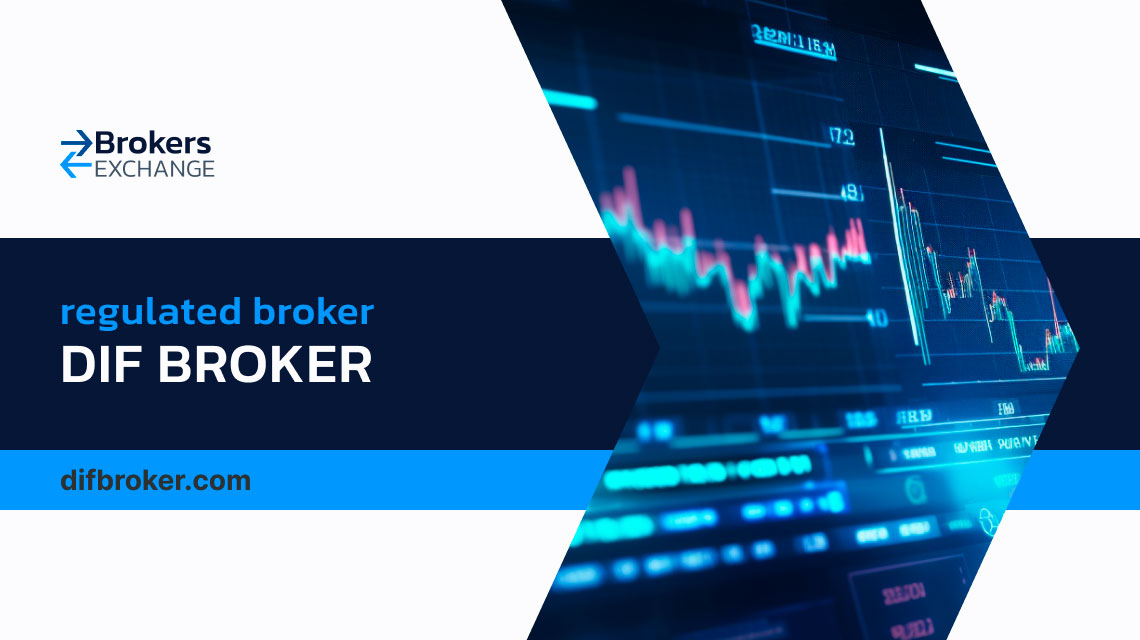 Introducing DIF Broker, a business that has been a dependable choice since 1999. In this DIF Broker review, you can read about their regulation, services, benefits and drawbacks, and much more. As their name implies, they strive to stand out from the competition and provide a superior trade environment. 
However, just because a broker is licensed doesn't mean it's necessarily good, but at least your funds are safe. They are controlled in Portugal by the CMVM. Trading professionals are constantly urged to exercise caution. We suggest reading our FXCC review for information on additional brokers like this one. 
Who Is DIF Broker? All about difbroker.com
DIF Broker, a brokerage firm with a focus on individualized service, was established in 1999. DIF Broker started an internationalization strategy in Portugal in 2004, followed by Poland (2009). DIF Broker joined the "Banco de Investimento Global" ("BiG") in September 2021 when BiG purchased 100% of DIF Broker.
BiG is a banking organization with over 22 years of experience, a focus on capital markets, a wide range of solutions, and a specialization in investments and savings. With a focus on promoting financial literacy through educational resources and knowledge exchange, DIF Broker offers a specialized selection of financial goods and services. 
DIF Broker
Reliable Broker Must Have
Legal name
Sociedade Corretora, SA

Transparently displayed in the disclaimer or legal documents

Regulation
Regulated by CMVM

Within your legal jurisdiction – local regulator

Registered in
Avenida 24 Julho, no. 74-76,1200-869 Lisbon, Portugal

Your country or the country whose license applies in your legal jurisdiction 

Established
1999

The older the domain – the higher the possibility the company is trustworthy

Website
www.difbroker.com

Domain should be from local or international zones, no .xyz, etc.

Financial Authorities Warnings

None

Contacts
+34 913 540 838


[email protected]

 Web form
www.instagram.com
www.facebook.com
Twitter.com
www.linkedin.com

Phone, email, social media, web form

If a withdrawal is possible
Yes

Yes

Fees

Spreads from 1 – 1.5 pips

Transparent fees – list of spread and commissions

If Active on Social Media
Yes

Often present on social media

Investor Protection
ICS compensation fund

Compensation fund
Regulation Info
The Portuguese Securities Market Commission (Comisso do Mercado de Valores Mobiliários – CMVM) regulated DIF Broker – Sociedade Corretora, SA as an investment services provider. The regulatory body in charge of monitoring and controlling Portugal's securities market is known as the CMVM.
Since CMVM (Portuguese Securities Market Commission) is the regulatory body in charge of regulating the securities market in Portugal, a broker that is regulated by the CMVM is primarily permitted to operate in Portugal.
A broker would require extra regulatory permits and licenses from the applicable regulatory authorities in each of those nations before they could conduct business in places like the United Kingdom and Germany. Every nation has independent financial regulatory organizations that keep an eye on brokerage and investing services. They would need to be governed by BaFin in Germany or the UK's Financial Conduct Authority (FCA). 
DIF Broker: A Close Look Into Their Profile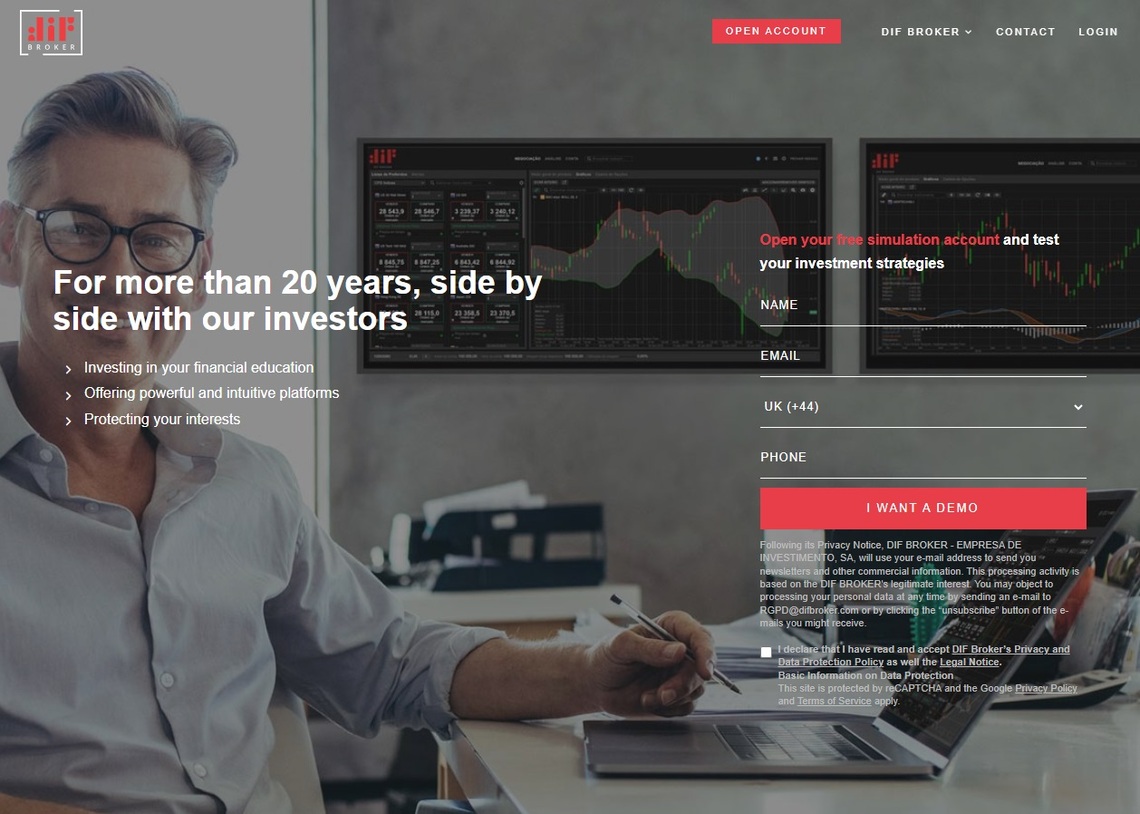 You can trade futures, indices, stocks, and forex on their trading platform available as both a mobile and desktop app and it is also web-based. They offer a demo account that has up to 100,000 euros of virtual funds so traders can practice and take a spin on the platform before investing in real funds. 
The DIF Broker minimum deposit seems a little exorbitant, though, especially given how little the majority of reliable brokers ask for. For example, TIO Markets let's you trade for as low as $50, while offering better features than DIF Broker. The primary warning sign is also a lack of openness regarding commission, withdrawal and deposit fees, or any other fees. 
Trading Platform

DIF Broker Trading Platform

Account Types

N/A

Financial Instruments On Offer

Forex

(EURUSD, EURGBP, USDNOK)

Stocks

(Apple, Amazon, Microsoft)

Indices

(S&P 500 Index, Dow Jones Industrial Average, FTSE 100 Index)

Futures

(E-mini S&P 500 Futures, Crude Oil Futures, Gold Futures)

Maximum leverage

1:30
Minimum Deposit
$2,000
Commissions/Bonuses
N/A
Mobile app
Yes
Desktop app
Yes
Autotrading
No
Demo account
Yes, with 100k euros in virtual funds
Education or Extra tools
None
Is DIF Broker Safe To Trade With?
On their website, DIF does not list all of their fees, in contrast to other respected brokers. They ask for registration and promise to email a list of all fees, but customers have reported that they haven't received it. In the website's paperwork, it is simply mentioned that "DIF Broker uses third parties to register or deposit clients' financial instruments in one or more open accounts." Whether "open accounts" refers to omnibus accounts or not is unclear. 
We went to their website to obtain contact information since we wanted to confirm that for ourselves. Mr. Joao from customer service merely copied and pasted the sentence that reads, "one or more open accounts," without providing any more information. Is it a lack of knowledge or a reluctance to provide further information?
Want to stay clear of unforeseen costs and risks? Choose a broker with a solid reputation for being honest and forthright about all expenses. Contact us right away, and our professionals will point you in the direction of trustworthy brokers who value openness and put your financial needs first. Call today to schedule a free consultation and trade with assurance!
A Look at DIF Broker's Traders They Serve
DIF Broker attracts clients through a combination of marketing strategies, competitive offerings, and a user-friendly platform. Their clients come from various European countries, including Poland, Spain, Portugal, the United Kingdom, and Germany, where they have established a presence and built a customer base through their financial services and investment solutions.
It's important to note that the broker is not regulated to operate in those countries as it would need to abide by the regulatory rules of authorities in those nations. For professional advice on picking trustworthy brokers who adhere to legal requirements in your nation, get in touch with us right away. Avoid taking chances with unlicensed brokers by scheduling a free consultation now and trading with assurance!
Deposits and Withdrawal Methods
DIF Broker accepts payments using e-wallets, wire transfers, and credit/debit cards. The finance division of DIF Broker will handle the withdrawal request. Depending on the withdrawal method you choose, processing periods can change and it might take a few business days for the money to show up in your account.
Unfortunately, the DIF Broker lacks openness, therefore their website has very little information about deposits and withdrawals in general. Along with regulation, transparency is a crucial quality to seek in a broker, but this broker lacks both. 
DIF Broker Pros and Cons
Pros
Cons

Regulated

Competitive spreads

Working since 1999

Member of BiG

User-Friendly Platform

Demo Account

Not available in all countries

No trader reviews

Lacks transparency 

Limited information

Regulatory Concerns

Limited Leverage
Long Story Short – DIF Broker
In conclusion, DIF Broker can be a good choice but for a specific set of traders. They are regulated and offer competitive spreads, they are established in 1999, making them experienced and they are a member of  Banco de Investimento Global ("BiG"). 
Although they use a variety of marketing techniques to draw in customers and have a clientele in numerous European nations, it's crucial to remember that they can not be authorized to conduct business in each of these nations and that their particular trading terms may vary. Before working with DIF Broker or any other financial service provider, traders should use care and undertake extensive research.
Looking for a trustworthy broker to handle your investment requirements? Don't gamble with unlicensed brokers. Get professional guidance from our team right away, and learn about trustworthy brokerage choices that are suited to your needs. Schedule a free consultation today, and ensure your financial future by making wise choices.
FAQ Section
What Is DIF Broker?
DIF Broker is a brokerage company that provides investment services to clients. You can trade indices, futures, stocks, and forex.
Is DIF Broker Regulated?
DIF Broker - Sociedade Corretora, SA was regulated by the Portuguese Securities Market Commission (Comissão do Mercado de Valores Mobiliários - CMVM) as an investment services company.
What Are The Trading Conditions Of DIF Broker?
The leverage they offer is 1:30 which is per the European standards, competitive spreads that start from 1 - 1.5 pips, and the other specific trading conditions are not provided in the information available.