December 20, 2022
Reading Time:
4
min
DigibitsFX Review: Never Deal with DigibitsFx.Com Broker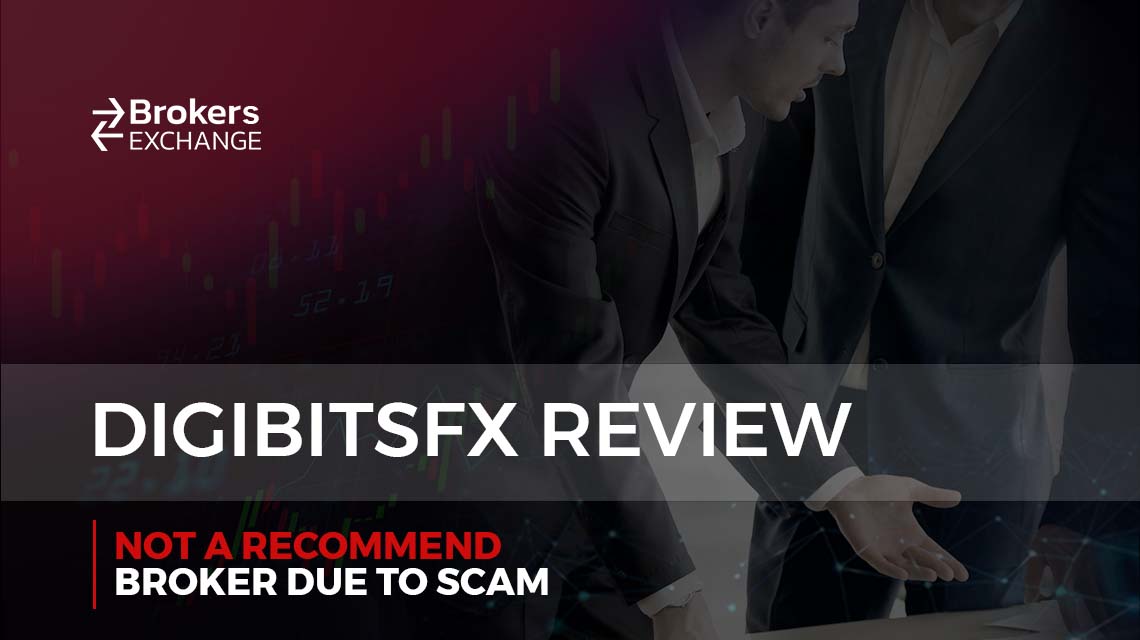 In our first encounter with the DigibitsFX site, the first impression is that they are incredibly eager to present themselves as a trustworthy broker. 
This is a clear sign that it is a scam because regulated brokers do not spend time trying to convince their users that they are regulated, but only provide all the necessary information. 
Although the company does mention that they are a part of Digibits Network Limited, and have a picture of the FSA logo under the word regulation, this is not enough information for anybody deciding whether they want to use their services or not. 
The only thing they keep emphasizing is their incredible offer, which should charm and "hook" new users. If you are still not convinced that it is a scam, read DigibitsFX Reviews to the end and find out what this company lacks to be considered legitimate and recommendable. If this text is enough for you, then just never do business with DigibitsFX Broker.
| | |
| --- | --- |
| Company | DigibitsFX |
| Website | DigibitsFX.Com |
| Address | Suite No 305 Griffith Corporate Centre P.O.Box 1510 Beachmont Kingstown Saint Vincent and The Grenadines |
| Email | [email protected] |
| Phone | N/A |
| Minimum Deposit | 1000$ |
| Leverage | 1:400 |
| Bonuses | N/A |
| Regulation | Unregulated |
| Warning | N/A |
DigibitsFX Regulation and Fund Security 
When it comes to broker regulation, it is necessary to protect the client's funds. That's why you should never do business with unregulated brokers. Chances are you'll get ripped off. On the DigibitsFX site, the only part that deals with regulation is the small image at the bottom of the site that represents regulation by the Financial Services Authority (FSA). 
Though DigibitsFX's parent company, Digibits Network Limited is actually registered with the FSA, the FSA itself doesn't regulate the FX market, and it cannot give licenses to brokerages. 
DigibitsFX is the one offering their services to people, so they should have their license and registration number made available somewhere. Although most scam brokers also list fake licenses and registration addresses, they usually leave it as text with the registration code to make it look more convincing, but DigibitsFX didn't do that either. 
All this broker offers its clients is an email address, which is far from enough to call a broker safe for business.
DigibitsFX Trading Platform Overview 
When it comes to platforms, Digibits FX has done everything to attract new users by offering two of the most popular web platforms, namely MetaTrader4 and MetaTrader5. 
Both trading platforms are favorites among experienced traders, and while MT4 is usually chosen by clients who are new to trading and prefer micro trading, MT5 is preferred by veteran professionals.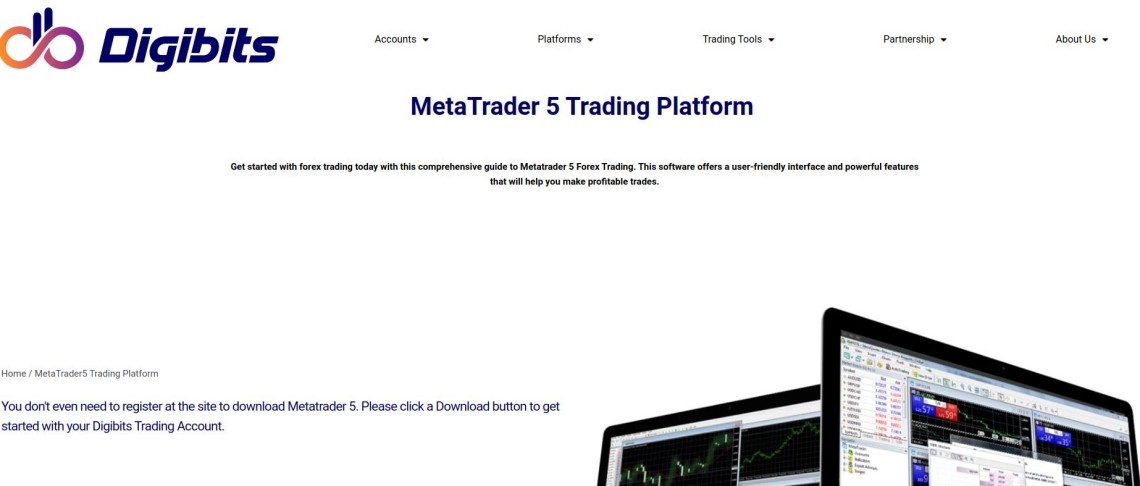 The problem is that no professional will choose DigibitsFX company because experienced traders know how to spot an investment scam. So it turns out that the platforms that DigibitsFX offers are only to attract new clients who will be robbed by the company in a few months.
DigibitsFX Deposit and Withdrawal 
When talking about the deposit, DigibitsFX says they accept credit cards, and bank transfers and they accept deposits in USD, EUR, GBP, and CHF currencies. For the minimum deposit, DigibitsFX says it is $1000 for their Standard account. 
When it comes to depositing and payment methods, DigibitsFX directs users to log in to the site to view various deposit methods or contact customer support. 
As for charging fees, DigibitsFX says that it does not charge them, except when depositing on debit and credit cards, and then it is 2.5 percent to cover part of the total costs of the card processors involved in the transactions. It is emphasized that no fee is charged for other payment methods.
For a refund, DigibitsFX directs the client to log into a secure site and select the desired withdrawal method. For additional questions, the scam broker advises contacting customer support. This is all the information available on the web page of this unregulated broker.
How the Scheme Was Put Into Practice                                        
This type of fraud is done through a well-established scheme. It consists of several steps. The first is to attract users which they do with their offers and good trading platforms. 
When the client makes a deposit, DigibitsFX charges a fee of 2.5 percent, which amounts to a substantial sum of money. And the only way for the client, to get their money back is precisely through the bank where they have a debit or credit account from which they made the payment because banks allow money chargeback even after a few months. 
By manipulating their clients into using other methods of depositing, they skillfully tried to avoid the possibility that their clients would recover the invested funds in any way.
When it comes to refunds, the information that the DigibitsFX site offers is modest. In practice, customer support probably wouldn't even get back to you. 
After enough scams, DigibitsFX would collapse and disappear, after which a new company would appear that would carry out the same scam, only with a different internet address and name.
DigibitsFX Summary
DigibitsFX is just one of many scam companies that you don't need to do any business with. Although it offers a good trading platform, the fact that it is not regulated is enough to keep you from falling for its lies. Especially since many other regulated brokers offer the same type of trading platform. 
After the scanty information, they gave about themselves on the site, in addition to the fact that a lot of necessary information is missing, we do not recommend this broker. Save your money and your nerves and save yourself from any deposit to DitgibitsFX because even $1000 is a waste of money with them, and you can write off any earnings immediately.
FAQs about DigibitsFX
Is It Safe to Use DigibitsFX for Trading?

No, DigibitsFX is not a licensed broker and therefore risky for business.
Does DigibitsFX Offer a Demo Account?

DigibitsFX does not offer a Demo Account.
What Is The Funding Method Of DigibitsFX?

DigitbitsFX accepts financing via debit and credit cards, as well as bank transfers in USD, EUR, GBP, and CHF currencies.