July 07, 2023
Reading Time:
6
min
Discover All the Benefits of this Broker in Our Coinpass Review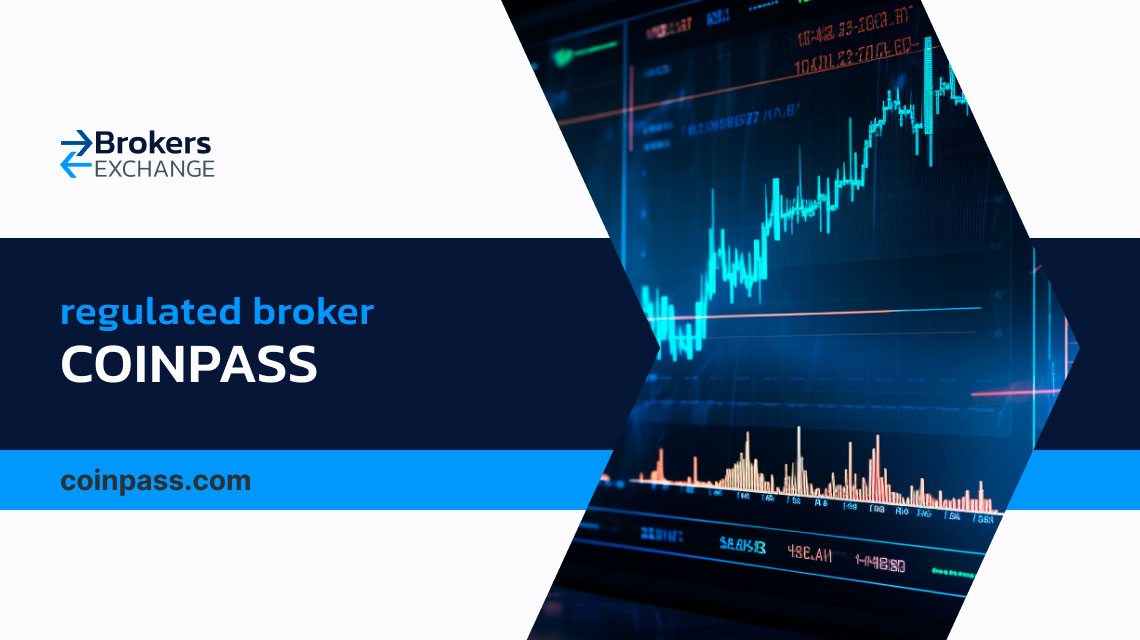 Crypto might not be for everyone, but if it is your thing, you should give Coinpass a closer look. This broker opens the crypto world to its clients and gives them a glimpse into all that market has to offer.
Benefits, assets, and the platform are only some of the things we cover in our Coinpass Review, so go through it carefully. Without further ado, we present to you this reliable crypto broker.
Who is Coinpass?
Coinpass is a UK-based company under the legal name Coinpass LTD. Found on Coinpass com, they have been on the market since 2018, and the company was founded to fill the hole that existed in the UK crypto market.
The founders say they saw the "demand for fast, reliable, professional, and high-quality financial services products for Bitcoin and crypto trading." Coinpass offers only crypto trading and is licensed for that by the FCA.
Broker name
Reliable Broker Must Have
Legal name:

Coinpass LTD

Transparently displayed in the disclaimer or legal documents

Regulation:

Regulated (FCA)

Within your legal jurisdiction – local regulator

Registered in:

Ashford, United Kingdom

Your country or the country whose license applies in your legal jurisdiction 

Established:

2018

The older the domain – the higher the possibility the company is trustworthy

Website:

www.coinpass.com

Domain should be from local or international zones, no .xyz, etc.

Financial Authorities Warnings:

None

None

Contacts:

Email:

[email protected]

Phone: +4401233538847

Support ticket

Phone, email, social media, web form

If withdrawal is possible:

Yes

Yes

Fees:

No deposit fees, transaction and withdrawal fees depend on the currency

Transparent fees – list of spread and commissions

If Active on Social Media:

Facebook, Instagram, Twitter, YouTube, LinkedIn, Medium

Often present on social media

Investor Protection:

No

Compensation fund
Regulation Info
Based in the UK, Coinpass falls under the jurisdiction of the Financial Conduct Authority (FCA). This regulator is one of the top regulators in the world, and we checked if they have Coinpass in their register.
So is Coinpass regulated? We are happy to report that Coinpass has a valid FCA license, which makes them a 100% trustworthy broker.
Being a Tier 1 regulator, the FCA is highly trusted, and for a good reason. It imposes strict rules on all its entities to protect traders as much as possible. Brokers must fulfill certain conditions to get a license, drastically lowering the chances of a scammer entering the market and conning traders.
Coinpass Profile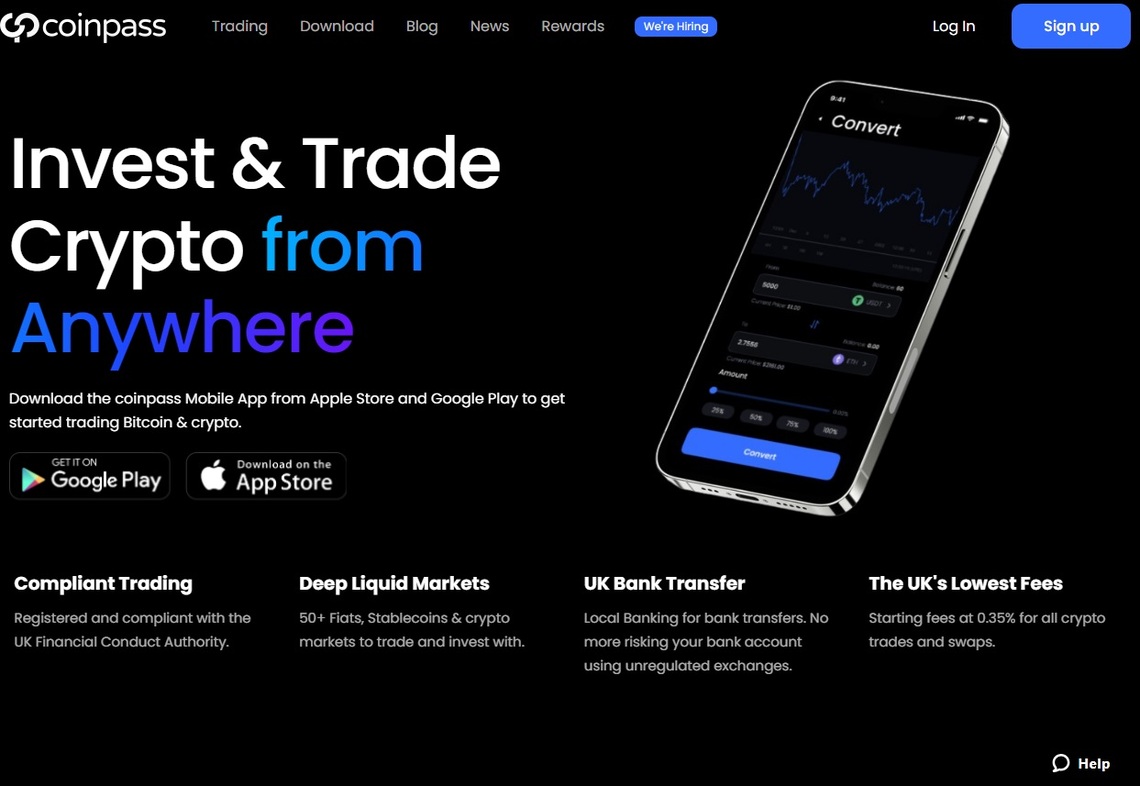 As said previously, Coinpass provides crypto trading services. They offer 17 cryptocurrencies you can buy, sell, and trade, most notably Bitcoin, Ethereum, Solana, and USDT.
They have three types of accounts:
Coinpass Instant

Coinpass Trade

Coinpass Business
The broker does not require a minimum deposit for either of the three accounts, but there are fees depending on which account you use, which we will get to later in the Coinpass Review.
If you open an account with them, you will get access to their proprietary trading platform that Coinpass created specifically for crypto trading. With that in mind, you can expect a great experience with anything you do on it.
Mobile App
Apart from web and desktop apps, you can use the Coinpass platform on your mobile phone. The Coinpass App is available on Android and iOS devices, although availability may vary depending on the region.
Demo Account
Sadly, Coinpass does not offer a demo account. This lack of a risk-free trial is unfortunate because the Coinpass platform is well-suited for crypto novices. Therefore, it would have been great if they could test their trading skills first and then sign up for a live trading account if they were up to it.
Bonuses and Rewards
It says on the Coinpass site that everyone who opens an account is eligible for a £15 bonus. After registering and passing the verification step, you have to trade your first £500 in crypto, and you will receive your £15 30 days after.
Moreover, Coinpass gives you an additional £15 for every friend you refer that trades £500 in crypto. You get this bonus for the first five people you refer and 20% of your "referral's future trading fees" for every new referral after that.
Trading platforms:

Coinpass Proprietary Platform

Account types:

Coinpass Instant

Coinpass Trade

Coinpass Business

Financial Instruments On Offer:

Crypto (Bitcoin, Ethereum, Solana, USDT, etc.)

Maximum leverage:

No leverage

Minimum Deposit:

No limit on minimum deposit

Commissions/bonuses:

£15 bonus

Mobile app:

Yes

Desktop app:

Yes

Autotrading:

Yes

Demo account:

No

Education or Extra tools:

No
Is This Broker Safe?
Answering these questions can sometimes be tricky, but calling Coinpass legit is pretty straightforward. They operate with a license from a Tier 1 regulator, meaning you can trust them with your money.
On the other hand, undeniably dangerous brokers are NuxTrade, PrevailFX, and RoiFX. They are not regulated by any top GEO, such as the UK, US, or Italian ones, so you should avoid them.
If you want to start trading but do not know how to find a good broker, we can help you. Contact us for a free consultation where you can get answers to all your questions.
Trader Reviews – Sharing Experiences
No review would be complete without valuable insight from people with first-hand experience with a broker.
Trustpilot is the leading website for trader reviews, and Coinpass passes its test with flying colors. There are 77 reviews, and this broker has an average grade of 4.4 stars.
Satisfied clients praised Coinpass for many things. One UK client said that the platform has a "very easy-to-use interface. Clean and not busy. The price is GBP which is helpful for UK traders. Had an issue with a computer glitch recently, but sorted it out quickly, efficiently, and fairly. Can't ask for more than that."
Another trader left a five-star review commenting: "I rarely leave reviews, but I can honestly say Coinpass has been excellent to use. The platform is clear and simple to use, making it beginner friendly, but the customer service is what really set it apart for me, hands down one of the best I have ever dealt with…"
How Does the Coinpass Platform Reach Clients and Who Are They?
Coinpass clients mostly come from the UK, and the broker targets retail investors, professional traders, and businesses.
The company also says they want to get more people into crypto trading, so it created a platform catering to the needs and skills of complete novices.
Deposits and Withdrawal Methods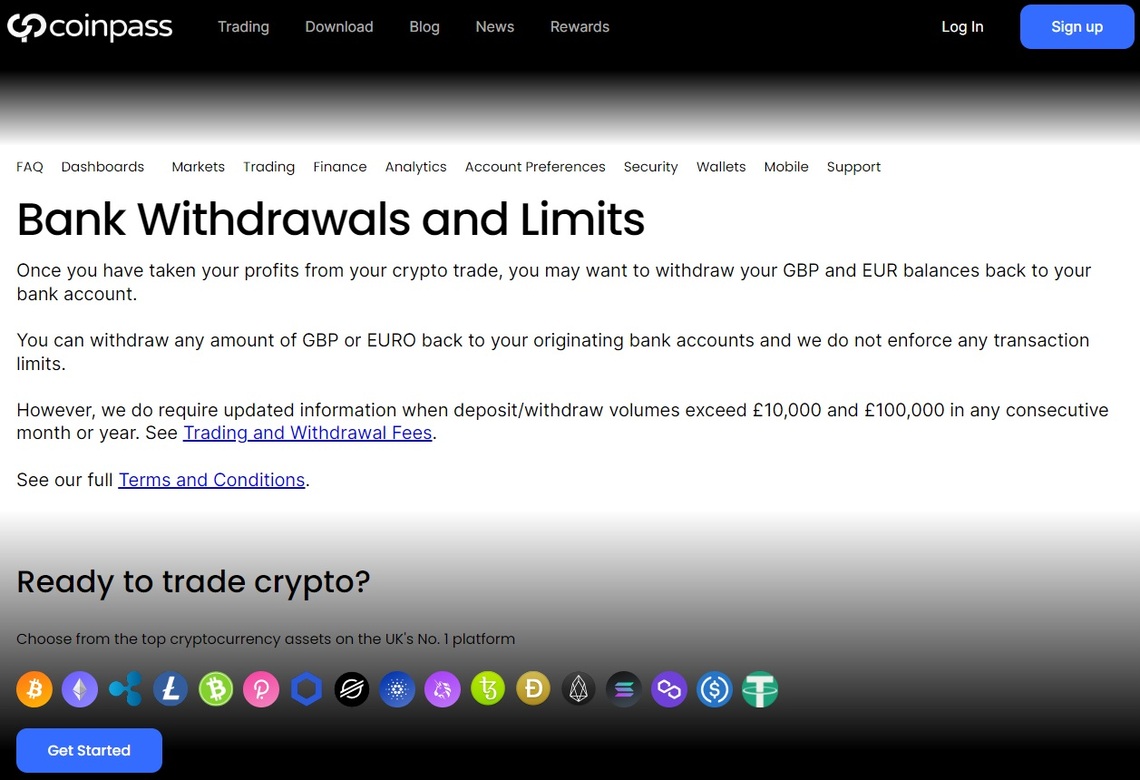 You can fund your account using crypto and fiat currencies. The cryptocurrencies available include all seventeen the broker offers for trading, and two fiat currencies (GBP and EUR). All deposits are free.
The withdrawals are executed with the same assets, but some Coinpass fees are included. Additionally, you must pay a percentage of your earnings depending on your monthly trading volume. 
The minimum amount you have to withdraw differs depending on the currency. For example, you must take out at least 0.001 BTC, and the fee for that is 0.0005 BTC.
When it comes to fiat currencies, Coinpass charges you £5 and €5 for GBP and EUR withdrawals each, and the minimum amount you must withdraw is £10 and €10.
Reasons To Enjoy This Company
There are plenty of reasons why traders will be satisfied with Coinpass. Firstly, there is no need to worry about your fund safety. You can sit back in your chair and focus solely on making your fortune even bigger.
Secondly, the platform is intuitive and easy to use, so even newcomers can find their way around the crypto trading world. On top of that, Coinpass has a lightning-quick customer support team that can help with any problem.
Finally, the founders saw an opportunity to create a platform that makes crypto trading better. With this goal, you can make an educated guess that they will continue evolving and that any and all suggestions are welcome. Your improvement tips might then make it into the platform updates, allowing you to tailor the trading tool to your liking.
Our Safe Trading Experts' Opinion of Coinpass
We have reached the end of our Coinpass Review, and it is time to collect our thoughts. In sum, Coinpass is a solid broker with a user-friendly platform that is especially great for traders looking to get into crypto trading.
However, Coinpass might not fit your needs, which is perfectly fine. If that is the case, contact us today, and let's find the right broker for you.
FAQ Section
Is Coinpass FCA regulated?
Yes. Coinpass operates with an FCA license and complies with all the rules imposed by this Tier 1 regulator.
How much does Coinpass cost?
Coinpass is a free platform for crypto trading. Making an account is also free of charge, and there is no minimum deposit amount either.
How do I start crypto trading?
The first thing you can do is educate yourself on the subject. Learn about cryptocurrencies, general trends, and the most prominent brokers. Next on the list is to choose a reliable broker. You can contact us for advice if this is too much to handle alone. We provide free consultations where we can solve any problem you might have.