August 20, 2023
Reading Time:
6
min
Dow500 Review: A Candid Look at Trading with This Broker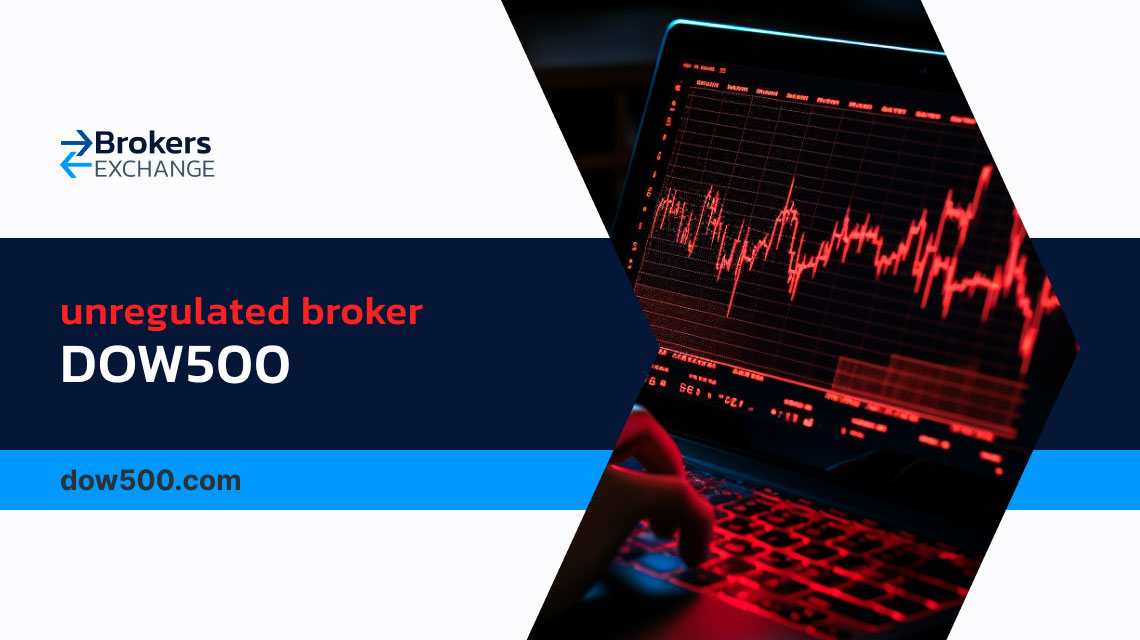 The unregulated Dow500 broker claims to follow European regulations. Look closely at the security the broker offers so you can make an informed choice. Aside from regulation, this broker hides its costs and falls short of the very minimum that a broker should possess: transparency. Visit our Dow500 review to get a direct look at trading with this broker. 
We would already be wealthy if we received a coin for each broker review we wrote, such as Dow500 or FlexTrading Fx. Unfortunately, these two are not the only ones who fall into the category of not being recommended. Fortunately for traders, this Dow500 review will reveal the actual truth about the brokerage, empowering you to become more knowledgeable and scam-resistant. Let's get started without further ado. 
Who Is Dow500? All About dow500 com
The unregulated brokerage Dow500 claims to have been founded in 2018, which gives traders the impression that they are knowledgeable. Although the broker doesn't explicitly indicate that they are regulated, we were able to uncover references to regulation all over their website. False statements regarding anything, particularly regulations, should arouse concerns. 
There are just two ways to get in touch with them: via email, which we doubt you'll get a response to, or by filling out a web form for a callback. In either case, there is a dearth of contact details, such as a phone number, social media accounts, a live chat feature, etc. All things considered, it is immediately clear that the broker should be avoided. 
Dow500
Reliable Broker Must Have
Legal name
Dow500

Transparently displayed in the disclaimer or legal documents

Regulation
Unregulated

Within your legal jurisdiction – local regulator

Registered in
N/A

Your country or the country whose license applies in your legal jurisdiction 

Established
2018

The older the domain – the higher the possibility the company is trustworthy

Website
dow500.com

Domain should be from local or international zones, no .xyz, etc.

Financial Authorities Warnings
No official warnings

None

Contacts

[email protected]

 

Web form

Phone, email, social media, web form

If a withdrawal is possible
Highly unlikely

Yes

Fees
Hidden fees

Transparent fees – list of spread and commissions

If Active on Social Media
No

Often present on social media

Investor Protection
None

Compensation fund
Regulation Info
Because Dow500 is unregulated, no financial body is in charge of monitoring the broker, which leaves room for fraud. Selecting a regulated broker ensures your safety and the protection of your investments. You can never predict when a broker will cease operations, so you always want to be prepared. 
It is important to note that the broker mostly conducts business from the US and Mexico, among other nations. It would have to be governed by the Securities and Exchange Commission (SEC) in the United States or the Comisión Nacional Bancaria y de Valores (CNBV) in Mexico to do that. Overall, we strongly suggest avoiding doing business with this broker. 
Dow500 Broker Profile 
You may trade CFDs, FX, stocks, indices, commodities, and more with Dow500. The leverage offered ranges from 1:5 (the lowest) to 1:200 (the highest). All account types have an unspecified minimum deposit requirement, however, the fact that they provide a demo account pleasantly surprised us. 
While reputable brokers would provide it for free, educational information is only accessible after achieving a particular account type. As we continue our Dow500 review, additional warning signs will become apparent. 
Trading Platform

MT4, The Dow500 web-based platform

Account Types

Basic, Advanced, Professional, Premium

Financial Instruments On Offer

Forex

(EURUSD, EURGBP, USDNOK)

Stocks

(Apple, Amazon, Microsoft)

CFDs
Indices

(S&P 500 Index, Dow Jones Industrial Average, FTSE 100 Index)

Commodities

(Crude Oil, Natural Gas, Corn)

Maximum leverage

1:200

Minimum Deposit

N/A

Commissions/Bonuses

N/A

Mobile app

Yes

Desktop app

No

Autotrading

Yes

Demo account

Yes

Education or Extra tools

Training e-books and videos – only after depositing
Dow500 Account Types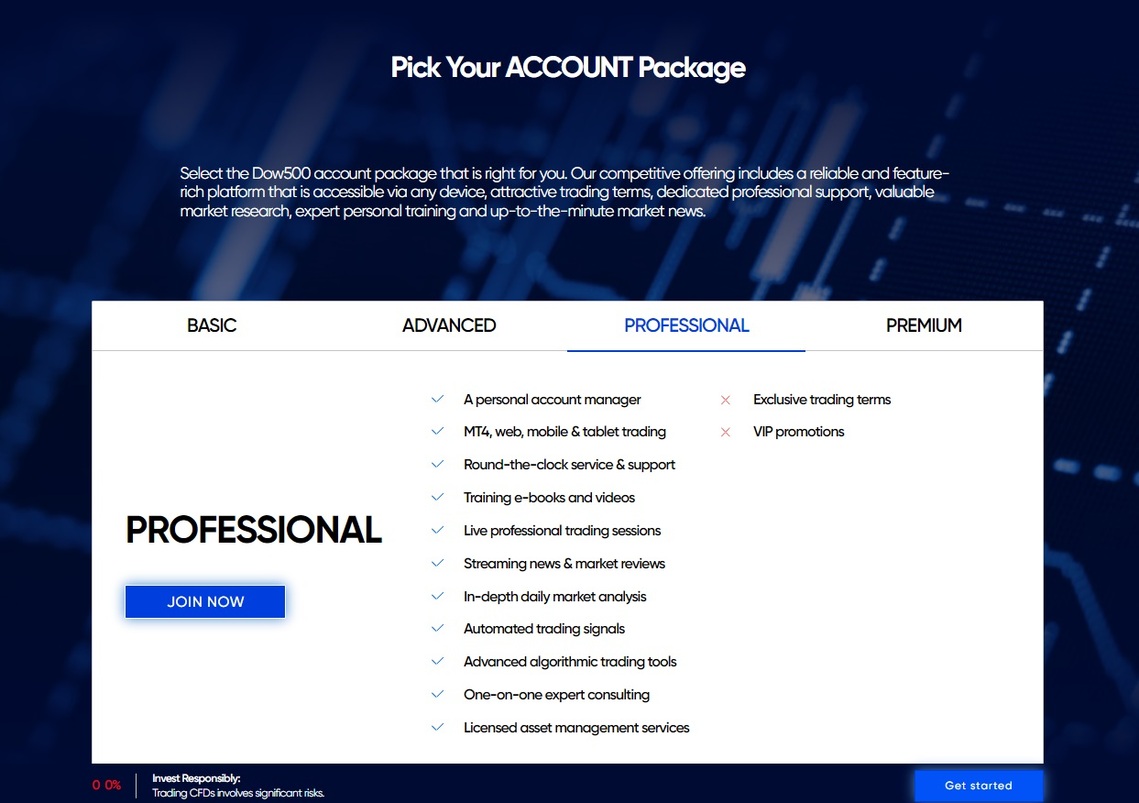 The Dow500 account categories don't come with any advantages. Not only is the minimum deposit amount concealed, but their website also omits information on spreads and fees. The available account types are: 
Basic account: 
A personal account manager

MT4, web, mobile & tablet trading

Round-the-clock service & support

Training e-books and videos

Live professional trading sessions

Streaming news & market reviews
They offer essentially nothing even for their most basic account type. All of these services should be provided without charge as soon as you make a deposit, but sadly, they will usually demand a sizable sum, giving you the impression that this account type has a lot to offer. 
Advanced account: 
You receive a thorough daily market analysis and automated trading signals in addition to everything mentioned above. 
Professional account: 
Along with all the basic and advanced accounts have to offer, you also get access to sophisticated algorithmic trading tools, individualized professional consulting, and authorized asset management services. 
Premium account: 
You get all of the above with their premium account, plus additional unique trade rules that are not stated and some perhaps phony VIP promos. 
Overall, you receive nothing in exchange for your deposit of God knows how much, but they will undoubtedly lead you to believe that their meager offering suffices. Avoid this broker and brokers that are similar to them, such as OnspotBNK. 
Is Dow500 Safe To Trade With? 
Considering several red flags that emerged during this Dow500 review, we deem that the broker is unsafe. Firstly, they are not regulated, hence it is certain that there is no compensation fund. 
Dow500 Unmasked: Unveiling Traders' Experiences
A total of 27 people reviewed Dow500 on Trustpilot, giving the broker a score of 1.9 overall. Nearly half of the evaluations are unfavorable, and the majority of them highlight the company's subpar customer service, withdrawal problems, and service quality. 
One review caught our attention, saying:
"The quality of service is terrible. Customer service and the website. The withdrawal process is so slow and it was later declined though I paid the fees and taxes asked for."
This one confirmed all of our fears:
"Be careful, Dow500 is a scam broker and it is not registered with any financial regulator."
Overall it is clear from both the lack of regulation, transparency, and information and the trader's experiences that the broker is nothing but a sham. You are advised to stay away. 
A Look at Dow500's Traders They Serve
Reviews from traders claim that the broker lures customers with false promises and that once you deposit money, they cease responding. If you ask for a withdrawal, they will deny it without giving you any more details, leaving you in the dark all the time. 
The United States, Mexico, the United Kingdom, and Egypt account for the majority of the broker's clientele. Brokers would need to follow regulations and be licensed by respected agencies like the SEC in the US or the FCA in the UK in order to operate in these countries. Since the broker is totally unregulated, trading with them is dangerous.
Don't wait to get scammed by brokers like Stellarfx or Dow500. Contact us right away, and we'll locate a dependable solution that meets your requirements. We have a broker available for you whether you are a seasoned trader or just getting started. 
Deposits and Withdrawal Methods
You can make a deposit and a withdrawal request at Dow500 using credit cards, eWallets, wire transfers, and quick bank transfers. As we previously indicated, the minimum deposit is not stated, and upon further investigation, the withdrawal method is likewise disguised. 
You shouldn't trust brokers who withhold crucial information about deposits and withdrawals. They also conceal spreads, swaps, and any charges you may incur while depositing or withdrawing money. Hidden costs are a huge warning sign, so avoid them at all costs. 
Dow500 Pros and Cons
Pros
Cons

MT4 platform

Unregulated 

Hidden fees

Lack of transparency

Lack of educational material

Lack of contact information

No social networks

Hidden spreads

False claims regarding regulation

Account types offer 0 benefits
Long Story Short – Dow500
Given everything, the broker's regulation and the lack of transparency are huge warning signs, and you should be able to cross them off your list based only on that. Even worse, their website does not adequately display the fee structure. That implies that they may charge you some unauthorized additional expenses. 
If you wish to protect your investments, you should stay away from Dow500 and similar firms. Keeping yourself informed at all times and refusing to invest with brokers who keep phoning and pressuring you to make a deposit are the best ways to avoid fraud. 
Contact us right now to learn about more trustworthy options available in all countries and take the first step toward a fruitful trading experience. 
FAQ Section
What Is Dow500?
Dow500 is a brokerage company claiming to be established in 2018 and offers trading in forex, CFDs, indices, commodities, and stocks.
Is Dow500 Regulated?
The broker is not regulated by any financial authority, not even the Securities and Exchange Commission (SEC) in the US or the Comisión Nacional Bancaria y de Valores (CNBV) in Mexico, where it mostly operates from.
What Is The Dow500 Minimum Deposit?
The Dow500 minimum deposit is not specified, not even for the most basic account type. This raises red flags.
What Deposit And Withdrawal Methods Dow500 Supports?
You can deposit your money or request a withdrawal through Credit or Debit cards, Wire transfers, and popular e-Wallets like Skrill or Neteller.