December 09, 2022
Reading Time:
3
min
Dvanxbit Review: Reasons You Should Not Trust This Broker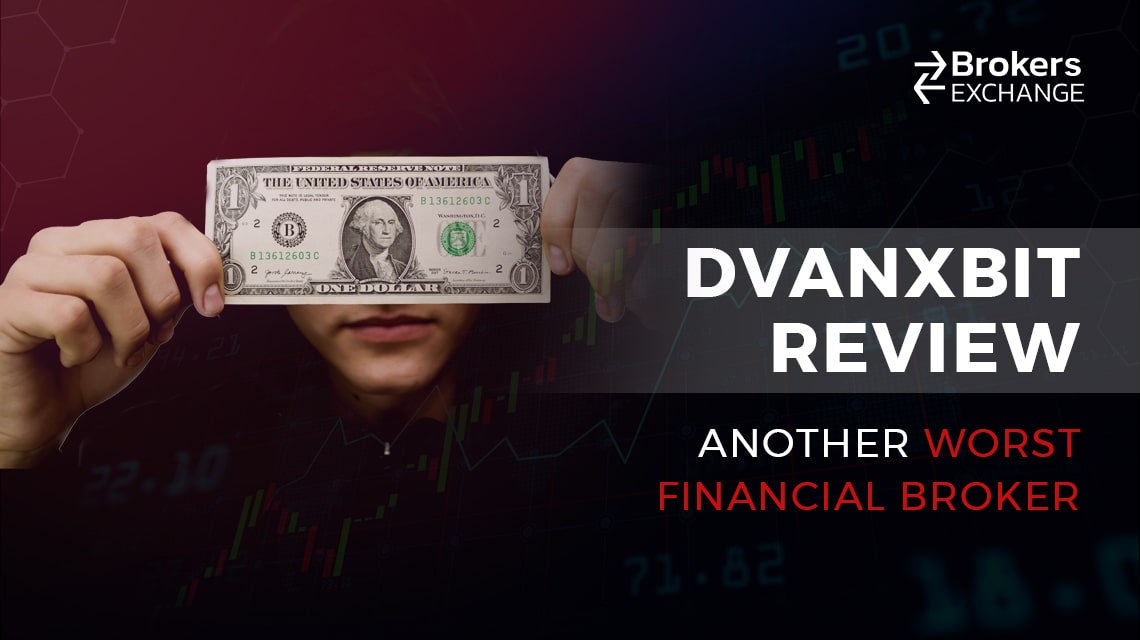 Dvanxbit is basically a crypto exchange acting as a broker. What we also have to mention right at the start is that this website's domain was 17 days old when this review was written. 
There is no information about this broker's owner, contact or legal documents to be found anywhere on the website. 
On the other hand, we must admit they're a bit more transparent with their trading and transaction conditions.
Our concise Dvanxbit Review will share with you all we could find about this shady brokerage, so keep reading. 
| | |
| --- | --- |
| Company | Dvanxbit, Dvanxbit.com Finance LLP |
| Website | Dvanxbit.Com |
| Address | Allegedly the US |
| Email | N/A |
| Phone | N/A |
| Minimum Deposit | N/A |
| Leverage | 1:100 |
| Bonuses | Yes |
| Regulation | No |
| Warning | N/A |
Dvanxbit License and Funds Security
Dvanxbit's User's Agreement states that the website belongs to Dvanxbit.com Finance LLP, a company allegedly registered and based in the US. 
To be legally allowed to provide brokerage and crypto exchange services in the US, a brokerage has to be authorized either by the Securities and Exchange Commission (SEC), Commodities and Futures Trading Commission (CFTC), or National Futures Association (NFA).
It also has to be registered with FinCEN, which is not, adhere to the anti-money laundering laws. We checked SEC, CFTC, and NFA registers and found no results, meaning this brokerage is unregulated. 
Moreover, as the website's domain is less than 3 weeks old, a lack of reviews and information about this brokerage online is expected, but also concerning. It's not unusual for scammers to switch from one domain to another after being exposed.
Trading Platform Available at Dvanxbit
Dvanxbit claims they offer a platform with advanced funding tools, deep liquidity, and other features suitable for traders of all levels. 
However, after registration, clients are given access to something we can't even call a trading platform. It turns out to be a pile of charts with no actual function, so overall, a useless tool. 
There's also a mobile app available, but it can't be downloaded because instead of download links there are Apple and Play Store thumbnails. 
Most regulated brokerages offer their clients MT4 and MT5 trading platforms, which have been the industry standard for over a decade for a good reason. Both are available on desktop, web, and mobile devices. 
Deposit/Withdrawal Options
While the minimum deposit amount was not disclosed by this shady broker, we did find some information about transactions. 
Regarding the fees, we learned that this broker charges a commission for each transaction made. The amount charged depends on the turnover made, and there's also a withdrawal commission which is subject to change without notifying the client. 
The only fixed fees shared were commissions for setting a new buy/sell offer and for fulfilling an existing offer from other users, 0.20% for regular users and 0.14% for Premium users.
Transactions are crypto only, another red flag as most regulated brokers offer a lot more payment options. Crypto is generally favored by scammers as it's virtually untraceable, so be wary of such transaction conditions.
Dvanxbit Offers Bonuses and  Promotions
As this bogus broker emerged less than 20 days ago, it was not surprising to find they offer referrals for bringing new clients in. There's also a welcome bonus of 200% for every new client. 
Dvanxbit's referral system resembles a pyramid scheme, but it's only available for their Premium users for some reason. Referrals are divided into 3 categories, A, B, and C, and referrals from the A group bring 50% commission, while B and C bring 10% and 2.5%, respectively. 
This Is How the Scam Implemented
This unscrupulous broker is advertising its service on a trading forum as HYIP – High Yield Investment Program. So basically, a Ponzi scheme. 
Scammers usually use social media, direct contact either via a phone call or email, paid promotions, and Google ads to find their potential victims. 
Agents working for scamming brokerages like Dvanxbit are usually very pushy and try to create a sense of urgency to make you deposit your funds. 
Once the funds are deposited, it will become impossible to withdraw your assets as they'll be gone from your account as soon as the deposit transaction is completed. 
Dvanxbit Summary
With the domain being less than 3 weeks old and no regulated status, there's nothing much left to say about this fraudulent broker. There is no information about the owner, location, and trading conditions, which poses a high risk to your investments. 
As the forex trading market is risky by default, we highly recommend opting for a regulated broker to minimize the risk of losing your assets as much as possible. 
And finally, remember to do detailed research before taking a risk while investing your money.
FAQs About Dvanxbit Broker
Is My Money Safe with Dvanxbit?

Your money is not safe with Dvanxbit as it holds no valid trading license and is completely anonymous. 
Is Dvanxbit a Regulated Broker?

It claims to be based in the US, but it's not regulated by the SEC, CFTC, or NFA.
What Is The Dvanxbit Minimum Deposit Amount?

The minimum deposit amount is not officially disclosed on Dvanxbit's website. However, on one trading forum, it is stated that the minimum deposit is $100.