March 17, 2023
Reading Time:
5
min
DWS Invest Review: Never Deal with dwsinvest.company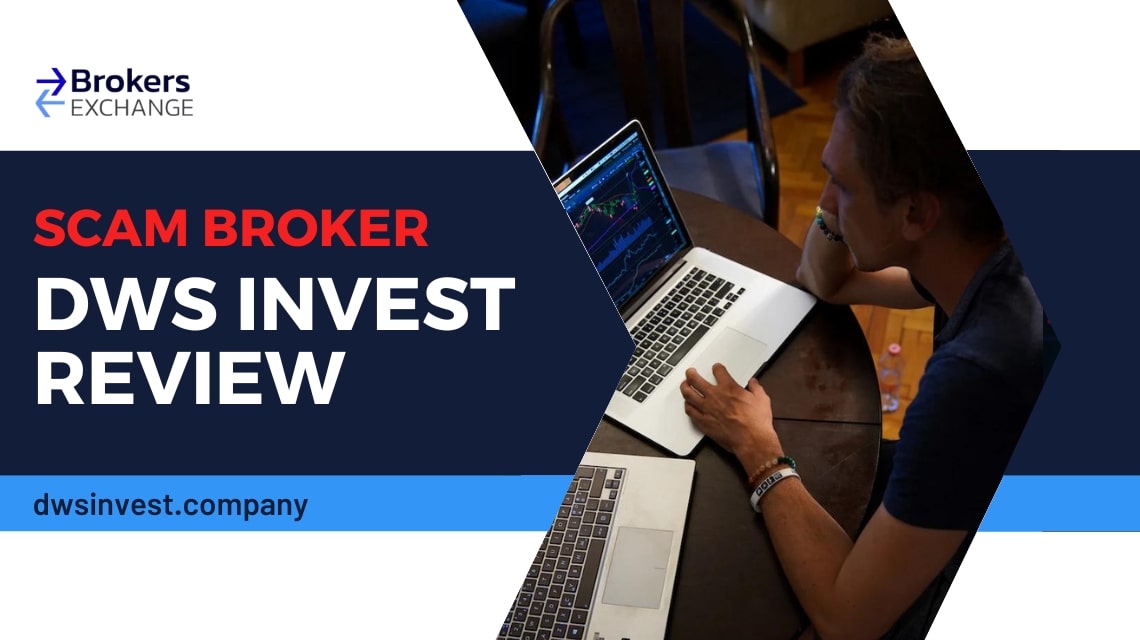 DWS Invest Review, Talking about suspicious companies, DWS Invest would be a textbook example of a scamming website. Through their fake online trading services, they get customers to defraud for their own benefit. Under the pretense of being a regulated broker, DWS Invest will earn clients' trust and abuse it later. 
Two famous regulators have detected DWS Invest's illegal behavior and have warned the public about it: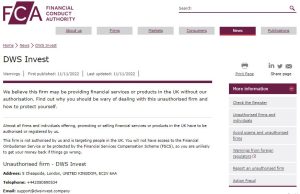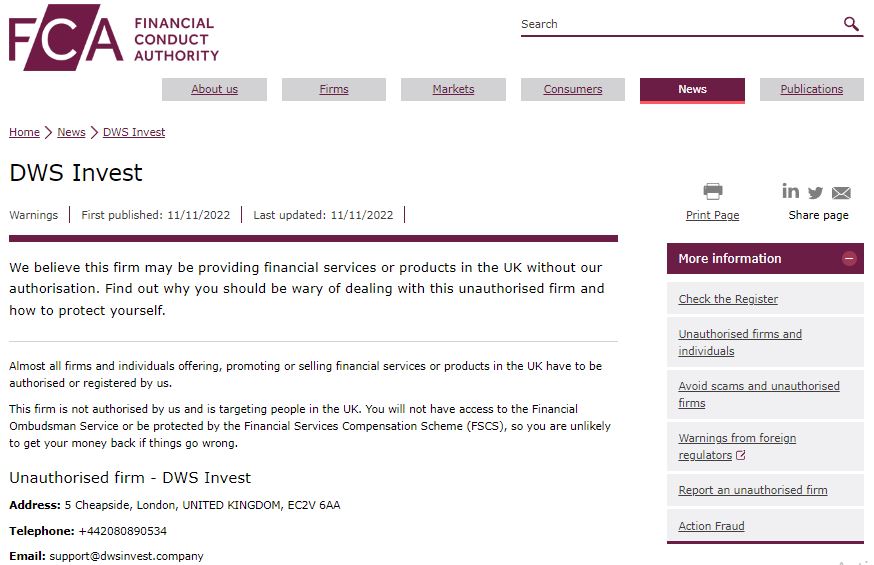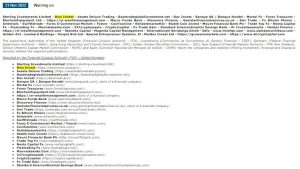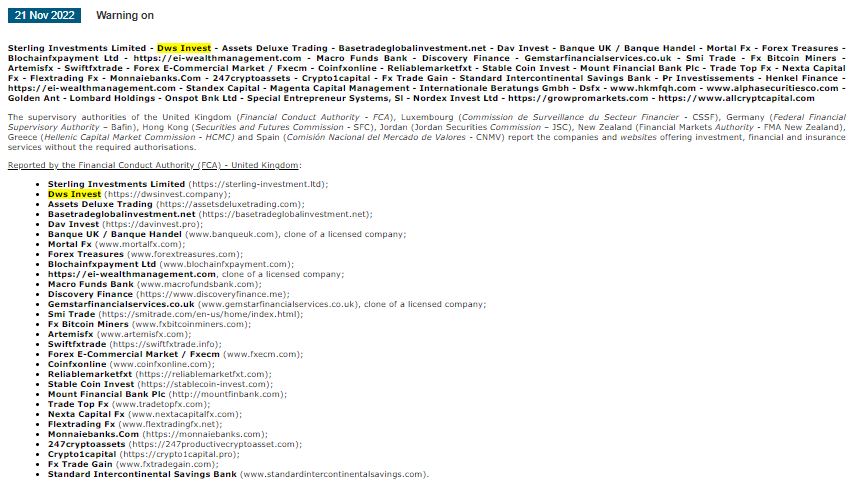 For that reason, we bring you this DWS Invest review. The following article will show you how this scammer operates, what techniques they use, and how easily they get away with all of it. The goal is to warn future investors not to make the same mistake as the ones before them, so keep reading. 
Company

DWS Invest

Website
DWSInvest.Company
Address

Address Octagon Point

5 Cheapside

London

EC2V 6AA

UNITED KINGDOM

Email
[email protected]
Phone

+74950454031

+74950454051

+74950454039

+442080890534

+4915227778316

+37163038122

Minimum Deposit

$250

Leverage

1:500

Bonuses

N/A

Regulation

Unregulated

Warning

FCA, CONSOB
DWS Invest
Regulation and Fund Security
Something that immediately caught our attention were the fake licenses and other claims about regulation. DWS Invest lists CySEC, FCA and IFSC as their licensing houses. They even provide fictional license numbers that turn out not to belong to any register. 
After we checked the broker's identity with all the mentioned regulators, the only thing that came up were the warnings. We provided the links for both of them in the introduction of this DWS Invest review so feel free to read more there. 
FCA is the leading British financial regulatory institution that oversees the brokerage activity in the area. The licensing rules that FCA enforces include 730 000 GBP deposit, leverage limitation to 1:30, negative balance protection, compensation plan and absolute transparency. 
CONSOB is one of the tier-one EEA regulators with HQ in Spain. Regulatory standards for EU regulators are much like those forced by FCA. Although, the EEA zone has one more independent regulatory facility – ESMA that has published MiFID. This particular set of rules is obligatory for all EU brokers and it takes customer safety and transparency of transactions to another level. 
The fact that two major financial watchdogs have blacklisted DWS Invest confirms our doubts about this firm being a fraudulent project. 
DWS Invest
Trading Platform Overview
DWS Invest is a liar when it comes down to trading, too. The simple registration process opened the way to the trading area which contained a single, overly simplified web-based software.
And while the site feeds you lies about having a premium trading terminal, you won't be able to find any top-notch software except for the web terminal. 
This very basic and basically useless software is not what you expect to provide you access to major world markets at lightning-fast speed. Although there are some basic customization tools, all the advanced features are missing. 
MT4 and MT5, as the world's most appreciated trading platforms, have the features, flexibility and speed that puts these bogus software to shame.   
Account Types Available
The account opening process is a quick procedure that doesn't require much information or a special verification. A simple online form only requires basic contact information and you are already a client. 
Now, the description of each account type doesn't reveal much and we were left quite confused. Either way, we weren't overly delighted with the amount of cash that each account type requires to unlock:
Beginner – $250

Bronze – $5 000

Silver – $10 000

Gold – $25 000

Platinum – $50 000

VIP – $100 000
To get access to the higher leverage and some other benefits like deposit insurance, protection of deposits and around the clock support you have to pay up. However, DWS Invest is not a safe place to invest considering their shady activities, so the features of each account are undoubtedly lies too. 
DWS Invest Deposit and Withdrawal
Trading at DWS Invest is only possible after making an initial deposit of at least $250, since a Demo account is not available. Investing with this fake broker is not your priority, trust us on this. The client area revealed to us that the single depositing method is via credit cards. This is a plus because this is considered to be a safe transaction and it allows a chargeback. 
Unfortunately, the single two transferring routes lead you to two suspicious websites: PayPound and Betatrasfer. Be sure that after you hand them over your credit card info, they will drain it in a matter of minutes. This circumstance is another confirmation of DWS Invest's illegal activities oriented at cyber theft. 
Another disturbing element in the story is the lack of legal documents. Withdraw policy doesn't exist so nothing informs you of how the process is conducted. Don't be surprised to see your broker imposing fees and charges they never warned you about beforehand. More on that in the following section of this DWS Invest review.
How the Scheme Was Put Into Practice
DWS Invest bases its hunt for victims on lurking social networks and creating catchy ads. People who click these are usually less informed of the dangers that rule the Forex underground. 
After being contacted by the boiler room agent, they quickly decide to invest without the slightest idea about their capital being swallowed up by the scamming scheme. The offer looks too good to pass it so they start investing. 
After a while, it may or may not become suspicious and they may attempt to take back their investment. They're in for an unpleasant surprise. 
The carefully manipulated trading software has shown huge profits but the system eats it after a made-up shifting of the market. The client is left with nothing or has to pay insane taxes to be eligible for a withdrawal that eventually gets declined. 
DWS Invest
Summary
Fake licenses, unrealistic trading conditions, unfunctional software and warnings by major UK and EU regulators speak volumes about this con. Our DWS Invest review is another proof that this broker shouldn't be your preferred partner on the Forex market. 
What every trader needs is a reliable broker-dealer that takes care of every customer's trading needs and protection. DWS Invest cannot provide that and FCA and CONSOB have also confirmed this circumstance. This should be evidence enough. 
Although you can still refer to us for additional information or advice, we'd be happy to help. In the meantime, try to keep yourself safe by choosing regulated brokers with multiple regulations. 
FAQs About
DWS Invest
Broker
Is It Safe to Use DWS Invest for Trading?
DWS Invest is not a safe website that you could put your trust in when it comes to investing. Two public warnings are evidence of their fraudulent tendencies.
Do DWS Invest Offer a Demo Account?
This broker doesn't allow users to open a Demo account. Only live trading accounts are an option.
What Is The Funding Method of DWS Invest?
DWS Invest only accepts credit cards, and has partnered up with two suspicious online payment services.