November 21, 2022
Reading Time:
4
min
EasyTrade Review – Who Is Behind Easytrade.io?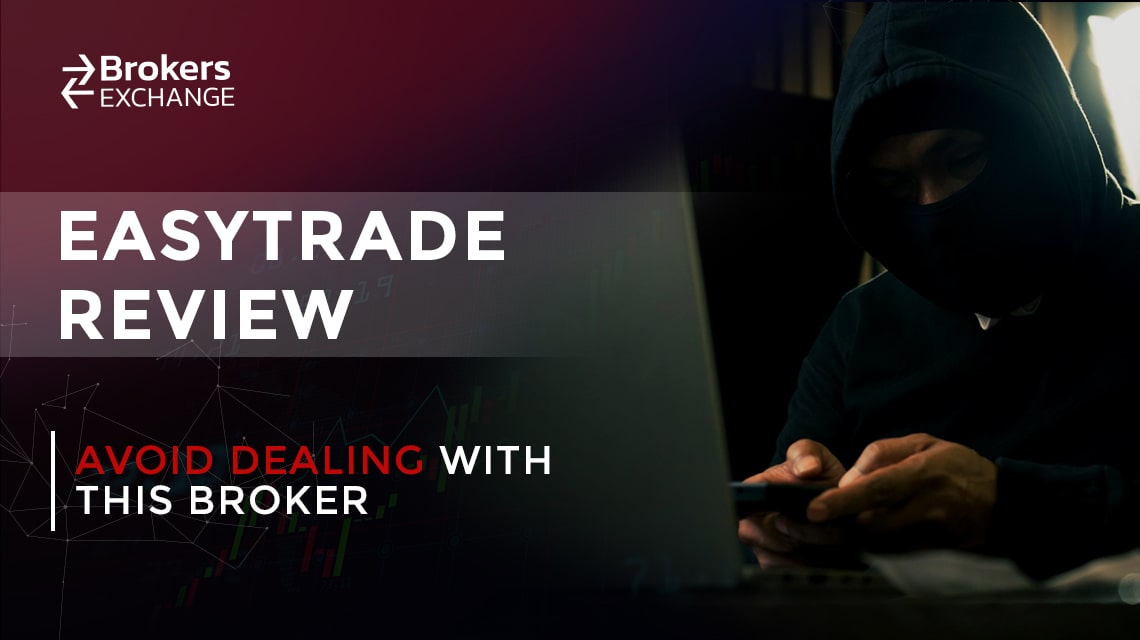 EasyTrade Review, It was published that Easytrade.io is founded in St. Vincent and the Grenadines. That's pretty much all the information that can be learned about this broker. 
There's nowhere listed what is the company that owns it, what is the exact address, or even what their phone number is, except in the warning issued by FCA. 
That means that this firm is completely anonymous. Besides that, there's also the fact that SVG is a scammer broker's haven and it wouldn't be the first or the last time a shady brokerage firm is registered there. 
This is because the Financial Services Authority of SVG is not responsible for licensing or regulating SVG broker firms.
The warning issued by the British jurisdictional regulator FCA states that Easytrade.io is offering financial services in the UK without authorization. Therefore, cannot be trusted.
| | |
| --- | --- |
| Company | N/A |
| Website | (inactive) |
| Address | St. Vincent and the Grenadines |
| Email | [email protected] |
| Phone | 07723388900 |
| Minimum Deposit | $10 |
| Leverage | 1:200 to 1:500 |
| Bonuses | N/A |
| Regulation | Not regulated |
| Warning | FCA |
EasyTrade.io Reliability: Regulation and Fund Security
As it's widely known, trading with unlicensed brokerage companies can never be safe and secure like it is with acclaimed brokers. 
Unregulated brokers tend to promise insane profit and investors are made to believe that they will accumulate huge money based on very little work. 
As long as they invest and keep investing. The security of those funds can not be confirmed, because dealing with a scammer scheme doesn't have the purpose to make clients earn. 
Regulated companies have to follow a set of strict rules based on which they were able to be regulated in the first place. 
Every jurisdictional regulator makes sure the companies offering trading services are meeting all the necessary conditions to be able to provide these services. 
If they don't, or worse yet, have already scammed their customers, the local regulator will issue a warning against that firm.
What Platforms for Trading Does EasyTrade.io Offer? 
What regulated brokers usually offer is operating on Metatraders trading platforms. These trading clients are supported by all platforms and operating systems and they offer a variety of features and tools.
All in order to ease up and improve the trading processes for their users. 
The images of a trading platform shown online represent a pretty basic and overly simplified form of online trading software. 
Easytrade.io actually requires the client to go through an identity verification process in order to access the supposed exceptional trading platform. 
Since this is what a scammer requests of a user, it is better not to go through with it at all.
What Trading Account is Available at EasyTrade.io? 
There are the following types of accounts available to open at EasyTrade.io:
Which accounts the user decides to open depends on how much they want to initially deposit. A beginner account asks for a deposit of only $10, an Advanced above $500, and a Pro account, it should be more than $5000. 
With every account, clients are promised to have various services and the leverage from 1:200 for beginner's accounts, to 1:500 for other accounts. 
Even though the minimum deposit amount is quite low and characteristic for leading brokers, this high leverage is a warning sign. The regulated top broker firms allow leverage of about 1:30, while in the US it's 1:50.
EasyTrade.io Deposit and Withdrawal Method
EasyTrade.io supposedly accepts the most popular ways of depositing money, such as bank wires, Skrill, cryptocurrencies, and credit /debit cards.
One of the most distinguishing features of all scammer schemes is that the only way of depositing is allowed is through cryptocurrencies. This is because this process is irreversible. 
Withdrawing your money from a scammer's website is a futile try because your invested funds are long gone and not subject to withdrawal.
Besides that, fake brokers make withdrawals seem easy, but in truth charge big fees and drag them on indefinitely. 
Here Are The Details on How The Scam Works
Well-trained fake brokers are quite eloquent and have a way with words. They used all conceivable methods just to make a potential investor believe they will win big. 
For some beginners in online trading, fast money and easy winning will sound tempting enough to make them start investing. This is where they make a mistake and trust the promises of a scammer.
Do not accept investing with a suspicious broker firm that doesn't provide full transparency. All shady trading businesses tend to stay anonymous for the purpose of committing cyber theft and getting away with it. 
EasyTrade Summary
Based on the information we have presented above about EasyTrade, readers can easily conclude that this broker is an unlicensed scammer. 
Please keep your funds safe and find a reliable broker that is one of the leaders in the industry. This is very important so you can make sure your money is secured. 
All online trading bares some chance of losing, but doing business with scammers is a certain loss. No legal trader will offer you ridiculous leverage or easy money and astonishing bonuses. 
Especially never trust brokerage sites that have scam allegations against them and warnings by cyber security experts.
FAQs About EasyTrade Broker
What Is The EasyTrade Minimum Deposit Amount?

The minimum deposit amount on EasyTrade is $10.
What Are the Deposit and Withdrawal Options for EasyTrade?

EasyTrade.io supposedly accepts the most popular ways of depositing money, such as bank wires, Skrill, cryptocurrencies, and credit /debit cards. Withdrawal isn't clear.
What Account Types Does EasyTrade Provide?

There are the following types of accounts available to open at EasyTrade.io, based on the initial deposit amount: Beginner, Advanced, and Pro.