May 01, 2023
Reading Time:
4
min
EduTrend Review: Don't Risk Trading with This Firm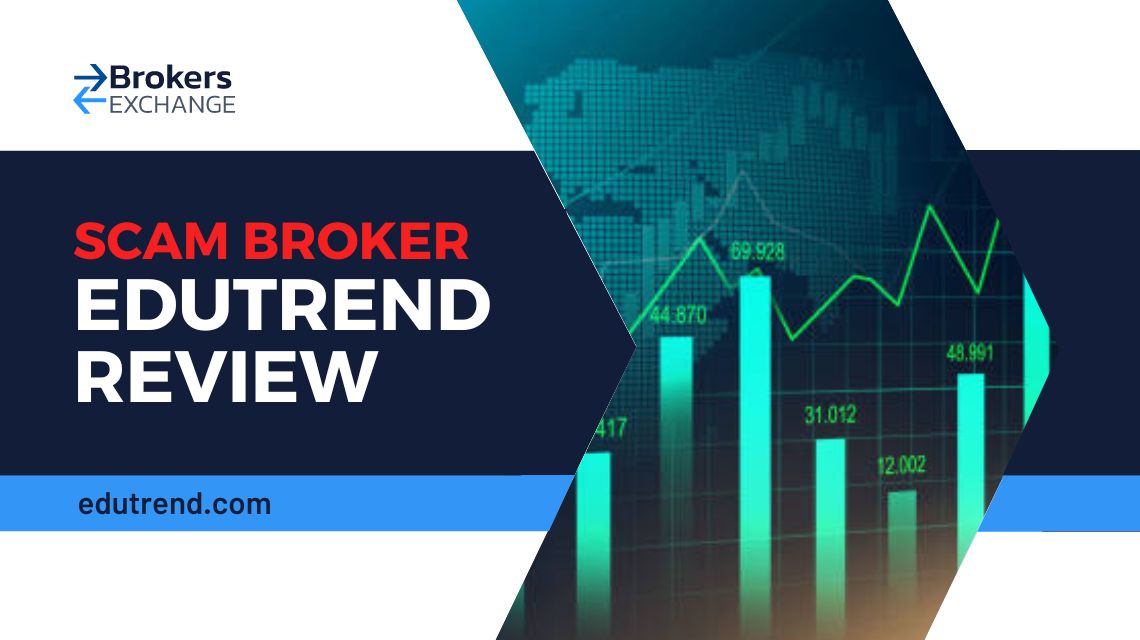 EduTrend Review, The website of this fraud company was taken offline some time ago. For this reason, we found it quite difficult to ascertain and piece together a clear picture of what was really going on with the site. What we did find out is that on the surface, EduTrend had an educational purpose in mind.
To call EduTrend a learning platform would only be partially true. The educational facade was used to hide an unregulated brokerage. It is for this reason that one of the Canadian regional regulatory agencies has issued a scam warning about EduTrend.
A warning issued by OSC of Canada can be seen by following this link: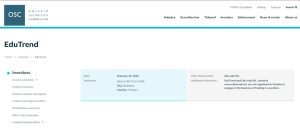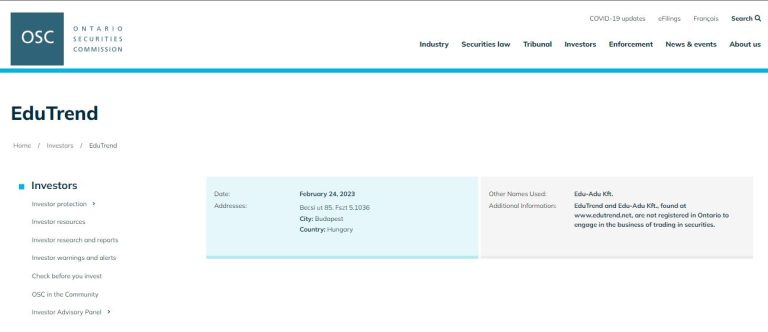 What is more, we strongly advise you not to invest in BizzTrade, Monfex, and Novatech fx fraudulent brokers.
| | |
| --- | --- |
| Company | Edu-Adu Kft |
| Regulation | Unregulated |
| Warning | OSC |
| Website | Edutrend.com |
| Address | Hungary |
| Email | N/A |
| Phone | N/A |
| Minimum Deposit | 250€ |
| Leverage | 1:125 |
| Bonuses | N/A |
EduTrend Reliability – License and Fund Security
EduTrend would not be in rough waters if they were an honest Trading Academy. There is nothing wrong in charging people for your knowledge. Many universities worldwide require some financial compensation in return for their courses. Of course, a trading academy would not need a broker license, as they would not execute orders on behalf of their students.
Once EduTrend started offering broker services to their students, they crossed a line. Without a proper license and regulation, EduTrend was not authorized to provide an actual trading environment. EduTrend claims to be based in Hungary, which is a member state of the EU. By all means, they should have a license from MNB, the Hungarian financial regulator.
Here is what MNB requires from its brokers:
Starting capital of more than 730,000€

Compensation fund of 20,000€

Negative balance protection

Segregated Bank Accounts

Leverage not greater than 1:30

Bonuses are not allowed

Transaction transparency in accordance to MiFID
Not a single EU regulator has any information on EduTrend, not German BaFIN, Italian CONSOB, Spanish CMNV or Hungarian MNB. When we broadened our search to other continents, we found that the Canadian regional regulator of Ontario, the OSC, has issued a warning about EduTrend.
Trading Platform Overview at
EduTrend
When the website was functional, EduTrend did promise high-quality MT4 and MT5 trading platforms to their clients. If they actually delivered on this promise, we can't say for certain. Because we are aware that EduTrend is a scam entity, we can safely assume that their trading platforms were demo programs only, and could not in fact facilitate the trade that the alleged broker was so keen to offer.
MT4 and MT5 are both excellent programs that are incredibly versatile and flexible. MT4 has been in use since 2005 and has been constantly upgraded ever since. MT5 is MT4's younger brother. It is a new, next-generation software that allows for automated trading integration such as copy trading, as well as strategy testers and expert advisors.
EduTrend Trading Account 
One of the points of scrutiny with this website is the account EduTrend used to offer. Most regulated brokers today offer free education to their clients, as well as a demo account that allows these newcomers to learn the ropes with no financial risk.
The story with EduTrend is different, and their strategies are completely opposite. You may access the risk-free demo on their alleged trading platforms, but only after you commit funds to the platform itself. There are reports, however, that EduTrend did allow their customers to participate in actual trade. As far as we know, these demo accounts only exist in various allegations, and we couldn't find any evidence clients could actually use them.
Here is an outline of the accounts EduTrend used to offer, and the required investment amount:
Beginner – 250€

Intermediate – 500€

Trader – 1,500€

Elite – 4,000€
Deposits and Withdrawals
EduTrend was purposely vague about its deposit and withdrawal methods. The conditions that govern these deposits and withdrawals were not disclosed either. Knowing that EduTrend was a scam all along, we can assume they used one of the more prevalent defrauding strategies.
Scam brokers usually accept only cryptocurrency transactions. These are difficult to track, and even more so to reverse. Usually, swindlers would set up their withdrawal conditions in such a way as to make the customer not eligible for a withdrawal. In other cases, withdrawals are subjected to expensive fees, which drain nearly all the invested money.
EduTrend Trading Instrument
It is a well-known fact that in order to give a high-quality education to your students, you must provide the best learning tools available. In the case of online forex retail, trading instruments like CFDs might be called the best tools for the job.
The absence of information regarding different CFDs on EduTrade is alarming indeed. It is like you wanted to teach a person how to be a carpenter, without providing even the most basic hammer and chisel. This time, it is not the fault of the defunct website. The information was never there in the first place.
How is the Scam Performed?
Scammers like EduTrade capitalize on manipulating the emotions of their victims. Fresh, eager young people with little experience in the financial waters are mostly unaware of the inherent risks of the industry. Scammers offer deals that are, on paper, better than those of their legitimate counterparts.
The inexperienced rookies fall easily for this trap, attracted by an incorrect idea of easy money and guaranteed profits. EduTrade's predatory behavior is even more egregious, as they promise their victims not only easy money but the knowledge on how to acquire it. Before long, these enthusiastic people learn the truth about EduTrade the hard way.
EduTrend Summary
EduTrend is a wolf in sheep's clothes. They pose as a trading academy but offer illicit broker services on the side. These are some of the most dangerous scammers out there. They prey on people who know very little about the online retail world. Don't be scammed – if you are looking for a way to begin your trading career, see some of our recommended brokers instead.
FAQs About
EduTrend
Broker
What Kinds of Accounts Does EduTrend Have?
EduTrend has Beginner, Intermediate, Trader, and Elite live trading accounts. There are no Demo or Islamic accounts.
How is My Security Ensured When Using EduTrend?
When dealing with EduTrend there is no security whatsoever, and the company is blacklisted by OSC.
What Funding Methods Are Accepted at EduTrend?
There is no information on which funding methods EduTrend used to accept.