January 08, 2023
Reading Time:
4
min
ENS Invest Review: Learn More About This Scam Broker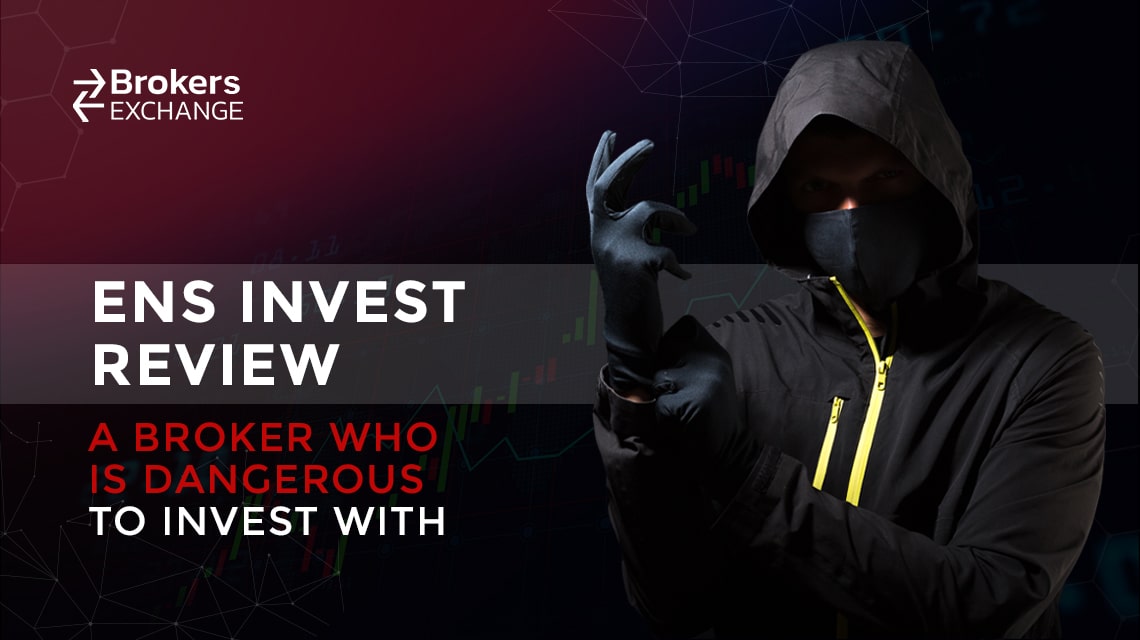 ENS Invest at first look seems like a legitimate and strictly regulated broker, but after further investigation, it appears that they are lying about their regulation and are actually quite shady. 
ENS Invest has a shady and lackluster web platform, wide spreads, and dangerous leverage amounts. They offer nothing that can stand up to what one of the many licensed brokers on the FX market can offer. 
In this ENS Invest review, we will explore what they have to offer and whether they are a good or a bad investment choice for you.
| | |
| --- | --- |
| Company | ENS Invest |
| Website | ENSInvest.Com |
| Address | 10 Dimostheni Severi, 1080 Nicosia |
| Email | [email protected] |
| Phone | +357 22665643 |
| Minimum Deposit | $150  |
| Leverage | 1:500 |
| Bonuses | N/A |
| Regulation | Unregulated |
| Warning | N/A |
ENS Invest Funds Safety and Regulation
ENS Invest is an anonymous broker based in Nicosia, Cyprus but the regulators are listed as the Financial Conduct Authority in the United Kingdom (FCA), and two offshore, in Belize and Mauritius. 
This seems strange since CySEC is the relevant regulator for Cyprus. Furthermore, after looking into FCA and CySEC financial services register, there is no result of ENS Invest, which in turn proves that ENS Invest is lying about their regulation. 
As their customer, you will receive several guarantees, such as negative balance protection, deposit insurance, 24-hour support, and funds protection if the broker goes bankrupt, based on the type of account you choose. 
But all of that is a fabrication, to cover up the actual truth about this broker. Since this broker is unregulated, that means that there is no protection and that this is definitely a trading scam aimed at defrauding people.
ENS Invest Trading Platform
As with many fraudulent brokers we've encountered, ENS Invest uses a rudimentary web-based platform to fool its victims into believing that their money is really being invested. But this trade is fictitious, and the money is pocketed by the fraudsters.
Despite having the basic functionality to place orders, it can't compete with the features offered by MetaTrader 4 (MT4) and MetaTrader 5 (MT5). It's no coincidence that these platforms became the standard in the industry.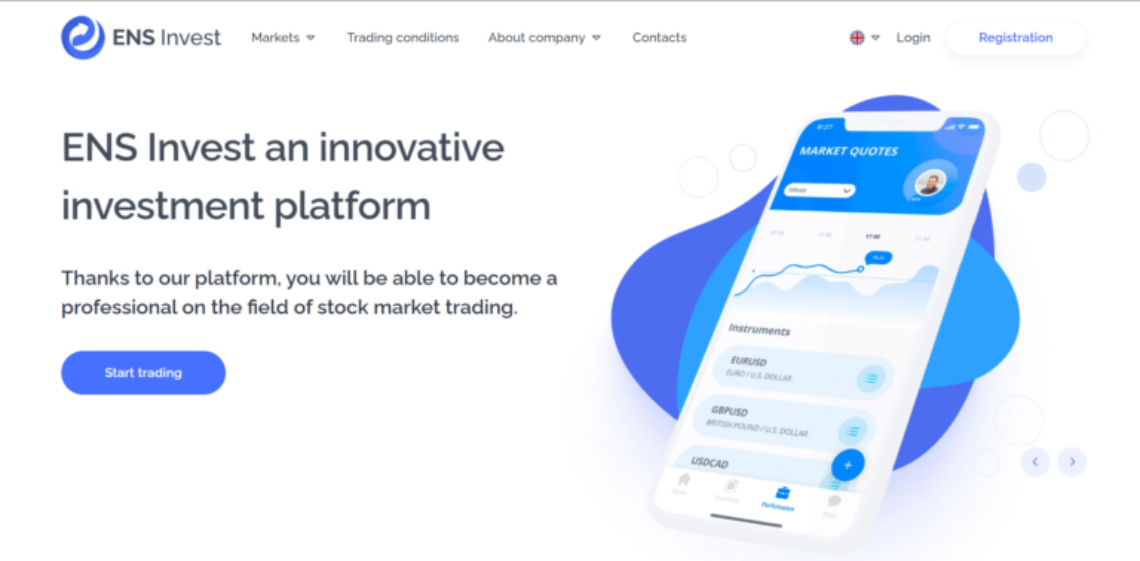 They offer a wide range of features including various customization options, working with multiple accounts, designing and implementing custom scripts for automated trading, and backtesting trading strategies.
Deposit and Withdrawal at ENS Invest
ENS Invest only accepts deposits made through cryptocurrencies. This is the hallmark for financial scammers. Cryptocurrencies are their preferred payment method as they do not allow scammers to request refunds or chargebacks.
While there are some trustworthy brokers who do accept virtual currencies like Bitcoin, they also accept other transparent payment options like credit/debit cards, bank transfers, or well-known e-wallets like PayPal.
The terms of withdrawal and the associated costs are not made explicit by ENS Invest.
Unregulated Brokerage Techniques
Websites acting as brokers have been used in numerous fraudulent scams in recent years in an effort to capitalize on the euphoria around cryptocurrency.
If you provide your contact information to one of these scammers, they will begin convincing you that they will quadruple your money with no effort on your part other than to sit back and profit. If you agree to a few hundred dollars as an initial investment, they will begin to persuade you to invest more and more. 
Naturally, any such winnings are fictitious because you are not allowed to withdraw them. These businesses frequently charge extremely high withdrawal fees that represent 10, 20, or 30% of your money. 
These days, brokers hardly ever request withdrawal fees, so if one does and asks for such large sums as well, it is obvious that you are dealing with fraud. 
Scammers can accomplish this in numerous ways. First of all, they avoid rules and regulations by hiding behind offshore corporations. 
They use shady payment platforms, direct bank transfers, or cryptocurrencies that make recovering money difficult. 
The terms and conditions are riddled with traps such as prohibitively high minimum trading volume requirements or withdrawal fees amounting to tens of percentages of your funds.
ENS Invest Summary
ENS Invest is an extremely unsafe and untrustworthy option for any investor, which has been proven after an in-depth investigation. The business is unlicensed, offers no assurances on money withdrawals, and uses trading software that manipulates prices in order to promise big profits. 
The company's headquarters are in Cyprus, despite the fact that it asserts to be operating under the UK Financial Conduct Authority. All of these elements lead us to the conclusion that ENS Invest is a sophisticated scam that aims to defraud people.
Don't feel embarrassed about reporting a scam! If you have had any negative experiences with other fraudulent brokers, we would be grateful if you could share them with us and we could assist you by reporting your scammer.
FAQs About ENS Invest Broker
Is ENS Invest Legally Registered?

No, the brokerage claims to be registered under FCA UK, which has been proven to be false.
How Secure is ENS Invest Broker?

There is no safety with this broker, as it's an unregulated broker.
Information about withdrawal fees is not made explicit by ENS Invest, which means they might have hidden fees for withdrawal.