March 12, 2023
Reading Time:
4
min
EU Finance Review – Who Is Behind This Scam Brokerage?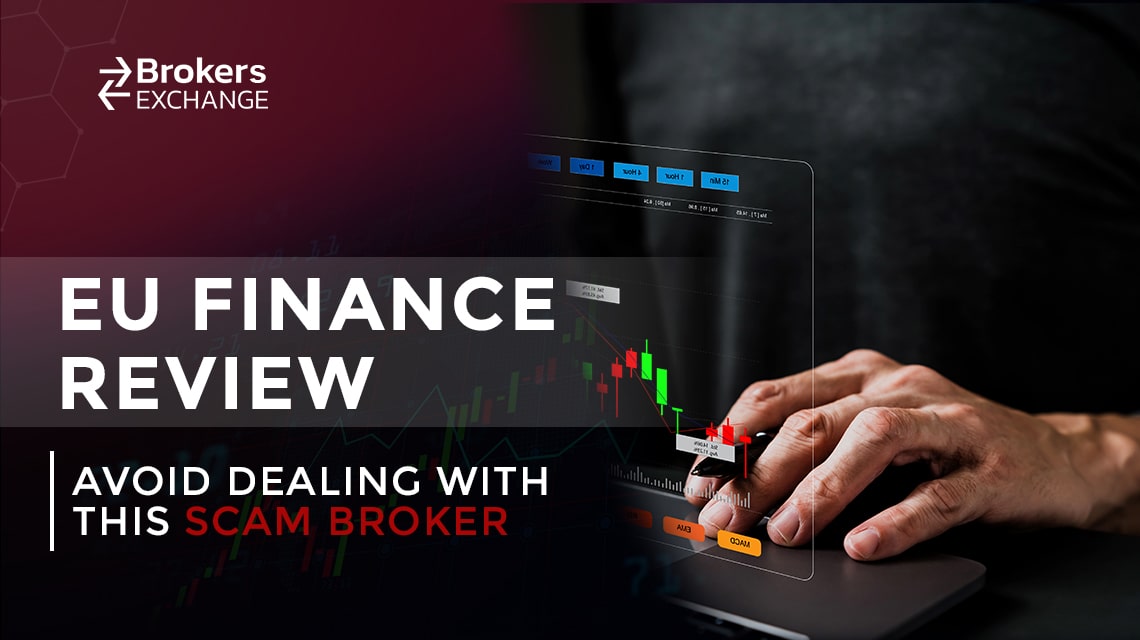 The complex web of lies that EU Finance attempts to drag you in isn't immediately noticeable. Website may leave you with an impression that this broker really means it when they talk about their priority of exceeding the expectations of customers. EU Finance plans on doing that by supposedly delivering an advanced, customizable and healthy environment. 
There is, sadly, nothing healthy underneath the disguise of an illegitimate brokerage called EU Finance. Nothing but a rotten plan to scam every single customer out of their hard-earned money. 
Although the company's address would suggest their location is London, there's not a single proof that denies EU Finance being an anonymous, offshore fraud. Isn't it suspicious how EU Finance has multiple pages on their website that go into detail with promises and self-glorifying while saying nothing concrete?
Our EU Finance review gathers information about this and other crucial things that the broker omits, so continue reading this article for more.
| | |
| --- | --- |
| Company | N/A |
| Website | EUFinance.Co |
| Address | 2B John Islip Street, Westminster, London, SW1P 4PX |
| Email | [email protected] |
| Phone | +441164710015 |
| Minimum Deposit | $250 |
| Leverage | 1:400 |
| Bonuses | Hinted but undisclosed  |
| Regulation | Unregulated |
| Warning | N/A |
Are You Safe at EU Finance? Regulation and Security
Although a bold move by EU Finance in their attempt to seem legit, lying about the address and other info is not a way to succeed. The random London address has nothing to do with this broker's company and they are by all means unregulated and dangerous. 
Every broker offering their services to UK citizens has to be regulated by the Financial Conduct Authority – FCA. The legal guardian of the financial market, FCA imposes regulatory conditions that are strict and among the harshest in the trading world. 
Not only do the broker's deposit 730.000 GBP upon applying for a license with FCA, but other regulatory standards bind them to provide impeccable customer protection and safety of funds. 
To make online trading as safe as it can be, clients' funds are deposited on segregated bank accounts so that firms have no access to it. Brokers further implement risk-reducing measures such as leverage cap to 1:30 and negative balance protection against rapid loss. 
All UK clients dealing with certified companies are protected by the Financial Ombudsman in case of dispute or the company going bankrupt. The compensation fund ensures the clients are reimbursed for the damage of up to 85.000 GBP.    
These are just some of the highlights that follow the regulatory process at FCA. Needless to say, broker has a convenient name but not a license by FCA, as evident from their database. 
Same results were all we got after checking several more registers, including the BaFin, CNMV, ASIC, NFA, IIROC, CySEC and CONSOB. After all that, we can only conclude that this broker is a cyber thief and utmost risky for any investments.
Overview of Trading Platform
Advertised as the future of online trading technology, the EU Finance platform is supposedly designed to be simple for using, yet advanced and rich in features. 
Upon opening an account with EU Finance we easily accessed the software. What we were offered had absolutely nothing to do with being a leading technological solution for most enjoyable trading. While expecting an intelligent interface and progressive, world-class features, we were faced with a basic and shallow web trader with nothing to offer. The most evident fact about this bogus software was the unresponsiveness and lack of any customizable options, indicators, timeframes and testers.  
Since the dream of trading safely on a reliable and ultra fast EU Finance platform was a dream turning into a nightmare, we had to conclude that this was all yet another lie by this wannabe broker. 
Deposit and Withdrawal Process
Our attempt to deposit funds to the live trading account from the client area was a failure. The pop-up window kept saying documents for full verification had to be provided first and that the account manager would contact us for more information. Because of the way the events played out, we couldn't establish what depositing methods EU Finance accepts. 
The Deposit and Withdrawal Policy was full of surprises, though. It only confirmed that EU Finance is a scamming scheme to behold. You see, depositing via wire transfer comes with a $50 fee. Funding your account through credit and debit cards costs less – $25. 
Both transferring methods include an additional processing fee which is $10. The cherry on top is the 10% charge for depositing on accounts that haven't made an at least x200 turnover. 
In the end, there's also an inactivity fee of 10% a month which applies to accounts dormant for longer than six months. 
How The Fraud Was Perpetrated
Perhaps harmless, friendly and professional at first, EU Finance is still a malicious fraud with one goal only – cyber theft. If you inspect their site more closely, you will notice how EU Finance spills lies about their success, great service, best technology and most professional support. All this is served to you and other potential investors as a way of earning your trust and admiration. 
After registering, expect to be contacted by a so-called dedicated account manager that will try to walk you through the verification process and do some convincing about depositing. Masters at spoken word, persuading unsuspecting victims to fuel the scamming machinery with their life savings isn't too hard. 
The costly services that EU Finance fails to deliver will probably make you want to pull your hair out. We've listed some of the costs and fees that apply in the previous section. Be aware that EU Finance can, as any other unscrupulous thief, change the terms and conditions at any time without warning and charge you even more. Leaving you empty handed, your withdrawal attempts will all go in vain.  
EU Finance Summary
EU Finance certainly goes above and beyond their way to convince their victims of this company being a high-end service provider. Our EU Finance review shows you all the reasons why they are so untrustworthy and far from a decent online trading business. 
Omitted company information from the site doesn't help their credibility, but the missing license is the biggest concern. Since EU Finance completely disregards this circumstance, it's clear that something is off. As we've done by checking with the jurisdictional regulator, in this case FCA, you can do the same when you are choosing a broker. Another useful thing to do is consult the regulator or report all suspicions of illegal acts by broker dealers you encounter. 
FAQs About EU Finance Broker
Is EU Finance Regulated?
Completely illegal, this entity is in possession of no licenses or trading certificates.
Is EU Finance a Trustworthy Broker?
EU Finance is a fraudulent website with the mission of stealing clients' funds, they are not regulated or authorized by any financial institution, so they are not trustworthy.
What Funding Methods Does EU Finance Accept?
The Deposits and Withdrawals Policy suggests bank wire transfers and credit/debit cards as depositing options.