January 19, 2023
Reading Time:
4
min
EuFxBank Review – Truth Behind EuFxBank.Com Scam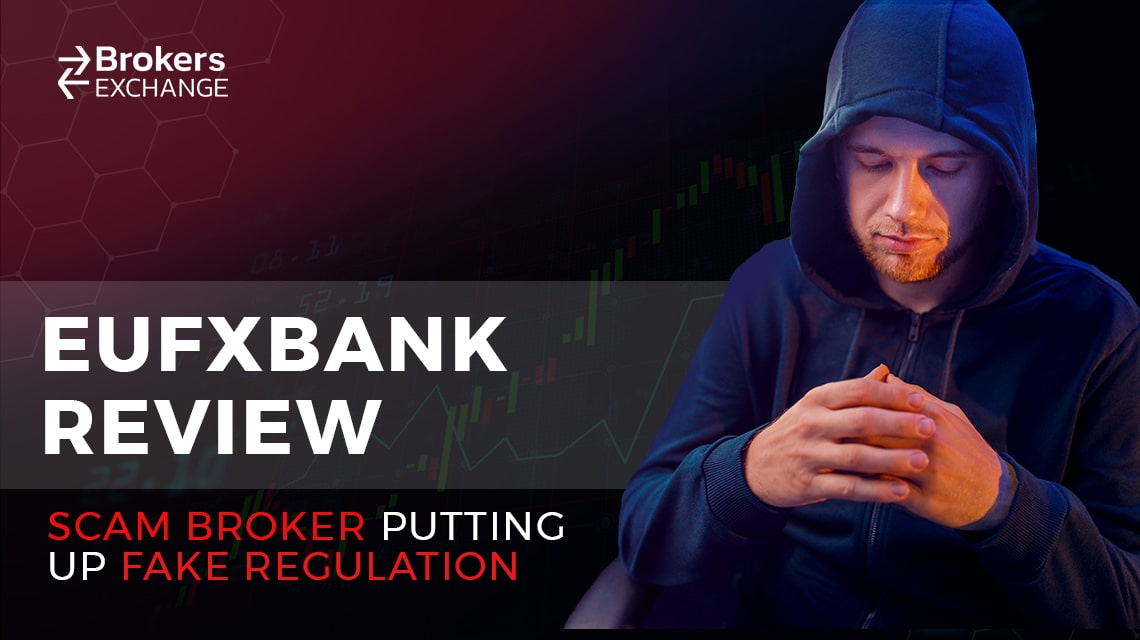 Forex brokers use various names to build traders' trust, such as our today's subject—EuFxBank—which has nothing to do with a banking institution nor it is an EU-based company (at least not a legit one). It is yet another shady brokerage firm trying to grab hold of your money and defraud you.
Let's have a quick look at the EuFxBank broker. It claims to be among the top 100 brokers globally, headquartered in premium jurisdictions (UK, Hong Kong, and Cyprus), and licensed under high-ranking financial regulatory agencies (CySEC and SFC). 
In reality, it is an anonymous and unauthorized forex provider blacklisted by the Italian financial authority (CONSOB). So, continue reading our EuFxBank review and find out the truth behind the EuFxBank.com scam.
Moreover, you should avoid trading with fraudulent brokers like Goldman, EuropeMarket, and Spotinvest.
EuFxBank Regulation and Safety of Funds
EuFxBank's deception starts with an unproven statement that it is a registered company in the United Kingdom, Hong Kong, and Cyprus. 
After checking related registers (UK Companies House, HK Companies Registry, and Companies House Cyprus), there is no evidence that EuFxBank is formed there.
Then, there is another fraudulent claim coming from this company. Namely, it is allegedly authorized to provide online trading services in the previously mentioned countries. To legally operate in any country, a broker must be approved by a respective financial market regulator. 
Speaking of EuFxBank, it must hold trading credentials with British FCA, Cyprus CySEC, and HK SFC to be considered a legitimate business. However, inspecting the database of these institutions proves that it is an unlicensed brokerage firm.
Any promises and guarantees by this unscrupulous broker are just a pack of lies to lure you into investing. Furthermore, CONSOB (an Italian watchdog) warns against EuFxBank, indicating that your funds are at extreme risk here. So, just keep away from this investment scam.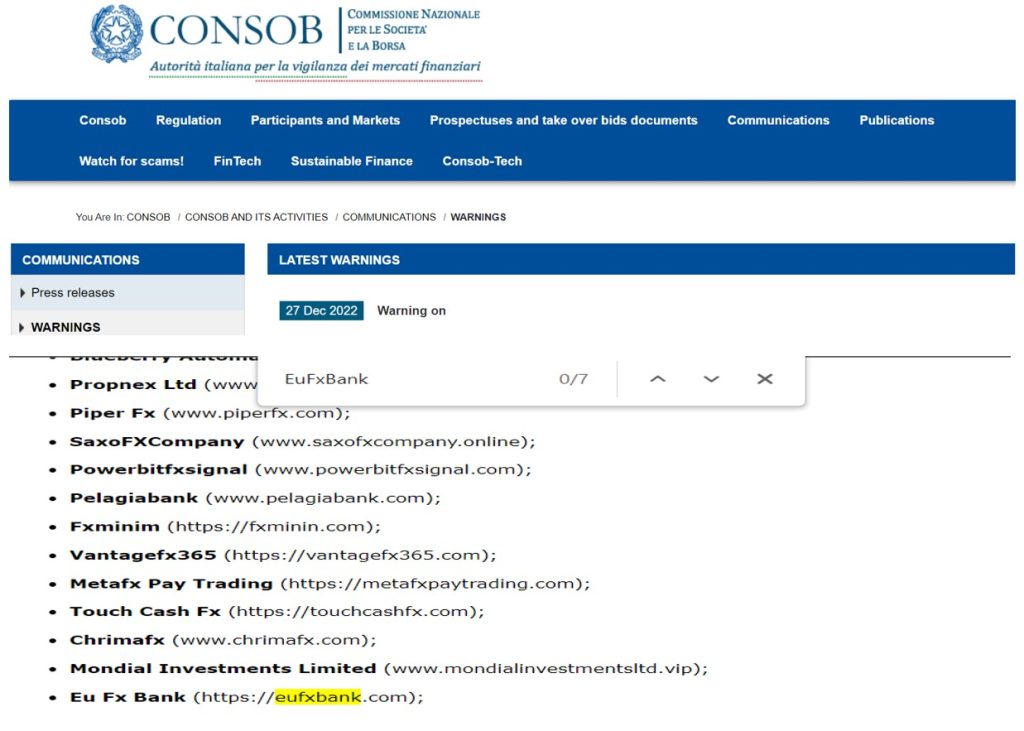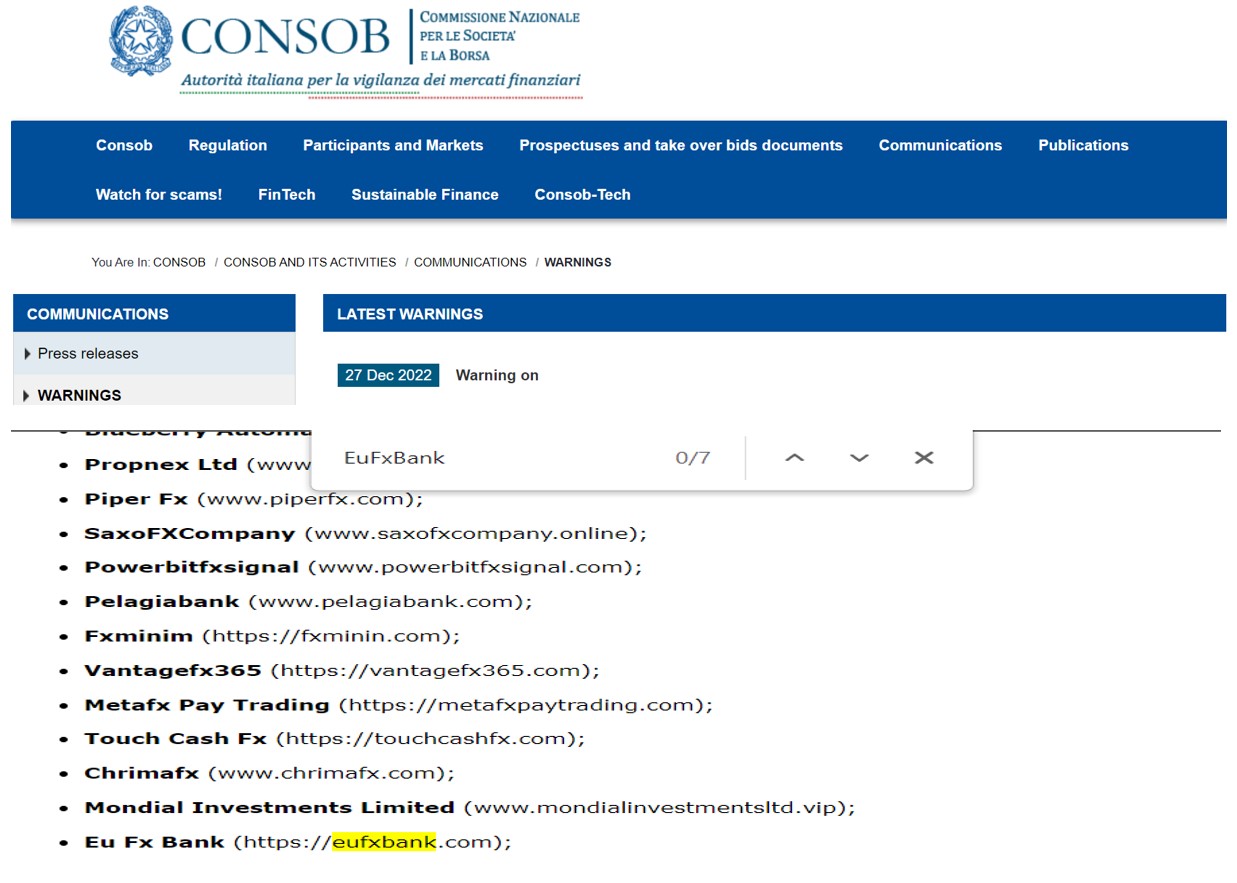 EuFxBank Supported Trading Platform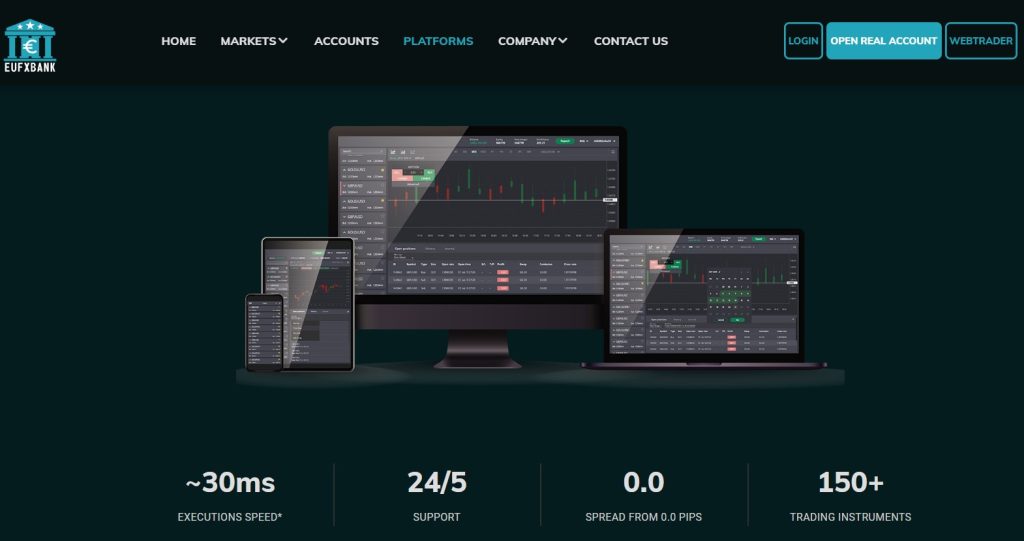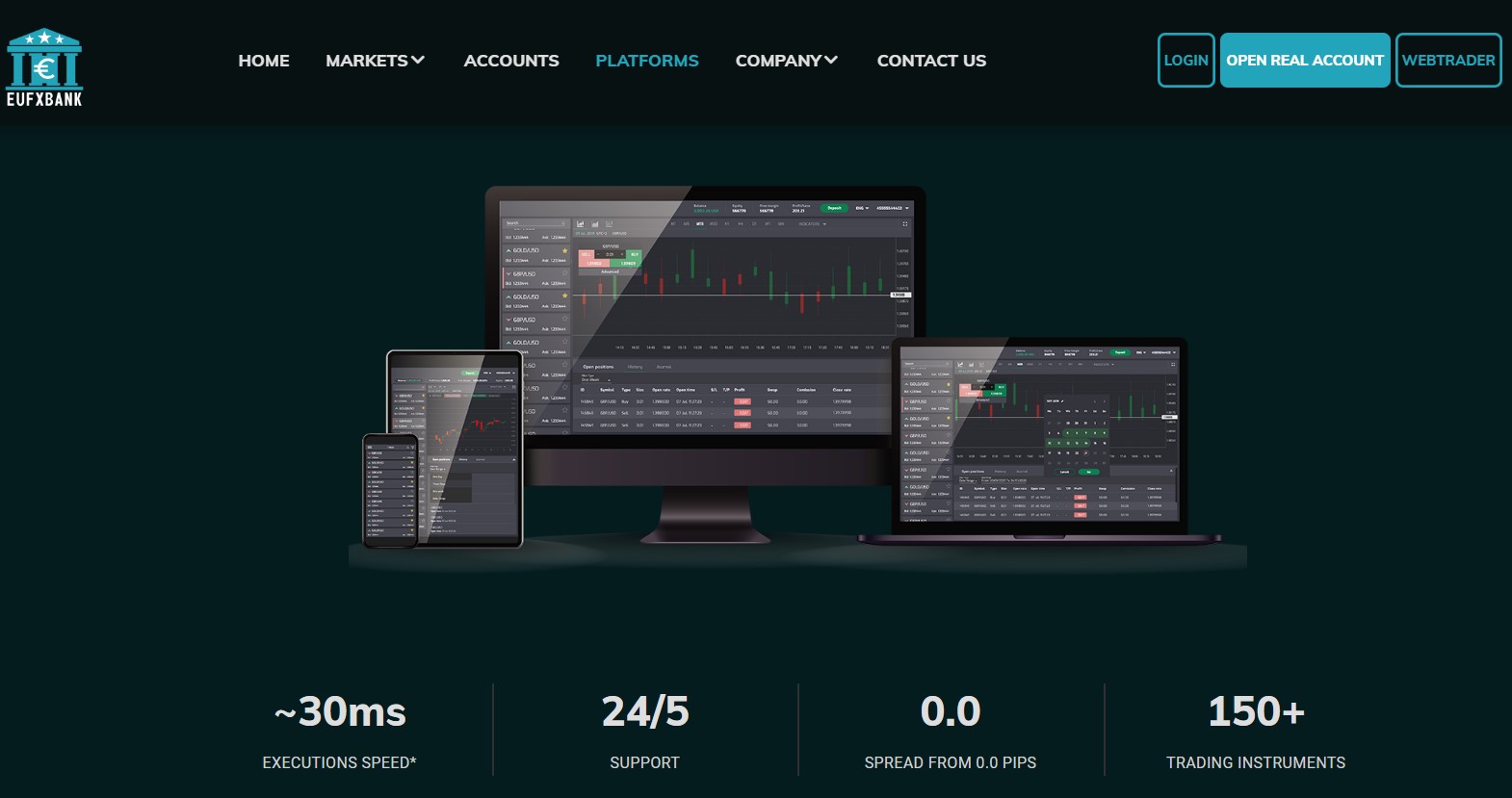 Proceeding with our EuFxBank broker review, we analyze its offer of a reportedly industry-leading platform. As expected, this dishonest scam broker provides merely functional trading software (web trader). 
If you want to trade with real top-drawer programs, go with genuine companies offering cTrader, Sirix, MetaTrader 4, and MetaTrader 5. These powerful platforms come with plenty of useful features like stop loss, copy trading, EAs, market analysis, economic calendars, and more.
In addition, EuFxBank professes access to over 150 trading instruments, including the following.
Currency pairs: EUR/USD, USD/GBP, GBP/CAD, CAD/AUD.
Crypto: Bitcoin, Ethereum, Tether, Binance Coin, Dogecoin.
Commodities: gold, silver, coffee, corn, crude oil.
Stocks: Apple, Intel, Barclays, Microsoft, Tesla.
Indices: Nasdaq 100, S&P 500, Dow Jones, FTSE, DAX.
Anyway, this fraudster's assurance that a comprehensive package of tradable assets is available should be taken with a grain of salt.
Deposit and Withdrawal Options 
According to the EuFxBank website, there is a range of funding methods accepted by this company, including Visa, Mastercard, bank transfers, and cryptocurrencies. 
Also, depositing comes with no fees, as per its web page. With regard to deposits, the minimum required opening balance is 250 USD, while the quick overview of available accounts is below.
Standard: 250 USD deposit,
Professional: 10,000 USD deposit, 30% deposit bonus
Business: 30,000 USD deposit, 50% deposit bonus
Keep in mind that bonuses are banned in most jurisdictions due to mishandling, especially in the UK and Cyprus (supposed areas of operation of EuFxBank).
Concerning withdrawals, they are allegedly quick and straightforward, using the same means of payments as deposits. As predicted, there is no information on withdrawal fees and processing time. Since it is a blatant trading scam, no money withdrawal guarantees exist.
How the Fraud Is Conducted
Detecting cyber fraud like this one might be challenging for newbies but with the help of numerous EuFxBank reviews on the internet, it becomes easier. For this reason, we explained how the EuFxBank scam is perpetrated and what traders should watch for. 
EuFxBank fraudulently imitates a leading brokerage firm to attract traders by proclaiming that it is an internationally regulated broker with offices across the world and numerous awards. 
It also fakes its positive reviews (Trustpilot, Google Play, and Apple Store), its appearance on the news (Reuters), and its cooperation with trusted corporations (Amazon, Investing.com, and TradingView).
Further, it gives a false sense of security by assuring clients that their funds are protected and covered by a financial services compensation scheme. Additionally, it attempts to entice you with fabrications such as providing an award-winning trading platform, zero spreads, and generous bonuses.
Although EuFxBank claims you can transfer funds to and from accounts via various methods, we are skeptical about it. 
We believe that only crypto payments are accepted since they are hard to trace and chargeback. On the other hand, transactions made through credit/debit cards and banks can be reversed, and that is why scam brokers like EuFxBank don't support them.
EuFxBank Summary
To sum up the key findings of this analysis. EuFxBank is a notorious company well-known for falsehoods and exaggeration of the truth in a fraudulent way. 
From being a global leader in providing brokerage services and having headquarters at top-level locations to offering the best trading software, only endless lies. 
In case you are a victim of this fraudulent broker, we advise you to notify authorities and turn to cyber security experts for help. Regarding the latter, you can get in touch with us for all related issues.
FAQs About EuFxBank Broker
Is EuFxBank a Reliable Broker?

No, it is far from that; it is a proven trading scam exposed by the Italian supervisory body (CONSOB).
What is The Funding Method at EuFxBank?

It allegedly supports Visa, Mastercard, wire transfers, and crypto payments.
What Trading Instruments are Available at EuFxBank?

It claims that you can trade with forex, commodities, indices, cryptocurrencies, and stocks.