March 10, 2023
Reading Time:
4
min
Eurinvesting Review: Who Is Behind Eurinvesting.Com?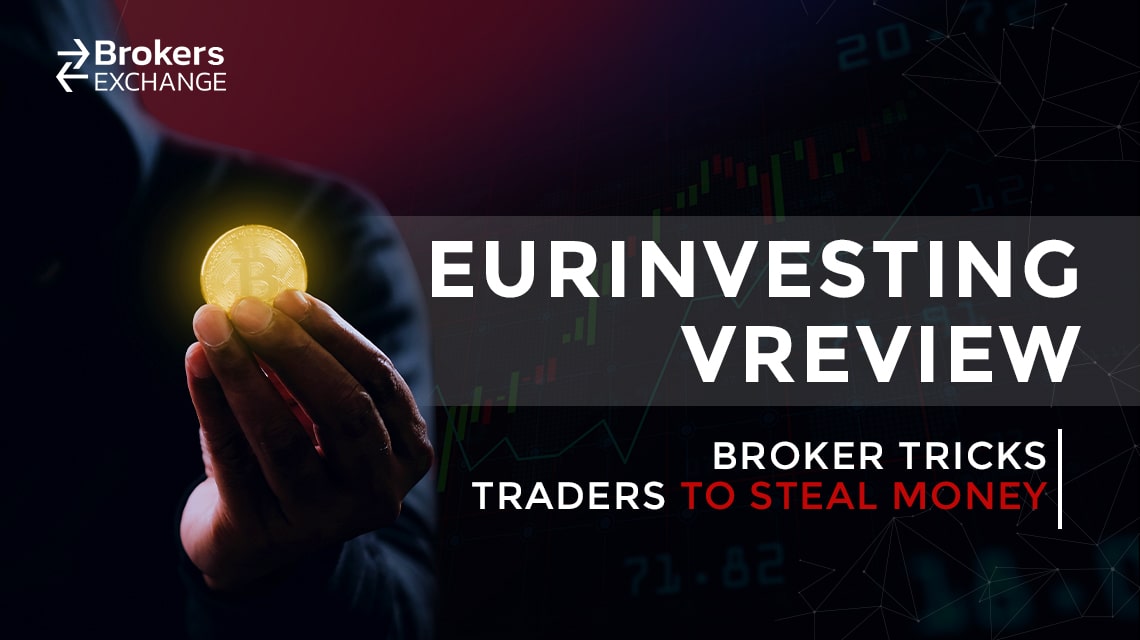 Eurinvesting Review, If you look at their web page, you can see many indicators this broker is a fraud. This broker scam is entirely untrustworthy. The site uses terrible visual elements hoping to lure traders. It's our job to help you avoid this scam, so we have written this Eurinvesting review. Stay tuned!
| | |
| --- | --- |
| Company | Levictus LTD |
| Website | Eurinvesting.Com |
| Address | Majuro, Republic of the Marshall Islands |
| Email | [email protected] |
| Phone | n/a |
| Minimum Deposit | $100 & $250 |
| Leverage | 1:1000 |
| Bonuses | Yes |
| Regulation | No |
| Warning | No |
Regulation of Eurinvesting and Safety of Funds
First and foremost, let's talk about regulation, as that is the most important thing to check before any investments. This goes without saying! 
You can see that this firm uses the EU flag. What's interesting is that it claims to have this address: Majuro, Republic of the Marshall Islands.
Is this a member state? No, it is not! This is just an offshore scam shelter with unregulated markets. You are wrong if you think this broker scam somehow operates within the conditions of the EU regulatory framework. 
Keep in mind the fact that this broker is in direct breach of the mentioned framework! It promotes bonuses, which are prohibited within the Union, following a series of misuses.
Note: It wouldn't be wise to lose all your money to scammers. By signing up and funding an unregulated broker, you are indirectly tossing your funds away for a worthless and illegal cause. Always remember this. 
Trading Platform Overview
Eurinvesting broker claims to have web-based trading software. However, nobody is able to verify that this is true. Why? The platform is not accessible at all. 
The process of loading a page lasted more than 60 seconds. After all, it did not appear like the page was functioning at all. Bear in mind that trading on the platforms of offshore brokers is always a bad idea. It's bad even when such a platform is tied to a known platform like industry-standard MetaTrader5. 
That is because such organizations tend to abuse their software. This may result in you not trading at all. Any movement on the software could be smoke and mirrors. Moreover, the money invested could be filling the scammers' pockets.
Interesting fact: Aside from its superior PC version, MetaTrader5 is also available as a web-based software. It is accessible from any current browser. There is even a mobile app for the platform, available for Android devices.
Eurinvesting Deposit and Withdrawal
There's some odd information regarding this website. The minimum deposit amount shifts relying on which section of the page you are visiting. Sometimes it's $100, and sometimes it's $250. 
The broker claims to support credit cards, debit cards, and bank transfers in the legal docs. On the other hand, the footer counts crypto wallets as available payment options. Furthermore, the EurInvesting broker mentions commissions and fees but does not disclose the meaning of all of them. So, you end up getting no information at all. 
The data regarding payments is vague and incoherent. Do not invest your funds here!
Note: There are firms that market systems—signal sellers or bots—and often sell unsafe things that do not yield profitable results. These scammy web pages often prey on new traders on many venues or forums. Keep this in mind!
Eurinvesting Offers Bonus and Promotions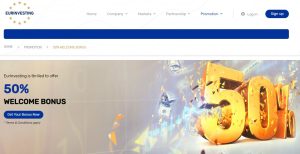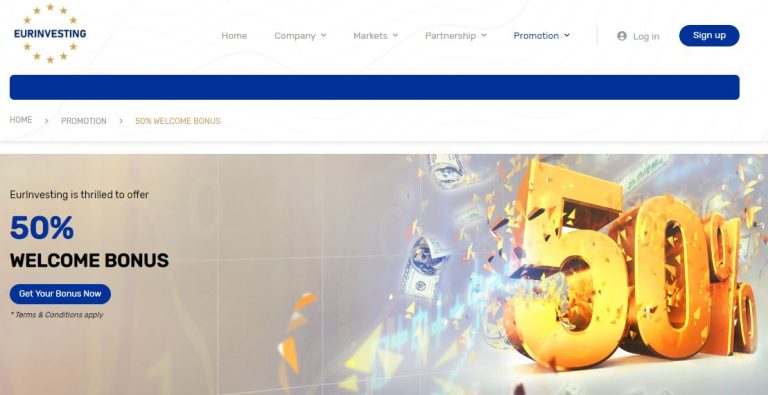 It's funny how Eurinvesting says to give a 50% deposit bonus. However, the minimum deposit with the broker is set to $100. This suggests that you can start trading with $150. Do not believe this! Never accept any bonuses from this or any unlicensed company. 
You will see that before you reach a specific turnover, you won't be able to withdraw any funds from your account. This limitation is unfair as is. 
It is evidently impossible to transact a million bucks with a bonus of $100. Even worse, there is no way to transact a million bucks required in the example we mentioned. Undoubtedly, you must stay away from unlicensed entities' deposit encouragements!
How Is the Scam Conducted?
Scammy companies have various tactics to scam you. You will witness withdrawal issues almost always. Similarly, you will undergo strange fees. Keep in mind that there are phony high fees, regularly exceeding 20%. Sometimes those will be called withdrawal processing fees.
Also, there's practically always a profit fee. Bogus websites want you to pay these fees in advance.
Correspondingly, there are irrational guaranteed returns. This is another famous deceit method that you should be aware of. Fraudsters will always promise you huge guaranteed returns. Note that trading with leveraged instruments bears substantial risks. Any broker scam will try to convince you that your returns are 100% guaranteed.
Please try to utilize brokers that have a license and are regulated. This is critical.
Eurinvesting Overall Summary
Hopefully, this Eurinvesting review provided some kind of value to you. We have the purpose of saving as many traders from losing their funds.
Eurinvesting broker doesn't have any regulation, and their platform is poor. Moreover, the address is completely fake too. The payment processor has many flaws as well. Finally, there are many complaints and negative reviews about this forex broker.
Always verify the data of all the FX businesses carefully. Do this before you conclude any transaction. Lastly, we hope that our Eurinvesting review really was advantageous.
FAQs About Eurinvesting Broker
Are My Funds Protected at Eurinvesting?
No. Your funds will not be protected at this broker. Keep this in mind.
Is Eurinvesting a Legitimate Broker?
The Eurinvesting broker doesn't have any license. They are just another investment scam.
Does Eurinvesting Offer a Demo Account?
There are no details concerning any demo accounts on this so-called forex broker.