March 06, 2023
Reading Time:
4
min
Everrise Brokers Review: Reasons You Must Avoid This Broker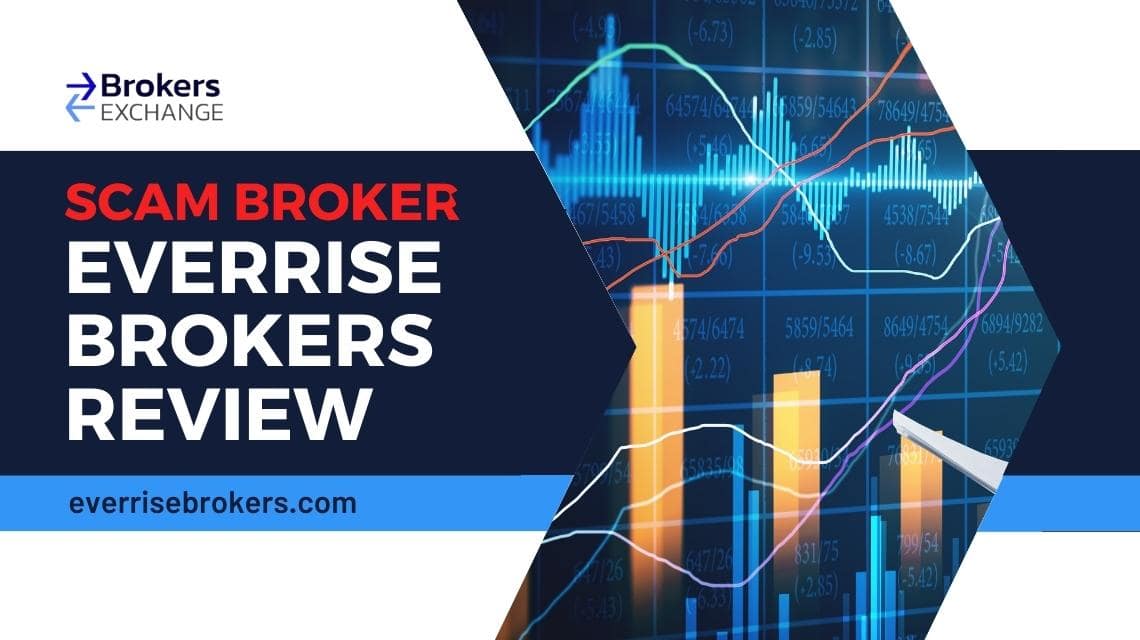 In the financial market of today, with many people globally contributing to trade, it is a given that a broking company must have a trading license. How else would we know who to trust? Read this Everrise Brokers review to learn about one you shouldn't trust with your money.
Clothes make the man, my grandma used to say. In any online business, presentation and first impressions are key. Looking at Everrise's website, we see a decent page until we start reading the letters… Then, something becomes almost uncanny.
Was this site made by a bot, or by somebody who can't speak decent English? No, not really. Scammers made it, and what they lack in language skills, they make up in shady business practices.
Everrise is an unregulated, illegitimate business that preys on the naivety of the beginner and the general lack of information regarding the lucrative business of online trade.
| | |
| --- | --- |
| Company | Everrise Brokers |
| Website | EverriseBrokers.Com |
| Address | Av. des morgines 12, 1213 Lancy, Switzerland |
| Email | [email protected] |
| Phone | N/A |
| Minimum Deposit | $10.000 |
| Leverage | 1:200 – 1:300 |
| Bonuses | N/A |
| Regulation | No |
| Warning | FINMA, CONSOB |
Everrise Brokers Regulation, and Funds Security
Any renowned company will be happy to list its hard-to-obtain licenses, awards, and great career milestones. These are not only good advertisements, but a crucial point of scrutiny by potential investors.
Everrise Brokers has no licenses to show because they adhere to no regulatory standards set anywhere in the world as we speak. For a company to conduct business without possessing a license, is a crime.
While searching for a potential license, we have combed through more than several registers that regulators keep, including BaFin, FCA, NFA, ASIC, CySEC, and several more. These public databases contain information on all companies the jurisdictional financial authority regulates. And while we found no information that could back the claims of Everrise being a certified agency, the following two results did show up. 
We can find a warning by FINMA on this site: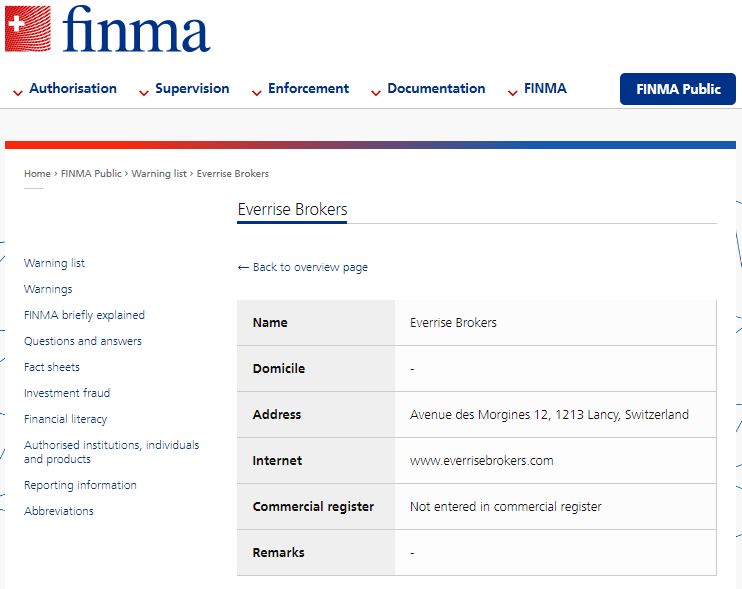 And by CONSOB by following this link: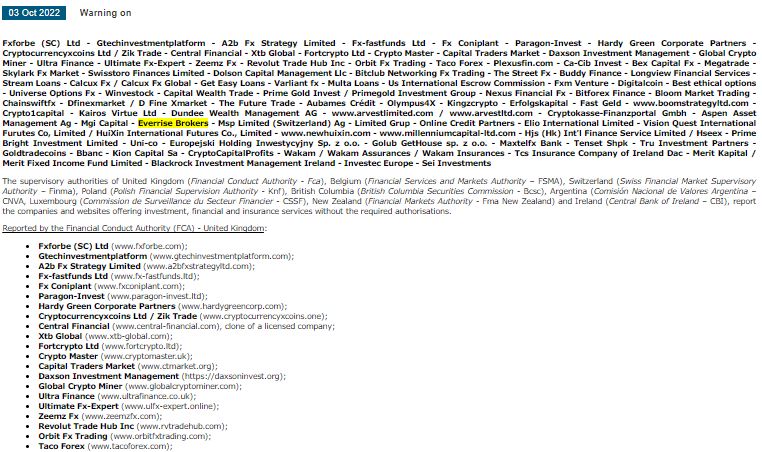 A company that would offer broking service in an EU member nation must fulfill these conditions:
€730.000 in starting capital
€20.000 in a compensation scheme
Leverage is restricted to 1:30
Negative balance protection is assured
Transactions must be completely transparent
Bonuses are forbidden
Trading Platform Supported Overview
A respected broker will always try to cater to the needs of their clientele. This would, in turn, mean that they would allow for use of as many trading platforms as possible.
Again, Everrise Brokers fails to impress. This company offers only a web trading platform that is accessible through a web browser. Although this would, in theory, offer high speed and high-security connection, the reasons behind Everrise's decisions are more nefarious.
Because they offer only a single piece of trading software, it is much easier for fraudsters to manipulate the data shown on a user interface. These wicked people can in this way show the unsuspecting victim whatever they deem necessary in order to extort more money.
The web trader they offer is barebone and shows very limited information. It is a very decent-looking package in itself, but this is all it is – a bunch of nice colors and lines made to deceive the next target.
Funding Methods Available at Everrise Brokers
A good camouflage is a good beginning when waiting in an ambush, and a good weapon is another plus. Everrise Brokers will fake legitimacy by offering a large palette of different funding methods on their website.
These do not in any way convey their underlying intent and mimic the financial flexibility of their licensed counterparts. All the most popular transaction methods are seemingly supported, such as Card Payments (Visa, MasterCard), bank wire transfers, e-wallets, and even cryptocurrency.
When our staff tested how deposits function at Everrise Brokers, we found out that no deposits can be completed at this time. Withdrawals are intentionally made unnecessarily complicated, and time-consuming in order to facilitate their fraudulent designs. The withdrawal policy is convoluted and confusing, to say the least.
How the Scam Is Undertaken
There are several layers that constitute this scam. First, the entry bar has been set very high, with initial deposits ranging from $10.000 for low-range accounts to as much as $250.000 for some premium accounts.
The second layer would be complicated terms of the contract, and unspecified bonus conditions. With the help of a mock trading platform, numbers and graphs are manipulated to deceive the victim into depositing more funds.
The third, and final layer is a complicated withdrawal procedure. It requires the victim to send a number of legal documents and personal identification for "reference" by a "financial manager".
Of course, no financial manager exists, and the victim will never be able to withdraw their investment. The money is gone, and if the victim forwarded their personal identification, there is a good possibility the fraudsters will steal the victim's identity. The risk is high, and not only limited to finance.
Everrise Brokers Summary
We can only describe Everrise Brokers as a fraudulent entity, looking to unlawfully take people's money. Although seemingly well-made, their website holds telltale signs of the nefarious purposes of its design.
The company is unregulated, and two European financial regulation entities have published warnings about Everrise Brokers' illegitimacy. The first deposit sum is exorbitant, to say the least, and withdrawal is almost impossible to achieve.
A prospective investor takes further risks when attempting to withdraw currency by giving the swindlers their personal information. This information can then be of use while committing other frauds such as identity theft.
FAQs About Everrise Brokers Brokers
What Is The Minimum Deposit at Everrise Brokers?

There are a number of accounts Everrise Brokers is offering. On the low-end account deposit is $10.000, and for high-end accounts is as high as $250.000.
Do Everrise Brokers Offer a Demo Account?

It is unclear whether Everrise Brokers offer a demo account. What we do know is that much of the information is purposely concealed from traders.
What Instruments Can I Trade with Everrise Brokers?

Allegedly, Forex, Cryptocurrencies, Indices, Stocks, and Commodities are some of the instruments offered, but the information on this is unclear as well.