October 17, 2023
Reading Time:
4
min
ExorCompany Review, or Why One Must Cautiously Choose Trading Partners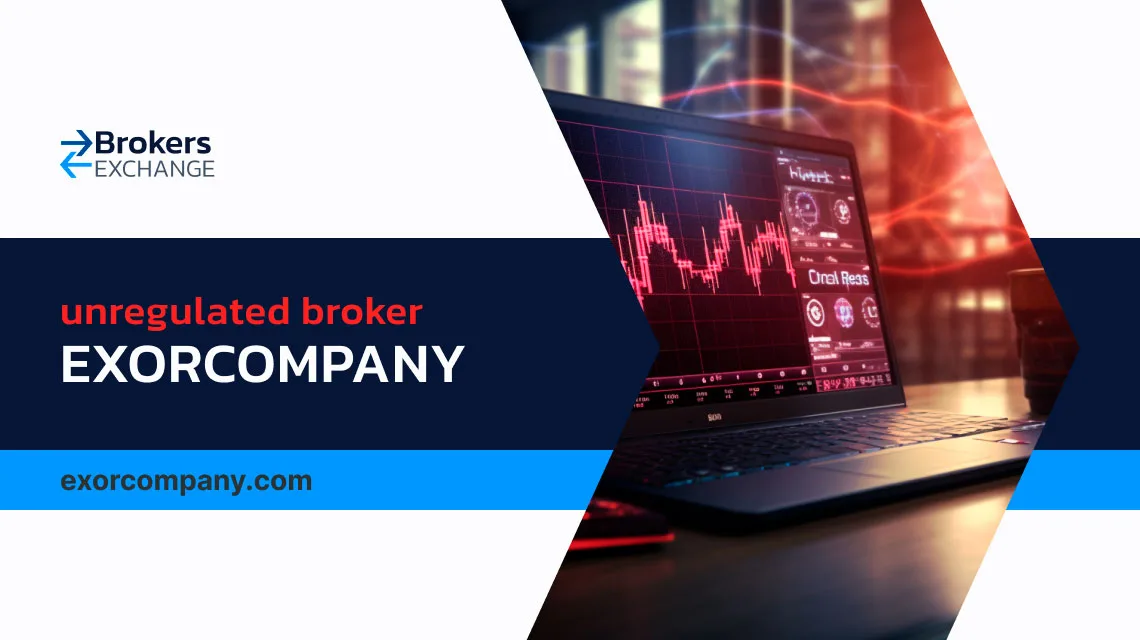 ExorCompany.com is a website that claims to offer financial freedom through forex and crypto trading. However, several red flags indicate this company is likely a scam.
ExorCompany at a glance
The company's website has a professional appearance and offers a variety of features, such as various subscription plans and information resources (trading reports, instructions and guides, FAQs).
Yet it looks fishy even at the first glance. It features glaring grammar mistakes, such as "precision metals" instead of the "precious metals", a commonly used term known to anyone even outside of the trading industry, and typos in such basic things as the Contact Us form. No trustworthy and respectable company would allow such blatant mistakes on the official website, i.e., right in the face of their potential clients.
Company Type

Trading Broker

Legal name

Exor Company LLC

Regulation

Unregulated (no valid regulation licence)

Registered in

New Zealand

Established

2022-04-21

Website
https://exorcompany.com/
Financial Authorities Warnings
Contacts

4 Williamson Avenue, Ponsonby, Auckland 1021, New Zealand

+12543130169

+6432882107

+447452234891

Activity areas

India, Netherlands, Saudi Arabia, Bangladesh and Qatar

Investor Protection:
None
A closer look
More thorough research reveals a number of red flags that suggest ExorCompany.com may not be a legitimate investment platform. In the first place, as WikiFX suggests, the company has no valid license with any financial regulator. Secondly, the website makes a number of unrealistic promises about the potential profits that can be made through trading on its platform. The FMA issued a warning regarding this concern. 
In addition, the information about the company owners and executives is given in a rather dubious manner. In particular, it is written that the Chief Financial Officer has a Ph.D. in Finance & Economics yet he is constantly referred to as 'Mr' rather than 'Dr'. The fact that it alternates between 'Mr. Huntly' and 'Mr. Thomas' (where Thomas is actually the first name) only makes the bio look more suspicious.
Moreover, the owner of the domain name associated with this site is hidden in the Whois database (see the ScamDoc report). It is usually risky or fraudulent sites that tend to hide their information in the Whois to prevent aggrieved users or authorities from tracing back to the owner(s).
Finally, two emails are provided as a form of contact ([email protected] and [email protected]), but the website does not have an email server.
Perhaps fortunately for the potential clients, the website traffic is very low, as indicated by both ScamRate and WebParanoid. Such low traffic also speaks against ExorCompany.com, as a reliable platform would have more users and, therefore, higher traffic.
At the same time, the company has a 4.2 rating on TrustPilot. It should be noted, however, that this rating is based on just 7 reviews, all written in 2023, whereas the company claims to be active since 2012 and its current website is active since April 2022. Reviews alone do not guarantee a company's reliability.
The Verdict
Overall, there is a significant amount of evidence to suggest that ExorCompany.com is not a legitimate investment platform. We would strongly advise against investing any money with them. The company exhibits a number of red flags, most importantly, a lack of transparency and unrealistic promises. With many legitimate investment opportunities available, there is no need to risk your money with a company that is extremely likely to be a scam.
Specific concerns about ExorCompany.com are:
Lack of transparency: ExorCompany.com is not registered with any financial regulators. This is a major red flag, as it suggests that the company may be operating in a fraudulent manner. The company also hides the owner of the domain name associated with the corporate website.

Unrealistic promises: ExorCompany.com's website makes a number of unrealistic promises about the potential profits that can be made through trading on its platform. For example, the website claims that traders can expect to earn daily returns of up to 2%. This is simply not realistic, and any company that promises such high returns is likely to be a scam.
The Alternative
Traders should be cautious about the tools and platforms they use so as not to fall victim to fraud. Companies like ExorCompany.com may try to lure users by offering subscription plans with high profits and access to trading reports. As an alternative, one can take advantage of  AI tools such as AI.F Analysis Bot. It can help to analyze huge volumes of data and identify trading opportunities.
In particular, AI Analysis Bot has four subscription plans with pricing varying from $9 to $289 per month. The Basic plan offers 5 FX and 5 Stock analysis reports monthly, while the Unlimited Plan provides unlimited access to all major market reports. Conveniently, there is a 14 day free trial offer for early bird users. This is an important benefit, because the most common drawback of AI tools is their cost, and traders should carefully evaluate the cost-benefit ratio before using such tools.
More tips on Artificial Intelligence trading:
Skills and experience come first:

It is important for traders to have a good understanding of the markets and trading strategies before using AI tools..

Do your research:

There are many different AI tools available, and it is important to choose a tool that is reputable and has a good track record.

Evaluate your risk tolerance:

AI tools can help to reduce risk, but they cannot eliminate it. Traders should carefully consider their risk tolerance before using AI tools.
Whether or not to use AI tools for online trading remains a decision that should be made on a case-by-case basis, taking into account the individual trader's skills, experience, and risk tolerance.
FAQ:
What is ExorCompany?
ExorCompany is a crypto and FX trading hub - or rather, that's what it claims to be.
Is ExorCompany trustworthy?
No. ExorCompany most likely appears to be a scam.
Can AI trading tools really help investors?
AI tools can be valuable for online traders of all experience levels, but they are not a silver bullet and should not be used as a substitute for the trader's own judgment.