March 11, 2023
Reading Time:
4
min
FewaTrade Review: All The Lies About FewaTrade.Com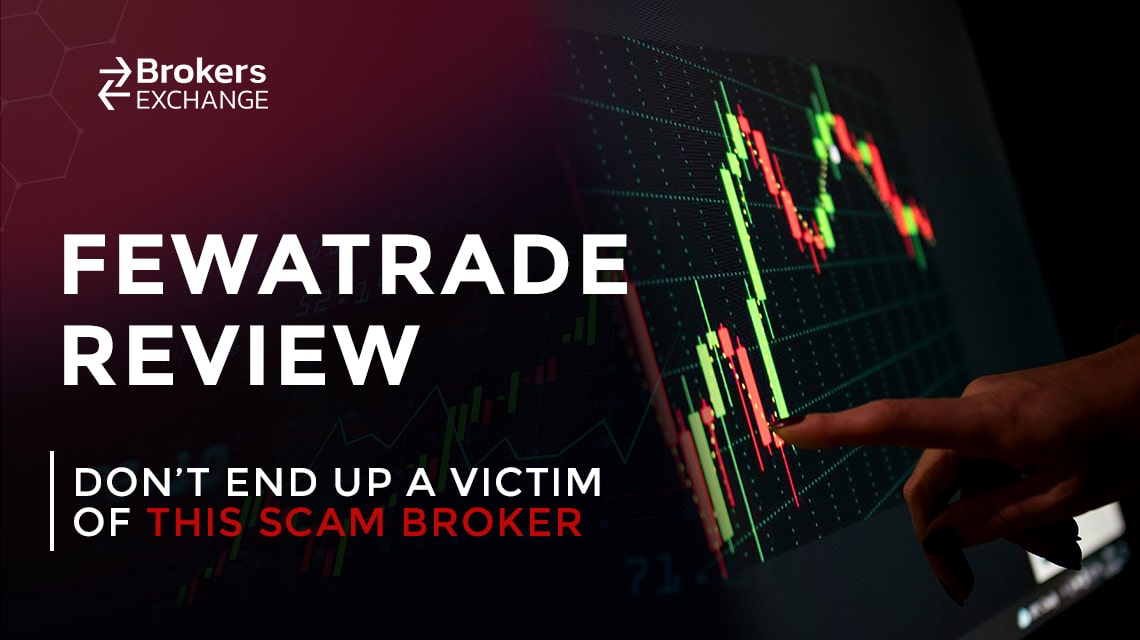 FewaTrade Review, As generic and fake as they can be, the FewaTrade website is dangerously similar to several other phony brokerage pages we've already reviewed. Nothing surprising about that, since the scammers tend to act like look-alikes in their desperate attempts to attract new victims. 
Their service, license, and products aren't genuine, so naturally, their websites could appear similar in many ways. What they usually practice to come off as professional and legitimate is copying the layouts of famous websites and then from each other, too. 
We compel you to read our FewaTrade review before making any decision or action concerning investments here!
| | |
| --- | --- |
| Company | OliNo Energy B.V. |
| Website | Fewatrade.Com |
| Address | UK |
| Email | [email protected] |
| Phone | +44 7451 2852 72 |
| Minimum Deposit | $250 |
| Leverage | 1:20 |
| Bonuses | N/A |
| Regulation | Unregulated |
| Warning | N/A |
Is
FewaTrade a Reliable Broker? Funds Safety and Regulation
Although FewaTrade doesn't explicitly announce it, the UK phone number suggests their office is located in the UK. As expected, we had to first check their presence in the commercial register of FCA. The top regulator in the UK and one of the most influential financial authorities in the world, FCA thoroughly checks every broker before licensing them.
FewaTrade doesn't appear in the FCA database as a licensed company, which means they don't meet the regulatory conditions. First and foremost, this company would have to invest at least 730.000 GBP in their business. In all honesty, cons of this type can hardly compete with them. The safety of clients' investments is ensured by storing them in segregated bank accounts so the company may not have access to them and steal the capital. 
FewaTrade mentions OliNo Energy B.V. as their owning company. Although not particularly big, this firm is established in the Netherlands and apparently has nothing to do with the con broker. 
If that implies that FewaTrade is located in this country, our research showed another disturbing fact. This company was not regulated by the jurisdictional authorities there either. The AFM is in charge of supervising brokers in the area and they do not have any record related to FewaTrade.
Before making a final conclusion about FewaTrade, we combed through several more databases, including BaFin, AMF, ASIC, CySEC and CONSOB. They did not appear in any. It's clear as day that FewaTrade is not trustworthy, but do read our review till the end for more reasons why we do not recommend this trader.  
FewaTrade
Trading Platform
The unavailability of a Demo account that would be suitable to test the trading platform and conditions forced us to open a live trading account. However, due to technical reasons, we weren't able to log into that account. The verification code never came so we couldn't access the user area at all. 
What seemed utterly suspicious even before we encountered issues with account registration is how FewaTrade doesn't even mention any sort of platform. 
Except for a few claims on the home page saying that this company owns the world's most renowned trading software, no preview is actually available. 
The instruments section of the site shows a preview linked to TradingView, which is a free service.
Since FewaTrade didn't grant us access to their trading terminal, we couldn't preview and test it. For that reason, it's questionable if the broker even has a trading platform at all. By omitting the crucial element of trading, FewaTrade earns a red flag. 
Deposit and Withdrawal at FewaTrade
FewaTrade remains mysterious about the depositing and withdrawal methods as they are about their trading terminal. Anything remotely connected to funding is the Live Payments page that shows supposedly processed BTC transactions. 
We could already assume the single purpose of this: convincing customers that FewaTrade does pay them. Highly unlikely in reality, this is another obvious lie by a con artist named FewaTrade. 
The Legal Terms page states that the ''payment will take place by means of the purchase of pre-paid credits''. These so-called credit traders must first purchase online and pay for them electronically. Unlike the secure payments from credit and debit cards, this transaction is in no way safe or secure due to the receiver keeping their full virtual anonymity. 
This allows for the safe avoidance of the legal charges and consequences of their fraudulent actions so they can continue to defraud clients without disturbances!
Unregulated Brokerage Techniques
Although it may not look like FewaTrade is a scammer at first sight, that is exactly what they're aiming for. Masters at disguise and taking on other identities, swindlers possess impressive skills of pretending and manipulation. 
You might even notice the inconsistencies in everything FewaTrade claims. Or the suspicious lack of transparency. However, that won't prevail in your decision when the boiler room agents start filling your head with visions of wealth and quick profit. Friendly sweet talkers will even warn you about potential risks so their offer doesn't seem like it's too good to be true. 
Once you start investing is when you are fully entrapped and become a puppet in their hands.  In order not to become another one of their victims, please consider investing with some of our broker suggestions instead. More on that in the next section.
FewaTrade Overall
Summary
Our FewaTrade review proves this fraudulent agency is not in the slightest worth your precious time and money. In more than one crucial aspect of their brokerage business, FewaTrade fails to prove its legitimacy and genuineness. Nothing is more solid evidence of that than the missing regulation. 
The way we conducted our investigation regarding the regulatory status of FewaTrade is something you could do, too. As soon as you encounter a broker as suspicious or worse, remember to always consult the jurisdictional financial authorities. Only after you've made sure you're not exposed to any risks from being robbed should you start considering investing. 
FAQs About
FewaTrade
Broker
Is FewaTrade Legally Registered?
FewaTrade is not properly regulated or authorized for any of the services they offer.
How Secure is the FewaTrade Broker?
FewaTrade cannot be considered secure because this trader doesn't follow any regulatory directives.
Does FewaTrade Have Hidden Fees for Withdrawal?
Since this is a fraud we're talking about, any additional unreasonable and sudden fees are possible. Cons don't disclose all the conditions they impose.