September 20, 2022
Reading Time:
4
min
Fincloud Review: Who is Fincloud Broker?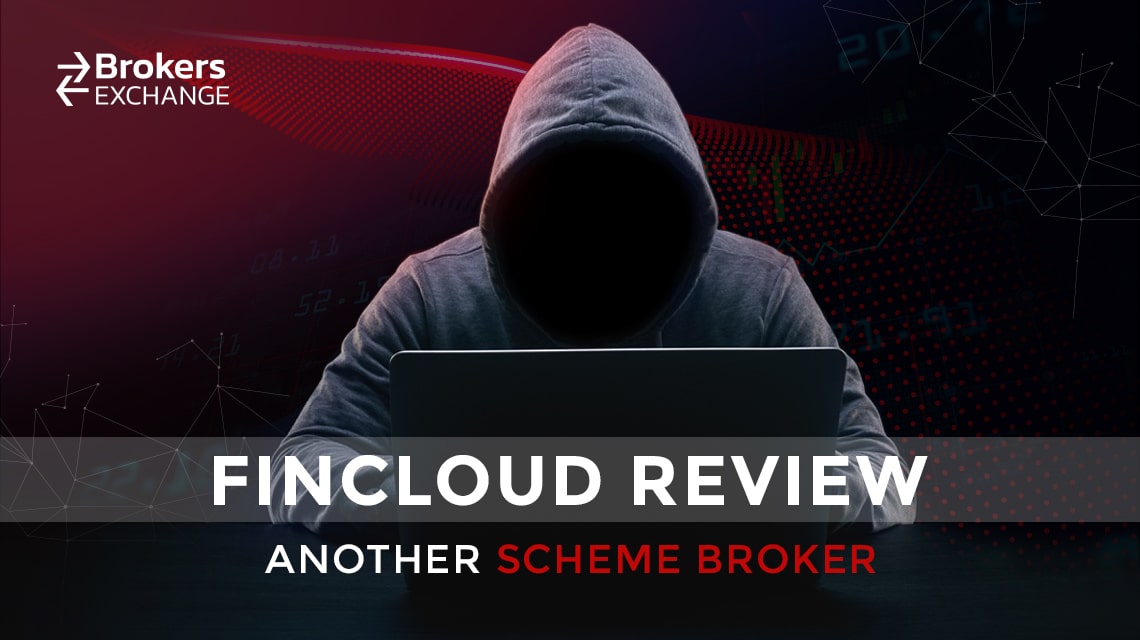 Founded in Saint Vincent and the Grenadines, the Fincloud firm is another scheme brokerage that operates just like every other fraudulent organization with the same intention – taking away people's money.
This Fincloud Broker review will go through every known fact about the Fincloud scam to prevent any further fraud. 
As stated on their official website, the company behind Fincloud is Surreptitious Group LLC. Upon checking this company, we concluded that this business does exist. 
However, while going through the Terms and Conditions, we couldn't find any legal documentation that verifies that this entity is the owner of Fincloud.

Even if this group is a legal owner, that doesn't guarantee any security of clients' money.
The Fincloud scam gives us enough evidence to be sure that they are not a legitimate Forex provider, but rather a scheme brokerage. Fincloud is already blacklisted by many financial regulators: CONSOB in Italy, CNMV in Spain, FSMA in Belgium, etc. 
Beginners in trading often get misled by promises about becoming rich if they invest in certain stocks. Of course, when dealing with these kinds of online trading scams, most of the time you're not even investing money – you're just giving it away for free.
Additionally, you should avoid trading with dishonest brokers such as SoltechX Broker, Beneffx, and BBanc.
| | |
| --- | --- |
| Company | Fincloud |
| Website | Fincloud.World |
| Address | First ST Vincent Bank LTD Building, James Street, Kingstown VC0100, St. Vincent and the Grenadines |
| Email | [email protected] |
| Phone | IT: +390507620110SP: +34984884169DE: +43720022334PL: +48221857500RU: +74952250328 |
| Minimum Deposit | $250 |
| Leverage | N/A |
| Trading Bonus | Up to 25% |
| Regulation | Unregulated |
| Warning | CONSOB, CNMV, FSMA |
We found out that based on Fincloud complaints against the broker, most of the fraudulent activity comes from these countries:
Germany
Chile
Australia
Italy
However, the list doesn't end there, there are also complaints about the broker from the UK, Austria, South Africa, and more.
Regulation and Security of Your Funds at Fincloud
The Fincloud firm is an unlicensed organization and your funds are at high risk when dealing with them. If we take a look at the recent CONSOB warning, we can see that the blacklisting of Fincloud World has been ordered.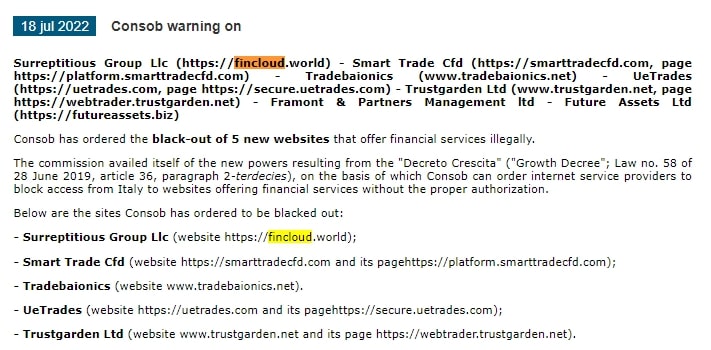 Fincloud gives us even more reasons to be sure that it is just another scheme brokerage. If we take a closer look at their Terms and Conditions, we find many scam clues one of which is that the conflict between the enterprise and the client will proceed to the courts in Poland. 
That seemed quite odd, so we had to check the Polish Financial Supervision Authority.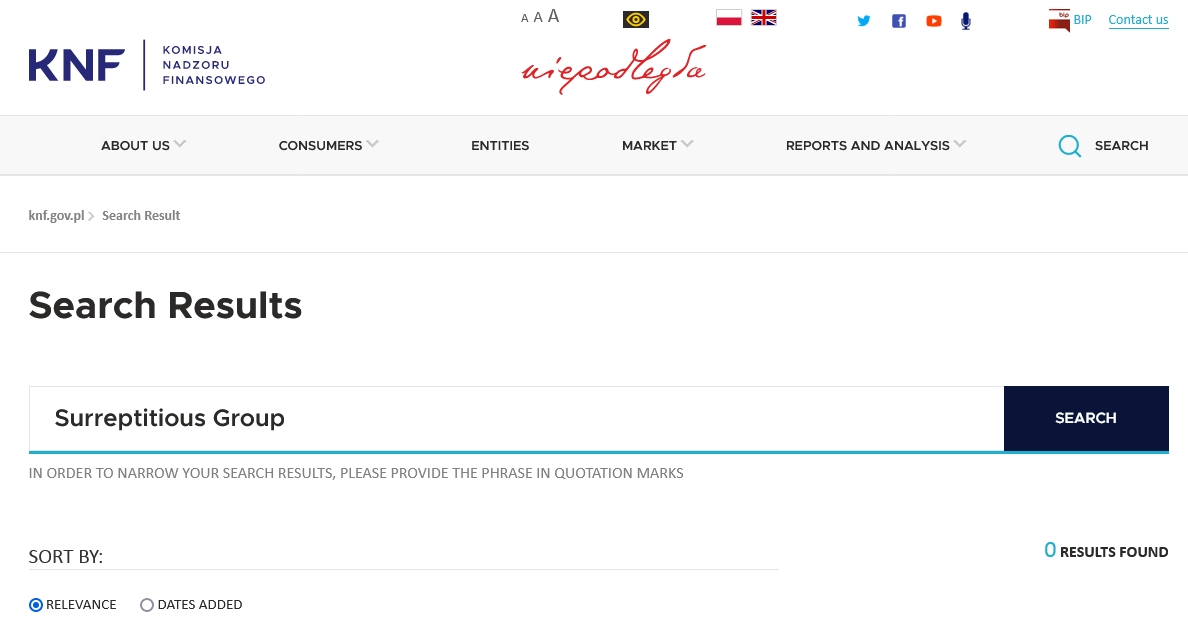 Just as expected, there was neither Surreptitious Group nor Fincloud in the register. 
Fincloud Trading Platform Review
The demo account is not available, so in order to access the WebTrader, you have to create an account and deposit at least $250.
Legitimate brokers offer clients choices of trading software, including desktop programs, smartphone applications, and web-based platforms. The most widely used platforms in this industry are MetaTrader 4 (MT4) and MetaTrader 5 (MT5). 
These platforms have strengthened themselves as industry standards because they offer various features, including many options for adjustments, designing, and implementation of special scripts for automatic trading, etc.
Available Trading Accounts at Fincloud
There are a handful of available trading accounts. These are the types accessible if you decide you want to try your luck with Fincloud:
Start – $250
Standard – $500
Silver – $1,000
Gold – $5,000
Platinum – $15,000
Diamond – $50,000
There is also a bonus available, starting from 5% to 25%. 
When you look at the minimum deposit available on Fincloud, you see an outrageous amount of money. Some of the most trusted Forex providers allow deposits from even $1, like FBS Trading Broker.
Deposit and Withdraw Methods For Fincloud
Fincloud fits perfectly into a scamming pattern of directing potential victims to shady payment processors that don't allow refunds to be requested. 
They accept wire transfers and credit/debit cards.
Legitimate brokers typically offer clients a wide choice of transparent payment methods, including bank transfers, credit/debit cards, and established e-wallets such as PayPal, Skrill, or Neteller.
It is certain that you will encounter withdrawal issues.
Here's a Look at How The Scam Works
If you get in touch with any of these sites that promise to make you rich, they will first begin to convince you to make a small "investment" of a few hundred dollars.
 If it turns out that you're susceptible to fraud, convincing scammers will guide you to give them even more money. 
They will probably even deceive you to think that your initial investment has already generated a huge amount of profits in a short time.
But the truth is that your money will never really be invested. It will go directly into the pockets of the fraudsters and you will probably never see it again.
They hide behind false and overseas companies that aren't subject to any regulation and control. 
Your efforts to withdraw your profits or deposits will be blocked by confusing clauses in the Terms and Conditions, very high volume requirements, and very large withdrawal costs.