March 25, 2023
Reading Time:
5
min
Finero Review: Trading with Finero.Co.Uk Is Risky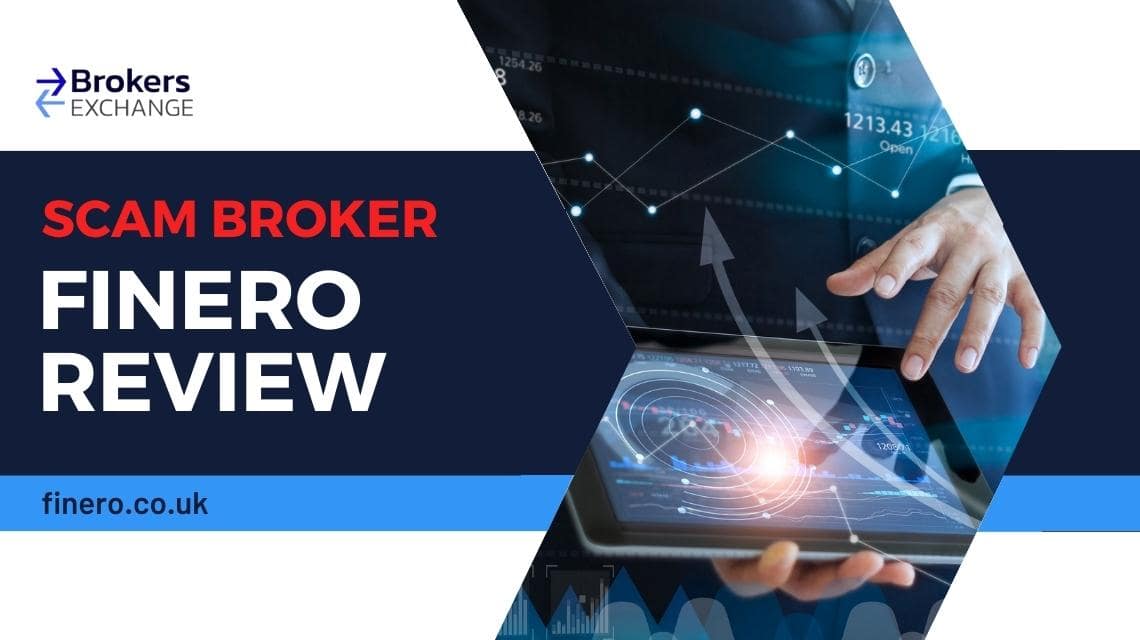 Finero is an unregulated scam broker company. This company is registered in the UK under registration number 14218667, but is not regulated under FCA. It is a dangerous entity that is offering their services illegally, through a registered front company.
Having no trading licenses doesn't bother these guys. They will be more than happy to offer incredible investment opportunities, and quite unbelievable deals and bonuses. Remember, dear reader: 
if something seems too good to be true, it most certainly is. These fakers offer leverages that are larger than what either the UK or the EU allow. Furthermore, bonuses they offer are illegal as well.
Company

Finero

Website
Finero.Co.Uk
Address

110 Bishopsgate, London, England, EC2N 4AY

Email
[email protected]
Phone

+48573502496

+48221521338

Minimum Deposit

€250

Leverage

1:1000

Bonuses

Up to 30%

Regulation

Unregulated

Warning

None currently
Finero Reliability – License and Fund Security
As a legal front, Finero is registered as a company that provides services of Administration of financial markets, and Fund management activities. Nowhere in the description does it claim to be offering Broker services, and the company does not have a broking license.
Financial regulator that has jurisdiction in the UK is named Financial Conduct Authority, or FCA for short. This agency has very strict rules with a bar set high pertaining to broking business:
A company must own at least £730,000 of initial deposit

Compensation scheme of £85,000 must be provided

Maximum allowable leverage is 1:30

Funds that the investors have deposited must be separated from the company's own funds in segregated bank accounts

All financial transactions must be fully transparent to the client, and be reported to the financial authority

Risk reduction in form of negative balance protection must be in place, to prevent clients from losing more money than they have initially invested
When we examine services that Finero claims to provide, we will find them directly conflicting these rules. FCA imposes a maximum leverage restriction of 1:30. Finero blatantly ignores this by offering leverage as high as 1:1000.
We learned from their site that the vast majority of Finero's clients live in Poland, or Greece. To alleviate any doubts, our staff has checked databases of other European regulators, but primarily Polish KNF and CySEC from Cyprus. 
After finding no entries, we made sure to check CONSOB, BaFin and FINRA as well, with no results. Small wonder, since these agencies all have additional MiFID rules in place as well.
Certainly, a company that operates from the UK and offers services to clients in the EU must have required licenses in one of both jurisdictions. Finero has none, and this is solid proof of their intentions being fraudulent.
Trading Platform at
Finero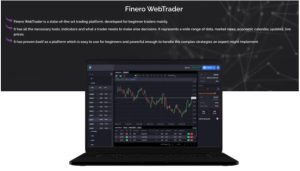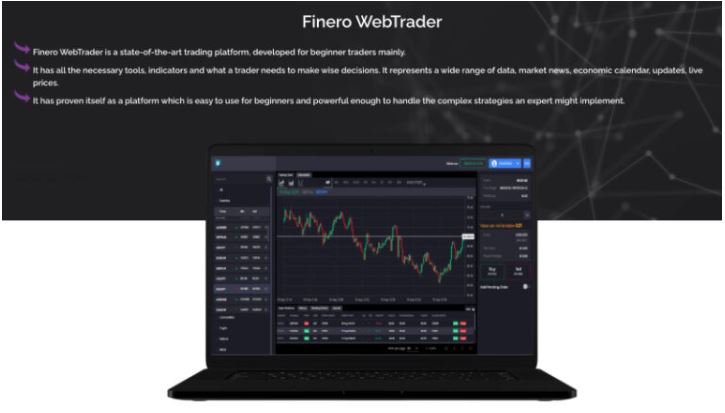 Since quality of service is a non-issue for scammers, they usually don't allow for more advanced trading platforms. The end goal is not successful trade, but pulling the rug from under their investors' feet. Finero is no different, offering only a basic Web Trader.
Successful broking companies also offer a Web Trader, but this simple software is usually overshadowed by higher quality solutions. MetaTrader4 and MetaTrader5, developed by MetaQuotes, is one of the preferred means of online trade. Some offer highly developed proprietary solutions that further integrate automated trading and other options.
By using such a rudimentary platform, the frauds can easily alter the numbers and charts a victim is viewing. This way they can encourage further deposits or withdrawals of funds.
Account Types Available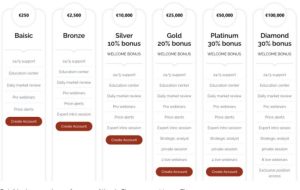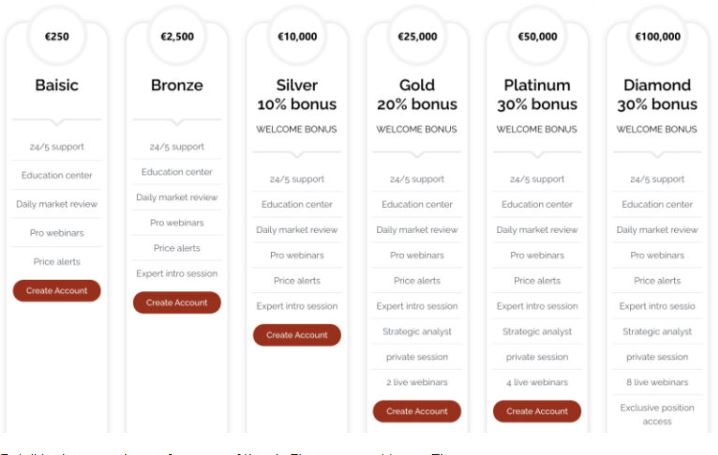 We can see another legal discrepancy when we look at Finero's account types. We will touch up on the discrete accounts soon, but what really sticks out is the bonus situation. As we know, neither the EU's nor the UK's regulators allow any bonuses.
The other point of scrutiny is how the account types are differentiated between one another. A successful broker will have different services and methods of charging for these services. The prices of these would reflect on the account types. Finero's account types only differ by deposited amount of currency, and more expensive ones yield greater perks.
Here are the account types that Finero offers:
Basic –  €250 or more, no bonus

Bronze – €2,500, no bonus

Silver – €10,000, 10% bonus

Gold – €25,000, 20% bonus

Platinum – €50,000, 30%bonus

Diamond – €100,000, 30% bonus
All these accounts with ridiculously high deposit amounts and unbelievable bonuses are more reminiscent of a pyramid scheme than a broking company. Let's not forget bonuses are forbidden both by the UK and EU authorities!
Finero Deposits and Withdrawals
Seemingly, deposits and withdrawals with Finero are handled through the most popular channels. The catch is in the fact that no "manual" transactions will ever be approved, only Cryptocurrency transfers. Cryptocurrency transactions are notoriously difficult to track, which offers a layer of protection to the scammer.
These are the methods that are available for account funding:
Cryptocurrency payments

Bank Cards

Bank Wire Transfers
All withdrawals are handled according to Finero's Terms of Service. In this document some very steep withdrawal fees are outlined. Fees ranging from €25 to €250 are charged for select methods of payment. Additional 10% levy is also charged, followed by a transaction fee of €50. All in all, a pretty dastardly deal.
How is the Scam Performed?
The most powerful tool in every scammer's arsenal is mimicry. Finero appears to offer great deals, competitive market prices and great bonuses. A large leverage is further interesting to avid risk-takers, who are drawn in to the prospect of quick profits.
The scammer will greatly encourage deposits to be made in Cryptocurrency. These transactions are quite difficult to track, and this is what the scammer is counting on. After the deposit has been made, only a live account is available for users. In the Web Trader, the frauds will edit market data so as to swindle as much money as possible from their victims.
When a client wishes to make a withdrawal, exorbitant fees apply to the transaction. Various charges, such as €50 transaction fee, or €250 withdrawal fee, as well as additional lavy are charged to the account. The frauds will also want their bonus to be compensated.
Finero
Summary
Finero is a fraud that pretends to be a legal company. The front company is registered in the UK, and unlawfully offers broking services. The majority of the company's users are situated in the UK and the EU, and Finero doesn't have a license to conduct business in either jurisdiction.
The swindlers will prefer it if you funded your account with Cryptocurrencies. This method of funding lacks an important protection option – chargeback. Large enough deposits gain bonuses, which are outlawed in both the UK and the EU. When it comes time to withdraw your funds, you may expect some very expensive fees.
FAQs About
Finero
Broker
What Kinds of Accounts Does Finero Have?
Finero offers Basic, Bronze, Silver, Gold, Platinum and Diamond accounts. Account type is dependent on the amount deposited. No demo account available.
How is My Security Ensured When Using Finero?
There is no way of ensuring security with this scam broker. Stay clear away from these frauds!
What Funding Methods Are Accepted at Finero?
Finero appears to accept Bank Cards, Bank Wire transfers and Cryptocurrency transfers, but strongly encourages Crypto payments.