July 16, 2023
Reading Time:
5
min
Fintechplatform Review: Unmasking False Regulation and a Fraudulent Broker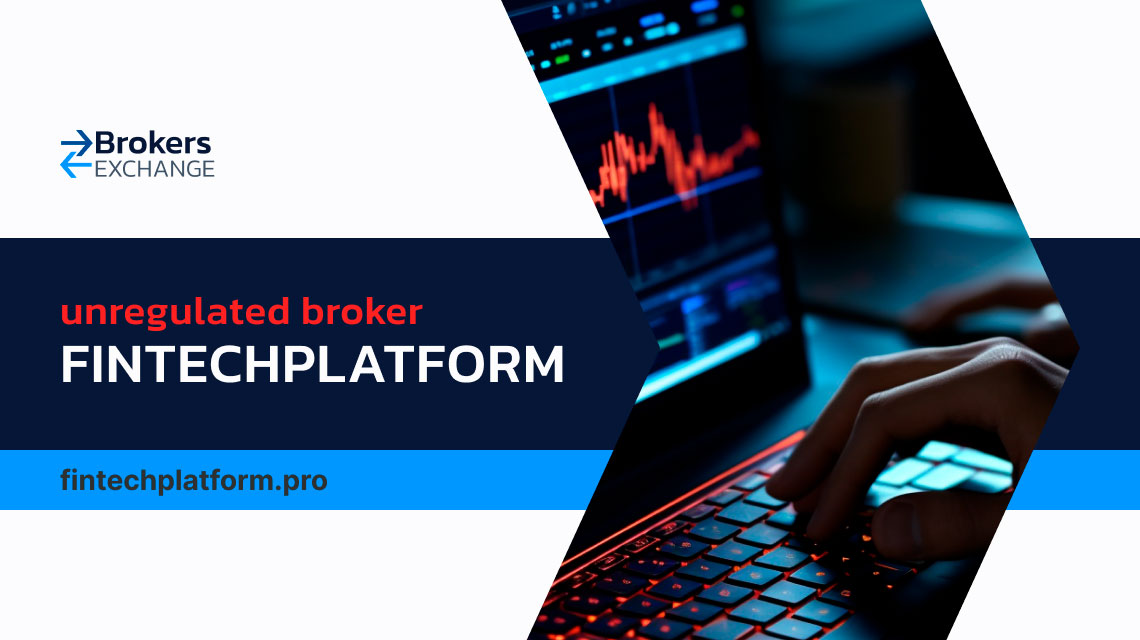 We got caught in this broker's labyrinth of falsehoods while conducting research for our Fintechplatform review, and once the lies started, they just kept coming. Now take a seat and enjoy the voyage through this broker's web of lies. 
While you're here, don't miss out on our latest information about SagicorFinance and SepaFX brokers. 
Who Is This Broker? The Real Truth Behind Fintechplatform
A brokerage firm called Fintechplatform trades CFDs on forex, spot metals, energy, commodities, indices, bonds, and shares. Their website and disclaimer raised red flags at first glance. It claimed that they were subject to FISEU regulation, which we know isn't an effective or reliable regulator at all. 
However, go on to learn about further warning signs of Fintechplatform.
Fintechplatform
Reliable Broker Must Have
Legal name:
Fintechplatform 

Transparently displayed in the disclaimer or legal documents

Regulation:
Not regulated

Within your legal jurisdiction – local regulator

Registered in:
Not registered 

Your country or the country whose license applies in your legal jurisdiction 

Established:
2018

The older the domain – the higher the possibility the company is trustworthy

Website:
fintechplatform.pro

Domain should be from local or international zones, no .xyz etc.

Financial Authorities Warnings:
BaFin

None

Contacts:
Support Services:

Phone Number:

+12264805495

Phone, email, social media, web form

If a withdrawal is possible:
Highly unlikely

Yes

Fees:

Dormant Fee 10%
Withdrawal Fees 0.3%-10%
Exchange Fees 

Transparent fees – list of spread and commissions

If Active on Social Media:
No

Often present on social media

Investor Protection:
None

Compensation fund
Regulation Info
Fintechplatform holds a license with the number 432673 from FISEU, or does it? According to our study, FISEU is a recently created website with few visitors. That typically means the website is a fraud.
In addition, if you are working with a reputable broker, ESMA should contain information about regulator in Europe. We discovered a BaFin warning against their phony regulatory authorization upon checking.
Although Fintechplatform as a whole has not received any warnings, this information should be sufficient for you to remove them from consideration. 
Fintechplatform Broker Profile
If you Google: "Is Fintechplatform fake", you will see multiple reviews and bad feedback. That's why we had to do a deep investigation of the broker's profile so you can make an informed decision. 
Trading platforms:

Fintechplatform Pro

Account types:

Trial, Classic, Gold, Platinum, Vip, Prestige

Financial Instruments On Offer:

CFDs on:

Forex (EUR/USD, GBP/USD, AUD/USD)

Spot Metals (Gold, Silver)

Energy (Crude Oil, Natural Gas, Brent Crude Oil)

Commodities (Corn. Wheat, Sugar)

Indices (S&P 500, DJIA, FTSE 100)

Bonds (US Treasury Bonds)

Shares (Apple, Google, 3M)

Maximum leverage:

1:200

Minimum Deposit:

$250 – $1,000,000

Commissions/bonuses:

N/A

Mobile app:

No

Desktop app:

No

Autotrading:

No

Demo account:

Yes

Education or Extra tools:

Glossary, Materials
Fintechplatform Account Types and Minimum Deposit
Regarding account types, there are too numerous options, and each one necessitates an even larger payment. The following is a list of account types and required deposits: 
Trial ($250)

is the basic account type. You essentially receive nothing with this account type other than certain educational resources and access to who knows what. Furthermore, there is a 1:3 leverage available, fixed spreads and swaps, unlimited withdrawals with a 10% fee, and other absurdities.  

Classic ($1000)

offers absolutely nothing too beneficial besides a 5% withdrawal fee and up to 1:10 leverage for a total of $1000 deposit. 

Gold ($25,000)

is their 'popular' account type and with it, you have a withdrawal limit of 5,000 EUR in 24 hours, a 3% withdrawal charge, and leverage up to 1:25. They also introduced more educational resources and a portfolio manager who will be only focused on you. Pretty absurd, yes? 

Platinum ($100,000)

is the recommended account type. With it, you receive a number of managers who are devoted to your welfare and your finances, of course, as well as a number of entry points to places that are undoubtedly neither significant nor advantageous to you. 

VIP ($500,000)

offers nothing more than the Trial account if we were, to be honest. Along with the leverage of 1:100, trading spreads and swaps at a discount of -50%, exchange costs of 0.3%, and a 100,000 withdrawal cap, you also have access to a ton of instructional resources that are undoubtedly not worth $500,000. 

Prestige ($1,000,000)

is the winner. You receive both nothing and everything for a million dollars. Nothing useful, at least. Leverage would increase to 1:200 with a trading swap of -75%. Nothing at all, but hey, at least they're trying.
Is Fintechplatform Safe To Trade With?
The two most important factors in trading platforms are security and reliability. Fintechplatform, sadly, falls short in these essential areas, posing serious hazards to unwary traders. Not only that they are lying about their regulatory status, but they are also not transparent about their physical location, management, and foundation year. 
Additionally, the emphasis on large deposits is an unsettling method they use to force traders to make substantial deposits. In addition to burdening traders financially, these exorbitant deposit requirements also considerably raise the danger of financial loss. 
Trading with Fintechplatform is clearly a risky business due to the fake regulation, lack of transparency, exorbitant deposit requirements, and unscrupulous trading tactics.
Fintechplatform Review: Traders' Thoughts and Opinions
Online customer reviews can offer insightful information when determining a trading platform's dependability and credibility. Over half of the 75 reviews on Fintechplatform's Trustpilot page are unfavorable, which is a troubling trend. 
The main themes of Fintechplatform issues are focused on withdrawals. Customers say that after requesting a withdrawal, platform communication becomes infrequent or nonexistent. In one review, a consumer describes suffering a large financial loss. This person claims they invested $8,000 with Fintechplatform but ran into major obstacles when attempting to withdraw their money.
Fintechplatform Client's Base
More and more lies from Fintechplatform find their way to the truth and so does their client base. The broker's clients mostly and regrettably come from: 
India

United States

Canada
We don't need to mention it again: a broker that isn't regulated isn't trustworthy! Prior to investing and making decisions, you should conduct research. Even better, get in touch with us for trading guidance or to find the best broker for you. 
Deposit and Withdrawal Methods
Accepted payment options by the broker are: 
Credit/debit cards

Bank Wire 
You must complete the withdrawal form and submit a few more papers to process your withdrawal request. Within 5 business days, you will receive the monies, assuming the withdrawal is allowed, which it probably won't be. 
Fintechplatform Pros and Cons
Pros
Cons

Demo account

Spreads

Large deposit amounts

Fake regulation

Insuficcient information

Bad client feedback

Lack of free educational material
Our Trading Experts' Opinion of Fintechplatform
We feel that we have gathered enough data about the Fintechplatform scam to draw a conclusion about it. Fintechplatform is nothing more than another dishonest broker seeking to dupe investors by posing as a legitimate regulatory body while in reality there is no one monitoring them. 
Overall, Fintechplatform is a total hoax, so if you were thinking about using them, proceed with caution. Contact us right away for trading guidance or to have a trustworthy broker by your side in order to avoid falling prey to brokers who are similar to Fintechplatform. Also, remember, there are no obligations. 
FAQ Section
Does Fintechplatform Have a License?
Fintechplatform is regulated by a fake authority FISEU, therefore, they don't have a license in trading CFDs or anything else.
How Do I Use Fintechplatform?
You can use the demo account prior to depositing real money and after you are ready, sign up, deposit the requested amount, verify your account, and start trading. Make sure do to research and market analysis and to actively monitor your trades.
Does Fintechplatform Have Account Types?
Yes, Fintechplatform offers Trial, Classic, Gold, Platinum, Vip, and Prestige account types. Each of them requires a different deposit amount and offers new things.
What Is The Trading Software of Fintechplatform?
Fintechplatform offers its own trading software Fintechplatform Pro that is available only after you open an account and deposit real money or use their demo.