March 09, 2023
Reading Time:
4
min
ForbesTrader Review: All About the ForbesTrader.Com Broker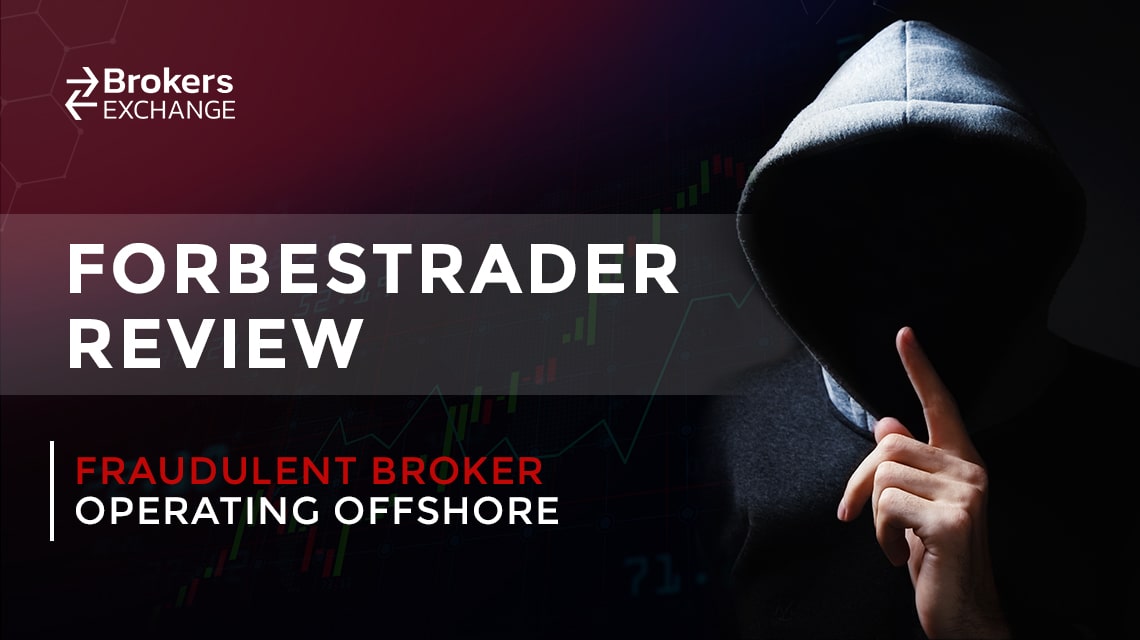 ForbesTrader Review, The website here is one of the most deceitful brokers at the moment. The broker's domain would indicate its connection to Forbes. However, this is false! 
ForbesTrader broker is another offshore company that revolves around crypto-related services. These companies are risky. Take a look at this ForbesTrader review to find more useful details.
| | |
| --- | --- |
| Company | N/A |
| Website | ForbesTrader.Com |
| Address | Zurich, Switzerland |
| Email | [email protected] |
| Phone | N/A |
| Minimum Deposit | $250 |
| Leverage | 1:500 |
| Bonuses | 30% and up |
| Regulation | No |
| Warning | FINMA |
Should You Trust ForbesTrader? Regulation and Security
We know what is there to say about brokers who work anonymously. ForbesTrader broker is entirely anonymous. You won't be able to find the name of the business that owns and operates this web page. 
The account signup form has a link to the Terms of Service. However, the link to the record is empty. This suggests that we have no clue who we are dealing with at all. It's not so wise to risk our funds under such events.
After registering it will move you to a totally separate domain. This domain is called 'exchange.my-cryptoex.com' and has a separate brand and logo.
On the homepage, you can see a contact address in Zurich, Switzerland. Yet, this information is completely incorrect. 
Switzerland is one of the jurisdictions with the most rigid requirements for financial service providers. An anonymous web page could not legally deliver these services there. Lastly, in the Swiss FINMA database, there is nothing to be found about this firm. You should never trust this so-called company. 
Trading Platform Available at ForbesTrader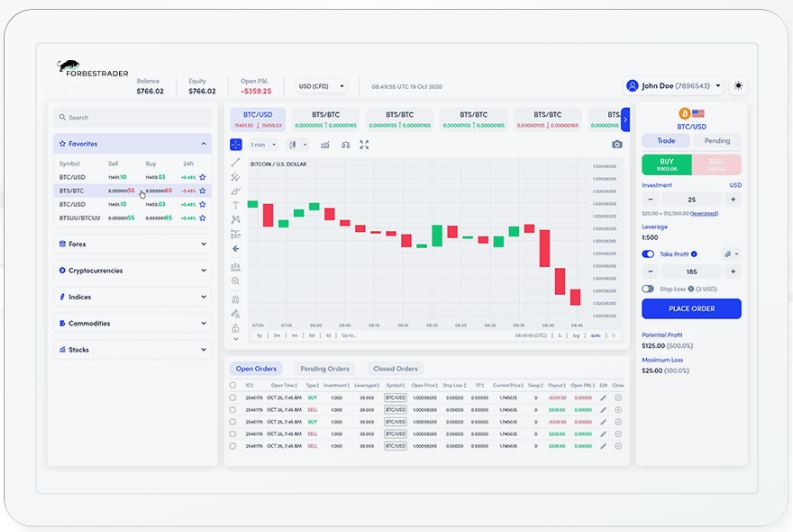 Let's discuss the trading software if there is one. The homepage of this broker scam is full of promises. However, they have nothing to offer. ForbesTrader claims to have one of the industry's most prevalent trading venues, MT4. But, all the data on the homepage is stolen from a regulated broker. None of those details conform to the truth.
After you register, you will get access to a basic trading platform. It even looks like a replica of a real platform. The software contains only a couple of crypto pairs. 
Moreover, the chart is not theirs, yet they took it from the data provider TradingView. There is a buy-and-sell menu that is not quite functioning. All of these things point to a significant trading scam.
What to do if your forex broker forgets to offer you any legit trading platform, such as MT4 or MT5? Know that this is yet another clear sign that you are dealing with fraud.
Note: There are corporations that market systems—signal sellers or bots—and usually sell unsafe things that do not yield profitable results. These scammy web pages often prey on new traders on numerous venues or forums. Keep this in mind!
ForbesTrader Account Types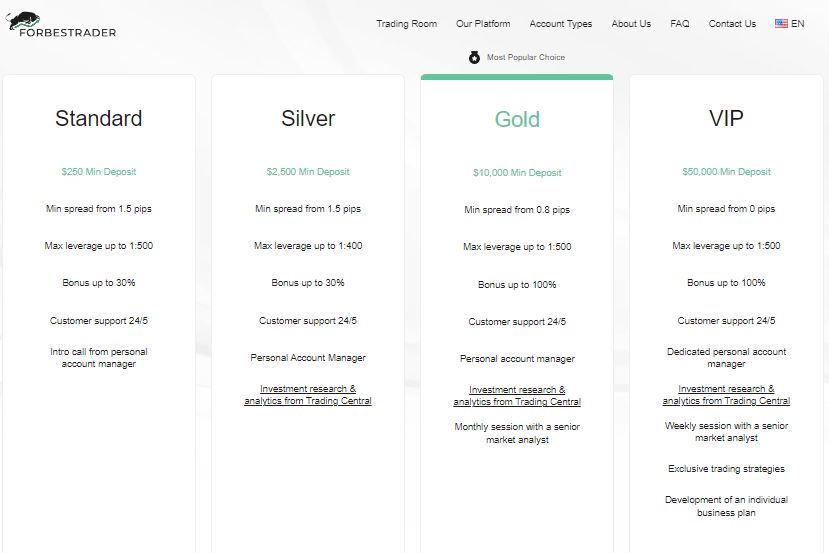 ForbesTrader claims to support various account types. You will see different account types on their website, each with specific 'benefits'.
Apparently, the size of your initial deposit decides which tier your account belongs to. That also tells which so-called benefits are available to you.
They claim you can move your account to the next level by increasing the deposit amount. Please, try not to do that, as you will be putting your money at risk.
The ForbesTrader Deposit and Withdrawal Method
It is no surprise that a scam brokerage prefers to use crypto assets. ForbesTrader broker scam only shows this payment option. Scammers favor BTC, ETH, and other crypto assets because they are virtually irreversible. Once the transaction goes through, you won't be able to ask for a chargeback. 
The minimum deposit amount is set at $250. Bear in mind that fake offshore brokers want your money at all costs. That said, they generally set higher minimum deposits than legit businesses. This is vitally important to remember. 
Note: Have you ever been victimized by an investment scam? If the answer is positive, there are some useful things you can do. If you made a deposit through the bank, you can ask for a refund. Getting your funds back is possible! However, if you paid with crypto, there's no hope of getting those funds back.
How Is The Fraud Carried Out?
Please be aware that you can lose a lot of money in forex trading. Always be cautious, mainly if you are a beginner. Do proper research before you decide to open an account with any broker. Even proficient investors who use the services of legit brokers do this. 
New traders can be tricked by many bogus websites posing as true brokers. Scammers will tempt you with many fake promises of easy profits. Stay far away from easy earnings and trade using regulated brokers only.
More often than not, these fraudsters promise huge profits for a tiny investment. They will urge you to invest even more money. However, after you deposit, your cash will be gone.
You won't even see a single dollar from these pledged profits. It will become impossible to reach the minimum withdrawal amount. Scammers hide behind fake names and locations. So, you won't be able to trace or hold them accountable.
Tip: Keep in mind that many newly registered scam brokers will claim they use MT4 and MT5. Never let them convince you that this is true! Make sure to do your research first! 
ForbesTrader Summary
ForbesTrader is just another shady broker to stay away from. As you can see from this ForbesTrader review, there are many valid reasons to avoid this investment scam. This broker uses deceptive trading software and a fictitious address.
Furthermore, the fake platform's buy-and-sell menu is not functioning. Everything about this supposed broker is misleading, so do not invest your money here.
Let us know if you have any negative experiences with this fraudulent broker. We can help you report this unscrupulous broker.
FAQs About ForbesTrader Broker
Is ForbesTrader Broker Authorized?
ForbesTrader broker is not authorized and not legitimate at all. Try to stay away from it!
What Kinds of Assets Can I Trade with a ForbesTrader Broker?
Speaking of tradeable assets, you can only see a couple of cryptocurrency pairs.
What are the ForbesTrader Available Methods of Withdrawal?
The only payment method offered by this broker is cryptocurrency. Do not trust it!