January 14, 2023
Reading Time:
5
min
GCB London Review: Is GCBLondonltd.Com a Legit Broker?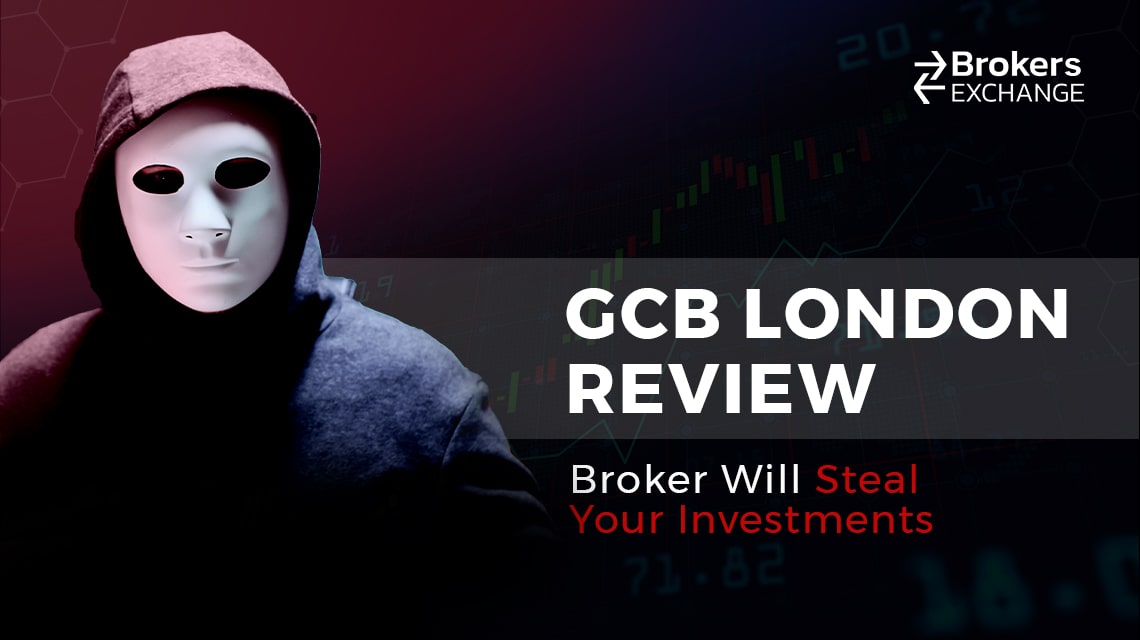 GCB London claims to be one of the largest and most transparent UK-based online financial trading companies that give you the possibility to invest in forex, indices, and cryptocurrencies. 
At the first glance, to the inexperienced trader, their website looks impeccable and they claim to offer everything you need to have the best trading experience and reach financial freedom fast.
The reality, on the other hand, is very different. Their website has been made with a sole purpose, which is to find their next victim and take its money. Additionally, after a thorough inspection of their website we came to the conclusion that GCB London is indeed a scam broker.
In this honest GCB London broker review, we will give you a more in-depth explanation of how this fraudulent broker operates and why you should stay away from it if you want to save your money.
Additionally, you should avoid trading with dishonest brokers such as ExcelMarketTrade, Axen Trade, and BidAskBit.
| | |
| --- | --- |
| Company | GCB London |
| Website | GCBLondonLTD.Com |
| Address | 15 St Botolph St, London  |
| Email | [email protected] |
| Phone | +442030978900 |
| Minimum Deposit | £100 |
| Leverage | 1:200 |
| Bonuses | 50% |
| Regulation | No |
| Warning | FCA |
GCB London Reliability – Financial Security and Regulation
After a deeper investigation of their website, we didn't find anything regarding their license number or any other proof that they operating under a certain financial authority.
Since allegedly they operate from the UK, in order to be more than just an investment scam company, they must follow certain guidelines that the FCA has set. 
As you probably have guessed, not only are they not regulated by the FCA, but the financial authority issued a warning about GCB London being an online trading scam with no authorization to offer financial services in the UK.
Choosing to start your trading journey with an unlicensed broker means that you will have to deal with companies that offer financial services online without any supervision from the authorities. 
Many companies that operate in shady waters, such as GCB London, are nothing more than mere dishonest scam brokers who are only looking to take all of their client's money.
Available Trading Platform at GCB London
While we were conducting this GCB London review, we took a good look at their trading platform and what it offers. For inexperienced traders, their platform is going to seem legitimate. In reality, GCB London offers a very basic platform that gives you little to no possibility to use it as trading software.
They claim their platform has been created for trading forex and CFDs, but the truth is that it's just a TradingView chart with some buttons added to it. When it comes to trading, that platform is definitely not going to provide you with the most satisfactory experience, since the only thing you can do is look at different graphs and manually open and close positions.
In case you are looking for a legit broker, we suggest you look up brokers who offer MetaTrader4 and MetaTrader5 since they are industry-standard platforms.
GCB London Withdrawals and Deposits
GCB London broker claims they offer deposits through the following methods: 
Visa or Mastercard debit or credit card, 
CashU
Bitcoin
Skrill 
Neteller 
Sofort 
As much as that might sound promising and not at all shady, after trying to fund the account through the mentioned above options, we came to the conclusion that half of them don't even work. The only way you can fund your account is through Visa, Mastercard or wire transfer. 
Many clients made complaints regarding the withdrawal as well, stating there are many issues in that area. One of the major issues they had is agents telling them they will have to either wait until they reach a certain amount in profit or pay fees for early withdrawal.
This is a very big issue with unscrupulous brokers because they don't provide any information on deposits and withdrawal fees until you ask for your money back. Of course, that won't stop them from charging you hefty fees once you do wish to get your money.
In case that you have made a deposit with this scam broker through your credit card, there are still ways you can get your money back. You can contact your bank and ask for a chargeback as soon as possible. These chargebacks are possible within up to 540 days of the transaction. On the other hand, if you have made your deposit through crypto, getting your money back is possible but it will require a bit more time and effort. 
How Is the Fraud Carried Out?
We all like to browse the internet and from time to time we will see ads promising that you can make a lot of money fast by investing and then they proceed to show you people who allegedly became rich doing so.
Once you register for those ads, the scammers will collect your personal info such as your name, last name, email, and phone number. That's when the harassment starts. GCB London and many others alike, start by sending you multiple emails and after that, they start bombarding you with constant calls from different agents who try to get you to invest.
Agents are taught to be very persuasive and will tell you anything just to get your money, and of course, the more money you invest, the more you will make. Be very careful about easy and fast earnings as they are just a fairytale they tell you to get you to invest.
GCB London asks for a minimum of 100£, but of course, they will try to encourage you to deposit more than that. This way, a lot of people get scammed, because their agents tell them to put more money in order to get a personal advisor, and those of course doesn't work with small amounts. Be sure, that like many other scammers, once you give them your money, they will disappear.
In case you have been scammed by GCB London or fraudsters alike, don't feel ashamed! Scams like this can happen to anyone and getting your money back is possible just be sure to contact your bank and local authorities.
GCB London Summary
In this review of GCB London, we gave you an in-depth explanation of how this fraudulent company implements its scam and searches for its victims.
Many similar companies that offer financial services without any regulations work on the same principle, which is to scam you for as much money as possible. GCB London is one of those phony brokers that will try anything and everything in their power to get you on board and then take all of your money. 
In other words, we are not trying to discourage you to invest, we just want you to invest with a trustworthy broker that will actually help you to achieve financial freedom and teach you something along the way. 
If by any chance you have any bad experience working with scam brokers, we would be grateful if you can share it with us since we can assist you by reporting those scammers to the right place. 
FAQs About GCB London Broker 
Is my Money Safe with GCB London?

No, GCB London is a scam broker and you will lose your money. They have been issued a warning by FCA for providing fraudulent services.
Does GCB London Offer a Demo Account?

There are no mentions of a demo account anywhere on their platform. They will push you to activate the beginner's account.
Is GCB London a Trustworthy Broker?

No, they are an unregulated company that offers unauthorized services on the financial market.