February 16, 2023
Reading Time:
4
min
GrandCapital Review: Reasons Why You Can't Trust This Broker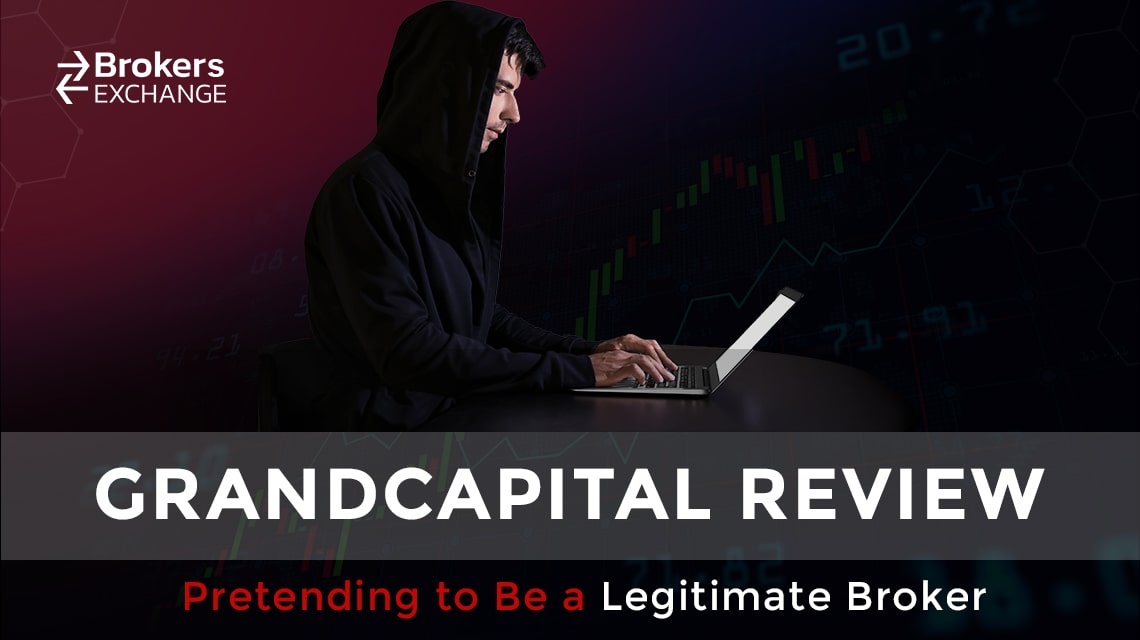 GrandCapital Consulting Group is a forex/CFD broker that should not be trusted. In other words, they are very risky to make a deal with. You don't want to find yourself at the mercy of this scam broker. Right off the bat, we come across their impressive offers and awards on their website. However, if you want to open a demo account you need to provide them with very sensitive information.
We offer a wide variety of financial instruments for online trading, making the market available to you, always and everywhere.
Everything appears to be so seamless and accessible to even not-so-financially savvy laymen. Nevertheless, there are some horrific accounts of people whose life got destroyed because they gave this broker all their savings.
In this GrandCapital Review, we will make their shady business transparent in all its ''glory'', that is, we will reveal they are criminal activities.
Furthermore, we advise you to avoid fraudulent brokers like AllCryptMarkets, Main Bit, and Stellarfx.
| | |
| --- | --- |
| Company | Grandcapital Consulting Group |
| Website | GrandCapital.Ng |
| Address | Beachmont, Kingstown, St. Vincent and the GrenadinesSuite 102 Aarti Chambers, Mont Fleuri, Victoria, Mahe, Seychelles |
| Email | [email protected] |
| Phone | +1 646 844 7187 |
| Minimum Deposit | $10 |
| Leverage | 1:500 |
| Bonuses | No-deposit bonuses |
| Regulation | Finacom since 2016 |
| Warning | Blacklisted by CSSF |
GrandCapital License and Funds Security
In this Grand Capital Review, we will expose their fraudulent and very suspicious behavior. Let's start with their license.
On their website, you can find the information that Finacom regulates them since 2016. It is a Hongkong-based EDR Organization. FinaCom is an independent self-regulatory organization, and therefore, their approval isn't something you can rely heavily on upon.
GrandCapital is an off-shore brokerage company located in Saint Vincent and Grenadine that is the hub for all sorts of shady businesses. They also anime their address in Seychelles. Don't believe these con artists!
Let's put aside the fact they are an off-shore company, which may instantly seem like a scam, and just consider the real situation that those companies don't have enough capital to secure their place in the highly competitive forex market. Therefore, your funds are awfully unsafe with GrandCapital.
GrandCapital Trading Platform Overview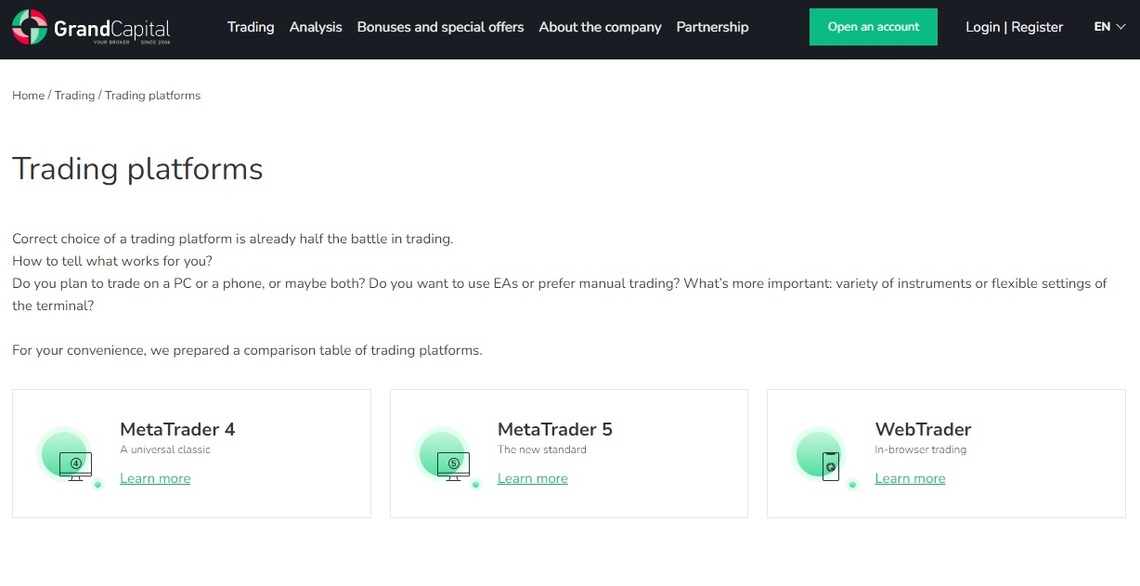 Their trading platforms are MT4 and MT5 which are one of the most universally accepted. Also, they offer you WebTrader which is one you can synchronize and save data from MT4 Trader. It is popular because it is easy to navigate through the platform and it offers great charting which may be baffling for newbies.
Their services do not include a substantial amount of educational materials, although you can make use of LAMM service which links you to the account of a trading buff so as to learn how to trade Binary Options.
You should know something about the most popular trading software – MT5. MetaTrader 5 is state-of-the-art technology and the relative simplicity of its interface which you can intuitively operate with, and the sophisticated features, it all contributes to the user's better experience.
Good trading software is instrumental to big success stories. We have reasons to believe their software is being manipulated in order to deceive their clients. 
If you want to trade safely, be sure their trading is undergirded by advanced software.
Deposit/Withdrawal Options
The minimum deposit at GrandCapital is $10 which is in accordance with the low deposit amounts that other more reliable brokers offer. 
As far as payment method goes, not only can you pay with Visa or Mastercard card, but you can also pay via wire transfer or Bitcoin. 
You should know that the latter methods are not something you can heavily rely on, especially in terms of getting a chargeback on those payments.
When it comes to withdrawal options, they demand incredibly high trading volume or it is absolutely necessary to pay incredibly high fees. Those charismatic scammers suddenly morph into downright rude individuals, pointing out some clauses in the Terms and Conditions.
Sure, they claim that every client is eligible for up to €20,000 from the compensation fund just to get ahold of your hard-earned money.
GrandCapital Offers Bonuses and Promotions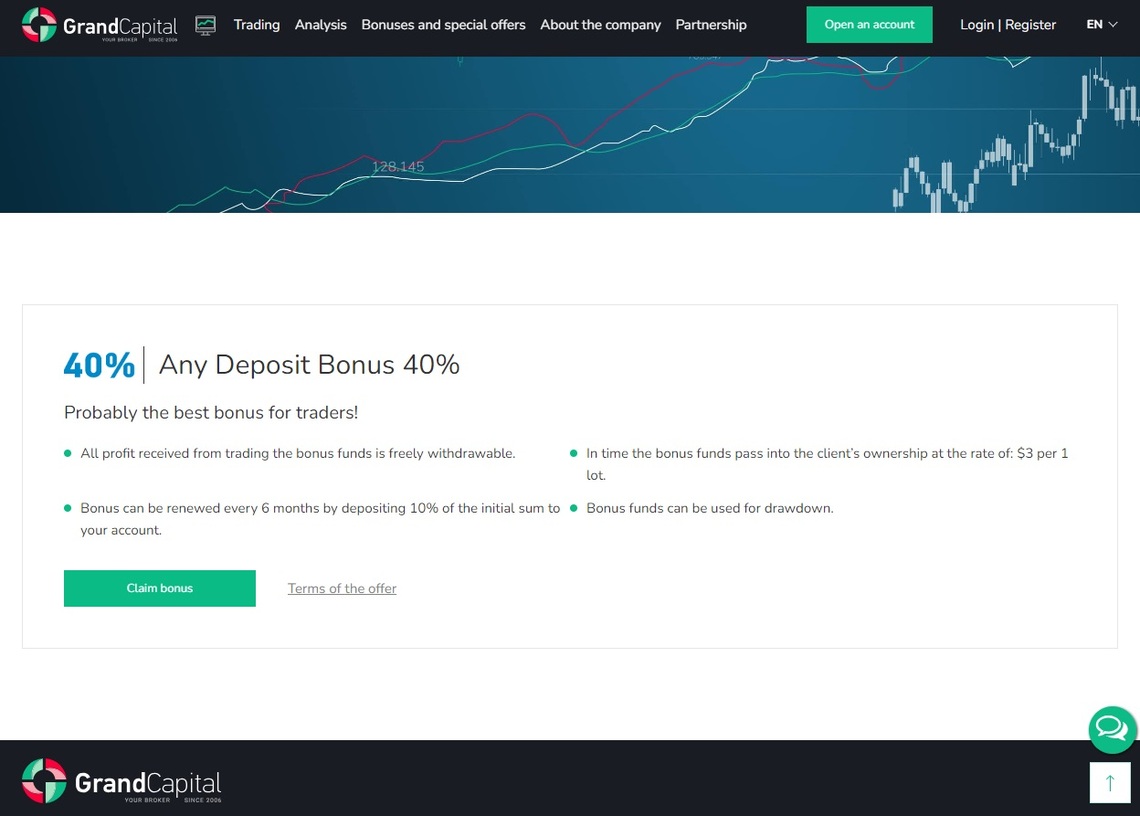 This is written on their Bonuses and Promotions page:
Grand Capital — home of the greatest offers!
No-deposit bonuses and interest on deposits, bonuses for trading volume, and promotional offers for particular categories of instruments. Just choose your path, and we'll take care of bonuses for your trading plan. Choose profit — choose Grand Capital.
On their Promotions and Bonuses page, future clients can see they are offered ''any deposit bonus 40%''. On top of that, their deposits are commission-free. 
Everything seems to be working like a dream. Just enabling them to do whatever they want with your money does the trick. You will stop living from paycheck to paycheck, only if you choose Grand Capital. Believing that they are to be trusted, you will face dire consequences for your naivety.
How the Scam Is Implemented
Let me illustrate how it all works before you doom yourself to aggravating failure with GrandCapital. Scam brokers find you on social media for instance, and then they tout themselves as some big players in the field of investments. 
Before you know it, you have given them your phone and email. Then, they have a casual chat with you, to see how litigious and financially literate you are. But, you were enamored with them at first blush, so it's easy for them to pull off their cunning plan to get as much money from you as they deem possible.
It's completely understandable to dream of a life where we can spend money like water because money makes the world go round, right? Still, please be careful not to be seduced by these scammers!
GrandCapital Summary
To sum up, GrandCapital Broker is in all likelihood just another dubious broker that will drill into your head how rich and successful you can easily be by doing business with them. Once you made a deposit, they will ask for more, convincing you that you have made some profits.
In order to keep up appearances, they will make use of their manipulative trading software. When you decide to opt-out, suddenly you will face dire consequences for trusting this broker. We can assist you by reporting your scammer.
FAQs About GrandCapital Broker
Is My Money Safe with GrandCapital?

No, absolutely not because they are an off-shore company located in Saint Vincent and Grenadine.
Is GrandCapital a Regulated Broker?

Yes, it is a regulated broker licensed by Finacom since 2016.
What Is The GrandCapital Minimum Deposit Amount?

The minimum deposit amount at GrandCapital is $250. You should know there are secure brokers who ask for less.