December 16, 2022
Reading Time:
4
min
GrowCapitalExchange Review – Who Is Behind This Broker?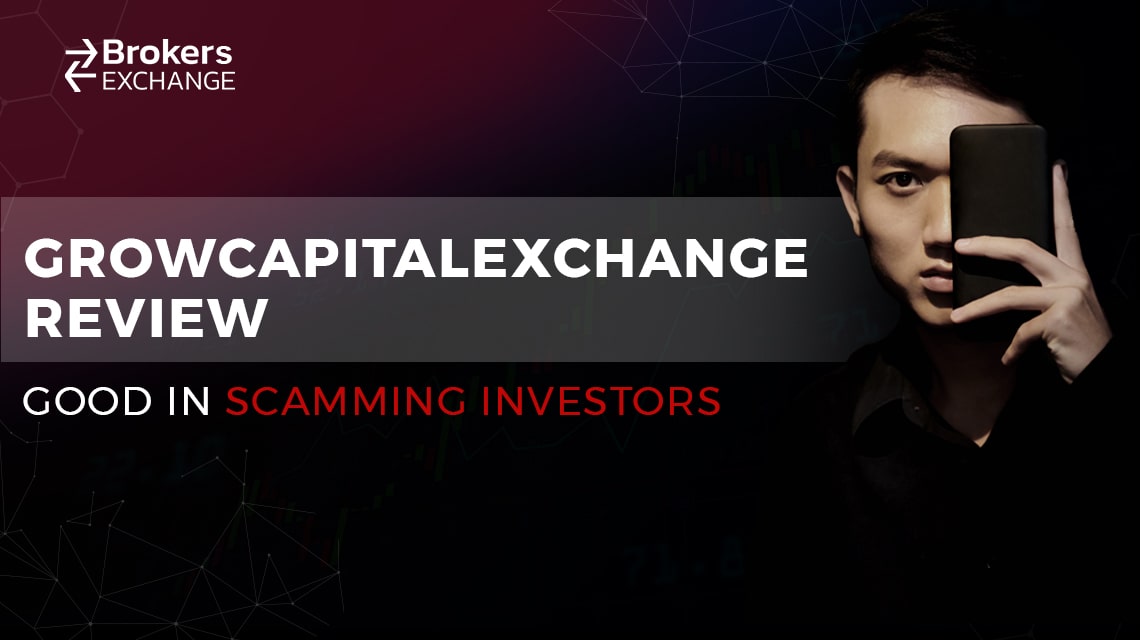 GrowCapitalExchange, With a horde of scam brokers overcrowding today's global markets, finding a trusted online financial trading company has become challenging. It would be helpful if you could seek advice from cybersecurity experts and trading specialists, before putting your trust in a certain brokerage service.
With this in mind, in our GrowCapitalExchange review, we will give you some handy insights into this shady brokerage, enabling you to save your investment and avoid being defrauded by a similar fraudster in the future.
As you can notice, GrowCapitalExchange broker puts effort into presenting itself as a legit forex provider, but in fact, it is nothing more than a classic investment scam. Its trendy website is a cheap imitation of legitimate-looking websites, consisting of fake and empty promises. Thus, continue reading the following GrowCapitalExchange broker review to get a full picture of these fraudsters.
| | |
| --- | --- |
| Company | GrowCapitalExchange |
| Website | GrowCapitalExchange.Com |
| Address | E-26A, 32 Ang Mo Kio Ind Park 2, Singapore 569510 |
| Email | [email protected] |
| Phone | +65 8240 0342 |
| Minimum Deposit | 100 USD |
| Leverage | 1:300 – 1:1000 |
| Bonuses | Yes (20%, 30%, 50%) |
| Regulation | No |
| Warning | n/a |
GrowCapitalExchange Regulation and Security 
Is GrowCapitalExchange Legit? No, it is far from it. The company claims it is registered in Singapore but fails to provide any details about its MAS license. 
To legally operate in this country, a broker must be authorized by the local Monetary Authority of Singapore (MAS). After checking the MAS database, there are no results about this firm. So, GrowCapitalExchange operates unlicensed, which is a criminal offense and a warning sign for traders.
Next, this illicit broker professes it is licensed by the so-called FEA (Financial exchange authority). However, there are no details to support this claim (such as documents, web links, license numbers, etc.). Even worse, the FEA is a fictitious entity; there is no such financial market regulator. So, another blatant lie from GrowCapitalExchange.
Being an unauthorized broker is a risk to all traders since a broker operates on its own. In other words, no third-party audits, and it can be involved in fraudulent trading activities without consequences. 
Also, an unlicensed brokerage is not insured, which means that traders are not financially and legally covered. For example, if a Cyprus-based, accredited broker goes bust, CySEC indemnifies traders up to 20,000 EUR. The same applies to UK-based, certified brokers, the British FCA compensates up to 85,000 GBP.
Trading Platform Overview
Moving forward with exposing GrowCapitalExchange deceptions, this bogus broker reportedly offers MetaTrader5 to its customers. Although MT5 is one of the best trading software out there, it is not available with this not legit company. 
All you can do is access a demo version of MT5 offered by the manufacturer of this trading platform (MetaQuotes). So, GrowCapitalExchange does not have MT5. It is another false promise cajoling people into investing.
Deposit and Withdrawal Process
Regarding funding methods, GrowCapitalExchange states it accepts bitcoin, Skrill, Neteller, Visa, Master Card, Maestro, and bank wire transfers for depositing and withdrawing. However, since it is about a dishonest scam broker, its claim is dubious. The minimum deposit required is 100 USD, and GrowCapitalExchange offers the following live accounts.
Learner: 100 USD minimum deposit, leverage 1:300
Startup: 500 USD min deposit, leverage 1:400, bonus 20%
Business: 1,000 USD min deposit, leverage 1:500, bonus 30%
Corporate: 5,000 USD min deposit, leverage 1:1000, bonus 50%
Withdrawal fees are not revealed by this bogus brokerage. Anyhow, there are no money withdrawal guarantees with an illegal broker but only withdrawal issues. Thus, don't trade with GrowCapitalExchange; it is a no-brainer.
How The Scam Was Carried Out
If you go through some GrowCapitalExchange reviews on the web, you will quickly understand how the GrowCapitalExchange scam is perpetrated. 
First, a financial swindler counterfeits a genuine company (modern website, plenty of awards, advanced platforms, lots of trading instruments, and broker's license) to inspire trust and draw attention. 
Then, it tries to entice a trader with generous offers (bonuses, high leverage, low spreads, no deposit/withdrawal costs). 
Finally, when an investor takes the bait and invests, con artists behind a cyber fraud vanish with money before the investor even realizes it is an online trading scam.
GrowCapitalExchange Summary
To wrap up our comprehensive and honest review, due to many complaints against the broker, GrowCapitalExchange is nothing more than a trading scam. This phony broker lures unsuspecting victims into its sophisticated scam through trickery and empty promises about offerings of many trading assets (forex, commodities, and crypto), market analysis, advanced tools, and funds protection. 
Its assurance of rendering expert service is based on lies about it being a regulated business (holding a license from a non-existing financial authority) and having a world-class trading platform (it has just a free demo version of MT5). Not only that, GrowCapitalExchange has been reportedly operating since 2012 and is an award-winning forex broker (by whom?).
In the end, be careful about easy earnings and invest only with companies you 100% trust. If you have been a victim of an unscrupulous broker, don't feel embarrassed about reporting a scam. Getting your money back is possible with relevant authorities and experts. Likewise, you can leave negative reviews on the internet about an untrustworthy company to help others.
FAQs About GrowCapitalExchange Broker
What Funding Methods Does GrowCapitalExchange Accept?

According to its website, GrowCapitalExchage reportedly supports bitcoin, Skrill, Neteller, Visa, Master Card, Maestro, and bank wire transfers for deposits and withdrawals.
Is GrowCapitalExchange a Trustworthy Broker?

No, it isn't. GrowCapitalExchange is an outright trading scam deceiving traders.
Is GrowCapitalExchange Regulated?

No, it isn't. GrowCapitalExchange operates unregulated, falsely claiming it is authorized by a fictitious financial market regulator.