November 12, 2023
Reading Time:
4
min
Instant Funding Review – Detailed Analysis and Key Features Revealed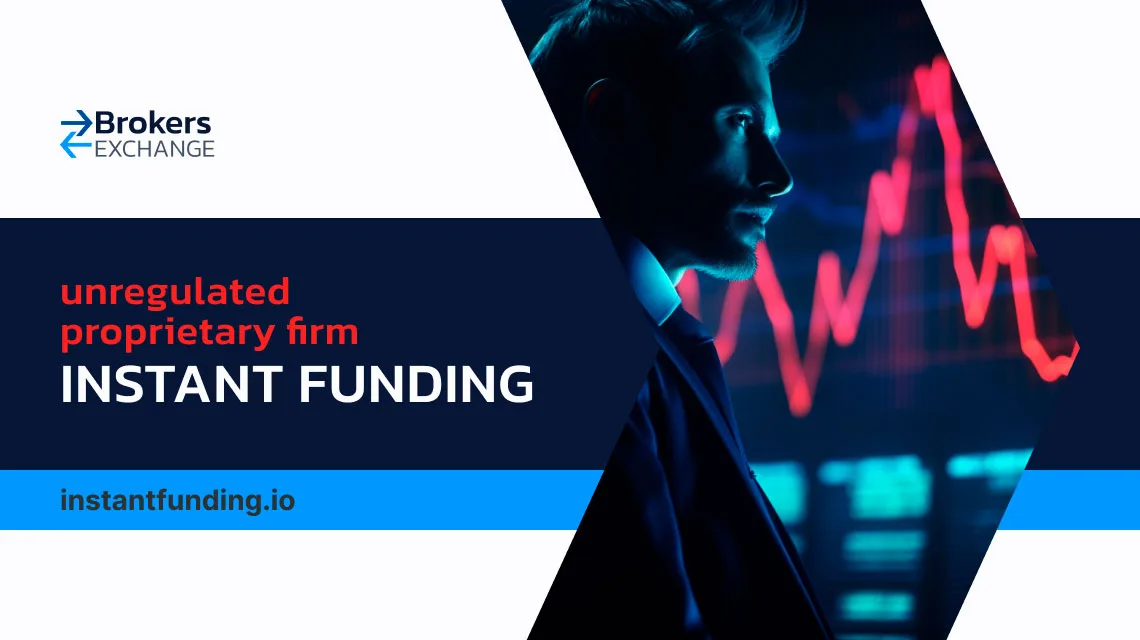 Instant Funding prop firm was registered in 2022 in the UK under the name Acello Ltd. This company offers funding programs, and they have provided these services to more than 10k clients. At least according to their own praising.
One of the most important facts about this company is its business model you have to understand. Once you realize how they operate, everything will be clear. But once you read this Instant Funding review and find out the benefits of AI Analysis Tool, you will forget about this firm.
| | |
| --- | --- |
| Company Type | Prop firm |
| Legal name | Acello Ltd |
| Regulation | No regulations |
| Registered in | UK |
| Established | 2022 |
| Website | https://instantfunding.io/ |
| Financial Authorities Warnings | No official warnings |
| Contacts | E-mail; live chat |
| If a withdrawal is possible | Highly unlikely |
| Fees | $79 – $3.460 |
| If Active on Social Media: | Yes – Instagram, Facebook, Telegram |
| Investor Protection: | None |
| Activity areas | United States, Australia, India, United Kingdom, Canada |
| Main threats | Virtual trading; no regulations; many negative reviews; |
| Main perks | None |
Legal and Regulation Details
The Acello Ltd company is indeed registered in the UK, as they claim. Some might expect this company to have a regulation, but that's not the case. Before we explain why, bear in mind that you should trade only with Tier 1 licensed firms, such as ones with FCA, BaFin, or ASIC licenses. This way, you are minimizing the risk of a scam.
Anyway, Instant Funding company has a clear and transparent disclaimer. They are offering virtual trading services, and nobody in their company doesn't require a license for these services. Therefore, nobody monitors the company's activities whatsoever.
How Does Instant Funding Firm Work?
As traders pass challenges, they can choose one funded account option. Traders are paying monthly fees to use the virtually funded account. Yet, the funds you are paying are real. Meanwhile, the funds you are generating on the platform are virtual. So, they expect you to believe you will get real funds in exchange for virtual ones? Sure!
On top of that, the company can change their conditions along the way. This can be seen in some Instant Funding reviews. After all, they are not regulated.
What Other Traders Think About This Firm?
Generally speaking, the comments about the company look outstanding. In fact, out of 727 comments on Trustpilot, almost 90% are positive. Yet, those 10% might reveal a shocking truth. In general, with these comments, you never know if they are paid. Whether by the company or competitors.
But if the company is not regulated and its services are not logical, you shouldn't use it. Otherwise, you might be in the same sauce as those 10% of traders. Anyway, many of those reported unexpected conditions changes.
What Trading Software Can You Use?
As can be seen, this prop firm is offering highly popular trading software choices. Traders can choose between MT4 and MT5 demo accounts. Both include highly advanced features, numerous charting options, and technical indicators.
Thus, it's just a demo account, and you can get it with any other broker to play with. Actually, make sure you check our UBFX review, and you'll understand way more about proper software choice.
Pricing Plans With instantfunding.io
Now you know how InstantFunding company works. But What are the plans they are offering? In fact, traders can choose between three options:
Instant funding

One-phase

Two-phase
Every phase includes different plans and, of course, fees. But also, there are some other conditions you have to watch out. Primarily a drawdown of 10%. If you lose 10% of the capital, you have to purchase the plan again. In addition to that, for some plans, you have a daily drawdown as well. So, if you are not experienced enough, this could be quite costly for you.
Anyway, the most disturbing fact is the profit share of up to 90%. Apparently, the company will give you almost everything in exchange for what? Access to virtual trading platform. Anyway, the fees you will be paying.
Withdrawal Methods Available
The company doesn't have a clear payout policy. As can be seen, you don't have any limitations when it comes to payouts. The payment methods available are crypto, PayPal, Deel, and bank transfer. Yet, many traders reported issues during payout procedures. So, be careful with those. 
For some tricks companies might use during withdrawals, check our 4xEx review.
Contact Options
In general, customer support is not the most favorable one among traders. Many complained about slow responses and lack of knowledge to solve the issue.
On top of that, you can only reach the company via e-mail and live chat. Yet, with some Tier 1 licensed firms, you can get way more transparent options. Like phone landline and Skype.
Is Instant Funding Proprietary Trading a Good Choice?
Generally, trading with virtual funds and getting real money in return doesn't make sense. Imagine paying a $79 fee and getting out $500 for playing a game. Because trading on a demo account is like a game. Therefore, we suggest you skip this journey.
It won't help you expand your portfolio or make more zeroes on your bank account. Get in touch with our team for free first consultation and find out how to choose a broker properly. But also the benefits of AI Analysis Tool that can help you there a lot.
How Can I Make Money While Trading Online?
Generally speaking, trading with this kind of prop firm doesn't make sense. Nobody would give you free money nowadays. Especially not for trading with virtual funds. But if you try trading with Top-Tier licensed firms, you will see the difference. Firstly, you are trading with real money, and the pressure is real. Therefore, fewer mistakes can be accepted.
That's why many traders opt for AI Analysis Tool to minimize the risk of a bad trade. This tool helps traders analyze the market like a professional and get a price forecast of certain assets. Ultimately, the choice is yours, but the risk and pressure are minimized. Therefore, we suggest you contact our team and see how this can benefit you and your pockets. Get in touch today.
FAQ Section
Can I Trust Instant Funding?
Generally, no. The company provides virtual funding to traders and doesn't offer any guarantees you will get any money out.
How Does Instant Funding Work?
Traders are passing one or two-step challenges to get access to funded accounts. Once they start trading, they share profits up to 90%. But the profits are virtual as well.
What is InstantFunding.io?
Instantfunding.io is a proprietary trading firm registered in the UK that offers virtually funded trading accounts without regulations.