March 13, 2023
Reading Time:
7
min
Interactive Review: Is InteractiveBrokers.Co.Uk Reliable?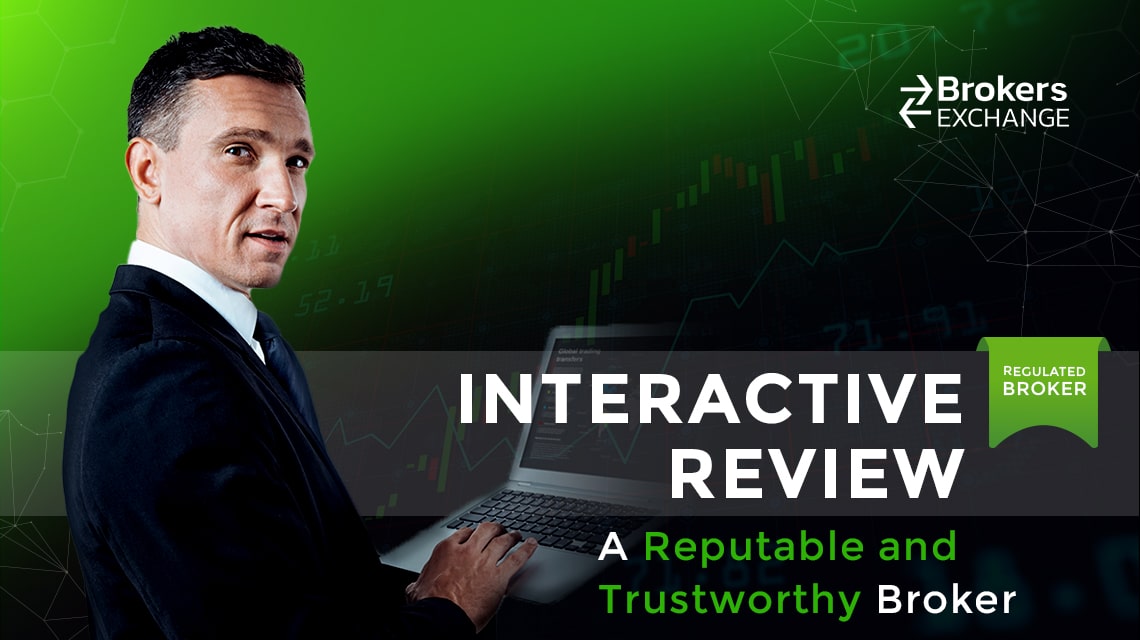 A list of trading certificates by most prestigious financial institutions in the world speak of this broker's reliability, honesty and quality. Interactive Brokers is an US online trading corporation that first started operating back in 1977.
Continuous improvements, technological advances and innovative discoveries in the online trading world have indeed made this enterprise one of the several worlds most successful brokers.
With a focus on facilitating the trading process for their clients, Interactive Brokers has over the years developed a magnificent trading environment. Followed by some of the lowest fees on the market, attractive pricing and most advanced software solutions, Interactive Brokers makes online trading a truly unique experience. 
Our Interactive review investigates what traders gain by investing here and how to best use the services offered.
Interactive Pros and Cons
Interactive is a company with a tradition several decades long. Heavily regulated by CFTC, ASIC, FCA, IIROC, SFC, NSE, BSE and FSA, Interactive strictly follows the legal directives that define the standards of funds' safety and customer protection.
Numerous instruments from a range of classes are available through different account types and most advanced trading platforms. Due to regional restrictions, some of the trading conditions may vary. For that matter, leverage for US, EU and AU clients is capped at 1:50 for US citizens and at 1:30 for other two areas. International clients have access to leverage of up to 1:500. 
Regional requirements differ in terms of minimum deposit, as well. While most customers have to pay $100 to join the site, for some clients deposit requirements go up to $1.000.
Special support for skill development of beginners and experts alike at Interactive is presented through several rich sources. The entire knowledge database is completely free and easy to access online directly on the site. Additional support is provided by 24/7 customer support.
| | |
| --- | --- |
| Minimum Deposit: | $100 |
| Minimum Trade: | 0.01 |
| Maximum Leverage: | 1:500 |
| Spreads: | From 0 pips |
| Underlying Assets: | Commodities, Stocks, Futures, ETFs, Indices, Currencies, Metals, Options |
| Base Currencies: | AUD, CAD, CHF, CNH, CZK, DKK, EUR, GBP, HKD, HUF, ILS, JPY, MXN, NOK, NZD, RUB, SEK, SGD and USD |
| Demo Account | Available |
| Mobile App: | Available  |
| MetaTrader 4: | No |
| Other trading platforms: | IBKR trading platform, TWS  |
| Social Trading: | Available – IB Social Hub |
Is Interactive Regulated? Security and Regulation
With the HQ being in the US, Interactive was first regulated by the CFTC. The regulatory framework for the US brokers has the strictest requirements in the world concerning the initial deposit that brokerage companies have to make. The sum every future licensed brokerage has to invest is $20.000.000 to prove their business intentions are firm and sustainable. 
Following that, all deposits that the clients make have to be stored in segregated bank accounts. The leverage offered to US traders can't be more than 1:50 as a prevalent risk-reducing method. 
The differences between the CFTC regulatory rules and the UK, EU and AU licensing criteria are the allowed bonuses in the US. UK, EU and AU licensing institutions also enforce negative balance protection in contrast to CFTC in the US. 
Also regulated by the Canadian IIROC, Interactive respects their legal framework as well, which is generally similar to that of CFTC and other major brokerage supervisors and top tier financial authorities. 
A couple offshore regulations apply more loose online trading and safety rules, so international clients from other countries apart from the above mentioned have to be more careful when investing. 
Otherwise, Interactive is a trustworthy global company for online trading services and transactions that can be fully trusted.
What are Available Accounts at Interactive?
Interactive is quite specific when it comes to account types. The criteria of choosing an account type are many, so we will list some of the account types available:
Individual or Joint accounts – single or two account holders

Family Advisor

Stocks and Shares Individual Savings Account (ISA)

Self-Invested Personal Pension Accounts (SIPP)

Family Office Accounts

Small Business Accounts

Advisor Accounts

Money Manager Accounts

Broker & FCM Accounts

Proprietary Trading Group Accounts

Hedge & Mutual Fund Accounts
As the account names suggest, account types are different in terms of the trader's preferences, funding conditions and investment methods, margin and other concrete trading conditions. Without a doubt, Interactive went a step further compared to other brokers when it comes to designing the account categories and offers per each account type. 
Trading Instruments Available
Tradable assets at Interactive are divided into more than 10 categories. This is evidence of the broker having one of the richest product palette in the market. Whatever financial asset you'd like to buy and sell, Interactive probably has it. 
The tradable asset classes in offer are:
Stocks (Air Canada, Absci Corp, Coca-Cola, Evergreen Corp, Facebook)

Options (Biogen Inc, CVRX Inc, Forian Inc, Iridex Corp)

Futures (British Pound, Cheese, Live Cattle, Polish Zloty )

Futures Options (Swiss Franc, Hungarian Forint, E-mini S&P 500)

ETFs (SPDR S&P 500 ESG ETF, AXS Short de-Spac ETF, iShares U.S. Energy ETF)

Warrants (Allego NV, Cano Health Inc, Freyr Battery SA)

Structured Products – Europe (Commerzbank Faktor Single Short BMW Index, Octa Inc)

Single Stock Futures – North America (USD, Mexico Bolsa (IPC) Index)

Currencies (EUR/USD, EUR/GBP, AED/USD, CAD/NZD, JPY/ZAR)

Metals (Silver and Gold)

Indices (NDX Advance Decline Index, NASDAQ Bank Index, Dow Jones U.S. Water Index)

Fixed Income (Treasuries, Munis, Corporates)

Mutual Funds (Arin, Baird Funds, Centre Faunds, Dreyfus, FMI Funds)
Interactive Trading Platforms Overview
Interactive has developed their own trading platform – IBKR software.  With the latest features and options for analysis and customization, IBKT supreme distribution provides traders an edge in every market. 
Trading global stocks, options, ETFs, mutual funds, and crypto from your mobile device is possible thanks to the IBKR GlobalTrader for mobile. Most widely used by beginner traders, all novice clients at Interactive recommend this platform.
The broker has also customized and adjusted another magnificent platform – IB Trader Workstation (TWS). This intuitive, comprehensive software allows retail traders, professionals and corporations access to trading stocks, options, futures, currencies, bonds and funds on over 150 markets worldwide. 
Option for real-time monitoring and latest market news will always keep you updated with the latest changes. A single window provides access to live quoting, technical research and analysis tools for the best investment outcomes. 
Interactive Funding Methods
More than a few completely secure and flexible payment methods are available at Interactive:
Bank wire – fastest, no fees from Interactive but the bank charges the transfer

Direct Automated Clearing House (ACH) – fast, without any fees

Connect Your Brokerage Account to Your Bank Account via ACH – slow as is takes up to 4 business days but secure and fee-free

Online Bill Pay – works by adding Interactive Brokers as a payee in your bank's existing bill payment plan

Mail a Check

IBKR Mobile Check Deposit – IBKR Mobile app to deposit funds by uploading a picture of a US bank check
The minimum amount to fund your account with is $100. More payment ways are available for specific areas such as Canada, Australia and other countries that support particular E-wallets and payment services. These might be unavailable to other countries as they're tied to a particular region. 
Withdrawals at Interactive are processed through the same channels as deposits. Same as funding, Interactive doesn't charge withdrawals. The only commissions occur from the bank involvement or other party than Interactive. Fast, convenient and secure, your withdrawals are generally processed every working day and your funds show up on your account in a matter of a few business days. 
Research and Education Offered
IBKR Campus is an extensive collection of various educational materials in every kind of format that each trader prefers. Expand your existing trading knowledge or start from the very basics of trading and financial instrument classes with the help of the following sources:
Traders' Academy – articles about the concepts and tools of financial trading

IBKR Webinars – free live webinars and recorded events about topics like market analyses

Traders' Insight – financial analysis, video commentary, and economic insights by over 70 industry professionals

IBKR Podcasts – podcast channel for interviews and audio articles covering the world of finance

IBKR Quant – intended for quantitative professionals with an interest in programming

StudentTradingLab – free online resource for educators
Interactive Customer Service
The Help Center at Interactive offers detailed answers to most commonly asked questions by traders related to account opening and funding, installing the trading platform and choosing the trading conditions. That section is divided into categories, depending what trading aspect they cover. If by any chance you do not manage to resolve your issue with the help of the written instructions from that section, you can contact the customer support via:
Email – depending on the problem area, each email address provided is for a specific problem solving.

Phone – every region where Interactive offers their services has dozens of phone numbers for contacting professionals dealing with the exact aspect.

Chat Room – live chat with Interactive support agents. 

Uploading or emailing documents

Problem reporting service
Interactive Overall Summary
Our team has brought you this Interactive review as a detailed insight into most benefiting services and offers that the broker has. As visible from our review, Interactive has a unique approach to trading, with a special accent to providing most individually designed accounts, asset groups and platforms for each trader.
By becoming their client, you have a chance to trade in a safe and healthy trading environment, characterized by customizable trading parameters and account types. The top-notch trading softwares designed by Interactive offer a rich collection of features to trade thousands of instruments like professionals do. 
If you'd like to start off without investing, Interactive trading simulator can help you test the general trading conditions without strings attached. We have no doubt that at some point you will wish to explore more and take a shot at real trading, but don't worry, Interactive has you covered. Expanding your skills and trading knowledge has never been easier with the right tools and resources that Interactive provides. 
For all other issues, questions and situations when you need professional assistance, Interactive 24/7 support is there to provide a helping hand. 
FAQs About Interactive Broker
Is the Interactive a Reliable Broker?
Being heavily regulated and supervised by many financial authorities across the globe, Interactive is one of the safest and most reliable brokers in the industry.
How Long Does an Interactive Withdrawal Take?
Withdrawal requests are handled on a daily basis. However, depending on the transfer method, it may take up to several business days for the amount to show up on your account.
What Account Types are Available at Interactive?
Interactive has designed account types for every kind of trader, whether you're a retail trader, a professional investor, a firm, or you want a joint account. You can also choose account type depending on the funding method, ability to take credit and other criteria.