December 27, 2022
Reading Time:
5
min
Invast Global Review: Is Invast.Com.Au a Trustworthy Broker?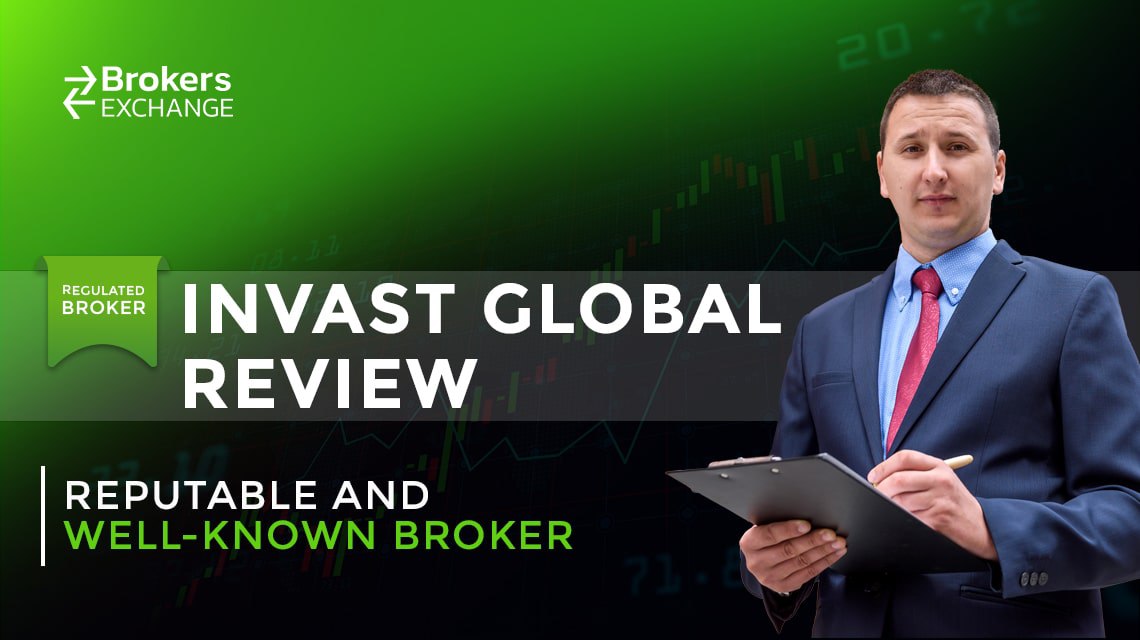 Invast Global was founded in 1960, with offices in Japan, Australia, and Cyprus. With over 60 years of successful business and thousands of pleased customers, this broker makes for a trustworthy trading partner. 
In order to be able to operate legally a broker needs to be licensed by a jurisdictional regulator. Invast Global has been regulated by the Australian Securities and Investments Commission (ASIC). The broker operates under the supervision of respected financial authorities and is therefore a trustworthy brokerage company. 
We strongly suggest that you take the time to read this detailed review of authorized brokers like BCR, EVFX, and SPREADEX.
Invast Global Overview
Invast Global is known as a CFD (contract for difference) and ECN (electronic communications networks) Forex broker. One of the most admirable benefits of trading on Invast Global is the fact that the broker offers very low spreads. 
The company also doesn't require any hidden fees like deposit and withdrawal fees and inactivity fee. Besides that, as a regulated broker, Invast Global respects the leverage limit of 1:30. For more basic information please refer to the table below.
| | |
| --- | --- |
| Minimum Deposit: | AUD $5,000 |
| Minimum Trade: | 0.01 lots |
| Maximum Leverage: | 1:30 |
| Spreads: | EUR/USD from 0.2 pips |
| Underlying Assets: | Forex, Index CFDs, Commodity CFDs, Single Stock CFDs |
| Base Currencies: | USD, GBP, AUD, EUR |
| Demo Account | No |
| Mobile App: | Yes |
| MetaTrader 4: | Yes |
| Other trading platforms: | IRESS |
| Social Trading: | No |
Invast Global Awards
A solid proof of a company's success in running a decades-old business is the awards won over the years. Only in the last few years, the broker has won awards such as
Best Specialist Market Prime Broker award in 2020 at hedgeweek
HFM Award for Best Boutique Primer Broker in the Asia Service Awards category in 2020
FX Markets Asia FX Award for Best FX prime of prime in 2020
FX Markets Asia FX Award for Best FX prime of prime in 2021
HFM Award for Best Boutique Primer Broker in the Asia Service Awards category in 2021
FX Markets Asia FX Award for Best FX prime of prime in 2022
Is Invast Global Regulated? Security and Regulation
Thanks to being regulated by a top-tier regulator, we can trust that Invast Global is a reliable and principled brokerage company. When the broker is monitored, in case of illegal business moves, the right action is taken by the financial authority.
Invast Global falls under that regulation and is obligated to follow strict conditions in order to keep operating. Some of the standards are having beginning capital as a warrant that the company can maintain a sustainable business. 
The company also has to keep safe the funds of its clients by depositing them in a segregated bank account. That way the funds remain intact in case of the company loses or goes bankrupt.
Another important security trait is using SSL encryption. Thanks to it, Invast Global makes sure the personal info of the clients is secure. 
What are the Available Accounts at Invast Global?
There are three available account types at Invast Global:
Retail
Sophisticated 
Wholesale
Funds & offices
Opening a Retail account provides access to more than 20,000 global single-stock CFDs and ETF CFDs. It's important to mention that users who open a Retail account have the option of negative balance protection, margins from 20%, and 6bps commission.
A sophisticated account allows access to higher trading leverage and lower commissions of 5.5bps. Segregated client funds are also a part of this account type. However, in order to be able to open this type of account the user would first have to meet the necessary requirements referring to knowledge, wealth, and experience. 
A wholesale account probably provides most various features and options to help an experienced trader adjust the trading process to their preferences maximally. 
If a client wants to develop a more complex trading strategy, they are provided with FIX and Webservices API solutions. Thanks to them they have access to trading Algorithms, for the purpose of fully delivering the best trading experience. 
This type of account also requires the trader to meet certain conditions to be able to trade from a Wholesale account. Criteria required are financials, declaration, and certification.
The funds & Offices account type is available for businesses or family offices that intend to trade corporate funds.
The possibility of opening a Demo account with Invast Global is currently not yet supported. 
Invast Global Trading Platforms
Invast Global offers clients access to several high-performing trading platforms: Iress Trader, Iress ViewPoint & Iress Pro. Bloomberg EMSX is also available. 
Iress Trader is a multifunctional trading platform offering a variety of features and customizable variables for every trader to adjust to their trading style and preference. 
Thanks to the advanced charting system with live news and events options but also with full market depth, Iress Trader allows the investor to stay competent in the ever-changing markets. 
The clients can enjoy the trading process to the fullest thanks to the fully customizable trading interface and a choice between a hefty number of tools to ease up the trade. All in all, users can perform multi-asset trading from this single platform, accessing thousands of trading instruments. 
Invast Global Deposits and Withdrawals Methods
In order to ensure that the investor is not misusing someone else's funds, Invast Global has implemented AML/CTF regulatory obligations. These refer to clients providing necessary proof to confirm the financing of their trading account is done from their own funds. 
Also, the broker does not accept deposits made from a third party, in cases where the bank account name and Invast account name differ. Depositing methods allowed at Invast Global are credit/debit cards. 
Withdrawing the funds would process the funds back to the same credit/debit card that it was originally deposited from. One of the pros of trading at Invast Global is that no additional or hidden fees are required to be paid to process the withdrawals. 
The online withdrawal form can be found on the website and is fast to fill in. No additional fees such as the deposit fee or inactivity fee would be charged by Invast Global either.
Invast Global Minimum Deposit
In order to be able to make an account and start trading at Invast Global, the necessary initial deposit has to be at least AUD $5,000. Some might argue that this is, in a way, a big requirement.
However, brokers who set higher standards in terms of investing usually offer better premium services and more trading options, securing the client's information and funds in all aspects. 
Research and Education Offered at Invast Global
To be a successful trader takes a lot of skill and knowledge, besides good practice and rich experience. In order to help their clients make the best out of their trading time, Invast Global has provided various educational resources. 
The broker is allowing users to remain updated on all the latest news and events that could affect their trading and investments in the short or long run. By always providing the latest updates on the market movement and changes, users can keep their trading edge. 
Other users who would like to find out more about the basic aspects of trading are also covered. YouTube tutorials are there to educate clients on some of the most important subjects of online trading.
Invast Global Customer Service
Customers who need additional support regarding any aspect of trading, investing or other issues can contact staff in a few ways:
Live chat
Email
Phone Support
The staff is very responsible and efficient in replying and providing help to the clients. Multilingual support is also an admirable trait to mention, as the clients come from all corners of the world and can't be expected to prefer only one language. 
Making sure all the questions are answered broker keeps the customer base pleased and their issues solved. Customer support is available 24 hours a day, during 5 days a week. 
Invast Global Overall Summary
As mentioned earlier, the broker is a regulated brokerage company. This brand is widely recognized as successful and reliable in providing financial services online. 
Customers can enjoy a wide range of trading assets available, efficient trading software, and accessibility across a variety of platforms. 
For all questions and issues, responsive customer support is available 24/5 and there to solve any trading problems the clients might be struggling with. 
Reliability and premium service, richness in features, and trading options deliver the best trading experience possible for beginner traders as well as experts. 
FAQs About Invast Global Broker
Is the Invast Global Broker Reliable?

Yes, Invast Global is a regulated broker, therefore reliable and trustworthy. 
How Long Does an Invast Global Withdrawal Take?

Withdrawals are processed within 2 to 3 days.
Does Invast Global Have a Live Chat Feature?

Yes, Live Chat is an option for contacting support services and it is available with Invast Global.
What Trading Platform Does Invast Global Use?

The most recommended platforms on Invast Global are MT4 and IRESS. 
Does Invast Global Have a Mobile Application?

No, but the platforms are accessible from mobile devices.